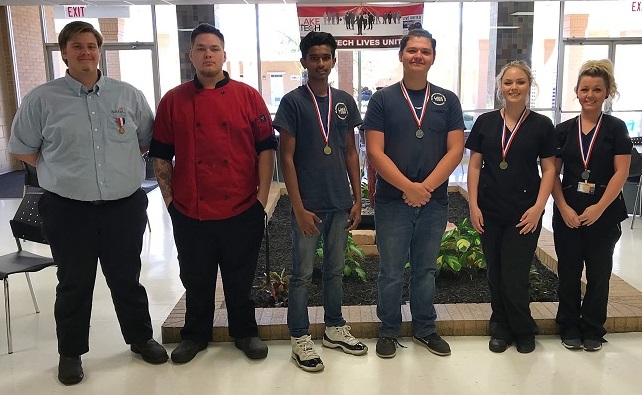 Nine Lake Technical College students received high marks and were awarded medals during the regional SkillsUSA competitions. Lake Tech's SkillsUSA chapter is made up of over 279 students and advisors, some of which recently competed at the Region 3 level. The students who received medals at the regional competition will move on to the state level competitions April 7-9, 2019 at the SkillsUSA Florida State Leadership and Skills Conference in Pensacola, FL. Congratulations to the following Lake Technical College students (* indicates a high school student who is dual-enrolled at Lake Technical College):
Culinary Arts –


Michael Conover* – Hot Foods – Gold
Alexandra Fales* – Baking – Gold
Kelsey Hilt – Baking – Silver

HVAC –


Aleem Rahim* – HVAC – Gold
Reece Richter – HVAC – Silver

Diesel –


Joseph Rains – Diesel – Bronze

Cosmetology –


Kayla Herl – Hair – Silver
Allysa Spinnichia* – Facials – Gold
The students are currently raising funds to help cover their travel expenses to the State competitions. Donations can be made directly to the Lake Tech Business Office for SkillsUSA – please call 352.589.2250, ext. 1827.
SkillsUSA is a nationally recognized organization whose mission is to "empower its members to become world-class workers, leaders and responsible American citizens. SkillsUSA improves the quality of America's skilled workforce through a structured program of citizenship, leadership, employability, technical and professional skills training. SkillsUSA enhances the lives and careers of students, instructors and industry representatives as they strive to be champions at work."
More about SkillsUSA can be found on their website www.SkillsUSA.orgopens in a new window.