(The Council on Occupational Education (COE) does not accredit avocational programs such as Academic Skills Builder (ASB), Adult Basic Education (ABE), English for Speakers of Other Languages (ESOL), and GED preparation. In addition, avocational programs do not qualify for Title IV financial aid assistance.)
Hours: Days and times vary at all locations throughout Lake County. Please refer to the class schedule below for more detailed information.
Cost: There is a $25 testing fee for new students. Tuition is $30 plus a $25 registration fee.
Testing Requirements: Test of Adult Basic Education (TABE) and/or CASAS GOALS
Mission: The mission of Adult General Education is to provide both basic and 21st century skills training that connects each student to his or her career path of success.
View the most recent class schedule and locationsopens in a new windowopens PDF file .
To view the Master Plans of Instruction for the GED®, ASB, ABE, or ESOL programs, visit the Adult Education General Information page.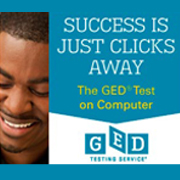 opens in a new window
This class is for
Those who score over a 9.0 on the TABE test on Reading, Math AND Language.
Those who score under a 9.0 will be enrolled in ABE (Adult Basic Education) classes to build the skills for achievement and success.
Benefits
Individualized instruction
Self-paced learning environment
Computer assisted learning in most of the classrooms
(see locations)
What you will learn
To develop a career plan
To perform basic math operations
To demonstrate language skills in both mechanics and sentence structure
To utilize reading comprehension skills
To develop the skills necessary for success on the General Educational Development (GED) test
To prepare for the academic tests in social studies, math, science, reading, and writing
For more information about GED testing for adults, click here. For more information about GED testing for minors, click here.
After GED you can start
Academic Skills Builder (ASB for a Career Prep Program)
A Career and Technical Education (CTE) Program
Postsecondary education
Steps to Enroll
Take the TABE
Meet with a career advisor
Register and pay fee
Go to class and begin your new future
Contact
Admissions
Phone Number: 352.589.2250