hours
180 hours, approximately 12 weeks
Starting Salaries
Vary, ranging from $18,000 to $36,000*
*Based on local industry information
Recent Employers of Graduates:
Cabana Nails
Synergy Spa
Robert & Robert Salon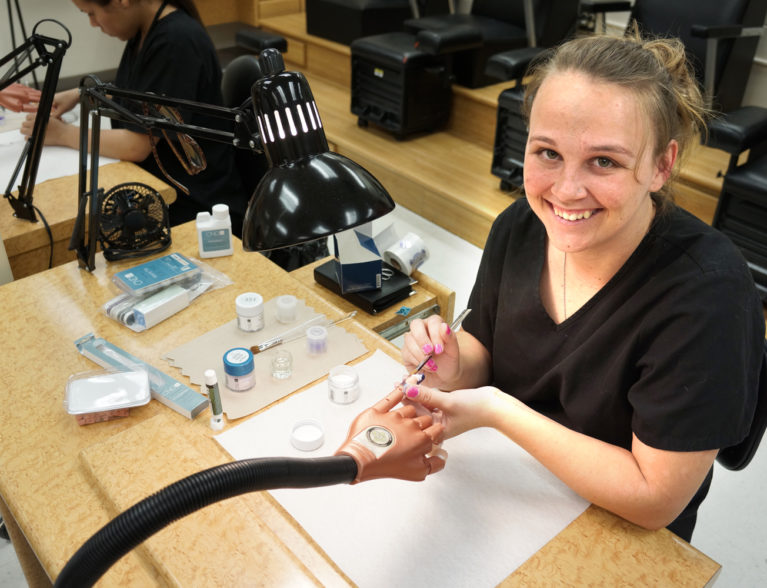 What you'll learn
Nails Specialty Occupational Completion Points (OCP)
| | | | |
| --- | --- | --- | --- |
| OCP | Course Number | Course Title | Course Length |
| A | CSP0016 | Manicure and Pedicure Specialist | 180 hrs |
Our numbers
Discover how Lake Technical College prepares students for the human services industry.
For employment, visit opens in a new windowwww.onetonline.org
Data as reported to COE and is updated annually in December of each calendar year.
Placement calculation may exclude (if applicable) program completers that are awaiting exam results,
refused employment, continued post-secondary education, or may be otherwise unavailable for employment.
Nail Tech School Near Me
Located near Orlando, the Nail Tech School at Lake Technical College provides you with the hands-on experience and classroom knowledge you need to earn your Nail Technician License in Florida. Our Nail School boasts a high pass rate and placement rate, preparing you for Nail Tech Certification and a career as a manicurist and pedicurist. If you are looking for a Nail Technician School Near Me or Nail Classes Near Me, call us at (352) 589-2250opens phone dialer or apply online to get started today.
Skip to content