Lake Tech Graduation Photos 2021
Beginning on July 1, you can find your graduation photos with these links:
Computer: https://bonniewhicherphotographyinc.zenfolio.com/p630170489opens in a new window
Cell: https://bonniewhicherphotographyinc.zenfolio.com/p630170489/2064496543/appstart.htmlopens in a new window
---
Congratulations Lake Tech Graduates!
Lake Technical College's 2021 graduation ceremony will be on Thursday, June 10 at the Eustis Community Center on 601 Northshore Drive in Eustis. Because of CDC guidelines, we will be hosting several ceremonies during that day. Masks are optional. The ceremony will be livestreamed on our Facebook page for those who cannot attend. Each student is allowed 3 guests; ticket information will follow.
Graduation regalia (cap and gown) can be purchased in our Business Office for $40. Consult your instructor on whether you wear regalia or another special uniform.
Students must be at graduation 30 minutes before the ceremony begins. Please make sure that your instructor knows that you will be attending.
Below is the schedule of graduation ceremonies:
| | |
| --- | --- |
| Time | Program/s |
| 9 am | Welding, Auto Collison, AST 1, AST 2, Diesel 1, Diesel 2 |
| 10 am | HVAC 1, HVAC 2, Baking & Pastry, Culinary, CNC |
| 11 am | Accounting, Admin Office Spec, Enterprise, 911 |
| Noon | |
| 1 pm | Medical Assisting, PCT, Pharm Tech, Phlebotomy |
| 2 pm | Cosmetology, Facials, Nails |
| 3 pm | High School GED |
| 4 pm | |
Please click on the image below to view the rehearsal video ~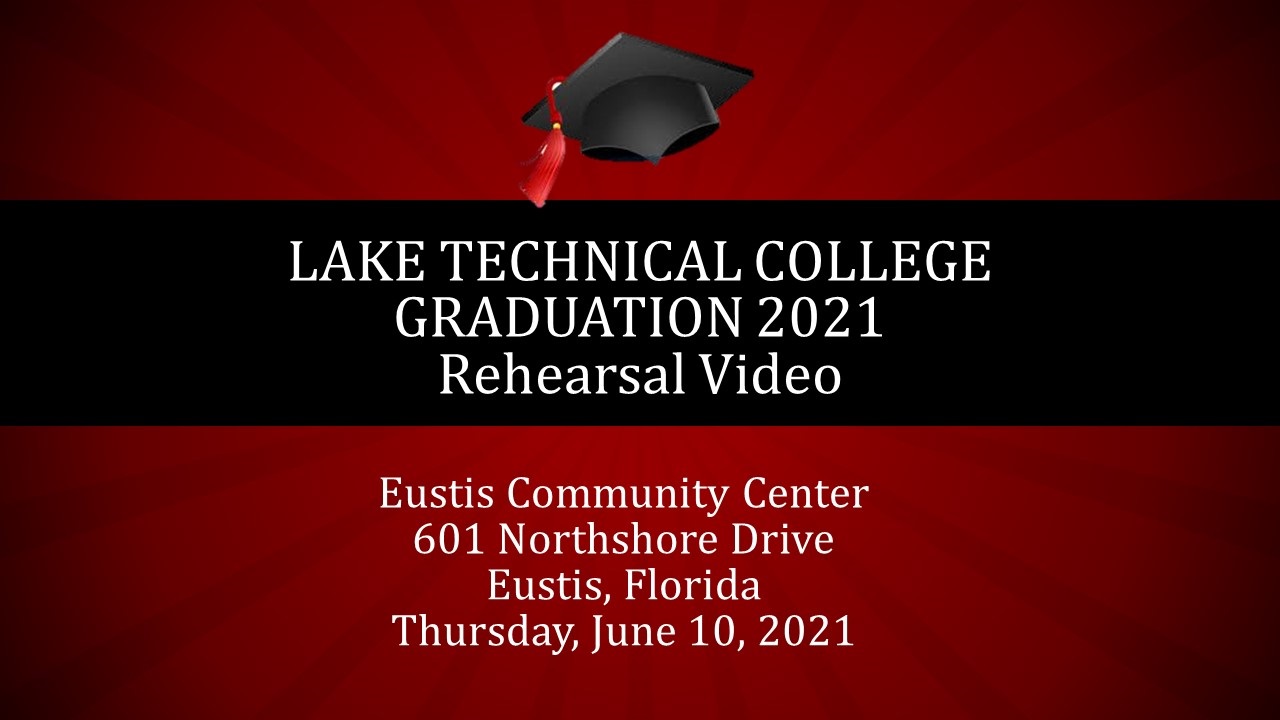 opens in a new window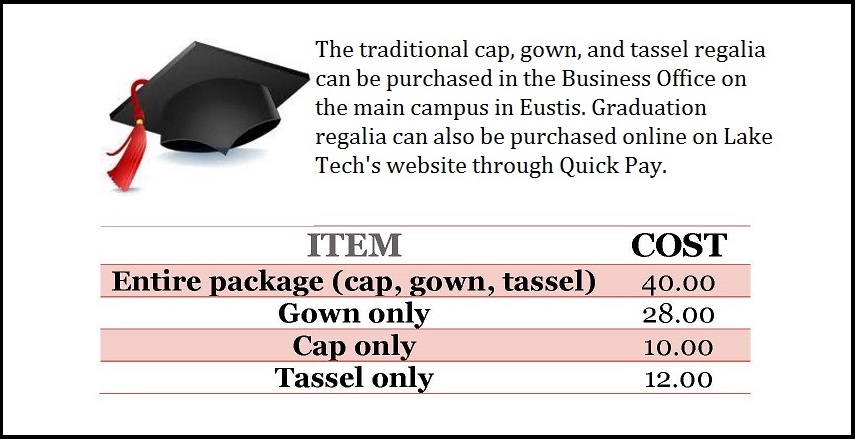 Career and Technical Education students are eligible for graduation once the following criteria are met:
Completion of all Occupational Completion Points and/or courses.
Completion of all competencies as stated in the Master Plan of Instruction.
Completion of state-mandated exit requirements for TABE, if applicable.
Completion of the required clock hours, if applicable.
For more information on graduation, please contact Sonya Rosenglick at ext. 1855, rosenglicks@lake.k12.fl.uscreate new email.