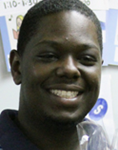 opens IMAGE file
Name:
Alfonzo Baptiste
Program:
Early Childhood Apprenticeship Program
Graduation Date:
June 25, 2009
Current Employer and Job Title:
Lake County School Board, Eustis Heights Elementary, Teacher Assistant
Former job:
Coleman's Preschool
Testimonial Quote:
"Lake Tech taught me the necessary skills so I can be an effective childcare provider!"
Why Lake Tech?
Lake Tech endeavors to reach students, regardless of their ability or disability.
How was Lake Tech different from other schools you have attended?
Lake Tech is different from so many other schools because they provide you with memorable learning opportunities. The school offers experiences that will make you successful in the field that you desire to work in.
How long did it take you to complete your training?
Two years
What did you learn in your program that prepared you for your job?
I learned how to assist the educational staff to monitor children's progress, as well as the preparation of academic activities. In addition, I gained an understanding of how to assist children with their academic difficulties and personal needs; to provide emotional support and encouragement to students; to lead by example for students; and model appropriate behaviors and practices in the educational setting.
Describe your best experience while a student at Lake Tech….
When I graduated from the Early Childhood Apprenticeship program with honors! This memorable experience will always be with me because it taught me that if I can achieve noble honors, then the impossible can be achieved.
What is one thing that future students should know about Lake Tech?
Lake Tech equips and prepares you for the work field that you have a passion to work in.
Do you have plans to continue your education?
I will continue to pursue any and all relevant classes and coursework to increase my skills in order to provide children with the best possible environment and education.