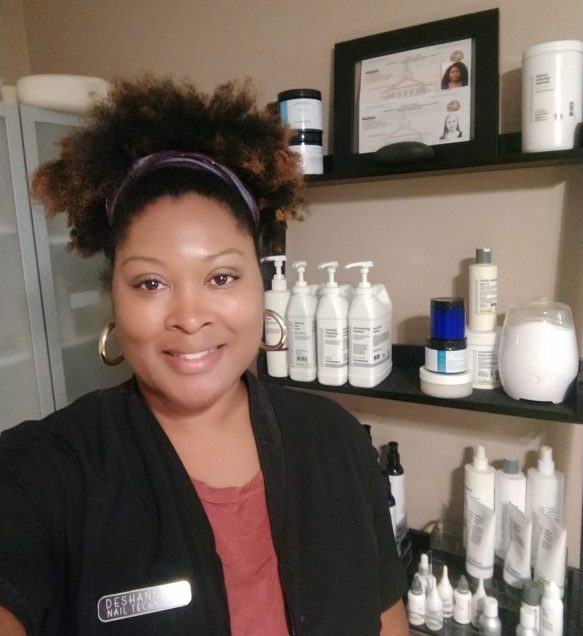 NAME: Deshanna Warren
PROGRAM: Nails and Facials Specialty
GRADUATION YEAR: 2016
CURRENT EMPLOYER: Essential Therapies Garden Spa
WHY DID YOU CHOOSE LAKE TECH?
I choose Lake Tech for the location and tuition. I was and still am a working adult that wanted to change careers so I wanted to remain local. I was so happy when I saw the billboard for this school, I just knew that it was meant to be!
HOW WAS LAKE TECH DIFFERENT THAN OTHER SCHOOLS YOU MAY HAVE ATTENDED/CONSIDERED?
The teachers and staff are there to make sure you're successful. I loved that if you needed help with your studies that they would be readily available. And the tuition is great!
HOW DID YOUR LAKE TECH PROGRAM PREPARE YOU FOR YOUR CAREER?
There was lots of hands on services that I needed to perform to make sure that I was ready for future clientele.
DESCRIBE YOUR BEST EXPERIENCE WHILE BEING A STUDENT AT LAKE TECH.
When I spoke to a counselor about continuing my education for facial specialty it was an easy process. I was able to get an in house scholarship and be put on a payment plan. With me being a working adult enrollment at Lake Tech I was able to provide for my family and continue my education simultaneously.
DO YOU HAVE PLANS TO CONTINUE YOUR EDUCATION? OR HAVE YOU ALREADY OBTAINED FURTHER EDUCATION? IF SO WHERE AND FOR WHAT?
No I am in the career that I want to be in. I have no other plans for more schooling.
WHAT ARE YOUR FUTURE GOALS?
I would eventually like to own my spa in the Golden Triangle area. I would be provided all skin care and nails services.
WHAT IS THE ONE THING THAT FUTURE STUDENTS SHOULD KNOW ABOUT LAKE TECH?
Stay focused! if the path you chose is the one you desire Lake Tech will help you get there.