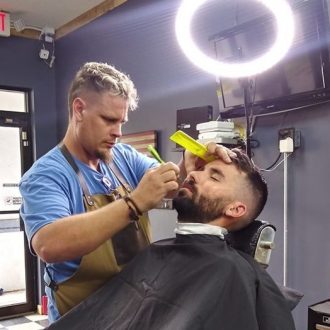 opens in a new windowNAME: Ron DeMoss
PROGRAM: Cosmetology
CURRENT EMPLOYER: I am the Owner of DeMoss House of Cuts
WHY DID YOU CHOOSE LAKE TECH?
At the time I went to Lake Tech they had the best completion rate for my program. It was really close to home and allowed me to still work, go to school and be a new father.
HOW WAS LAKE TECH DIFFERENT THAN OTHER SCHOOLS?
My instructors were vital in helping me succeed. It wasn't easy for me because my life had a lot going on but they believed in me and it was huge. To this day my instructors are still involved in my life one way or another and it means a lot to me to have their continued support.
HOW DID YOUR LAKE TECH PROGRAM PREPARE YOU FOR YOUR CAREER?
It gave me amazing teachers and fundamental skills to set me on a great path for success.
WHAT ARE YOUR CAREER ACCOMPLISHMENTS?
Being out of school only 3 years and opening my own shop is huge. I worked hard in those 3 years to reach my ultimate goal of a place I could call my own. I opened my first location in 2015 and I was the only one in there. I came from a location over 40 minutes away and none of my clients followed. I had a few clients locally but I put everything I had in to it 7 days a week. Working 7am-7pm the first 18 months to build my clients. On December 17, 2018 I moved my location to almost triple the space to open my current location which is a successful Barber Lounge and Salon in Leesburg. Now it isn't just me, I have several employees some of which are Lake Tech graduates.
WHAT IS THE ONE THING THAT FUTURE STUDENTS SHOULD KNOW ABOUT LAKE TECH?
Don't give up. It sounds cliché but don't. Also, I never made a plan B. I never put it in my head "if this fails I can go do this instead". It puts you in another mindset when you don't have a backup plan, you work harder. Also, this industry is full of talent. Don't let that make you feel like you have to do what everyone else doing, you are not them! Your clients come to you for a reason and it isn't just the haircut, color, or service. Stay in your lane, do you and you will succeed. Y'all got this!