This Week at Lake Tech….
Friday, September 6 is National Flipped Day! Pancakes and all the toppings will be served by the Culinary students in the student center during the morning break and some instructors might even be flipping their lessons. Faculty are invited to join Sonya Rosenglick for some "flipped fun" on Friday afternoon.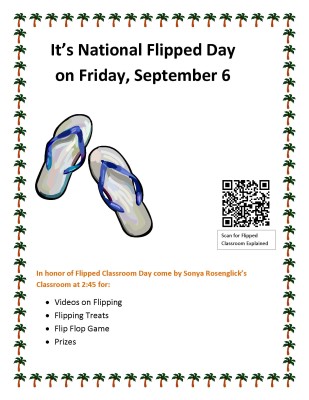 opens IMAGE file
Academic Affairs
Arts, AV Technology & Communication
The new Digital Design 1 students worked on their business etiquette this week while also practicing their keyboarding techniques and speed. The Digital Design 2 students taught the new students how to collate and bind their own workbooks.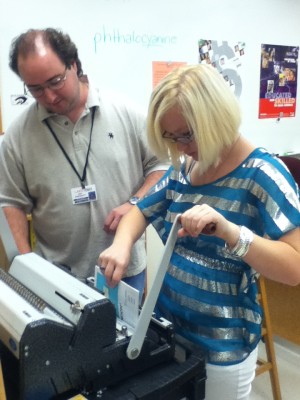 opens IMAGE file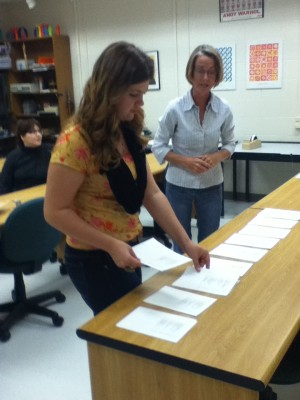 opens IMAGE file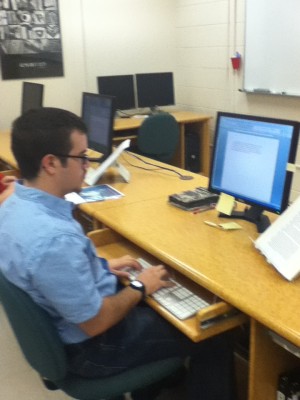 opens IMAGE file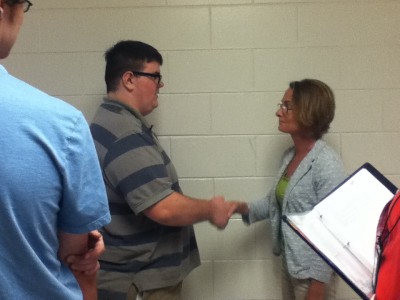 opens IMAGE file
Business Management & Administration
Our second week of classes started out very strong. Everyone is getting to know each other and to learn the Lake Tech way. Julie Brown, an Administrative Office Specialist student, had the honor of giving the first student presentation. Her topic was "Starting Your Own Business." This proved to be a timely subject as another student is in the process of setting up a business of her own.
During the summer many of the Lake Tech faculty returned to school early to participate in technical training at "CampTech Know." To acknowledge this commitment all earned a t-shirt that was designed by Administrative Office Specialist student Kelsey Tracy. Here Kelsey proudly displays her accomplishment.
In our class we worked on various topics such as mail merge, troubleshooting using Excel spreadsheets, and working machine transcriptions.
The new year is starting with a lot of excitement.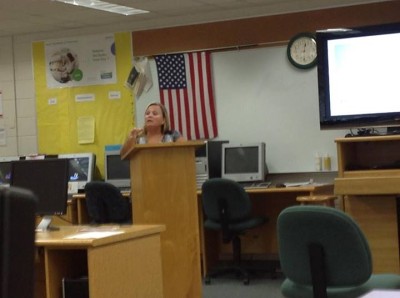 opens IMAGE file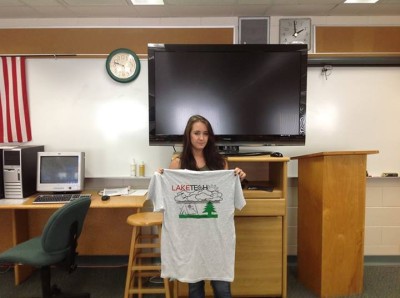 opens IMAGE file
Health Science
The first graduation of the 2013-14 school year took place on Thursday. The summer EMT class received their certificates and are now preparing for the state exam.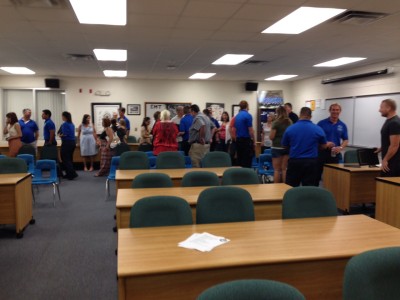 opens IMAGE file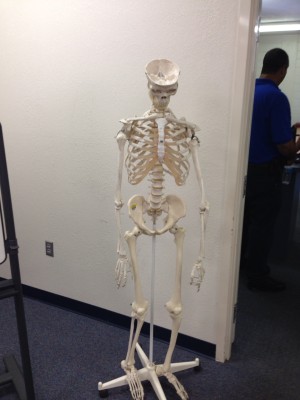 opens IMAGE file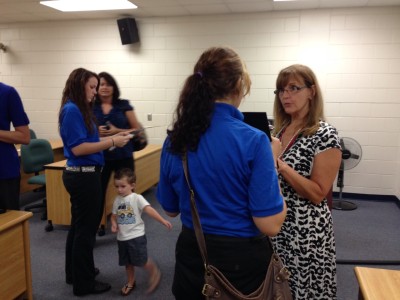 opens IMAGE file
The Full time Day LPN class had the opportunity on Tuesday to gain some very valuable information on success and stress management from Dr. Lindamood. It was very informative and enjoyable. Thank you Dr. Lindamood.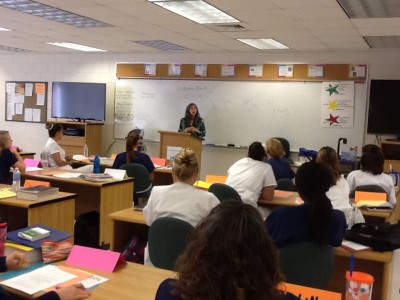 opens IMAGE file
We welcome a new instructor to the Health Science Team – Carlos Reyes. You may think you already know him as he hosted the Minute to Win It competition so successfully. However, we asked him some very specific questions to learn more….
As a new employee, what do you like best about Lake Tech so far?

As a new employee to Lake Tech, what impressed me the most was the "family-like" atmosphere. I have been welcomed as though I had arrived "home." It is wonderful to be a part of an environment where the student truly does come first. To see instructors at their classroom doors welcoming and encouraging their students as they arrive for class shows a genuine commitment to each student's success.

What are your favorite hobbies?

I enjoy playing my guitar. Music has always been a part of my life and is a great stress reliever.

Do you have a pet?

I have two dogs: Mona "The Monster" (Cocker Spaniel), and Myla "The Freak Dog" (Jack Russell). They keep each other entertained and are wonderful companions.

Any advice or words of wisdom you wish to share with our readers?

I need to have wisdom to share it…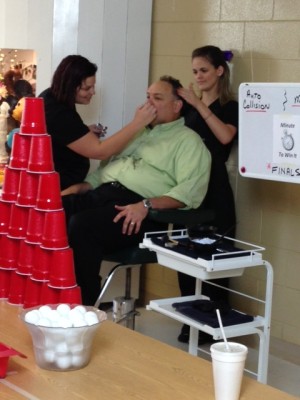 opens IMAGE file
The Medical Assisting students were very appreciative of the new equipment in their classroom. Instructor Beth Thornton has been working diligently for her site visit to become AAMA accredited. The visiting team will arrive on September 9.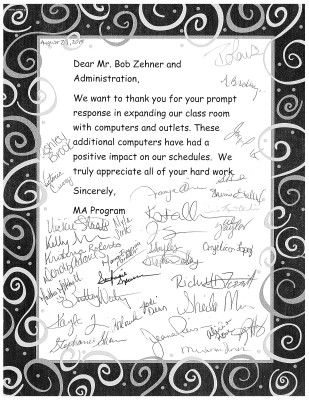 opens in a new windowopens PDF file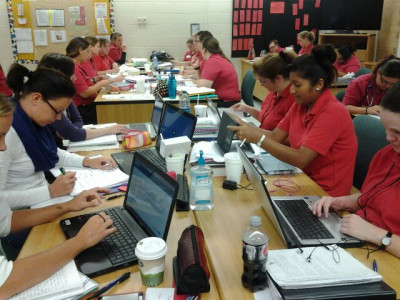 opens IMAGE file
Human Services
This week, each freshman student shadowed a senior student in the Cosmetology program. This project really encouraged teamwork and allowed the students to get to know one another better. In addition, the new students had the chance to become more comfortable speaking to clients and moving around the lab floors.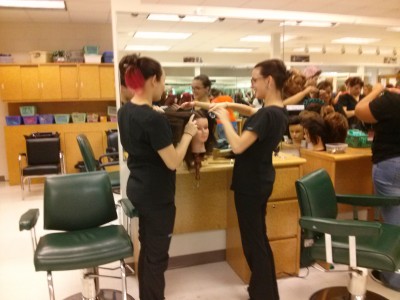 opens IMAGE file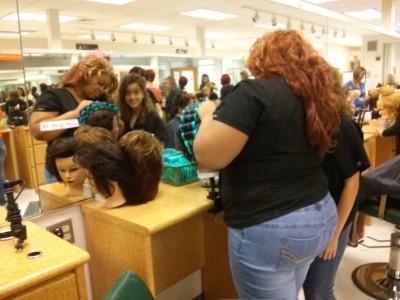 opens IMAGE file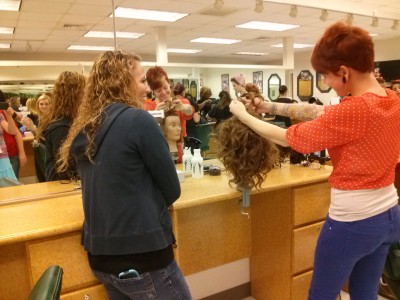 opens IMAGE file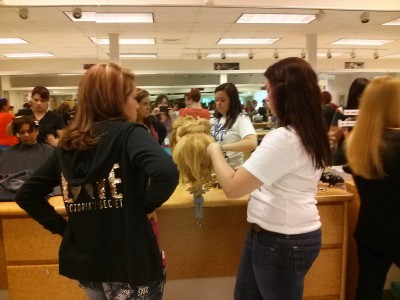 opens IMAGE file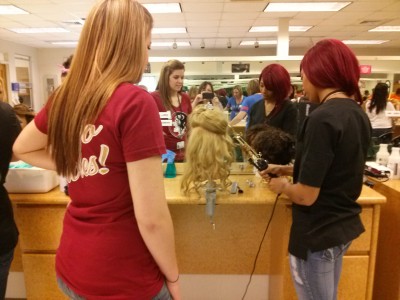 opens IMAGE file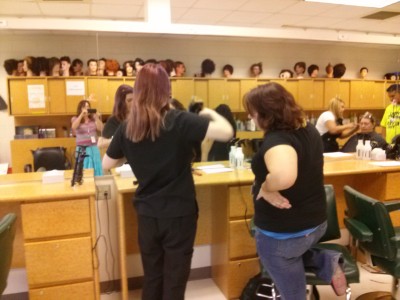 opens IMAGE file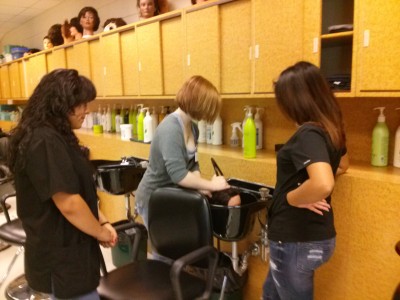 opens IMAGE file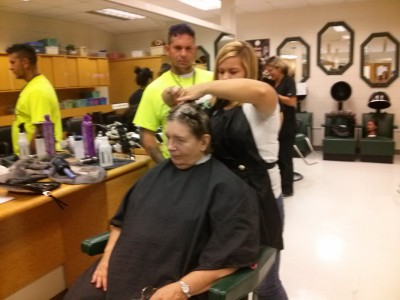 opens IMAGE file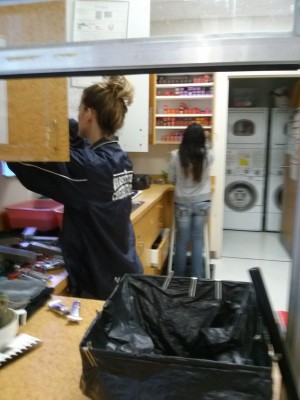 opens IMAGE file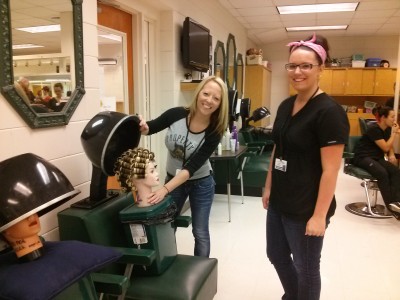 opens IMAGE file
Law and Public Safety
The Corrections Recruits completed their Communications block this week and have move into the First Aid block. Law Enforcement Recruits are continuing with Communications in the morning and Defensive Tactics in the afternoons. Read about the Law Enforcement class in the Daily Commercial.
All of the Recruits have earned a much welcomed four day weekend.
Several new classes will be available this fall in the Private Security Guard program area. Short courses include: Techniques & Principles of an Effective Supervisor; Human/Community Relations for Private Security; Effective Interviewing and Report Writing; and Critical Incident Preparedness will be offered this fall.
Manufacturing
Lake County's Center for Advanced Manufacturing will be built on the campus of Lake Technical Center. This public/private partnership will provide for high quality training which will generate good long-term jobs in this sector. Read this very interesting article.
Transportation & Logistics
This week, many of the Auto Service Technology students had the opportunity to learn about the electrical and ignition systems using the new simulator system boards.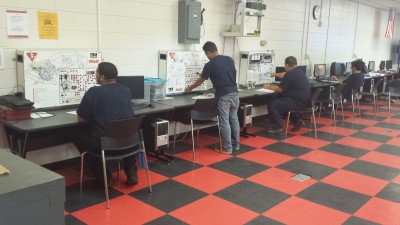 opens IMAGE file
The Auto Collision Repair and Refinishing students were celebrating their Minute to Win It victory over the Paramedic students this week!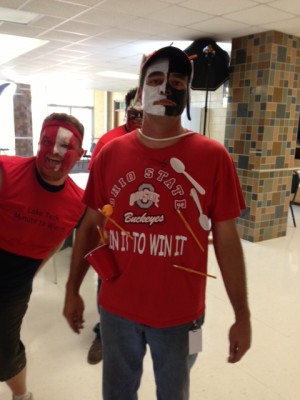 opens IMAGE file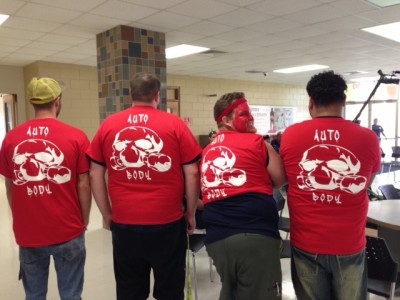 opens IMAGE file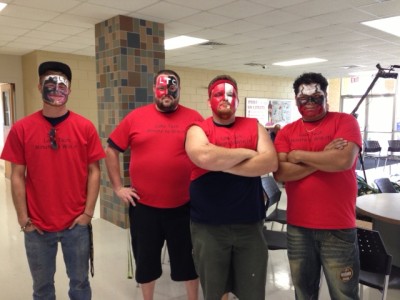 opens IMAGE file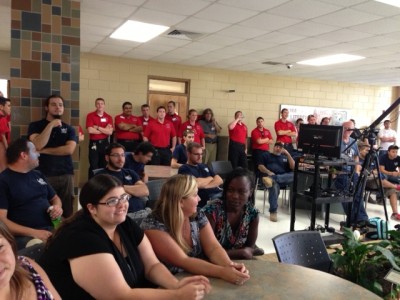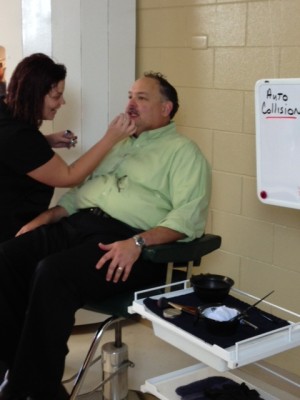 opens IMAGE file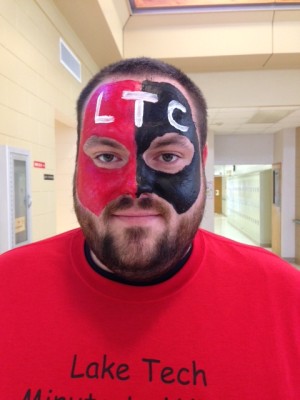 opens IMAGE file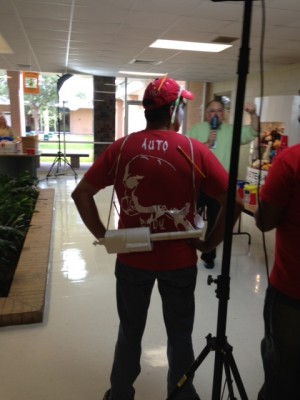 opens IMAGE file
IMG_0438opens VIDEO file IMG_0437opens VIDEO file IMG_0434opens VIDEO file
Adult Education
We had a fun this week! We started our "GED Wall of Fame" project. Mrs. Avelli helped the students learn how to set up a business letter and write to famous people who received their GED. Many of our students know how to text, but not write a formal letter. This is a life skill as well as something that is on the TABE and GED. The class was a-buzz with activity and many were surprised at the number of successful celebrities who completed a GED.
Our class had a visit from one of our GED graduates who is now in the Patient Care Tech program. She talked to the students about her struggles and achievements; she also told them that they can do whatever they want with hard work!
Important Information: Do you need your high school diploma and want to take the GED test? Did you know that if you've already started the test but haven't finished, your scores expire at the end of 2013? The new GED test comes out in January 2014.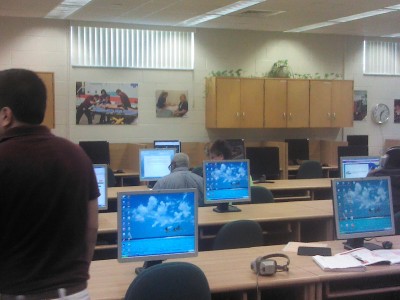 opens IMAGE file
opens IMAGE file
Student Affairs
The new computerized visitor check-in system in Admissions is up and running with only a few kinks this week. Visitors are now able to "scan in" and relax in the main lobby while watching the screen for their name to turn "green ready". At that time they proceed into Admissions where they are happily greeted by the counselor, career advisor or staff member that will be helping them smile bigger and have a happier day! This new system allows certain staff members to work as a "triage" team before the guest is even seen, which makes the experience quicker and more efficient. We can also see how long the guest has been waiting, which team member helped them, and access all of their information. We will soon be linking this to include the Financial Aid Department as well.
The next phase includes a link to a survey that will automatically be emailed to each guest that "scanned in". This survey will allow them to tell us all the things we did right, as well as all of the things we could do better!
A special thanks this week to Tom Netherton for working with us to create and develop this amazing system and to Bob Zehner for all of the hardware and software work required for the system. They worked very hard to deliver happiness to our department AND to all of our visitors!
Enrollment is up 50% and we are steadily taking calls, emails, processing financial aid, and enrolling new students every day. Please stop by and visit Admissions and let us know how we may be able to further assist you or our students. Have a HAPPY week everyone!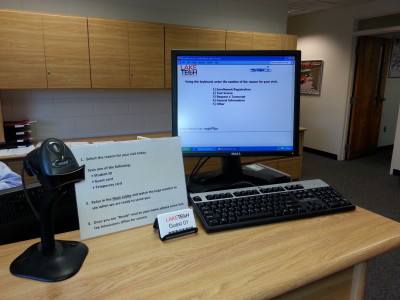 opens IMAGE file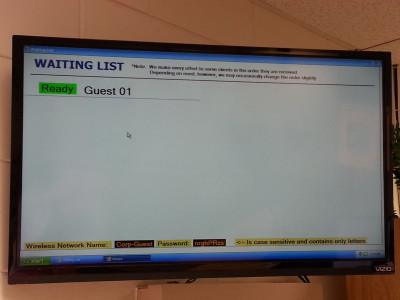 opens IMAGE file
Mai Yang, from the Financial Aid Department, successfully completed her online professional development course, "Introduction to Microsoft Word." Congrats to Mai.
Staff Development
Title: Florida CHOICES: The Next Generation
When: Wednesday, September 4, 2013, 3:00 PM to 4:00 PM Eastern
Join us for a one-hour overview of the exciting enhancements to Florida CHOICES that teachers and students will be able to experience beginning August 29, 2013. Get a peak at the new look and learn about ways to navigate to student favorites such as the Interest Profiler and Career Pathways. Join us so that you can get your students off to a great start with their career exploration and planning!
Technology
What's Happening This Week?
Al Herndon, representing the National Center for Construction Education and Research (NCCER), will be on campus Tuesday. He will be meeting with Jack Miller and Steve Bagg to discuss the use of the standardized NCCER curriculum which offers portable credentials in the new Air Conditioning, Refrigeration, and Heating Technology program.