In the Weeks Ahead at Lake Technical College
Fire Fighter Graduation, May 31 at Tavares Middle School
Partnership Press Conference, June 5, 1 pm, Fountain Lobby
June 13, Graduation Day – Florida High School Diploma at 10 am
CTE Graduates at 2 pm, Lake Sumter State College
National SkillsUSA Conference, June 19-23, Louisville, KY
CONSTRUCTION UPDATE
The roof is on!
ACADEMIC AFFAIRS
ARCHITECTURE & CONSTRUCTION
Air Conditioning, Refrigeration & Heating Technology – The students in Mr. Bagg's program took a field trip this week to Black's Supply to learn about the products sold by NuCalgon. NuCalgon markets and distributes a complete line of specialty chemical products for the air conditioning, refrigeration aftermarket as well as the plumbing, heating, and food service/restaurant supply markets. The products include coil cleaners, descalers, and refrigeration oils among others.
The students also learned about the ways supply houses support technicians in the field.
opens IMAGE file
BUSINESS MANAGEMENT & ADMINISTRATION
Accounting Operations / Administrative Office Specialist – The end of the school year is quickly approaching and our students are working hard to complete their requirements for graduation. We would like to congratulate Jacqueline Villegas on the completion of her program and with her continued success. In addition to working on our program requirements, we also took time to learn about what employers are looking for in their employees. Jeannine Nelson, a HR Specialist from Lake County Government, presented this important information on the topic, which included information to our students on the steps to promote themselves to get hired and keep their job.
HOSPITALITY & TOURISM
Commercial Foods & Culinary Arts – Culinary student D'Andrea's final exam in the bakeshop class of her program included this amazing "Cosmo Cake."
HUMAN SERVICES
Cosmetology – Great Clips held a seminar on haircutting for the students. While they were here, the students were told about scholarship opportunities. Several of our students applied and four from Central Florida were chosen. One of the four was Lake Technical College student Kelli Meoak who was awarded $250 to apply towards her education or supplies when she leaves school. She was presented this award this week from the general manager from Great Clips. We are very proud of her.
TRANSPORTATION & LOGISTICS
Auto Collision Repair and Refinishing – Students practiced their painting and repairing techniques.
ADULT EDUCATION
ESOL – One of the many ways students learn English is through singing. Marvina Hooper would lead her class in several songs each week. Her favorite was the "Itsy Bitsy Teeny Weeny Yellow Polka Dot Bikini." On her last day before her retirement, Mrs. Hooper led the class in singing it one more time – in costume!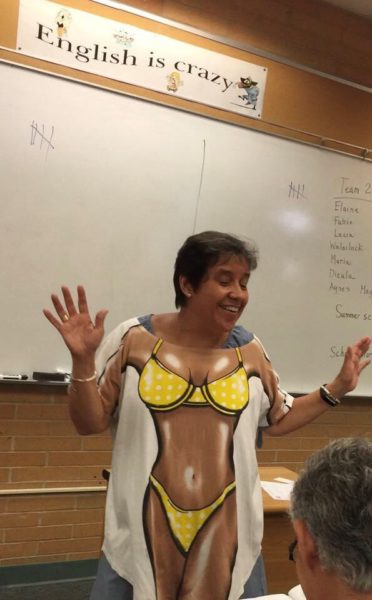 opens IMAGE file
STUDENT AFFAIRS
National Technical Honor Society Induction Ceremony – This week, another exciting ceremony took place, this time for the National Technical Honor Society. NTHS serves approximately 100,000 active members and nearly a million since its inception in 1984. In addition to scholarship achievements, students are selected on the basis of other criteria including leadership, integrity, and service to the community. Each student receives a membership ID card, lapel pin, NTHS drop tassel, window decal, and scholarship opportunities. 55 students were inducted this spring and many friends and family members were there to help celebrate. Dr. Susan Moxley, Lake County's Superintendent Emeritus and former Lake Tech Director, was our guest speaker.
TECH TIP