**New Class in June**
Private Investigator Training
June 16 – June 27; M-F; 6:00p-10:00p
In the Weeks Ahead at Lake Tech….
May 19 – 23 Bring Your Hotel Size Toiletries for Casa DAVID
May 19 – Chamber Alliance Meeting; Diane Culpepper to present
May 20 – Cluster Leader Meeting
May 21 – National Adult Education Honor Society Induction Ceremony, 3 pm Early Childhood Classroom
May 22 – Pam Nabors, CEO Career Source Central Florida, on campus
May 23 – Firefighter Graduation, 7 pm at Tavares Middle School
July 15 & 16 – Tech Camp
Academic Affairs
Arts, AV Technology & Communication
Digital Design 1 & 2 – The Digital Design students created a variety of button designs for the 2105 GeorgeFest. All designs will be on exhibit at the Eustis Art Museum, where the visitors will be the judges. Visit the museum and vote for a Lake Tech Digital Design student from June 1 through June 30.
Students were also working on Mother's Day cards. What a beautiful tribute to the special moms who have influenced the lives of the Digital Design students.
GeorgeFest Button Design imagesopens in a new windowopens PDF file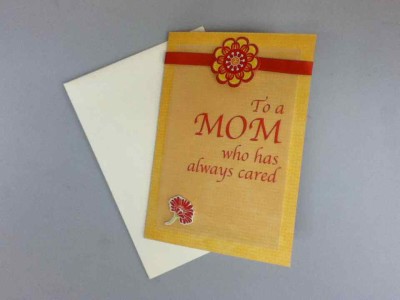 opens IMAGE file
opens IMAGE file
opens IMAGE file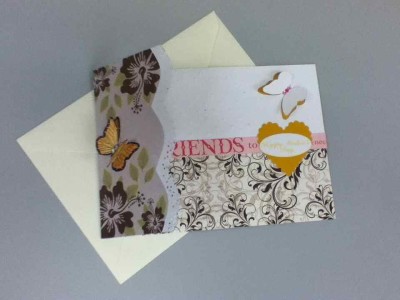 opens IMAGE file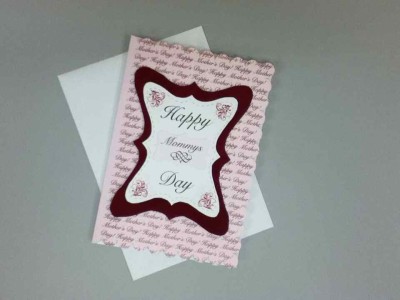 opens IMAGE file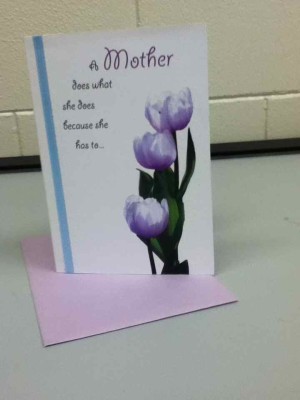 opens IMAGE file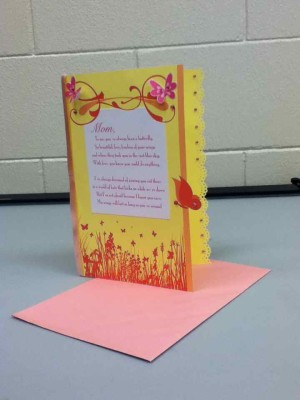 opens IMAGE file
Business Management & Administration
Accounting Operations and Administrative Office Specialist – Students have completed another busy week. As we approach the end of the semester we are ramping up our experiences with both interview and customer service practices. These are valuable lessons as our students prepare for graduation and summer jobs.
In the pictures below, Zana Dudley being interviewed by Kasey Steele, Joey Williams, and Cherry Doty. All of our students get the opportunity to participate.
We also have been improving our customer service skills by seeing how our students would react in different situations. In the picture, Brandon Goff is reacting to a unique problem that Suzanne Auritt and Karen Horton are presenting. As you can see Karen "stole" the show for her portrayal of a spoiled child!
One part of our program that everyone either loves or hates is to give a presentation to the class. It is something they will do in business so the more practice the better.
And finally, we want to recognize the Moms in our Business Classes. Here we see Carolyn Shiflett being congratulated by Megan Bateman and Dr. Lindamood. Carolyn has five children, two of whom have attended Lake Tech.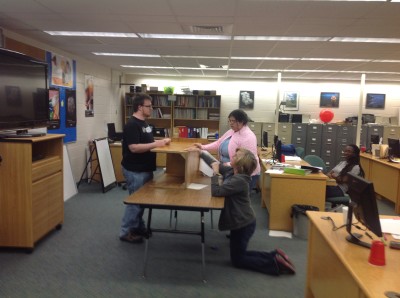 opens IMAGE file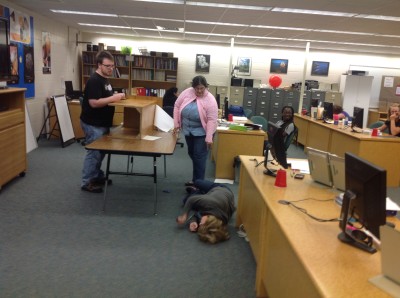 opens IMAGE file
opens IMAGE file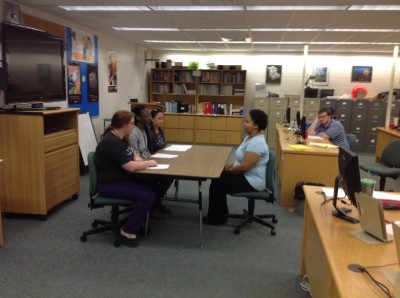 opens IMAGE file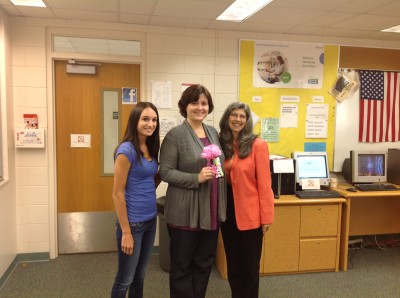 opens IMAGE file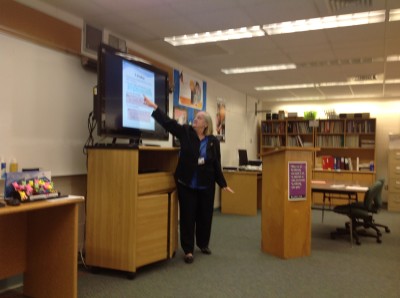 opens IMAGE file
Health Science
Practical Nursing – The Practical Nursing students participated in the Avante Mt. Dora Health Fair last week. These students are about ready to graduate and had a chance to share what they have learned and volunteer for a worthy cause.
opens IMAGE file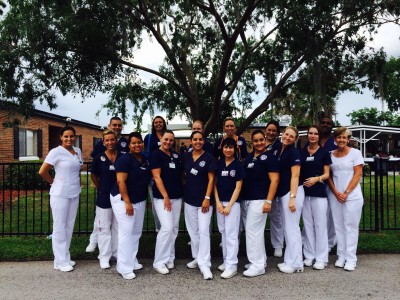 opens IMAGE file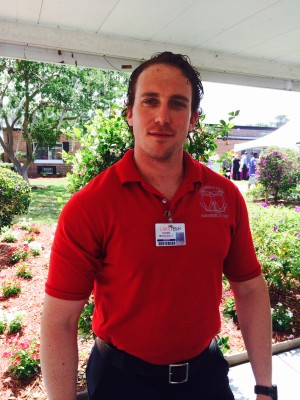 opens IMAGE file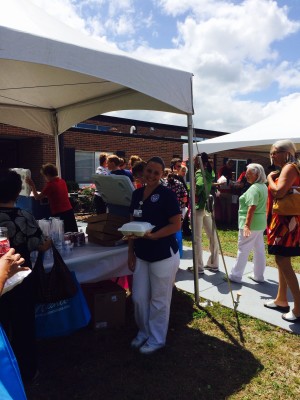 opens IMAGE file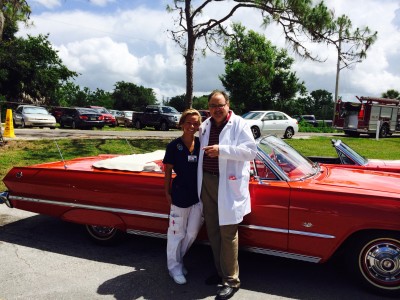 opens IMAGE file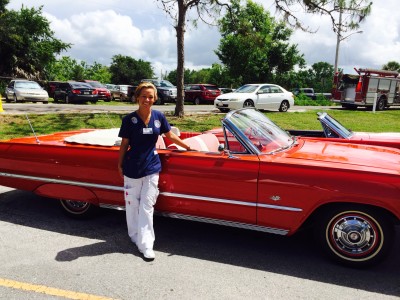 opens IMAGE file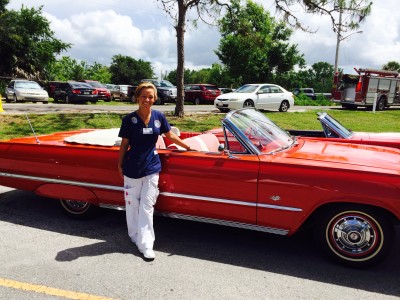 opens IMAGE file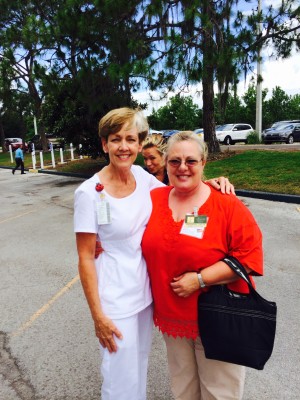 opens IMAGE file
Norm Hull from the Eustis Elks Lodge awarded a $500 scholarship to Joan Jessmer from the Practical Nursing program. The Eustis Elks Lodge is very generous to our Lake Tech students in the nursing, law, and fire fighter programs.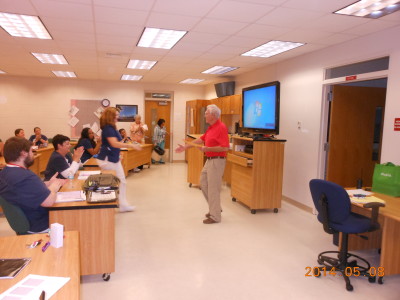 opens IMAGE file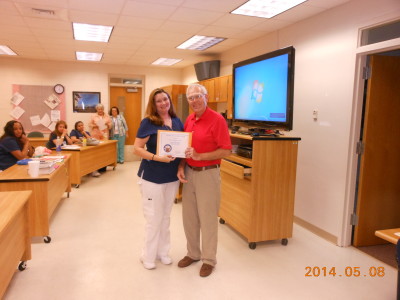 opens IMAGE file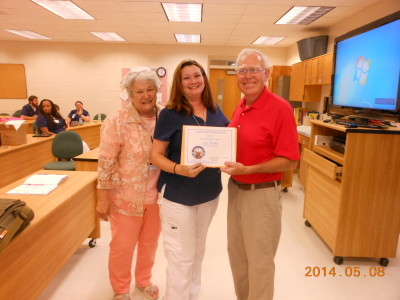 opens IMAGE file
Patient Care Technician – The Patient Care Technician and Practical Nursing students assisted with the Villages High School and their sports physicals. They helped with obtaining vital signs, heights, weights, and BMIs. In addition, some of the students were able to assist the physicians.
Several PCT students were inducted into the National Technical Honor Society on Tuesday.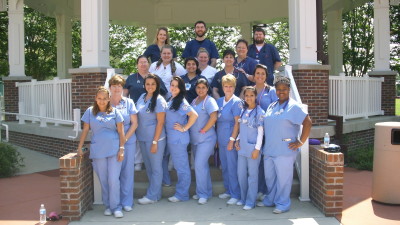 opens IMAGE file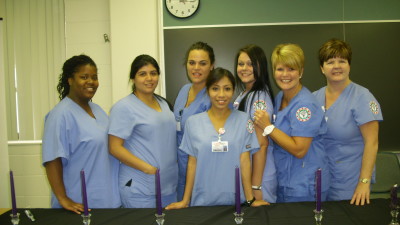 opens IMAGE file
Law and Public Safety
Law Enforcement – On May 15, nine recruits graduated from the Night Law Enforcement program and we are very proud of each and every one of them that endured nine months of school and work. Day Law is beginning their Professional Traffic Stops block and Corrections is on the Gun Range.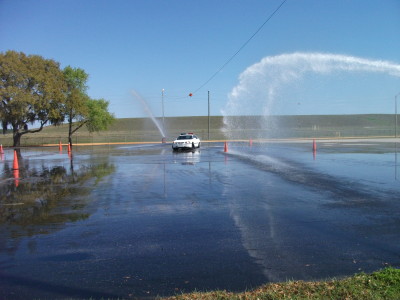 opens IMAGE file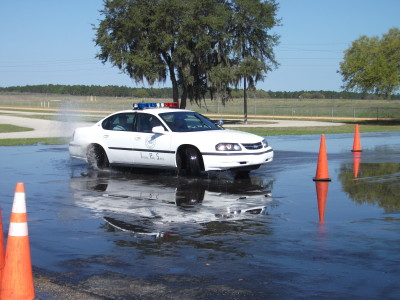 opens IMAGE file
opens IMAGE file
Adult Education
ESOL – ESOL Instructor Marvina Hooper and her students are gathering hotel sized toiletries for CASA DAVID. CASA DAVID is very similar to a Ronald McDonald House and is located in the capital city of Honduras, one of the poorest countries in the western hemisphere. They give people a safe, comfortable place to sleep, eat, shower and even wash their clothes while family members are hospitalized. Help us help them! Bring your hotel sized toiletries like shampoo, conditioner, body cream, soaps, toothpaste, and razors to the kiosk this week. They also need white bath towels and white twin sheets.
Joshua Benton and Carmen McKenzie earned their Florida Ready to Work credentials this week. Congratulations to these two adult education students!
Student Affairs
Lake Tech's Admissions Team are presenting scholarships at each high school's award ceremony in May. Returning dual enrollment students as well as new students will be honored with scholarships for August.
Students of the Month
Lake Technical College is proud to announce the following Students of the Month for April: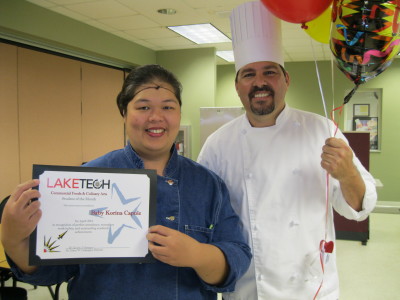 opens IMAGE file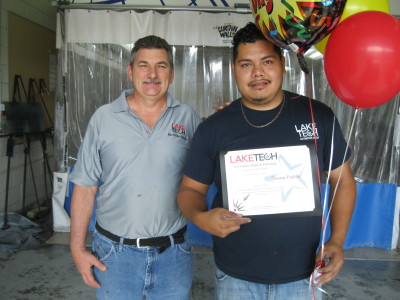 opens IMAGE file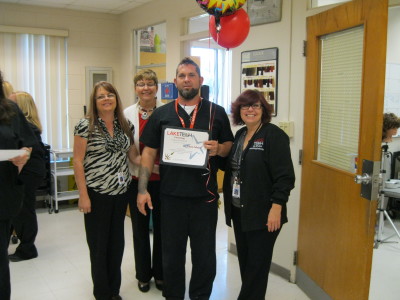 opens IMAGE file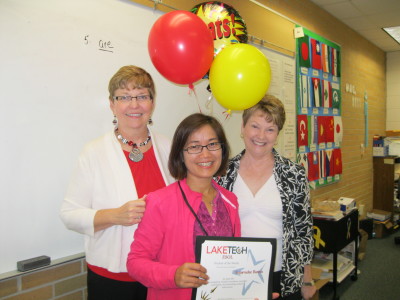 opens IMAGE file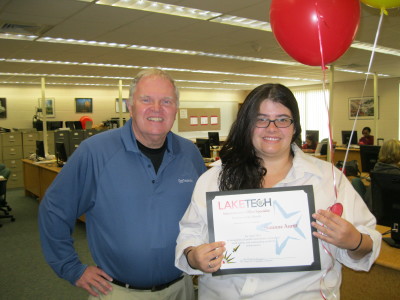 opens IMAGE file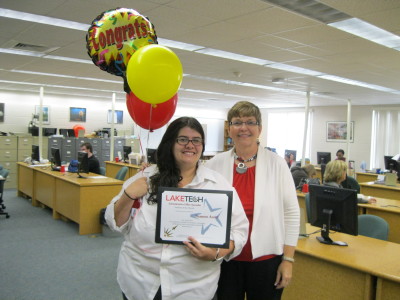 opens IMAGE file
Suzanne Auritt, Administrative Office Specialist; Eleazar Padilla, Auto Collision Repair and Refinishing; Baby Korina Capule, Commercial Foods and Culinary Arts; Glenn Adams, Cosmetology; Supavadee Barton, English for Speakers of Other Languages (ESOL); Recruit Troy McDonald, Law Enforcement; and Teena Edwards, Practical Nursing.
The students were nominated by their instructors because of their academic achievement, work ethic, attitude, and school and community involvement.
Lake Technical College congratulates the newest members of National Technical Honor Society: Glenn Adams II, Cody Albridge, Eileen Alvarez, Suzanne Auritt, Joy Aycock, Evan Bole, Barbara Breckenridge, Ashley Brock, Lauren Brown, Calvin Buchanan, Yesenia Cabrera-Leon, Sherry Cooper, Jill Crawford, Victoria Curry, Alexa Dattalo, Joshua DiCesare, Zana Dudley, Jacqueline Durham, Teena Edwards, Richele Ferriell, Monica Galindez, Troy Hatcher, Nicole Haynes, Joshua Hidock, Brittani Hollenbeck, Megan Hullinger, Shaniqua Hunt, Dillen Jeske, Joan Jessmer, Barry Kamm, Samantha Kerlin, Racheal Laws, Charles Lemmon, Shelby Lewis, Nicholas Magee, Cody Magnus, Mykel Maines, Johana Murillo, Maria Eugenia Parker, Judy Patten, Brycen Periko, Robert Peterson Jr., Madison Roberts, Rene Roberts, Alicia Rose, Melissa Ruddock, Brinda Ruehlen, Kelly Saucer, Robert Sayre, Carolyn Shiflett, Kevin Shook, Stefanie Spencer, Kasey Steele, Kevin Trewyn, Stephanie Valdez, Sara Velez, and Marcos Vieyra.
The Induction Ceremony took place on May 13, 2014. Robert Chandler, Lake County's Director of Economic Development and Tourism was the guest speaker.
opens IMAGE file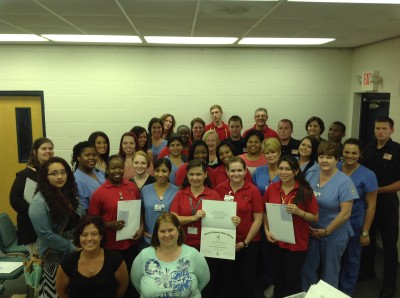 opens IMAGE file
National Adult Education Honor Society Ceremony – May 21, 2014 at 3 pm
The Ceremony will take place in the Early Childhood Classroom.
Graduation is right around the corner! The ceremony for the Florida High School Diploma graduates is June 19 at 7 pm. The ceremony for the Career and Technical Education graduates is June 20 at 7 pm. Both ceremonies will take place at Lake Receptions in Mt. Dora.
Staff Development
The Perkins Professional Development Institute is still offering mini-grants until June. We encourage eligible teachers to take advantage of the self-study option, which includes up to $150 for books or other training materials, in addition to paying for the cost of certifications. Go to the Perkins PDI website link and fill out a self-study application at the following link: http://www.cf.edu/departments/instruction/workforce/perkins/. Contact Melissa Stephan if interested.
Dr. Sherie Lindamood and Sonya Rosenglick have both been selected to present at this summer's FACTE Conference which will be held in Tampa.
In the Community
Lake Technical College was represented at the Umatilla High School Career Fair.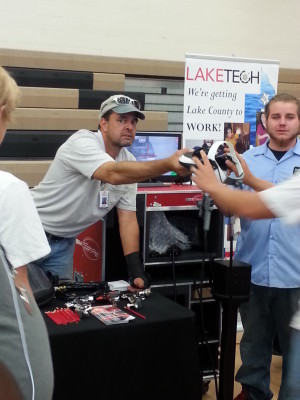 opens IMAGE file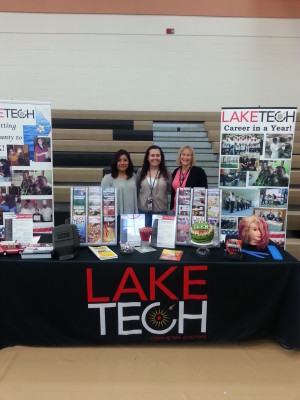 opens IMAGE file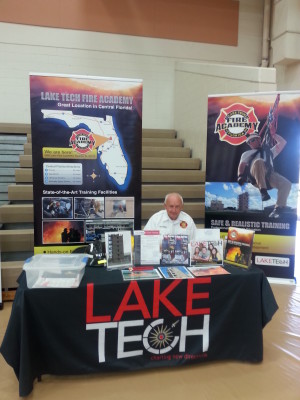 opens IMAGE file
opens IMAGE file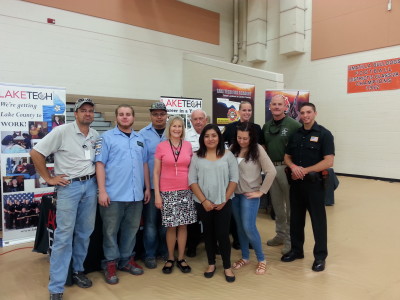 opens IMAGE file
On Tuesday, staff and students represented Lake Tech at the Umatilla Middle School Career Fair.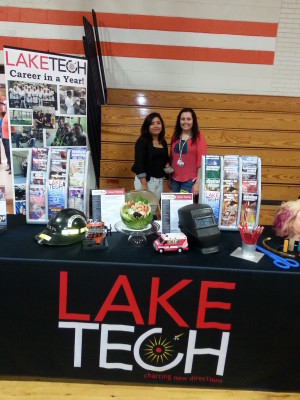 opens IMAGE file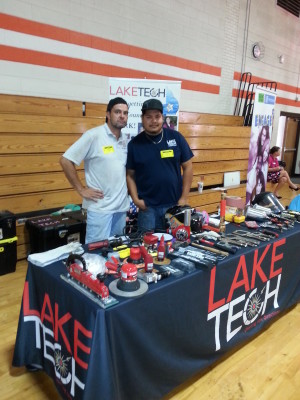 opens IMAGE file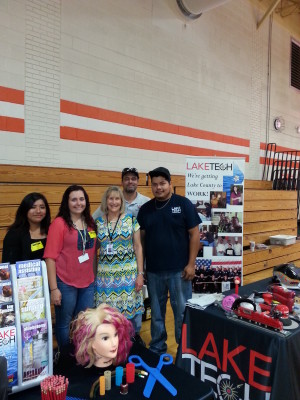 opens IMAGE file
Technology