This Week at Lake Tech
Law Enforcement and Corrections Advisory Committee Meeting, May 28, 9 am Institute of Public Safety
PT Challenge (Law and Fire Fighter Recruits), May 28 at 11 am
United Way of Lake and Sumter Counties Annual Meeting and Luncheon, May 29
STEM Conference in Orlando, May 30
Chamber Alliance Board Meeting and Workshop, Melissa Stephan to present, May 30, 2 pm
National Adult Education Honor Society Induction Ceremony, May 30, 3 pm
Academic Affairs
Business Management & Administration
Last week, we recognized major accomplishments for members of our classes. We started the week by honoring four members of our classes who were selected to the National Technical Honor Society. The newly elected members include Abel Barajas, Autumn Driggers, Ana Elentri and Estefania Libreros. Good job!
We also congratulated and bid farewell to Wendi Price and Autumn Driggers as they completed their class requirements for Administrative Office Specialist. Good luck to you both!!
Joyce Williams just completed her job shadowing requirements. She is shown reporting back to the class on her experiences and what she has learned.
In addition to refining resumes, our students also worked on understanding advanced accounting concepts and proofreading.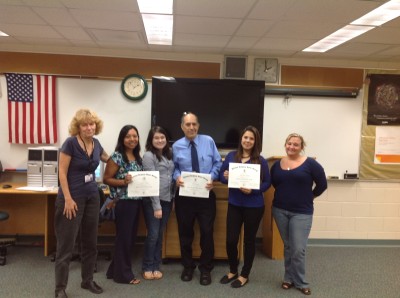 opens IMAGE file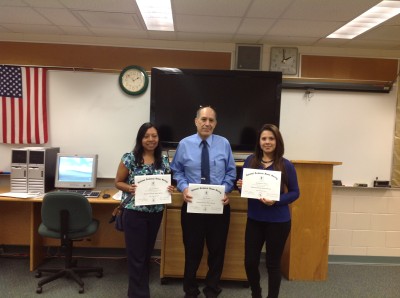 opens IMAGE file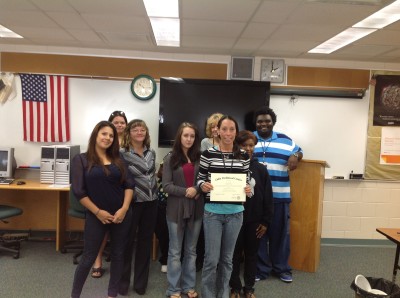 opens IMAGE file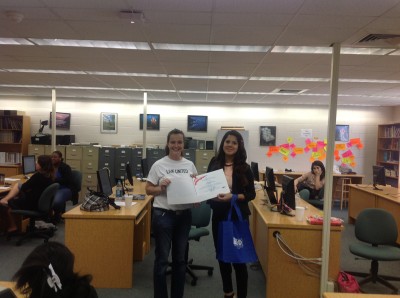 opens IMAGE file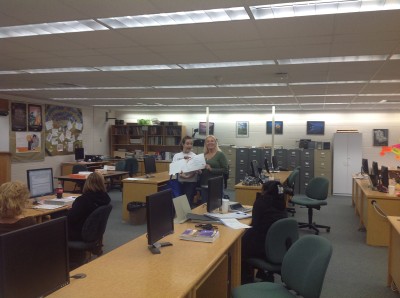 opens IMAGE file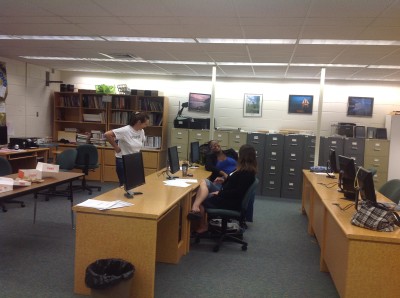 opens IMAGE file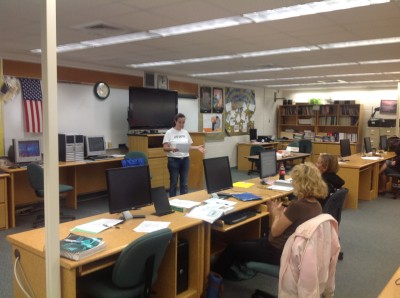 opens IMAGE file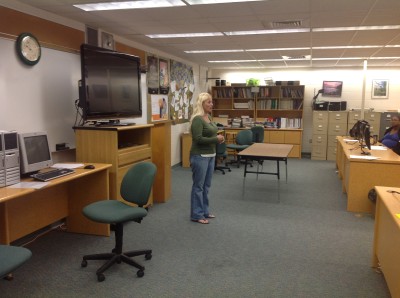 opens IMAGE file
Faithful readers of this column will recall that members of our business classes volunteered to help the residents of Lake County prepare their income taxes. Well, this week the program manager for the United Way, VITA, Ms. Mariah Delgado, came to our class to report on the status of their efforts. VITA volunteers prepared 469 tax returns. These returns resulted in total tax refunds of $562,253. Plus, they saved the tax payer over $54,000 in tax preparation fees!
Ms. Delgado then presented IRS certifications and tee shirts to the following Lake Tech student volunteers: Autumn Driggers, Ana Elentri, Estefania Libreros, Kendera Reese, Lashon Robinson and Mary Joyce Williams. Great Job!
This was also an exciting week for Estefania Libreros. She spent two days at a job shadowing experience. She will be reporting on her experiences next week.
Our students also worked on using an iPad and tapes to practice machine transcriptions and on creating ACCESS reports and understanding "What If" processes.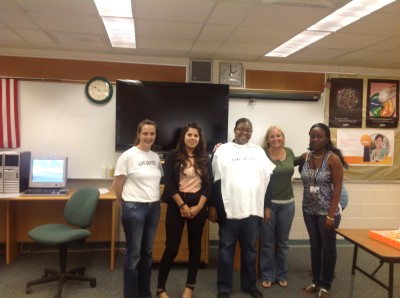 opens IMAGE file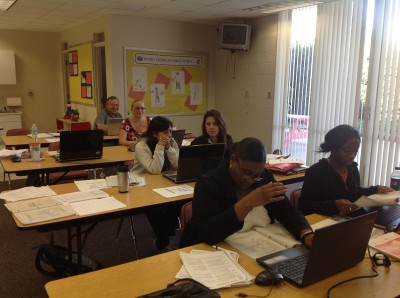 opens IMAGE file
Education & Training
Early Childhood Education instructor Kathy Roberts is developing online courses for her students using Edmodo. She has been able to include assignments, discussion boards, grades, etc. and the system seems to be working very well. The courses will make access easier for students from all over the county to take the required classes.
Health Science
Emergency Medical Technician On May 6, 2013, 20 EMT students graduated the EMT program. The graduation was well attended by family and friends of the students. Special thanks to Mrs. Melissa Stephan for validating the Certificates of Completions.
Congratulations to: EMT Graduates: Front row left to right – Henry Mosos, Bill Reed, Edwin Williams, Sydney McRae, Corey Lynch, Cody Minchey, and Joey Woods. Second row left to right – Craig Ahlstrom, Cody MacGregor, Tristan Upthagrove, Brandon Cooke, Lee Redmon, Austin Anderson and part-time instructor Danny Newsome. Third row left to right – Dusty Langford, David Tarbert, and Thomas Herod. Fourth row left to right – Kris Kloes, Jeff Broneck, Chris Benway, absent Michael Edwards.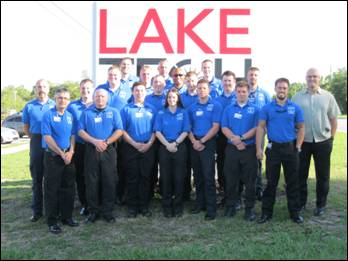 opens IMAGE file
Paramedic – Congratulations to the 2013 Paramedic Program graduates. The 1100 program completed May 15, 2013. Over 100 family and friends gathered for the graduation ceremony which took place on May 15, 2013, at the Eustis Community Center. Ten students walked to receive their Certificate of Completion. Guest speaker was EMS Program Medical Director, Dr. Paul Banerjee. Dr. Banerjee gave a very inspiring speech remembering his journey into medicine and reminding the graduates the importance of family and working at a job they love.
Thank you to Mrs. Melissa Stephan for validating the Certificates of Completion for the Paramedic graduates.
Congratulations to the following Paramedic graduates: Front row, EMS Program Medical Director, Dr. Paul Banerjee; graduates Nicholas Ryon, Amanda Crosby, Cody Rhoden, Kris Pandorf. Back row; Paul Pidilla, Sergio Cabrera, Scott Scheider, Sean Coker, Kenneth Wynn, Chris Clemmons, and Instructor Eric Harper.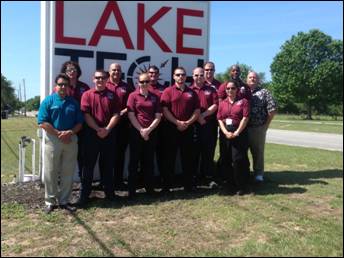 opens IMAGE file
Hospitality and Tourism
The Commercial Foods/Culinary Arts students made calzones on Friday for lunch.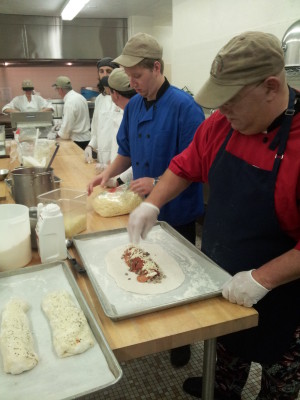 opens IMAGE file
Law and Public Safety
On June 20 through 23, Lake Technical Center's Institute of Public Safety will host the Summer Fire Cadet Academy for 14-20 year olds who are interested in the Fire Service as a career. They will participate in training activities, competitions, camaraderie, and fun! Over 100 Cadets from all over the state are signed up to attend.
The Corrections Recruits are coming to the end of the Firearms block of instruction and all of the Recruits have shown great progress with their shooting abilities. The Law Enforcement Recruits completed the Driving block of instruction this week and all of the Recruits passed the block exam on Thursday.
Several new classes will be available this fall in the Private Security Guard program area. Short courses include: Techniques & Principles of an Effective Supervisor; Human/Community Relations for Private Security; Effective Interviewing and Report Writing; and Critical Incident Preparedness will be offered beginning in August.

Adult Education
In the Adult Education classroom, students continue to enroll so they can raise their academic skills before the end of the year. Many students have gone to the GED orientations and are taking their GED exams over the summer. Others have gotten their needed TABE score and are back in their CTE program or are ready to enter their CTE program for next school year.
Wednesdays are math days, so we do several small group lessons in that day. This week we covered: fractions, decimals, signed numbers, solving equations, and beginning geometry!
On Tuesdays and Fridays, Mrs. Avelli has been teaching group lessons on test-taking strategies for Reading and Language. Students are reading/discussing the stories and finding the joy of reading!
It has been an exciting week for ESOL. Adult ESOL students at Lake Tech earned 38 Literacy Completion Points (LCPs) which demonstrates progress in language acquisition. We celebrated Mrs. Hooper's son's upcoming wedding by learning the "Chicken Dance" …American "crazy" culture. And we said goodbye to our students from Brazil who are returning to their country next week.
Important Information: Do you need your high school diploma and want to take the GED test? Did you know that if you've already started the test but haven't finished, your scores expire at the end of 2013? The new GED test comes out in January 2014.
The summer term begins July 1st for GED classes to be held at the Eustis main campus, as well as ESOL and GED classes at the Lake Technical Center South campus. The fall term begins August 19th and the cost is only $30 per term for Florida residents.
Student Affairs
The next National Adult Education Honor Society Induction Ceremony will take place on the main campus on May 30 at 3 pm.
It is time to clean out your closet and donate! Professional clothing or shoes are needed by some of our students who will need to look their best for job shadowing, field trips, and those very important interviews! Bring your items to Chuck Durante.
Jeans for Troops was held on May 21. Students, staff, and faculty paid $5 to wear jeans to school/work! We collected $255 which will go to support the military through their transition back home.
The National Technical Honor Society inducted 56 students on May 14 in the fountain lobby of building one. This is a record number of students for Lake Tech and a credit to the students as well as to the faculty, friends and family members who support the students through their educational journey! Congrats to all.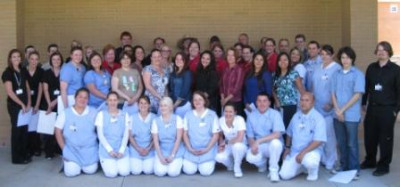 opens IMAGE file
Please remind your students who will be returning for the 2013-2014 school year that they must complete their 2013-2014 FAFSA application NOW to make sure they are eligible for Pell in August. Please encourage them to visit the Financial Aid Office next week to get the 2013-2014 worksheet.
Etta Woodruff celebrated her birthday on Friday. She was surprised with a bouquet of flowers from her colleagues and students!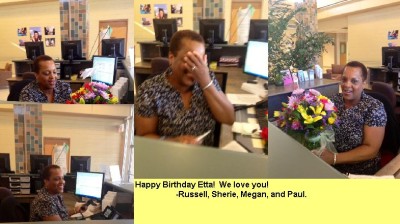 opens IMAGE file
Technology
Two tips this week!