Scott Fire Fighter Challenge a Big Success!
Hundreds of people watched America's heroes in action during the Scott Firefighter Combat Challenge on Saturday and Sunday. Fire fighters competed for times, points, and placement qualifying them for the Scott Firefighter Combat Challenge US Nationals Competition to be held October 2012. According to Ron Williams, "The real idea behind the event is to promote the physical fitness of our firefighters and for the public to see what it takes to be firefighter."
Also on Saturday & Sunday there was a free Kid's Firefighter Combat Challenge that targeted children ages 4 to 11, and is a miniaturized version of its adult counterpart. It included a tunnel, hammer-slide, and fire hose drag. Griffith Photography took photographs. Kids were able to meet "Fire Pup", experience Lake County Fire House, and participate in a variety of activities designed to increase their fire safety awareness.
The event was truly a community affair and was sponsored by Lake County Government and the City of Tavares. Several local dignitaries attended included US Congressman Dan Webster, Lake County Commissioners Leslie Campione and Jimmy Conner, Tavares Vice Mayor Bob Grenier, and Superintendent Susan Moxley. A complete list of all the sponsors can be found at the end of this update.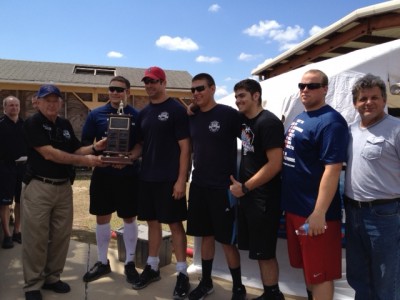 opens IMAGE file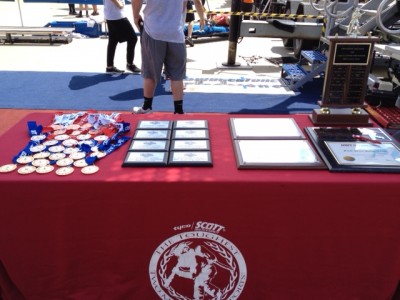 opens IMAGE file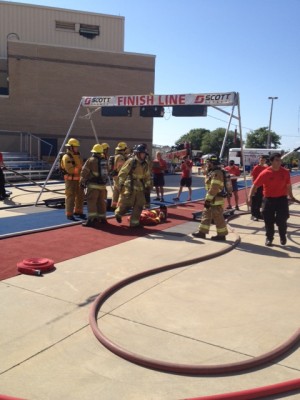 opens IMAGE file
Academic Affairs
Law, Public Safety & Security
The Corrections Class is finishing the communications block this week and going right into the first aid block. Everyone is progressing very nicely and they are starting to come together as a team.
The Day Law Class finished up patrol and everyone passed the exam with very good scores. They are transitioning to vehicle operations this week and will be out at the range learning how to operate vehicles in emergency mode; always an exciting block for the recruits. They are really starting to gel as a unit and their marching is looking excellent. Anyone up at 6:45 am who would like to come by and see them put on a show is welcome.
The Night Law Class has just completed traffic stops training and everyone passed the exam with flying colors. They are starting the DUI block this week. These recruits are our senior class and they really show it. They are almost ready to leave our Academy and go out on their own. It has been exciting to watch them mature as a team these past six months.
We had quite a busy week at IPS, we were working very hard to spruce up the campus for the Fire Fighter Challenge. Both the Day Law and Corrections Recruits volunteered their lunch hour to help set up and move things around to ensure that all of our visitors this weekend have a great time. Kudos to the recruits for showing such initiative and hard work, they are truly team players.
Transportation & Logistics
Cornelius Graham, graduate of the Auto Body and Collision program, won $5,000 worth of tools from Craftsman through the Collision Foundation. A special thanks to Betty Jones and Dr. Lindamood for assisting Cornelius with his application.
Check out the VW that was painted by the students! It is going to work as a "billboard on wheels" for the front of the school!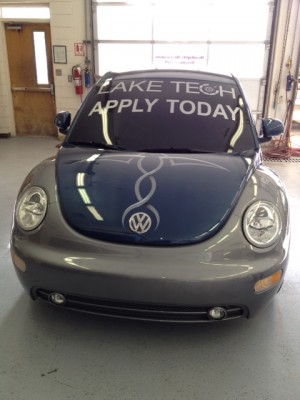 opens IMAGE file
Adult Education
Wow! Adult Education is getting a face-lift Career Pathways style. The walk from Building A to the GED classroom is now the "walk of fame". As we all know, expectation is a determinant of success. We expect our Adult Education students to achieve so much more than a GED…and they will!
The mock-up phase of new Adult Education Career Pathways web portal is complete and the web-site is now being designed for a forthcoming live release. We are excited to see our students and prospective students use the site to explore, see, and support their career path.
Last, but not least, on June 12th many of our part-time Adult Education teachers will be coming on campus for a tour of the facility. The goal is to get them in "the know" about our programs, Lake Tech in general, and our value proposition to Adult Education students throughout Lake County.
opens IMAGE file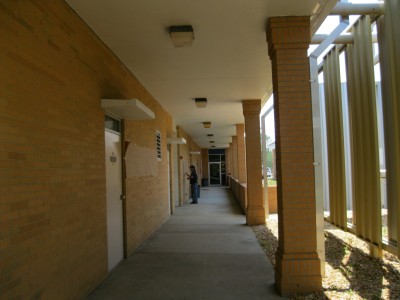 opens IMAGE file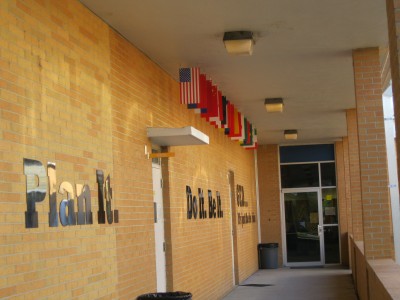 opens IMAGE file
Over the past few weeks and months, many of our students have made advancements not only in their academics, but also in their interpersonal communications with fellow classmates and their instructors. We are thrilled to see them come out of their shells and into their own. For many, this outreaching to fellow students in peer-building friendships is a huge step in trust and acceptance of new people and situations. Adult Education is not just about the academic improvements, it is about the personal growth of each student!
This week the students participated in a wonderful "hands-on" botany compare and contrast lesson with Ms. Netherton. They looked at many different types of leaves and listed the differences and the similarities between them. They even had poison ivy at one of their stations (sealed in a bag—of course)!
GED…It's just the beginning!
Student Affairs
Scholarship Opportunities for National Technical Honor Society Members
The Jon H. Poteat Scholarship application process is active through April 20th. To apply, your students need to log in on the NTHS website and follow the directions for application. It is basically a lottery, so it is not a lengthy process. Select "member resources" and then "scholarships."
The 2012 Jon H. Poteat Scholarship on-line submission is available from January 1st. until midnight, April 20th. The application is simple and only takes a few minutes. Just log in as a member, click on scholarship application, confirm your name and email address, then submit! A confirmation email will be sent when the application is received.
Please note that final eligibility is contingent upon NTHS Advisor approval. Dr. Lindamood has to approve the scholarship applications, so tell your students to apply by noon on the 20th OR LET HER KNOW THAT THEY WILL BE ENTERING THEIR DATA AFTER NOON ON THE 20TH.
Staff Development Opportunities
CHOICES Planner – Professional Toolsopens in a new window The CHOICES Team will be offering a new one hour webinar twice next week titled "CHOICES Planner- Professional Tools." In this webinar we will cover the professional tools and discuss how teachers can work with individual student portfolios, as well as manage all of their school's portfolios. CHOICES Planner is the state's career planning program that the Department of Education provides to all middle, high and postsecondary schools as well as other organizations that need a career planning tool. Participants will need to have a professional level account in order to participate successfully in this webinar. If you do not have a professional account, contact the CHOICES Team for assistance.
The webinar will be offered twice on:
Wednesday, April 18th – 9:00 a.m. – 10:00 a.m. and 2:00 p.m. – 3:00 p.m.
To register for these webinars, go to the Training Center topic tab at https://suncom.webex.comopens in a new window.
For additional information, contact the CHOICES Team toll-free at (800) 342-9271 or by e-mail at choices@fldoe.orgopens in a new windowcreate new email.
Florida Literacy Conferenceopens in a new window Join hundreds of adult and family literacy practitioners, volunteers and adult learners on May 9th-11th to network, develop new skills and share promising practices during the 28th Annual Florida Literacy Conferenceopens in a new window in St. Petersburg, FL. There will be over 70 sessions offered including the Opening Session featuring Mawi Asgedom, whose interview on the Oprah Winfrey Show was selected as "One of the Twenty Best Moments of Oprah's Career".
The Florida Literacy Coalition recently announced that award-winning documentary film director Sarah Entine will be the Conference's closing luncheon speaker. Her film, Read Me Differentlyopens in a new window, focuses on her experience growing up with misunderstood learning disabilities that spanned three generations in her family.
In the Community
Friday night Lake Tech celebrated Irene Storm, Lake Tech's School Related Employee of the Year. Congratulations, Irene! It was a very special evening and the dinner was excellent.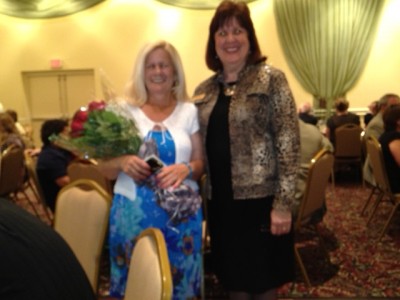 opens IMAGE file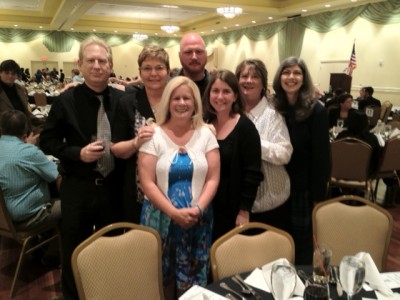 opens IMAGE file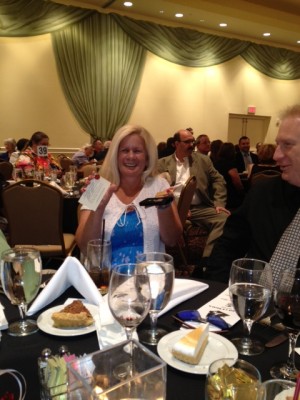 opens IMAGE file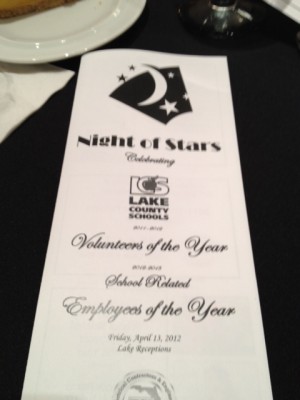 opens IMAGE file
The Ultimate Leads Group from Eustis has been meeting at Lake Tech for the April lunch meetings. They are enjoying the food and location. Last week, they toured the campus and many of the members said they never realized what Lake Tech was all about!!
Lake Tech has joined the East Lake Chamber of Commerce.
Tavares Middle School will be using two classrooms at the Institute of Public Safety for FCAT testing this week.
Please Thank Scott Fire Fighter Combat Challenge Sponsors!
As you are out and about in the community, please thank these sponsors for their support for the Fire Fighter Challenge!
Lake County Government
City of Tavares
TD Bank
Chick-fil-A
Subway
Star & Shield Insurance
Ten-8 Fire Equipment
Graphic Impressions
Mission Inn
Ford Press
Knox Box
Municipal Equipment
Niagara Water
Reddy Ice
Van Ganaway Chevrolet
MES
Lake County Sherriff
Tavares Police Department
Lake EMS
Boy Scouts Troop #154
Lions Club
Lake Tech SkillsUSA
Clermont FF Explorers
Leesburg FF Explorers
Lake County Sherriff's Explorers