In the Weeks Ahead at Lake Tech
February is Career and Technical Education Month
February is Black History Month
February is American Heart Month
LinkedIn Workshop, February 9, 3- 4 pm in Career Success Center
CTE on the Hill, February 11
SkillsUSA Region 3 Competition at Mid-Florida Tech, February 26 & 27
GeorgeFest Parade, February 28
Youth Career Expo, March 9
Spring Creek 8th Graders to Tour, March 11
Academic Affairs
Arts, AV & Technology
Digital Design – This week, the Digital Design 2 students used Photoshop skills to repair old and damaged photos. In addition, we congratulate Caroline Mullen was who accepted to SCAD (Savannah College of Art and Design). She is also trying out for their soccer team this weekend and plans to major in Film and Television.
opens IMAGE file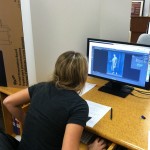 opens IMAGE file
Business Management & Administration
Accounting Operations / Administrative Office Specialist – It is the first Friday in February and many of our Business Students joined with other Lake Tech students in wearing red. Pictured are Nick Hobbs, Alexis Ramos, Debbie Blair, Austin Via, and Nathalie Brutus. Missing are Maralee Whipp, Johanna Sanchez, Dominique Hutto, and Brandi Baker. Earlier in the morning Nick Hobbs and Debbie Blair delivered an informative "infomercial" over our PA system, describing the VITA program and how students can get their taxes completed for free. The script was written by Nick Hobbs. If you need more information on VITA please contact the Business Class. Speaking of scripts, one of our many classroom activities is planning and creating videos. Here we see "director" Kassandra White, in blue, showing Brandi Mullens how to change the toner cartage on our printer. Maralee Whipp is recording the video. The video will be available in Schoology.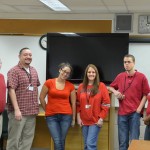 opens IMAGE file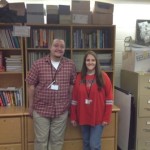 opens IMAGE file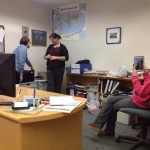 opens IMAGE file
Manufacturing
Students in Lake Tech's first CNC Production Specialist class had a chance to spend Saturday with Al Stimac at Metal Essence in Longwood. The students have been learning how to write code using simulation software. On Saturday, they had the chance to machine what they had created. Al Stimac is the President of the Florida Manufacturer's Association and a great Lake Tech business partner.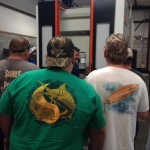 opens IMAGE file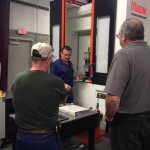 opens IMAGE file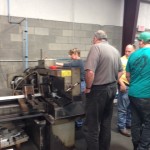 opens IMAGE file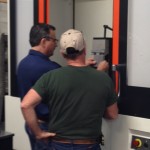 opens IMAGE file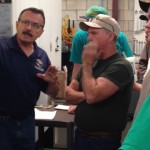 opens IMAGE file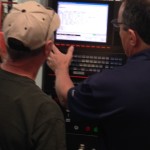 opens IMAGE file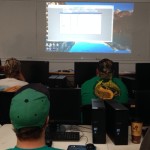 opens IMAGE file
Public Safety
Law Enforcement – Congratulations to Lt. Russ Edwards, Criminal Justice Academy Director, and Lt. Sean Vance, Corrections Coordinator, as they were promoted on Friday. Lake Tech is very proud of the partnership with the Lake County Sheriff's Office to provide recruit, advanced, and specialized training programs for all law enforcement and correction officers within Lake County and surrounding counties.
opens IMAGE file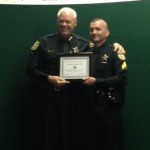 opens IMAGE file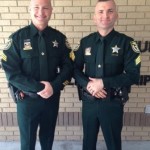 opens IMAGE file
Transportation & Logistics
Automotive Service Technology – A very busy and productive week in the AST program. One of our engine repair students is finally getting his engine back together; it'll be ready for installation next week. Also in the picture is one of our students is testing his knowledge on our suspension and brake trainers.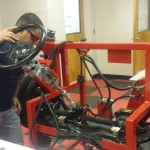 opens IMAGE file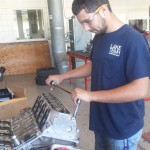 opens IMAGE file
Adult Education
GED Prep – Students in the GED classroom were again actively engaged in dynamic lessons. As part of our "Wacky Weekly" studies, students were participating in a flipped science activity on Geology; they viewed videos and interactive online lessons prior to the in-class session. Class discussions occurred afterwards, and each student had the opportunity to have a tactile experience (they got to see and touch real rock types and fossils).
One of our regular early morning reading/language group sessions had students learning about nouns; "Schoolhouse Rock" is still in fashion here in the GED classroom! That dreaded Math was again part of our "Thrilling Thursday" with linear equations as the "buffet meal" of choice. These times spent learning were not filled with just demanding facts and figures; instead, students helped one another, laughed together, and built strong, healthy interpersonal relationships. They all continue to learn more about working together and encouraging one another.
opens IMAGE file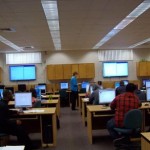 opens IMAGE file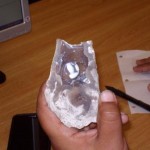 opens IMAGE file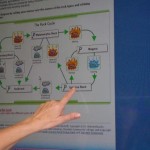 opens IMAGE file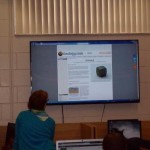 opens IMAGE file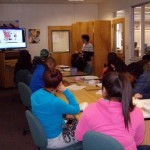 opens IMAGE file
ESOL – The ESOL students on the main campus celebrated instructor Marvina Hooper's birthday with some very traditional American singing and cake eating! One student made a delicious Tres Leches con Café cake and many of the faculty and students couldn't eat just one piece. The students also ordered pizza and made an enormous salad that everyone enjoyed.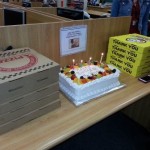 opens IMAGE file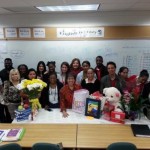 opens IMAGE file
opens IMAGE file
The ESOL students who attend class at the Cooper Memorial Library are excited to learn or improve their English skills so they can continue their education and training in preparation for a career. The partnership with the library allows Lake Tech to provide ESOL classes in the Clermont area of Lake County.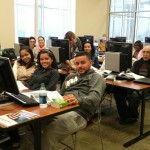 opens IMAGE file
The ESOL students who attend class at the Mascotte campus held a surprise birthday party for their instructor, Mela Striker!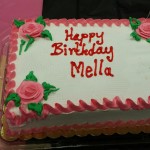 opens IMAGE file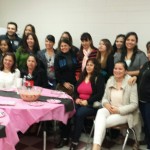 opens IMAGE file
Student Affairs
Campus Life
Friday, February 6th was National Wear Red Day®.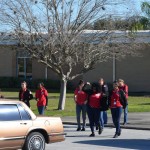 opens IMAGE file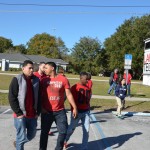 opens IMAGE file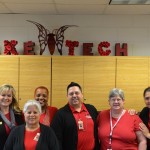 opens IMAGE file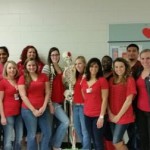 opens IMAGE file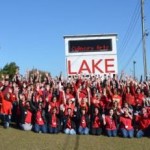 opens IMAGE file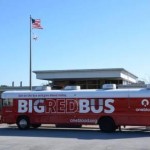 opens IMAGE file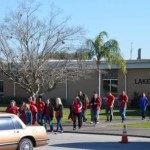 opens IMAGE file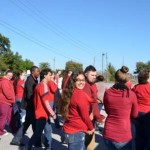 opens IMAGE file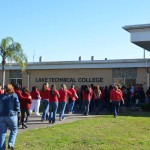 opens IMAGE file
February is "Black History Month"– Check out the "Honoring the Past, Inspiring the Future" board in the fountain lobby. Please stop by and add your comments and check out the ones that are already there!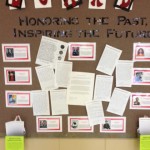 opens IMAGE file
February is "CTE Month"– We would like to spotlight successful Lake Tech graduates on Facebook each week of February. If you have a graduate in mind that would be a great candidate for this, please email me their name and contact information, if you have it, and a short reason why they deserve the spotlight.
Monday, February 16– No School – President's Day
Thursday –Friday, February 26-27– SkillsUSA Region 3 competitions at Mid-Florida Tech in Orlando.
Saturday, February 28th– Georgefest in Downtown Eustis. More information to come.
VITA is a United Way Program where students and Lake County residents can get their taxes prepared for free. It is held Tuesdays, Thursdays and some Saturdays at Goodwill in Leesburg. Call 1-877-431-3668 to schedule an appointment. The Lake Tech business students are now certified and ready to prepare taxes for Lake County residents.
Did you know that LinkedIn is the #1 social media tool to help in getting an interview? Learn how to create a LinkedIn profile that will attract potential employers. This workshop will be held in the Career Success Center on Monday, February 9 from 3 – 4 pm. Space is limited, so make sure you sign up with Ms. Rosenglick at rosenglicks@lake.k12.fl.us or sign up on the door of the Career Success Center. The Career Success Center is open on Mondays (11 am until 6:30 pm), Wednesdays and Fridays (8:30 am until 4 pm). Services offered include developing and refining resumes, cover letters, and portfolios, interviewing techniques, job search assistance, and much more. Please share this information with students and graduates. The Career Success Center is located in Room A-208.
The Lake Tech Financial Aid Office has a Facebook page! Tell your students and those interested in financial aid as well as scholarships to Like Lake Tech Financial Aid Office.
Dr. Sherie Lindamood is serving as the Student Success Counselor this year. Please invite her to speak to your classes about stress management, study skills, and test taking strategies. She will be spending Tuesdays at the Institute of Public Safety to students on that campus will have the opportunity to utilize her services.
In the Community
A select group of Eustis High School students will tour the campus on February 2.
Diane Culpepper attended the South Lake Technology Committee meeting on Wednesday.
Art Seidner will represent Lake Tech on February 10 and Pam Netherton will do the same on February 19 for the Families of Students with Disabilities Event at Lake Sumter State College.
Several students and instructors will make a presentation at Triangle Elementary School on February 11 as part of the school's Career Day.
Kudos
Custodian Aaron Flowers, who works full time at Lake Tech's Institute of Public Safety, attends Lake Sumter State College in his spare time. He is maintaining a 3.9 GPA and has been invited to join Phi Theta Kappa, the world's largest honor society for community college students. Congrats to Aaron!
It was data crunch time last week as Barbara Szasz and Lilliana Guardiola submitted several thousand records on the new Skyward system. In fact, as data people usually do, they kept a very accurate account of their work:
1,697 error free demographic records
1,697 error free end of term records
302 error free teacher course records
2,229 error free CTE student course records
1,530 error free Adult General Ed student course records
1,354 Adult General Ed test records
Congratulations for a job well done!
Tech Tip