In the Weeks Ahead at Lake Tech….
April 1 – Cluster Leader Meeting
April 3 – Director Lunch with Students of the Month
April 10 – Evening Spa Event (SkillsUSA Fundraiser)
April 12 – Spa Day (SkillsUSA Fundraiser)
April 17 – Partners for Success Event at Lake Sumter State College
Career Fair – April 30, 9 am to Noon in the Lake Tech Lobby
Academic Affairs
Arts, AV Technology & Communication
Digital Design 1 & 2 – The Digital Design students are busy selling and creating magazine covers as a SkillsUSA fundraiser. In addition, they are working on the United Way program for the upcoming annual meeting.
Business Management & Administration
Accounting Operations and Administrative Office Specialist – On March 19, Instructor Chuck Durante was honored as Lake Tech's Rookie Teacher of the Year. The ceremony was held at Lake Sumter State College.
We have recognized our Skills USA team including some of the many supporters who came out to attend the awards ceremony to practice with and assist our team. Special thanks to Suzanne Auritt, Karen Horton and Samantha Combee. Now it is on to the state competitions!
This week our students had the opportunity to learn about operating and fixing business equipment. Ms. Megan Bateman, from the Admissions Department, offered a "workshop" on office equipment. She demonstrated a wide variety of equipment used daily here at Lake Tech. Later, Jessica Pantoja showed how to change the "ink" on one of our printers as Marlene Satten offered assistance.
We also recognized the accomplishments of several of class members who have completed their OCP's: Samantha Combee and Jessica Straub have completed their OCP A, Suzanne Auritt completed her OCP C and Marlene Satten completed her Accounting Operations certificate program at Lake Tech. Congratulations to all!
opens IMAGE file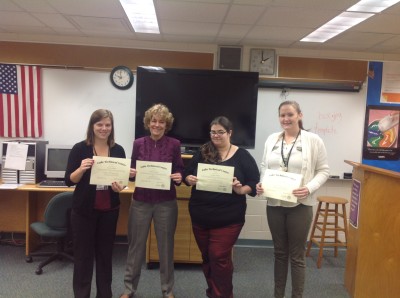 opens IMAGE file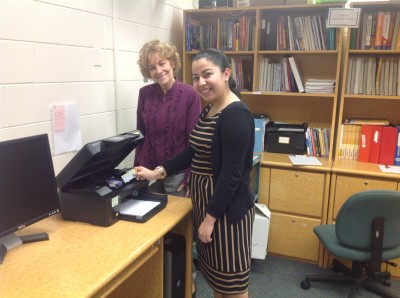 opens IMAGE file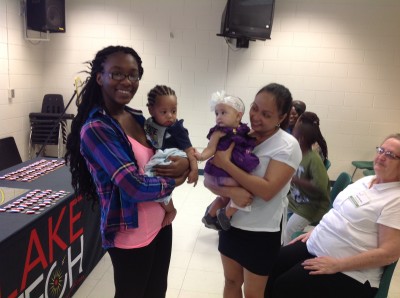 opens IMAGE file
Health Science
The Healthy Lake Tech Month was a big success. On March 14, we hosted the Blood Mobile and many students and staff donated this gift of life. On March 21, a Health Fair was held during lunch. The band, Rockin' Redemption played some great music for all to enjoy. The Culinary students provided samples of healthy salad and soup. The EMS students took blood pressures, the Cosmetology students shared information about the effects of sun damage on the skin, and Lowes shared information about air filters and air quality. The Lake County Health Department participated and provided information about smoking cessation classes. In addition, funds were raised for Team Jay, the nine year old son of a local firefighter/paramedic (and Lake Tech grad). Lake County brought their pink fire engine to show!
EMS – Each year, the Committee on Accreditation for the Emergency Medical Services Professions (CoAEMSP) reviews the outcomes on the National Registry/State Written Exam Results and Retention Rates. We are pleased to report that Lake Tech's programs met all the outcomes! Congratulations to Layne Hendrickson and her EMS faculty.
Medical Assisting – The Commission on the Accreditation of Allied Health Education Programs (CAAHEP) awarded initial accreditation to the Medical Assisting program at Lake Tech! Congratulations to Instructor Beth Thornton for all the hard work in preparing for this very important accreditation.
The Medical Assisting students created gift baskets and then held a silent auction to raise money for Team Jay. Jay is the nine year old son of a local firefighter/paramedic who is also is a Lake Tech graduate. The students raised $503.02 for Jay and his family.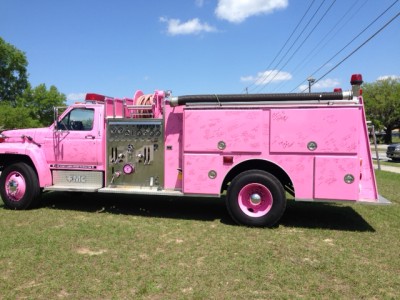 opens IMAGE file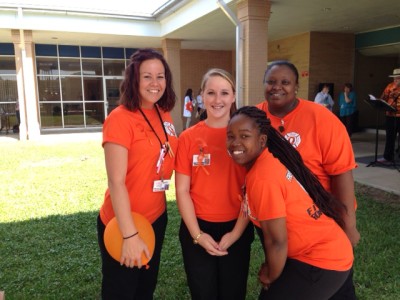 opens IMAGE file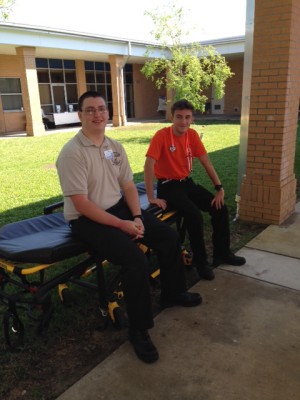 opens IMAGE file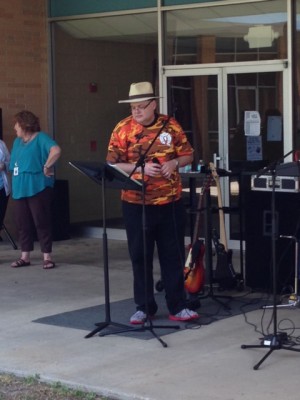 opens IMAGE file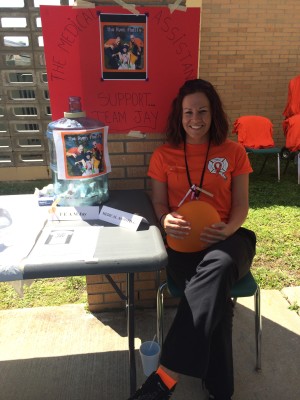 opens IMAGE file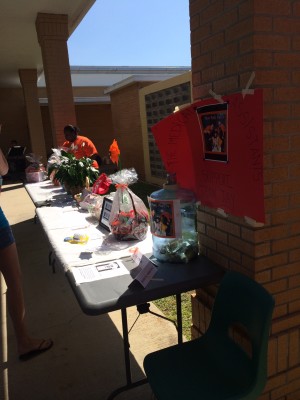 opens IMAGE file
Pharmacy Technician – The Pharmacy Technician and Medical Assisting students celebrated St. Patrick's Day together. The classes shared presentations with each other regarding drug interactions. Afterwards, they had a mac & cheese cook-off! Alicia Rose, from Medical Assisting, won for the most delicious mac & cheese.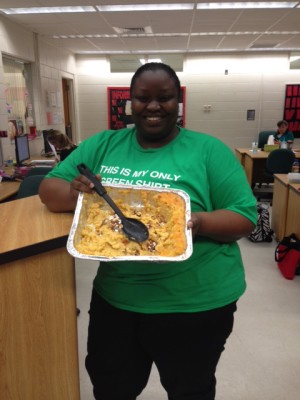 opens IMAGE file
Practical Nursing – The Mt. Dora Art Festival was held on Saturday and the Lake Tech student nurses were there to assist. The students were paired with the ambulance crew and the Mt. Dora Fire Department. A very special thanks to the student nurses who worked the event!
Hospitality & Tourism
Commercial Foods & Culinary Arts – Students continue to create magic!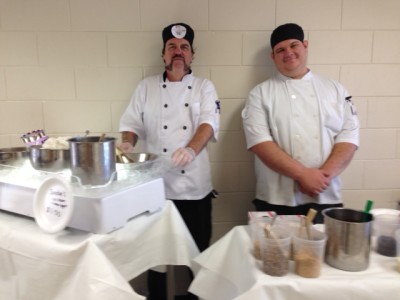 opens IMAGE file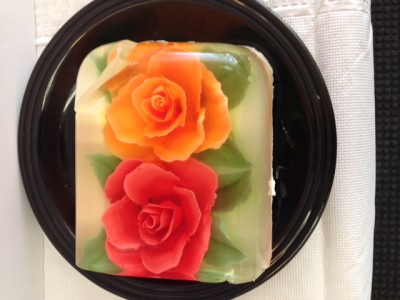 opens IMAGE file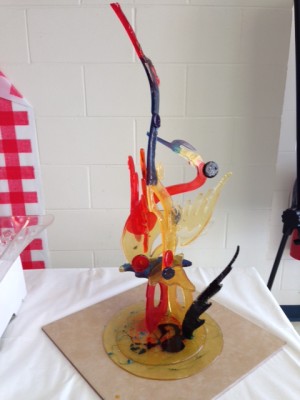 opens IMAGE file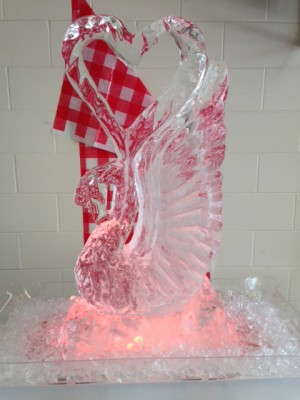 opens IMAGE file
Human Services
Cosmetology – The Cosmetology students will be holding two Spa events as fundraisers for SkillsUSA. The first one is April 10 from 5 – 9 pm. The second one is Saturday, April 12 from 9 am to 5 pm. What a great spring gift idea for your favorite friend! Or better yet, pamper yourself!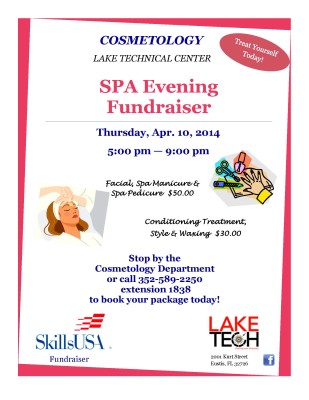 opens IMAGE file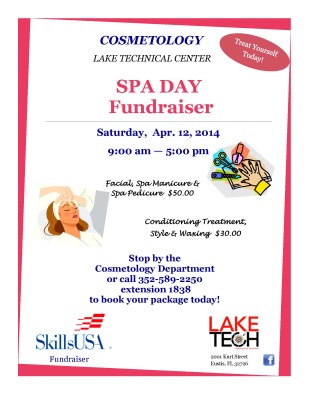 opens IMAGE file
Law and Public Safety
Fire Fighting – The next PT Challenge between the Fire Fighter students and the Law Enforcement students will be held on May 5 at 11 am! Everyone is invited. Who is going to win this year?
Law Enforcement – The Night Law Enforcement Recruits are continuing in the Crime Scene Investigations block of instruction. The Day Law Enforcement Recruits continue with Defensive Tactics and Communications this week. The Corrections Recruits are studying Officer Safety.
Transportation & Logistics
Auto Collision Repair and Refinishing – Brandon Eckenrode, Director of Development for Collision Repair Education Foundation located in Illinois, visited Lake Tech's Automotive Repair and Refinishing program last Thursday. The Collision Foundation helps students and schools receive tools, shop equipment, and tuition from business and industry across the nation. Instructors David Beliveau and James Brucker explained to Brandon how the program was offered at Lake Tech and gave him a tour of the shop. Brandon was impressed with the "live work" that our students do as part of their training on campus. Afterwards, they took Brandon to several local Auto Collision shops in the county to meet our advisory members and technicians in the field. Brandon was very impressed with the partnerships between the industry in our community and our program. Brandon told us that Lake Tech was the best run school he had ever seen! (We think so too)
Student Affairs
Students of the Month – Lake Technical Center is proud to announce the following:
Students of the Month for February:
Colleen Bailey, Adult Basic Education
Brinda Ruehlen, Accounting Operations
Brycen Periko, Commercial Foods and Culinary Arts
Kathy Strawbridge, Cosmetology
Caleb Gruner, Diesel Technology
Kim Bodner, Practical Nursing
Students of the Month for March:
Brian Luevano, Applied Academics for Adult Education
Danilo Jimenez Jr., Auto Collision Repair and Refinishing
Linda Smallwood, Commercial Foods and Culinary Arts
Kathy Strawbridge, Cosmetology
Elia Hallmark, Digital Design 2
David Gomez, Fire Fighter
Jill Crawford, Patient Care Technician
The students were nominated by their instructors because of their academic achievement, work ethic, attitude, and school and community involvement.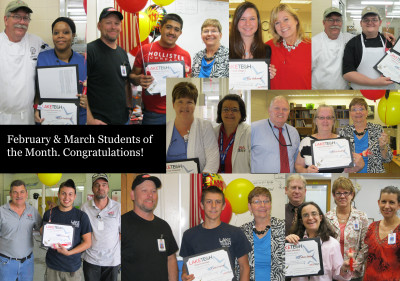 opens IMAGE file
National Technical Honor Society Induction Ceremony – May 13, 2014 at 2:30 pm – The Ceremony will take place at the Institute of Public Safety, Room 302.
National Adult Education Honor Society Ceremony – May 21, 2014 at 3 pm – The Ceremony will take place in the Early Childhood Classroom.
Graduation is right around the corner! The ceremony for the Florida High School Diploma graduates is June 19 at 7 pm. The ceremony for the Career and Technical Education graduates is June 20 at 7 pm. Both ceremonies will take place at Lake Receptions in Mt. Dora. Deadline to order Caps and Gowns is April 15 in the Business Office.
WORKSHOPS FOR SUCCESS – Available to All Students
Resume Creating – April 22, 3-4 pm in Room 01-210A – Students will learn the best practices of creating resumes. They will learn which items should go on a resume and which items should not. Students will learn proper wording, procedures, elements, style, and how to input a resume into Word 2010. Handouts and resume samples will be given. Students should be prepared to take notes by bringing pen and paper. T
Interviewing – April 23, 3-4 pm in Room 01-210A – Students will learn how to prepare for an interview, how to dress, and how to answer some of the tough questions during an interview. Post interview tips will also be discussed. Handouts and supplemental information will be given. Students should be prepared to take notes by bringing pen and paper.
Staff Development
The Perkins Professional Development Institute is still offering mini-grants until June. We encourage eligible teachers to take advantage of the self-study option, which includes up to $150 for books or other training materials, in addition to paying for the cost of certifications. Go to the Perkins PDI website link and fill out a self-study application at the following link: http://www.cf.edu/departments/instruction/workforce/perkins/. Contact Melissa Stephan if interested.
Dr. Sherie Lindamood and Sonya Rosenglick have both been selected to present at this summer's FACTE Conference which will be held in Tampa.
Legislative
If you are following the Technical Center Bill:
Technology
In the Community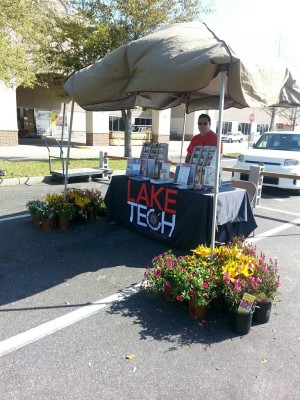 opens IMAGE file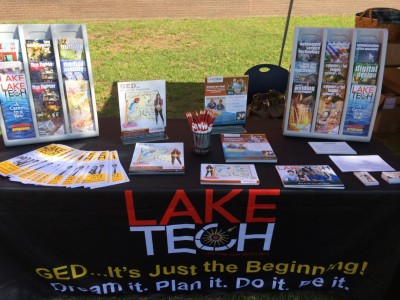 opens IMAGE file
Trudy Dailey and Kathy Roberts will represent Lake Tech at the Community Connection Event being held at Ashton Chase in South Lake County. This event will allow us to showcase our GED, ESOL, and CNA programs being offered in Mascotte.