Lake Tech Rocked SkillsUSA Regionals!
On Thursday and Friday of last week, Lake Tech students had the opportunity to compete with students from Seminole, Orange, Osceola, Sumter, Brevard, Polk, Okeechobee, Indian River, St. Lucie, and Martin Counties in various skills events. We are proud to announce that the Lake Tech students had a great time and brought home lots of bling! Pictures to follow – but we are very proud of every student who competed and to all of their faculty who helped them prepare!
Nail Care:
Shayrita Adams- 1st (post secondary)
Deshanna Warren- Model
Cosmetology:
Olivia Almeter – 1st (secondary)
Esthetics:
Cheyenne Adams – 1st (post secondary)
Jeanie Knapp – Model
Auto Refinishing:
Matthew Keith – 1st (secondary)
Wyatt Hardwicke – 2nd (secondary)
Keith McNeely – 2nd (post secondary)
Anthony Ball – 3rd (post secondary)
Auto Collision Repair:
Luke Carson – 1st (secondary)
Auto Service Tech:
Steve Talbury – 1st (post secondary)
Kevin Santana – 2nd (post secondary)
HVACR:
Terry Flood – 2nd (post secondary)
Richard Rogers – 2nd (secondary)
Brandon Wright – 3rd (secondary)
Diesel:
Kyle Kicklighter – 3nd (secondary)
Advertising Design:
Samantha Carpenter – 2nd (secondary)
Jacob Porter – 2nd (post secondary)
Matthew Valentine – 3rd (secondary)
Steven Peterson – 3rd (post secondary)
T-Shirt Design:
Robin Kester – 2nd (post secondary)
Jamiyah Taylor – 3rd (post secondary)
Caroline Mullen – 3rd (secondary)
Job Skills Demo A:
Zachary Ritz – 3rd (post secondary)
Prepared Speech:
Brandi Mullens – 2nd (post secondary)
Academic Affairs
Arts, AV & Technology
Digital Design – The Digital Design students often work with outside clients to design and create brochures, logos, annual reports, and other print materials. Recently, several students designed the program for the Villages Florida Tri-County Christian Women's Connection Stonecroft Ministries 15th Anniversary Celebration and they received a very nice thank you letter!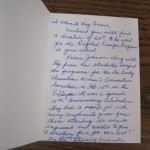 opens IMAGE file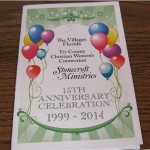 opens IMAGE file
Business Management & Administration
Accounting Operations / Administrative Office Specialist – Our students have experienced another busy and exciting few weeks. It began with a lesson in understanding and using LinkedIn. LinkedIn is the Facebook of business. It allows one to set up a profile, share business and educational experiences and make contacts and recommendations. Using LinkedIn, one is be able to make references, as well as be referred, join special interest groups, and search companies for information. Ms. Rosenglick proved to be a LinkedIn expert as she described the many features of LinkedIn.
Our class also supported fellow classmate, Brandi Mullens, as she prepared for the SkillsUSA competition. Brandi practiced her speech with our class and received many useful suggestions. And it worked. Brandi won a Silver Medal! Congratulations, Brandi. Here we see her describing her experience to her classmates.
Several of our students participated in the GeorgeFest Parade. Here we see Brandi Mullens, Brandon Goff, and Ana Delgado in front of the Lake Technical College's fire truck.
opens IMAGE file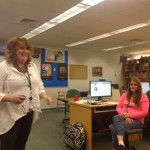 opens IMAGE file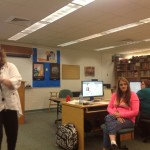 opens IMAGE file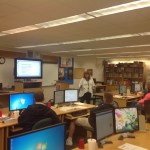 opens IMAGE file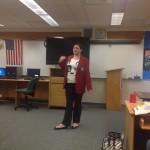 opens IMAGE file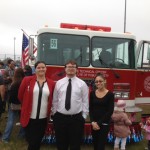 opens IMAGE file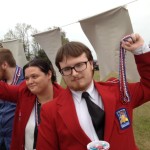 opens IMAGE file
Health Science
CNA Graduation – Congratulations to the CNA, PCT, and Practical Nursing students who completed the Nursing Assistant program. These students are now eligible to take the state licensure exam!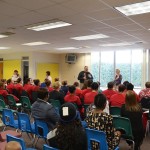 opens IMAGE file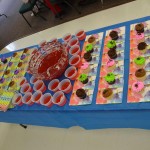 opens IMAGE file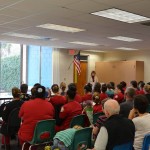 opens IMAGE file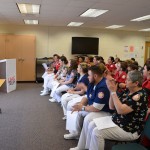 opens IMAGE file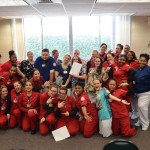 opens IMAGE file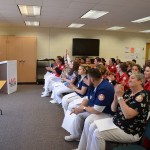 opens IMAGE file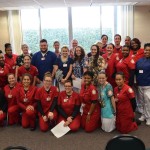 opens IMAGE file
Pharmacy Tech – Congratulations to Michael Van Dellen, Lake Tech's first Pharmacy Tech graduate and first to receive his Registered Pharmacy Technician license from the State of Florida. Mr. Van Dellen is currently employed by STARx Pharmacy of Leesburg.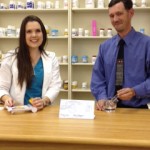 opens IMAGE file
Adult Education
GED Prep – Many students continue to be successful in improving their Test of Adult Basic Education (TABE) scores and completing the GED. Throughout this past week, individual one-on-one time has been spent between students and teachers. No matter the difficulty level of the material, students work hard and show gains based upon their "sweat equity." Both students and teachers learn from one another (sometimes teachers have "aha" moments – especially in Math!). On any given day, Ms. Netherton, Ms. Avelli, and Mr. Seidner can be seen providing help with lessons. Even the Adult Education Coordinator, Ms. Roberts, stops by to help! It is not all about the group, but individual care is taken with each student. During the week, and each week, Ms. Avelli works with a reading group to help those who need to strengthen their skills in that area. This group also has fun learning about top people in the modern world who have had a positive impact. Students pick a person of "greatness" and complete online research to learn more about their person (e.g., Winston Churchill, Martin Luther King, Jr., Franklin Roosevelt, Ghandi, etc.). In the reading group, students discuss their choices and what they have learned.
Lake Technical College's many career technical programs have benefited from the work of Adult Education. Students continue to complete TABE requirements for the career program of their choice. Recently, students currently enrolled in Auto Collision and Welding, as well as other programs, have completed TABE requirements; they had worked hard in their career program and in the TABE class all at the same time. Hard work and adversity has not and does not hold such students back from achieving their dreams; such work has proven to discipline these individuals for future careers and lifelong learning.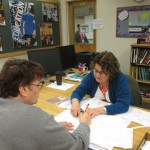 opens IMAGE file
opens IMAGE file
opens IMAGE file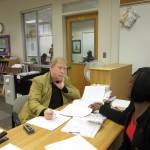 opens IMAGE file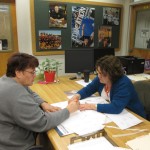 opens IMAGE file
Student Affairs
GeorgeFest 2015 – Students and faculty enjoyed participating in the 113th consecutive annual celebration of GeorgeFest, the second oldest festival celebrating George Washington's birthday in the nation and the longest running festival of any kind in Florida. The event is sponsored by the Lake Eustis Chamber of Commerce and the City of Eustis, and Lake Tech entered two floats this year. Auto Collision Instructor James Brucker played the part of George Washington and Digital Design instructor Kerrie Johnson was Martha! A special thank you to James and Kerrie for the countless hours they and their students spent preparing the floats. In addition, thanks to instructor David Beliveau for driving the fire truck and to Welding instructor Bob Sherwood for fabricating the railing and other components for the floats!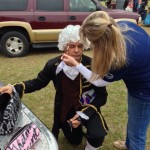 opens IMAGE file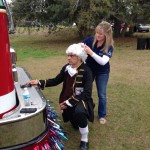 opens IMAGE file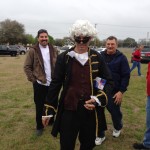 opens IMAGE file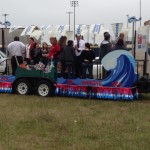 opens IMAGE file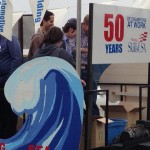 opens IMAGE file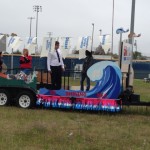 opens IMAGE file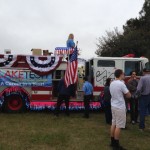 opens IMAGE file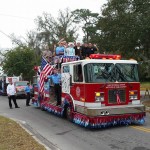 opens IMAGE file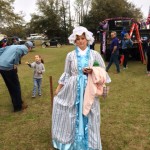 opens IMAGE file
Campus Life
Career Success Center Room 208A
RESUME CREATING
Monday, March 9 3:00-4:00 pm
Monday, April 13 3:00-4:00 pm
INTERVIEWING SKILLS
Monday, April 27 3:00-4:00 pm
Monday, May 11 3:00-4:00 pm
SOCIAL MEDIA—LINKEDIN
Monday, March 16 3:00-4:00 pm
VITA is a United Way Program where students and Lake County residents can get their taxes prepared for free. It is held Tuesdays, Thursdays, and some Saturdays at Goodwill in Leesburg. Call 1-877-431-3668 to schedule an appointment. The Lake Tech business students are now certified and ready to prepare taxes for Lake County residents.
The Career Success Center is open on Mondays (11 am until 6:30 pm), and Wednesdays and Fridays (8:30 am until 4 pm). Services offered include developing and refining resumes, cover letters, and portfolios, interviewing techniques, job search assistance, and much more. Please share this information with students and graduates. The Career Success Center is located in Room A-208.
The Lake Tech Financial Aid Office has a Facebook page! Tell your students and those interested in financial aid as well as scholarships to Like Lake Tech Financial Aid Office.
Dr. Sherie Lindamood is serving as the Student Success Counselor this year. Please invite her to speak to your classes about stress management, study skills, and test-taking strategies. She will be spending Tuesdays at the Institute of Public Safety so students on that campus will have the opportunity to utilize her services.
Youth Career Expo, March 9. High school students will be touring and attending seminars on our campus.
Spring Creek 8th Graders to Tour, March 11
Teacher of the Year – Congrats again to Lake Tech's Teacher of the Year, Mr. Carlos Reyes. We all had a great time celebrating with all of Lake County's Teachers of the Year on Saturday night at Lake Receptions.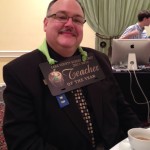 opens IMAGE file
opens IMAGE file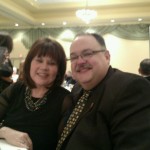 opens IMAGE file
Tech Tips