The Spring Term Starts January 23!
The Annual Book Sale to Raise Funds for Adult Education — December 14, Book Sale 9 am until 1 pm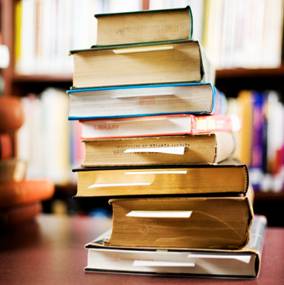 Academic Affairs
Arts, AV & Technology
We're considering turning the Digital Design program into an ad agency because so many outside sources are requesting design services! We even have one that offers "grant potential" to design a brochure for the non-profit organization Take Stock in Children. Tool World in Eustis needs about 60 forms designed, and United Way is requesting services as well as a floatplane manufacturer located in Lake County. Two more past graduates got jobs "in industry" in the past couple of weeks.
There's plenty of room (and desire) for more students in Digital Design. Over the break, if you talk to anyone even remotely interested in designing marketing materials for print and/or web, send them to Lake Tech! Santa would be most impressed!!!
Business Management & Administration
The OCP's are being completed, the students are being placed, and many students are seeing the light at the end of the tunnel. I've never seen such motivated students before—they are definitely keeping Ms. Rosenglick on her toes. She has a great group of hard working potential employees in her classroom this year.
January starts the Accounting Operations Volunteer Income Tax Assistance (VITA) program with United Way. Students will be learning how to prepare income taxes and will volunteer their time to work with United Way to do taxes in the community during tax season. In order to participate, students must earn a Beginning and Intermediate tax certificate from the IRS by passing an exam. This is a wonderful experience for the students and they earn community service credit for this. What a great item to put on a resume'.
That certainly doesn't mean that we don't take time to smell the roses—or should I say, tree. Secret Santas, Christmas cookies, and eggnog are on the menu for next week's office party. We are taking next week to discuss proper behavior for office parties. Who says learning can't be fun?
Health Science
The next Patient Care Tech program will begin January 23 and several options are available for students:
If a student comes in and wants CNA, that program will be scheduled January 23 – February 28.
If people who are CNAs want to add HHA only, that program will be offered March 1 – 9.
Additional CNA/HHA programs will be offered beginning March 12 and April 30.
If a person who already has his/her CNA/HHA wants PCT, he/she would begin the PCT program on March 12, 2012.
As you can see, the Health Science Department has structured next semester's CNA, HHA, and PCT programs so that we can offer a number of options to our community.
Law, Public Safety & Security
On Thursday evening, the Day Law Enforcement class graduation was held at the Institute of Public Safety. The graduation was a success! As always, Sheriff Borders was in attendance and congratulated the recruits for their hard work. We are now preparing for our new Day Law Enforcement class, which begins December 20th with orientation. The Night Law Enforcement class is progressing nicely and is currently in the "Human Issues" block of instruction.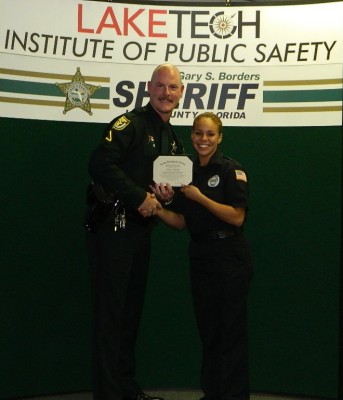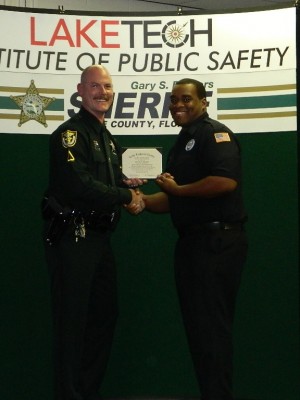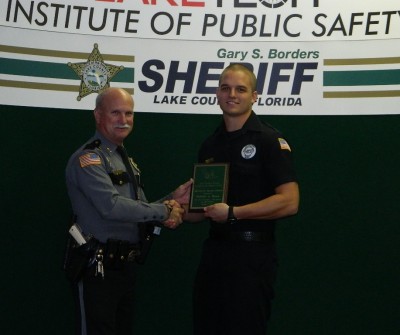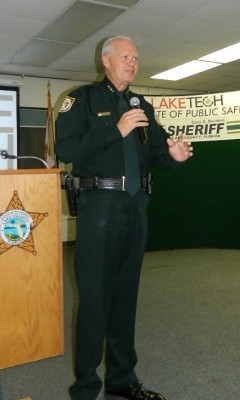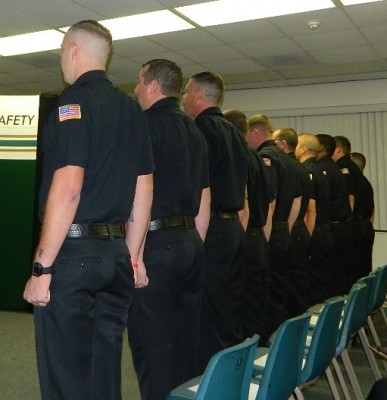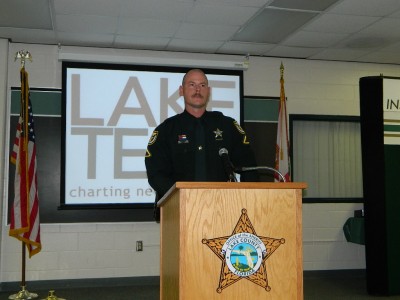 Lake Tech's Fire Academy, in partnership with Lake County and the City of Tavares, proudly announces the annual Scott Firefighter Combat Challenge, April 13-15, 2012. The event is being offered to promote the physical fitness of fire fighters. The challenge will be the season opener of the 20-plus Scott Firefighter Combat Challenges to be held throughout the United States in 2012. Mission Inn will be the host hotel for the three-day event. While you must be a fire fighter to take part in the competition, the public is encouraged to watch as the participants navigate the challenge course or "The Toughest Two Minutes in Sports". High school students who are interested in a fire fighting career are also invited to attend the event. Businesses and individuals who want to be an event sponsor should contact Ron Williams at retfc2@yahoo.comopens in a new windowcreate new email.
The event kicks off with a golf tournament at Mission Inn Resort & Country Club on Friday, April 13 at 1 pm to raise money for fire fighter training scholarships. The Combat Challenge will be held at Lake Tech's Fire Academy Registration on Sunday opens at 7 am. The Tandem and team relays begin at 9 am.
Fire fighters competing in the Scott Firefighter Combat Challenge, Saturday & Sunday, April 14 & 15, shall complete the five evolution event which includes a 5 story tower climb with high-rise pack, hose hoist, forcible entry, hose advance, and victim rescue. Competitions shall include individual, team, tandem and relay. Fire fighters will vie for times, points, and placement qualifying them for the Scott Firefighter Combat Challenge US Nationals Competition to be held October 2012. For a complete description of Scott Firefighter Combat Challenge rules and regulations, or to register as a competitor, go to www.firefighterchallenge.comopens in a new window. The registration fees are as follows: Individual $75, Tandem $90, Relay Team $195, Team $290.
Also on Saturday & Sunday there will be a Kid's Fire Fighter Challenge that targets youth from 4 to 11 and is a miniaturized version of its adult counterpart. The Kid's Challenge includes a tunnel, hammer-slide, and fire hose drag. This is an exciting adventure for any child who ever wanted to put on some fire gear and squirt a real fire hose.
According to Ron Williams, Lake Tech Fire Academy Director, "The real idea behind the event is to promote the physical fitness of our firefighters and for the public to see what it takes to be firefighter.
Adult Education
GED…It's just the beginning. Need proof?
For starters, this week we had a former student come in to let us know he passed his GED! He was quite proud, as are we. Even more, three of our students have signed up for the Solar Thermal class starting in January. One of our GED students finished getting her needed TABE scores, GED practice test scores, and took the GED! She will move on to Sonya Rosenglick's Administrative Assistant program this Monday!
In ESOL, our off-sites finished post-testing. The results? Literacy Completion Points!!! Students were learning and we are excited to share the good news. Thanks to Patsy Bell and Marvina Hooper for their tireless efforts to get the job done.
Last, but not least, we had many students achieve their TABE scores and move on to the GED course, and some return to their technical program full-time. Finally, please remember that December 14th is the book sale. Stop by and finish off your Christmas shopping list and support adult education all in one shot.
Student Affairs
A new Employer Satisfaction Survey will be implemented beginning next week. This survey will allow us to make sure the employers who hire our graduates are satisfied! While this is a required component of our COE accreditation, it is very important that our employers know we take our job in training their workforce very seriously.
Trudy Dailey represented Lake Tech at the KidCare child health insurance training. Did you know that a young adult, under the age of 19, who is living on their own, might qualify for health insurance under this program? Also, if the family has a working insured husband, and the children are in the KidCare program, there is a possibility that the uninsured wife can receive Medicaid if the family income is at a certain level. Please encourage your students to check out the program at www.floridakidcare.org or by calling 1.888.540.5437.
Lake Tech was invited to make a presentation to the Junior Class at Lake Minneola High School last week. Brent Stubbs volunteered to share information about goal setting, dual enrollment opportunities at Lake Tech, and why choosing "a career in a year" makes sense in these economic times.
On January 11, all the high school counselors from Lake County Schools will spend the day at Lake Tech in order to have the most up-to-date information for their students.
Last week, one of our counselors celebrated a milestone birthday. Betty Jones reported, "We appreciate the wisdom and hard work from our aging counselor, Art Seidner!"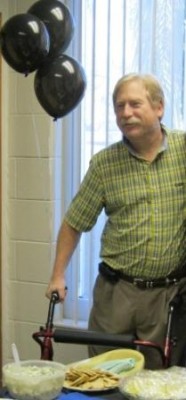 Marketing
The schedules are out in the community! A team of Lake Tech elves delivered them as follows: Layne Hendrickson, Astor Library; Diane Hutchinson, Groveland Library; Ashley Treadway, Lady Lake Library; Yvonne Pruett, Umatilla Library; Brent Stubbs, Cooper Memorial Library and South Lake Chamber; Chuck Durante, Four Corners Library; Chip Cooper, Minneola Schoolhouse and Howey Libraries, Kerrie Johnson, Fruitland Park Library; Irene Storm, Paisley Library; Trudy Dailey – Libraries in Eustis, Mt. Dora, Leesburg, Sorrento, and Tavares, as well as Lake Veterinary Clinic in Mt. Dora (high volume clinic) and the Chambers in Eustis, Leesburg, and Tavares. Schedules were also delivered to the Genesis Center. Etta packaged and sent the schedules to the high schools. Erika Greene, Lake County Literacy Coordinator, is partnering with Lake Tech to get schedules to the Montverde Library and her team of volunteers. What a team effort!!!
Technology Tidbit
From Stephen Noonoo's App Roundup (http://thejournal.com/articles/2011/12/05/app-roundup.aspx)opens in a new window:
Do your students use Flashcards?? StudyBlue launched an improved StudyBlue appopens in a new window allowing students to create flashcards by snapping and inserting photos from their smartphones. Students can also transcribe speech to text directly into their flashcards. Previously, the app only allowed users to study existing flashcards and notes through StudyBlue. A videoopens in a new window demonstrating the new features is available online. Free; iPhone and Android compatible.