In the Weeks Ahead at Lake Technical College
Let it Snow – Coffee/Cocoa in the Student Center, January 31 from 11 – 12:30 pm
Student Seminar – Digging Out of Debt, January 31 at 2:30 pm
Board of Directors Workshop, Strategic Planning, January 31, 11:30 am
Homecoming Breakfast (Staff Alumni Association), February 2, 8:30 am
Leadership Lake Education Day, February 8
CONSTRUCTION UPDATE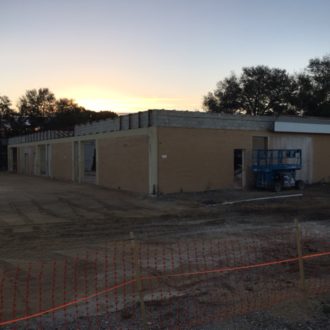 opens IMAGE file
Manufacturing Fact: Manufacturers contributed $2.17 trillion to the US economy in 2015. For every $1 spent in manufacturing, another $1.81 is added to the economy. Yet, the vast majority of manufacturing firms in the US, Florida, and Lake County are relatively small (fewer than 500 employees). In fact, three quarters of the firms have fewer than 20 employees.
ACADEMIC AFFAIRS
BUSINESS MANAGEMENT & ADMINISTRATION
Accounting Operations / Administrative Office Specialist – The excitement over being part the United Way's VITA program has everyone in the Accounting Operations and Administrative Office Specialist program waiting for the tax season to start. Our students will be volunteering their time to the VITA program this tax season. People interested in having their taxes completed by VITA should call 352-589-2250 ext. 1826 for more information and to schedule a time. This is a free service.
HEALTH SCIENCE
Practical Nursing – The Day Practical Nursing program held their capping and pinning ceremony on Friday at 7 pm. A special thanks to Lake Sumter State College for hosting us. Dr. Isaac Deas, Lake Technical College Board member, was the guest speaker.
HUMAN SERVICES
Cosmetology – We had a great week in Cosmo gearing up for SkillsUSA (competition is February 13) the only way we know how – with style and persistence. The Facial Specialty students are honing their skills with the skin machines and our Nail Specialty students are working with nail trainers. All this under the watchful eyes and encouragement of the instructors.
TRANSPORTATION AND LOGISTICS
Auto Collision Repair and Refinishing – Several students spent this week learning how to remove a damaged radiator core support. Guess what they will be doing this week?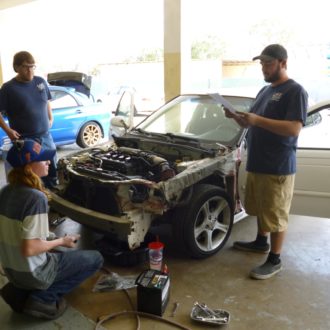 opens IMAGE file
Diesel Technology – The Diesel students spent last week at to Lake Tech's Institute of Public Safety removing three engines and transmissions from retired school buses. Not only did they learn how to remove engines, but now they will begin rebuilding them.
ADULT EDUCATION
ADULT BASIC EDUCATION and GED – ABE reading students completed an experiment to answer the question, "How many paper clips can be placed into a paper cup full of water without spilling a single drop?" What would your guess have been? Our highest number of paper clips was 141! Now, how is that possible? The answer is found in surface tension and the strong cohesive bonds between the water molecules that form a skin-like meniscus at the top of the cup. Once the paper clips have broken this 'skin,' the cohesive bonds become adhesive (much weaker), and the water no longer is attached to other water molecules, but rather to the paper clips, and "tada!" broken surface tension and spillage of water!
Students first completed the lab, then learned about surface tension and bonds after reading a science passage, viewing a flow chart of chemical bonding, and watching a NASA video. Students used scientific reasoning and critical problem solving to answer the question, "How many paperclips can be placed into a paper cup full of water without spilling a single drop?"
Reading, Math, and Language students also learned a computer program, Kahoot. Instructors use this to make learning a little more fun. You can make quizzes, jumbles, and surveys to enhance learning – thanks to Mrs. Hooper for introducing this tool to the other adult education teachers.
Our week wrapped up with a presentation about Washington D.C. Mrs. Thomas attended the recent inauguration, and, with lots of pictures, lead a social studies discussion about the presidential election process and the branches of government. ESOL, ABE, and GED students all enjoyed the presentation and were inspired to go visit our nation's capital!
IN THE COMMUNITY
Students from Auto Service Technology and Auto Collision visited to Spring Creek Charter School demonstrate some of the tools of the trade to students and answer questions about what technicians in these fields do each day. The audience ranged from K through 8th grade as well as teachers and parents.
Kim Frazier represented Lake Tech at the College at the AVID event on Saturday. AVID, which stands for Advancement Via Individual Determination, is a college readiness program designed to help students to develop the skills they need to be successful in college.
Kim Frazier was in Sumter County on January 26 sharing the Lake Tech story with the Sumter County high school students.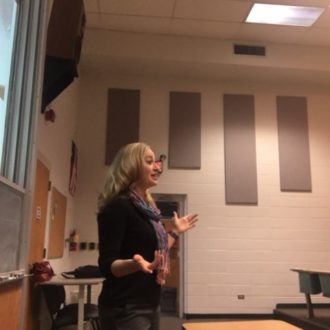 Instructors Art Seidner and Chuck Srock represented Lake Tech at the Health and Wellness Fair in Clermont on Saturday. Several of Mr. Srock's practical nursing students attended as well and practiced their blood pressure skills on those attending the Fair.
Sonya Rosenglick attended the Job Readiness Forum on Tuesday, January 24 at Eastridge High School speaking with all the Juniors about job readiness and Lake Technical College's programs
Sonya Rosenglick attended FETC in Orlando on Thursday, January 26 and ran into a couple of friends.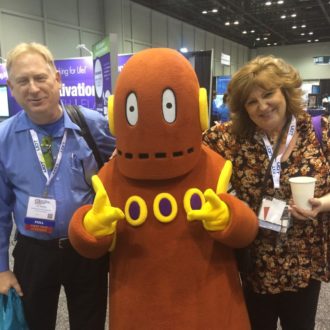 opens IMAGE file
STAFF ALUMNI ASSOCIATION
A newly formed Lake Technical College Staff Alumni Association has begun. Former GED instructor Trudy Johnson is the President of the Association. Their goal is to raise $50,000 for 50 student scholarships during this 50th Anniversary Year Celebration. If you are interested in donating (you don't have to be an alumni), please make your check payable to Lake Technical College and give the check to Lana. All donations are tax deductible and support students 100 percent!
The annual Homecoming Breakfast for the Staff Alumni Association will be held on February 2 at 8:30 am in the Tech Dining room. All former Lake Technical College staff are invited to attend.
TECH TIP