In the Weeks Ahead at Lake Technical College
Lake County School Board Member Marc Dodd to tour Lake Tech, November 16, 9 am
Lake Legislative Days, Tallahassee, November 17-18
Criminal Justice Academy Advisory Committee meeting, November 18, 9 am
Thanksgiving Break, November 23-27
Graduation, January 22, 7 pm at Lake Receptions
Academic Affairs
Architecture & Construction
Experts from the construction industry met at Lake Tech on November 13 at 8:30 am to discuss what is needed for an entry level employee in the construction industry. Several committees were established in order to develop a 100 hour course called "Introduction to
Construction" that will be taught along with GED academic competencies. The anticipated date of implementation of this course is August 2016.
Arts, AV & Technology
Digital Design – Students in the Digital Design program were working on a variety of projects this week. Some of the designers were following detailed directions to construct corrugated shelves.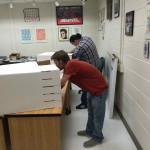 David W. and Alex N. were designing an advanced holiday dot-to-dot in Adobe Illustrator.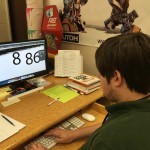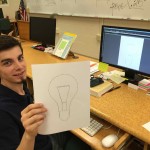 Matt V. started using Adobe Illustrator to create his "Light at the End of the Tunnel."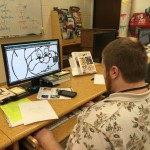 Business Management & Administration
Administrative Office Specialist/Accounting Operations – The Business Programs are bustling right along. We've had three students complete in the last 30 days, they are: Nick Hobbs, Debbie Blair and Carynn Silva. Congratulations to them!
We welcomed three new students: Alicia Santos-Medina, Cashia McCrary and Justin Camacho.
If you think the words "creative" and "accounting" don't go together, you are wrong. Sandra Belinski, Liliana Gonzalez and Amanda Crosby have "skills" in that area also. There is no doubt in our minds that we will be THE WINNER in the door contest starting in a couple of weeks. Any challengers out there? If so; let us know and the game will begin!
Health Sciences
Pharmacy Tech – Instructor Korrina Green's Pharmacy Tech students are working hard applying the new skills they have been learning. The in-class pharmacy allows the students to read and fill prescriptions, compound medications in a sterile environment, and provide excellent customer service along the way.
Medical Assisting – In the latest edition of "Teach the Director a Thing or Two," Medical Assisting students along with instructor Beth Thornton taught a lesson on how to give an injection. Instead of a real patient, Dr. Culpepper had the opportunity to practice on a hot dog (thankfully)!
Practical Nursing – Capping and Pinning will be held for the part-time nursing class on Friday, November 20 at 7 pm. The ceremony will be held at Epiphany Anglican Church – 1724 South Bay St. Eustis, FL 32726.
Manufacturing
Welding instructors John Dahler and Bob Sherwood provided very practical instruction this week as the students utilized both their fabrication and production welding skills as they completed the welding booth dividers that will be used in the new Center for Advanced Manufacturing once it opens.
Law & Public Safety
Law Enforcement Academy/Corrections – It was a spicy week this week with Day Law having spray day on Wednesday. Night law is currently in defensive tactics and Corrections is now on the gun range.
Fire Fighter – US Congressman Dan Webster will be the keynote speaker at the Fire Fighter graduation on November 20.
Transportation, Distribution & Logistics
Auto Collision Repair & Refinishing – Three Lake Tech graduates were recently "signed" by Service King as their newest employees. The event was held at the Service King location in Orlando. In addition to the employment opportunities, the students received tools, uniforms, and tuition reimbursement.
Check the event out on YouTube. https://youtu.be/2SqDnTCsZl0
Auto Service Technology – This week, the Auto Service Technology students have been working hard on improving their engine repair skills from engine removal, disassembly and cleaning. In addition, they worked on creating estimates by looking up prices and the times allowed for engine building so they are definitely learning all the elements of building an engine.
Adult Education
This week in the day Adult Education classes, the students had a lesson on the science short answer constructed response. There are two of these on the GED® Science Reasoning test and students can earn up to 3 points each. Students learned a strategy, called the Do/What method, to determine what the writing prompt is asking them to write about. Then, they read from a science passage, drew conclusions, identified specific details and worked with a partner to write a short answer response. Students made predictions as to what score sample responses would receive. The lesson concluded with students writing their own response to a science writing prompt regarding the treat of fossil fuels to coral reefs. They all improved according to their own evaluation on what they learned as well as instructor evaluations. This method and practice will help students with the constructed responses they must write for the social studies and reasoning through language arts GED® as well.
The evening class, which meets 5 – 8 pm, had a short lesson on using commas appropriately. Comma placement can change the meaning of your sentence, for example, "A woman without her man is nothing." or "A woman, without her, man is nothing."
Student Affairs
Graduation – There will be two graduations this year. The first one will be held on January 22 at 7 pm at Lake Receptions. All students who completed during this first semester should attend this ceremony.
Students and instructors should arrive by 6 pm.
National Adult Education Honor Society – The National Adult Education Honor Society induction ceremony will take place on December 2 at 3 pm in the Board Room. If you have students you wish to nominate, please contact Kathy Roberts by November 5. If you would like further information about NAEHS, please check them out on the web at http://www.naehs.org.
National Technical Honor Society – Any students you wish to nominate for NTHS must turn in their applications, along with the $30 NTHS membership fees, to the Business Office by November 18 at 3:30 pm. The induction ceremony will take place in the EMS Building on Thursday, December 17 at 2 pm.
Office of Student Success
Dr. Lindamood also does presentations on stress management, communication skills, and personality type: understanding yourself and your interactions with others, and she works with academically challenged students individually. Our Student Success Counselor is here to help you help our students be successful.
Career Success Center Room 208A – The Career Success Center is open on Mondays (11 am until 6:30 pm), Wednesdays and Fridays (8:30 am until 4 pm). Services offered include developing and refining resumes, cover letters, and portfolios, interviewing techniques, job search assistance, and much more. Please share this information with students and graduates. The Career Success Center is located in Room A-208.
Career Success Center Workshops Scheduled for the Fall:
Monday, December 14, 2:45-4:00 pm, Interview Skills Workshop
Please sign up by contacting Ms. Rosenglick via phone, email, or the Career Success Center sign in sheet (beside door) rosenglicks@lake.k12.fl.uscreate new email (352) 589-2250, ext. 1855, Room 208A
Professional Skills Seminars
Attend the four Professional Skills Seminars this year to find out what employers from our community say about skills needed in Lake County. Did you know that employers in our community need skilled workers who also have soft skills? This is what they said. Come to the Professional Skills Seminars to learn exactly what these employers are saying and what skills you need to know to get hired here in Lake County….directly from them.
Tuesday, December 8
Wednesday, March 9
Tuesday, May 10
Sign up via your instructor.
The Lake Tech Financial Aid Office has a Facebook page! Tell your students and those interested in financial aid as well as scholarships to Like Lake Tech Financial Aid Office.
In the Community
Veterans Job Fair – Career Advisor Russell Darst represented Lake Tech at the Veterans Job Fair at Via Port on Tuesday, November 10. The Job Fair was sponsored by Career Source. Russell was happy to represent us at this event for our local Veterans.
Lake Tech is the proud sponsor of the Lake County Regional Soccer Championship. Over 1000 people were in attendance. Our banners were displayed at the entrance to the soccer field and we were on the banner of the website. All players wore a shirt with Lake Tech on it.
Tech Tips

opens in a new windowopens PDF file
Click the image to see the tip!