Lake Tech Rocks Pink!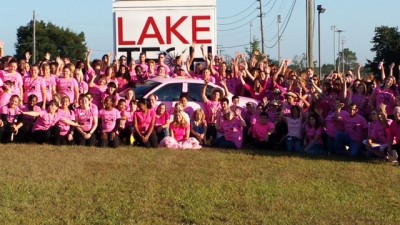 opens IMAGE file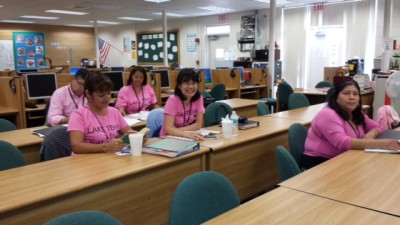 opens IMAGE file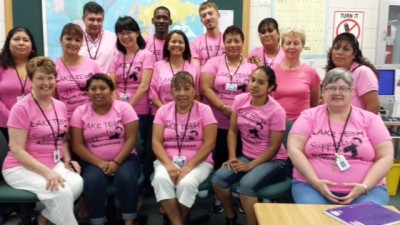 opens IMAGE file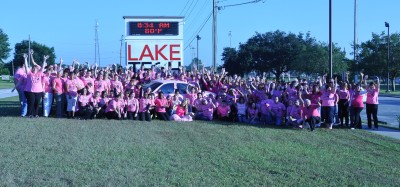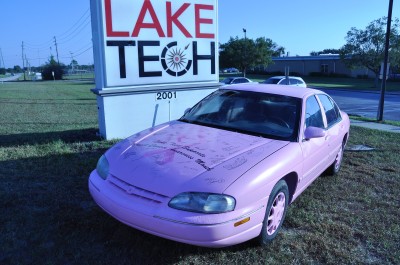 opens IMAGE file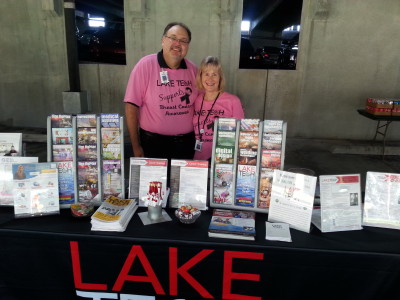 opens IMAGE file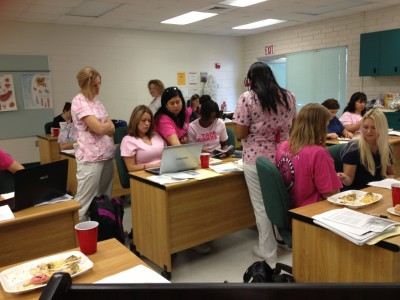 opens IMAGE file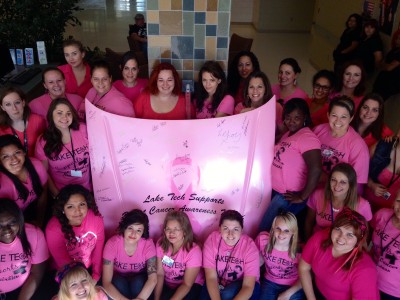 opens IMAGE file
Academic Affairs
Architecture & Construction
Lake Tech's new Air Conditioning, Refrigeration, & Heating Technology program, that starts on 10/28/13, became NCCER accredited last week.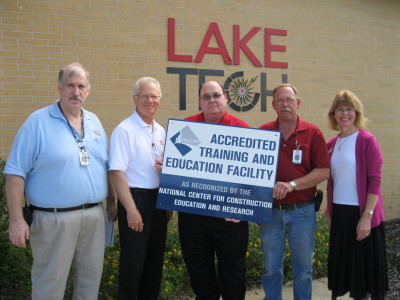 opens IMAGE file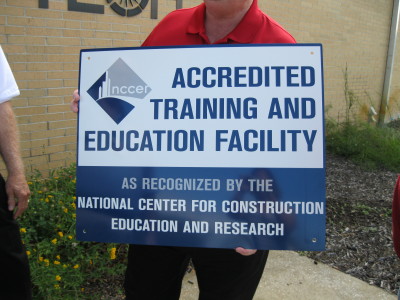 opens IMAGE file
Arts, AV Technology & Communication
Projects abound in the Digital Design program. Deirdre Carr graduated from Digital Design 1 and will start Digital Design 2 on Tuesday. Deirdre completed two big projects this week: making adjustments to the GED schedule and handling the upload to the commercial printer after final proofs and a Breast Cancer Awareness project using New Balance walking shoes for a "client". The Digital Design students will be submitting designs for the Florida SkillsUSA T-shirt, banner, pin, and state contest program cover. The designs will be submitted this week at the Chapter Management Institute taking place in Seminole County.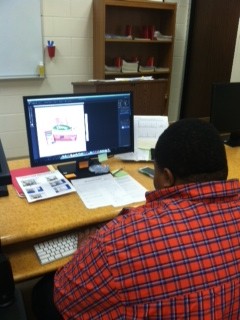 opens IMAGE file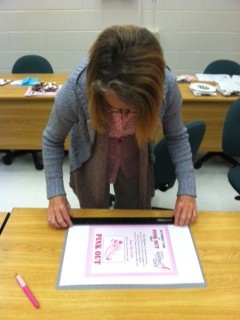 opens IMAGE file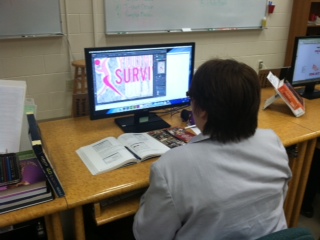 Business Management & Administration
After being very productive since the start of school, the Accounting and Administrative Office Specialist students took some time to enjoy the "Pink Friday". The festivities began with the entire class coming to school in pink as part of "Turning Lake Tech Pink". We began the day by joining with other Lake Tech students and staff for a picture in front of the Auto Collision's pink car. Then we returned to the classroom, which we had transformed into a colorful Fall Festival. After completing several assignments, it was time to celebrate our successes. The plans for the party were the brainchild of our Party Planning Committee (PPC) which is chaired by Joyce Williams.
Our celebration began with a wonderful, colorful and bountiful brunch in which no one left hungry. By having the class seated around a table we were able to learn more about each other and enjoy everyone's company. Several students were recognized for their achievements. This will be reported next week. Since the fall season decorates the area it was decided to have a theme of preparing for a job interview and working. To learn more about the do and don'ts, we turned to the cosmetology class. They sent three students who talked about how to prepare for an interview and job. They provided a very informative and lively discussion with questions and answers. Later they shared in our bounty. Following that we had a fashion exchange or swap. Here the students brought in up to 5 pieces of clothing or business accessories, such as a portfolios, nice pens, binders or purses. Then everyone had an opportunity to select items that they liked. This allowed our students to update their wardrobes! Great job Joyce and the PPC!
In our classes we worked on a major accounting project, using new filing procedures, and solving office questions.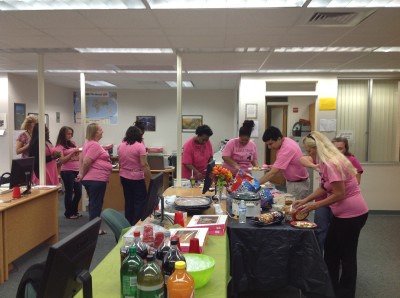 opens IMAGE file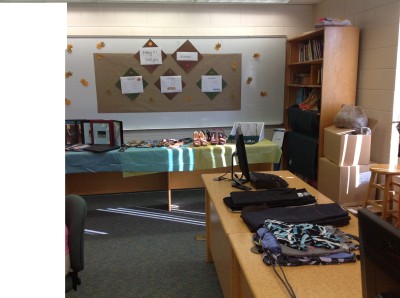 opens IMAGE file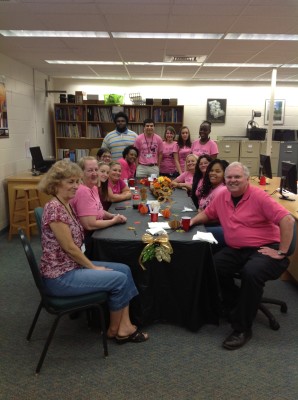 opens IMAGE file
opens IMAGE file
Health Science
The Quarterly reports for the NCLEX (National Council Licensure Examination) for Practical Nursing has just been released for the year ending 9/30/13. Lake Tech's Year to Date passing rate is 93.55%. These are excellent results and we are proud of our nursing students!
The nursing students at Mascotte participated in turning Lake Tech Pink!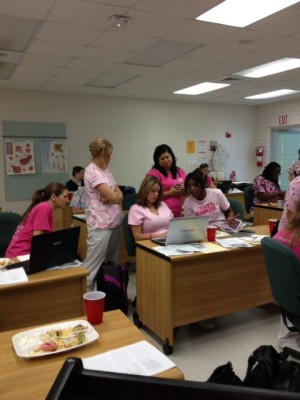 opens IMAGE file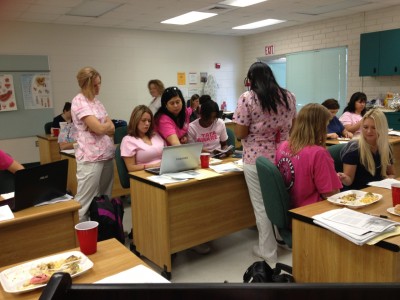 opens IMAGE file
Hospitality and Tourism
The Commercial Foods/Culinary Arts students participated in the South Lake County High School Culinary Arts event.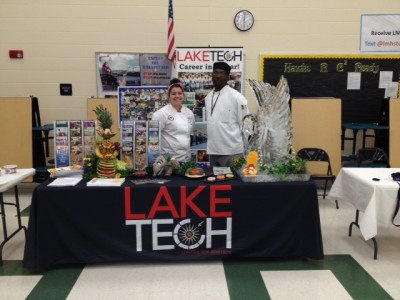 opens IMAGE file
Human Services
The students in the PM Cosmetology, Facials Specialty and Nails Specialty turned PINK as part of the "Turn Lake Tech Pink Day."
opens IMAGE file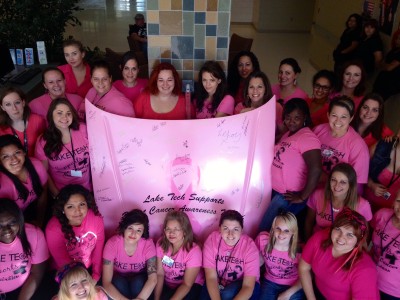 opens IMAGE file
AM Cosmetology student Shelbie Turner showing off her pink hair.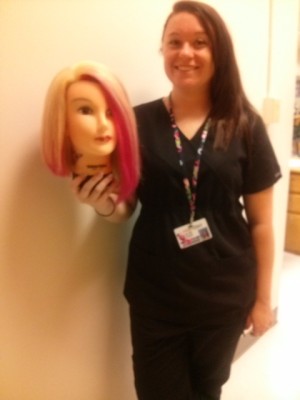 opens IMAGE file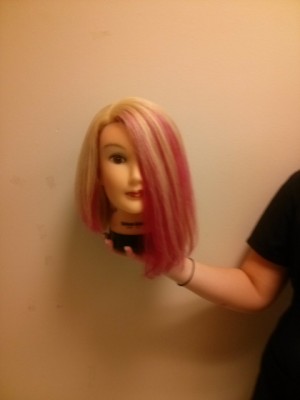 opens IMAGE file
Law and Public Safety
The Corrections Recruits have completed Defensive Tactics and Spray day this week. The Corrections students final day is Monday and we are very proud to have taught them here at IPS. Day Law Enforcement students have completed the Criminal Investigations block and DUI block this week and moved into traffic crash investigations. Night Law Enforcement students have completed their Legal block this week and moves into communications. All are progressing nicely.
Manufacturing
If you haven't noticed, the new evening Welding instructor Bob Sherwood is always sporting a hat. This week, his students decided to follow in his unique style.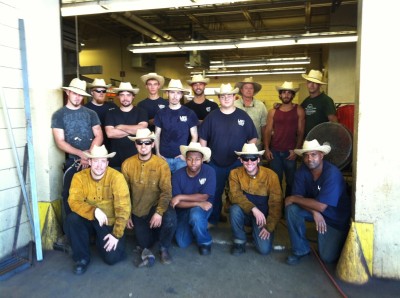 opens IMAGE file
Transportation & Logistics
The Auto Collision students painted a car pink to show their support for Breast Cancer Awareness. Instructor James Brucker encouraged the entire school to make a donation and then sign the hood which will be on display at the school. Over $250 was raised for Breast Cancer Research.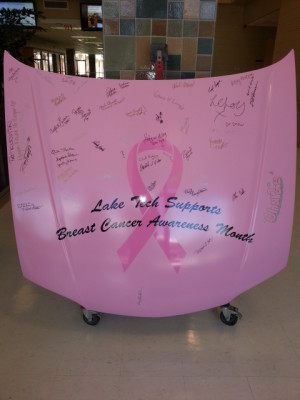 opens IMAGE file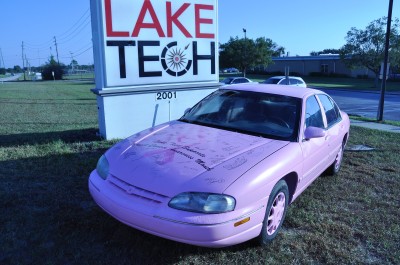 opens IMAGE file
Adult Education
Last week Instructor David Beliveau spoke to the Adult Education students about the Auto Collision and Repair program. Many of the students had great questions and were excited about having someone come in to talk with them about careers. The students want speakers from other programs as well. If any of you want to come in or send students to talk as well – we can schedule you anytime!
Mr. Seidner conducted a lesson on sentence formulation and the students all did great on their posttest. Pictures were on the Friday Update last week. Many of our students applied to Target last week and learned how to fill out job applications on-line and check their e-mails for responses. We had several get interviews set up this and next week – we wish them good luck!
Our afternoon group missed out on the pictures this morning, so we took some pictures of them in their pink!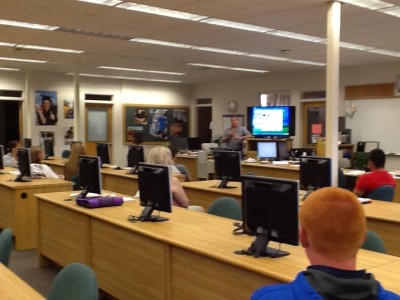 opens IMAGE file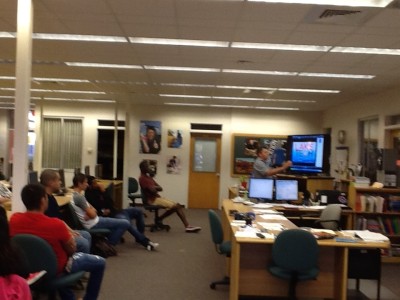 opens IMAGE file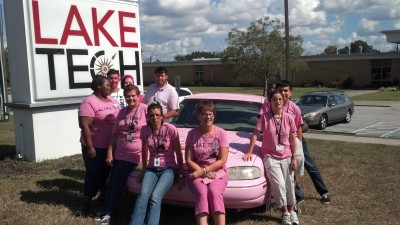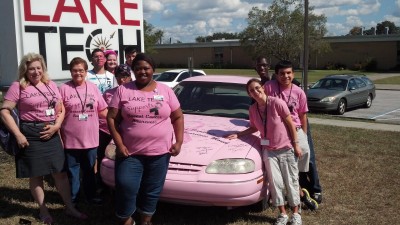 opens IMAGE file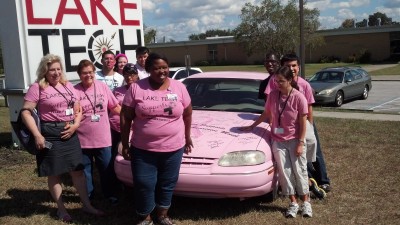 opens IMAGE file
The ESOL students celebrated "Turn Lake Tech Pink."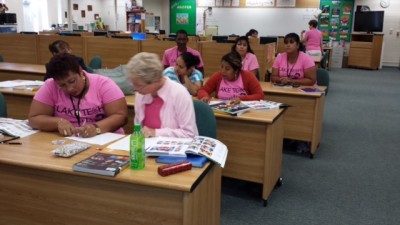 opens IMAGE file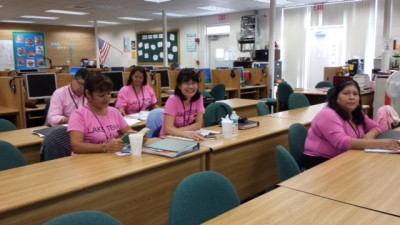 opens IMAGE file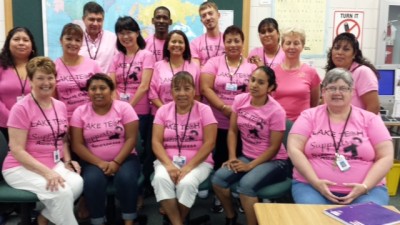 opens IMAGE file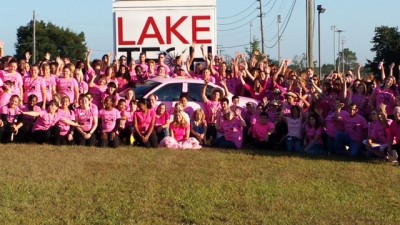 opens IMAGE file
Student Affairs
Three SkillsUSA advisors from Lake Tech will be attending the Chapter Management Institute (CMI) this week which is being held in Seminole County. This Institute provides advisors with the tools to develop, manage, and advise a successful SkillsUSA chapter. Lake Tech Dean DeAnna Thomas will be teaching the seminar for our entire region.
The Admissions team did their part decorating for Breast Cancer Awareness Day.
SkillsUSA will be sponsoring a Fall Festival on October 31 during lunch. The band, Rockin' Redemption will play, Culinary will cook hamburgers and hotdogs, Medical Assisting will have a cupcake booth, Cosmetology students will paint faces, classes will decorate scarecrows, and, most important, canned food will be collected for the Lake Cares Food Pantry.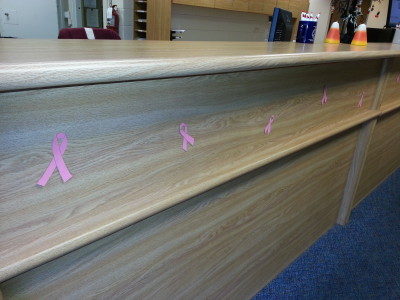 opens IMAGE file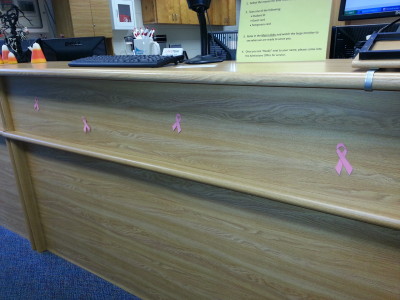 opens IMAGE file
opens IMAGE file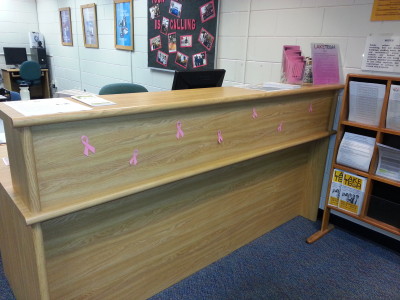 opens IMAGE file
Technology
In the Community
October 29 – Diane Culpepper will be speaking at the South Lake Rotary Club in Clermont at 6:30 am. She welcomes anyone to attend with her!
November 7 – Lake Tech will be participating in the Taste of South Lake & Business Expo, 5 -8 pm, Clermont's Waterfront Park.