In The Weeks Ahead at Lake Technical College
Creating a LinkedIn Profile, October 24, 11:30 am and 1:30 pm, Career Success Center
Scarecrow Contest, October 25
Pink Out Lake Tech, October 25
Area High School Students to Tour Center for Advanced Manufacturing, October 29 and 30
Fall Festival, October 31, 11 am – 1 pm in the Courtyard
The Ribbon Cutting and Grand Opening of the Center for Advanced Manufacturing was a wonderful success. We had over 120 attendees the speakers included Senator Dennis Baxley, Congressman Daniel Webster, Supervisor of Elections Alan Hays, President and CEO of CareerSource Central Florida Pam Nabors, Skybolt Vice-President Debra Bowers, Commissioner Leslie Campione, Eustis Vice-Mayor Marie Aliberti, Lake County School Superintendent Diane Kornegay, and Lake Technical College Board Chair Richard Keith. One student from the Welding program and one from CNC program spoke as well and then were invited to attend the Annual President's Dinner and Awards of Excellence hosted by the Manufacturing Association of Central Florida. The CNC students designed and made a beautiful keepsake that everyone adored. The Culinary students prepared food for a wonderful reception and Lana Payne created a "Made in Lake" display that included samples of products manufactured in our county.
ACADEMIC AFFAIRS
HEALTH SCIENCES
Medical Assisting
The students in the Medical Assisting program celebrated Medical Assistants Recognition Week which is always celebrated the third full week in October. Medical Assisting is an allied health profession whose practitioners function as members of the health care delivery team and perform administrative and clinical procedures. Medical Assisting is one of the nation's careers growing much faster than average for all occupations, according to the U.S. Bureau of Labor Statistics.
The Medical Assisting students who were preparing for practicum starting Monday were very excited! Others practiced blood draw and sterile dressing wound care.
EMS
EMS Program instructors assisted with the moulage of simulated victims as part of a mass casualty EXERCISE hosted by Lake-Sumter State College in participation with the Lake County Sherriff's Department. Instructor Eric Harper provides a life-like injury to one of 20 participants. Congratulations to Lake Tech Alumni and Eustis Fire Department's Engineer/Paramedic Jordan Burkholder, Engineer/Paramedic Jerry Donaldson, Engineer/Paramedic Clay Rich (not pictured) and Lt. Dan Sawchuk for receiving the Life Saving Award. On August 13, 2018, they responded to a call of a person in cardiac arrest. The Eustis City Commission recognized the group.
HOSPITALITY & TOURISM
Professional Culinary Arts & Hospitality
Baking and Pastry Arts
The students enjoyed a cake decorating class this week. Shannon, who graduated from the program 14 years ago, shared her experiences since graduating and emphasized to the student how important it is to take advantage of every minute in class. She told them that she started at Publix in the bakery full-time while others can only get part-time positions. She advanced quicker than most because she had attended the Lake Tech culinary program and brought those skills with her on Day One!
HUMAN SERVICES
Cosmetology
The Cosmetology students are busy working on their scarecrow for the Fall Festival. Facials and Nails students have been busy this week too!
INFORMATION TECHNOLOGY
Enterprise
Applied Cybersecurity
This week students continued working on their course materials and also completed some of their hands-on projects. Enterprise students that are nearing the end of their course are working on their final project in which students design, diagram, and create a purchase order for a small office network. Some students in our Applied Cybersecurity installed a new IP camera in the classroom, as others were creating PowerShell scripts, virtual networking labs, and creating content filters using a small computer called a Raspberry Pi.
MANUFACTURING
CNC Production Specialist
The CNC students worked with the welding students to design and manufacture a hinge pin for a smoker/grill project. This hinge will allow for smoother operation. The hinge pins are used on several different welding projects so it is a good project for the CNC students to see the fruits of their labor being used. The students have been invited to attend the annual President's Dinner sponsored by the Manufacturing Association of Central Florida. This will be a great time to network with manufacturers in the region.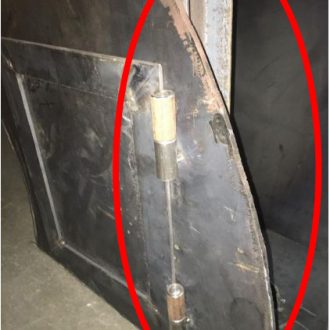 TRANSPORTATION, DISTRIBUTION & LOGISTICS
Auto Service Technology
The program welcomed three new students this week who are working on different projects from engine removal, alignments, and car inspections. They have been getting their hands dirty all week. Two of our students completed a removal and replacement of a wheel hub assembly as well as performed a complete front brake job. In the process they've learned how to determine if you have a faulty wheel hub assembly, what to look for and how to test it and what some of the symptoms and noises are made by a failing wheel hub assembly. The vehicle was also in need of brakes which the students found by doing a full multi-point inspection.
Diesel Systems Technician
This week, the students retrofitted an old utility vehicle that had a gas engine into a diesel. They had to stretch the frame, build a complete wiring system and cooling system. The students also put an air tank to air up tires and made it a tilt bed. Students learned how to properly remove and replace brake drums, shoes, springs, slack adjusters, and brake chambers in the industry standard amount of time. They also were diagnosing electrical problems on the training boards. In addition, we prepped for next week where we will be going to the Institute of Public Safety to remove bus engines and transmissions in order to update some of our older engines.
Congratulations to Tyler Smith who passed the T2 ASE Diesel Engines certification test on his first try.
The Job Outlook for Diesel Technicians is Bright!

ADULT EDUCATION
GED Prep
This week, reading students are 'making meatloaf.' This means they are getting into the text with their hands and brains….really thinking about what the words and visuals mean and how they affect the tone and theme of the passage. No mixing with a spoon here, folks, that's only good when we are skimming a text.
Students used information about the period surrounding the Revolutionary War to increase their reading skills of cause and effect and sequence. They needed to think of a 'running timeline' to place events in history, thus making a better connection between these events. For example, did Homer Plessy sit in a white section of a segregated train before or after Rosa Parks sat in a white section of a segregated bus? And…which person lived in the same time period of Martin Luther King, Jr.? This sense of time helps students better understand social studies concepts/events/people. We have also been focusing on the branches of government and separation of powers.
In the ABE classroom we have started our, "Random Acts of Kindness" bulletin board. Students caught doing something good are noted and pictures taken. Images are posted on the board with a blurb of their action and positive impact on others in class/outside of class.
On the HVAC/P3 front, students are working hard on TABE remediation and industry certifications. We had our second GEDi student graduate with College Ready level scores in 2 out of 4 subjects! TABE remediation continues full steam as the integration of math between the HVAC and TABE curriculum. This has created students who are much more proficient in word and problem solving skills.
Afternoon Adult Basic Education
Our students are working hard and making progress in Language Arts and Reading. We've thoroughly covered and practiced punctuation and capitalization skills, although there's always room for more. Next week, we'll be covering semicolons, colons, and apostrophes, as well as a detailed review of parts of speech. Our students have gotten good at determining which sentences support the main idea of a paragraph and which do not. That being said, we always allow time for lots of reading and test-taking strategies. Our students are helpful and willing participants in their own learning.
We've had several students progress into the next phase over the past couple of weeks. Congratulations to Gage, Kyle, Jasmine, Briana, Gallie, and Garrett (not pictured.) Fantastic job, and keep up the great work!!
ESOL
Our students remain busy and productive. It's wonderful to see the bonds they're forming, and how well they work with and help one another. Beginning ESOL constructed a wonderful map project that allowed them to practice giving and receiving directions from one another. Our advanced students continue great group and partner interactions daily. In our work with gerunds this week, we even got our students up and acting out activities for their classmates to guess. Who knew we had so many creatively expressive students!
STUDENT AFFAIRS
College Central Online Job Board
We are excited to roll out our new online job board – College Central. It is a tool for students to be able to search for jobs, build online resumes and career portfolios, and read hundreds of career related articles. In addition, employers will post their jobs on this site so our students can have complete access to them. Check it out at https://www.collegecentral.com/laketech/index.cfm
Program Information Sessions: The program information sessions are scheduled for the second Monday and Tuesday of each month. Monday night's session is at 5:30pm on and focus on EVENING PROGRAMS and at 3:30pm on Tuesday for our DAY PROGRAMS. Please be prepared to receive prospective students during these times. If you will, please send a Student Ambassador, or come to get your guests from the Board Room at 5:40/3:40 on those days.
IN THE COMMUNITY
• Kim Frazier represented Lake Tech at the Leesburg High School annual College and Career Fair on Tuesday, October 16.
• Sonya Rosenglick represented Lake Tech at the Teen Summit in Clermont this week. This event was an all-day personal development conference that featured fun activities, entertainment, food, door prizes, and over a dozen hands-on breakout sessions, including: solar engineering, how to land your first job, cheese making, understanding credit, makeup artistry, a day in the life of a college student, creativity and science behind physical therapy, what not to write on your resume, International food tasting, and photography. Some of the teens also participated in a Teen Town Hall in which Clermont leaders running for office answered questions from the teens in the community.
• Laurie Bryant represented Lake Tech at the East Lake County Chamber meeting on Wednesday. She spoke to two professionals interested in potentially teaching a short course. Laurie also represented Lake Tech at the Commercial Contractors Association meeting on Thursday and was given a chance to talk about Lake Tech's ability to offer job skills training for the construction industry.
• Laurie Bryant is working with Lake County Schools and Elevate Lake to host high school students for Manufacturing Day tours on October 29 & 30. Students will get a chance to talk to the instructors and students in the CNC and Welding programs and participate in some hands on activities. Crevalle Boats in Wildwood plans to bring one of their luxury boats for display and show a video on how their boats are made. Other manufacturers are being contacted to see if they can show one of their products and/or lead a hands-on activity.
TECH TIP
Check out this video on Ted Talks and wanted to share the great tech tips with you. David Pogue: 10 Top timesaving tech tips Funny, but useful video, and still appropriate even though it was made in 2013. https://www.ted.com/talks/david_pogue_10_top_time_saving_tech_tips