BUSINESS, MANAGEMENT & ADMINISTRATION
Accounting Operations
Administrative Office Specialist
In the classroom, students have been working on a variety of activities including advanced Excel functions and Personal Finance. However, most of the students broke away from their course work this week to participate in the annual Peep challenge. All the students had a great time collaborating and designing this year's AOS/Accounting peep project. While this project is a fun activity, it also allows students to practice their teamwork, creativity, and leadership skills.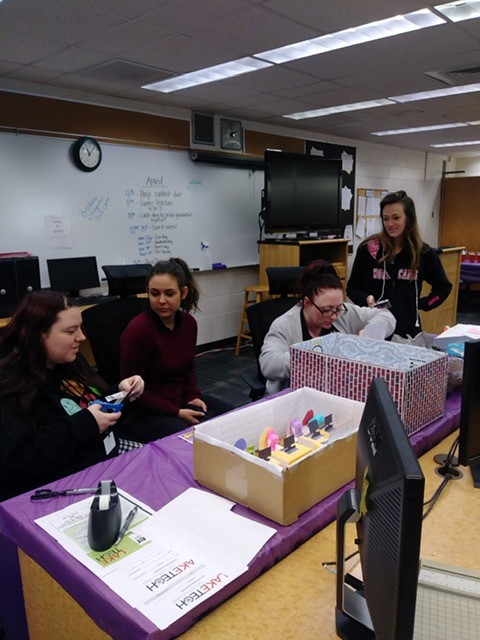 HEALTH SCIENCE
Medical Assisting
The Medical Assisting students spent the week learning mental health first aid along with minor surgical procedures and wound care. It was a busy week.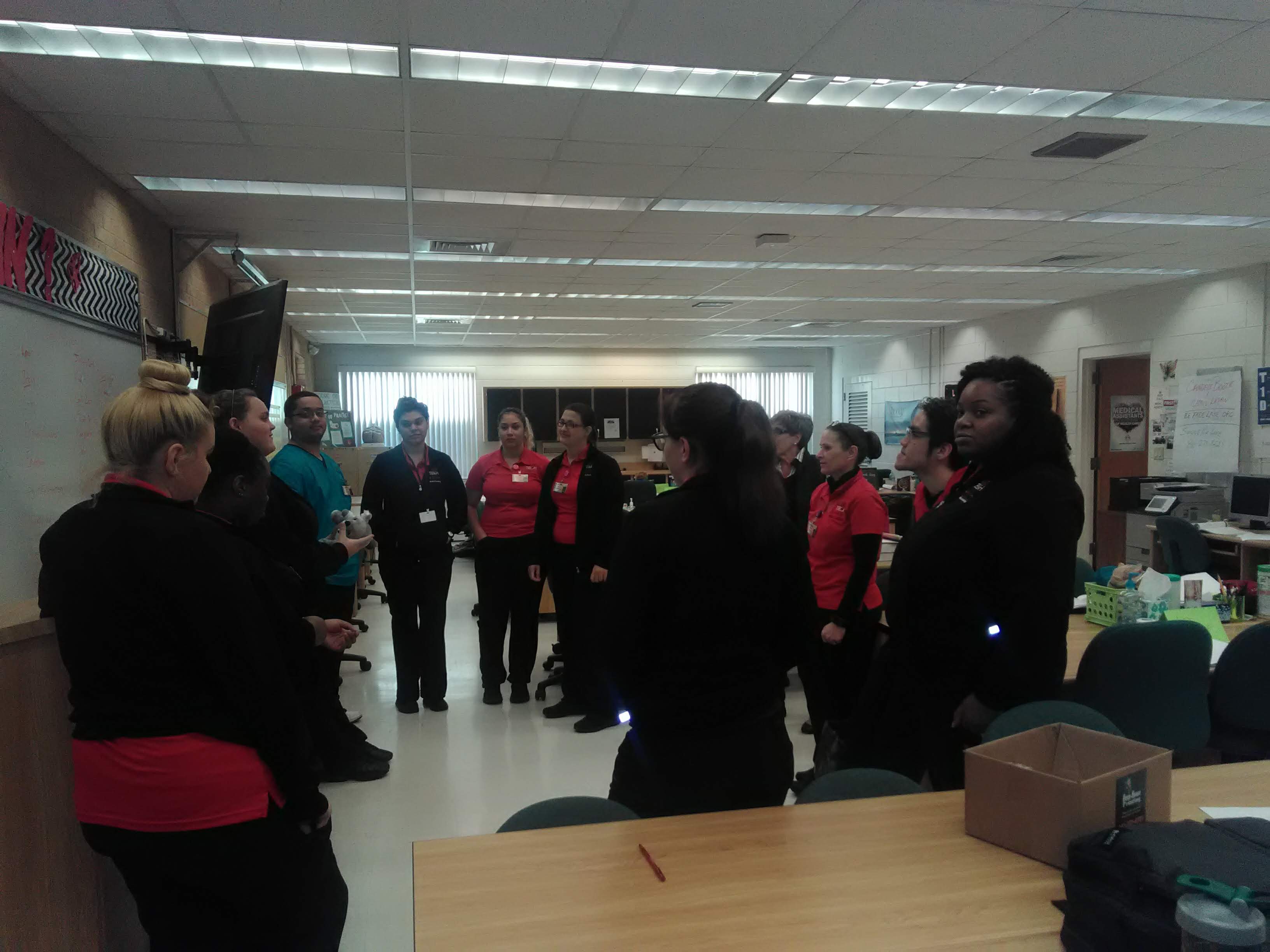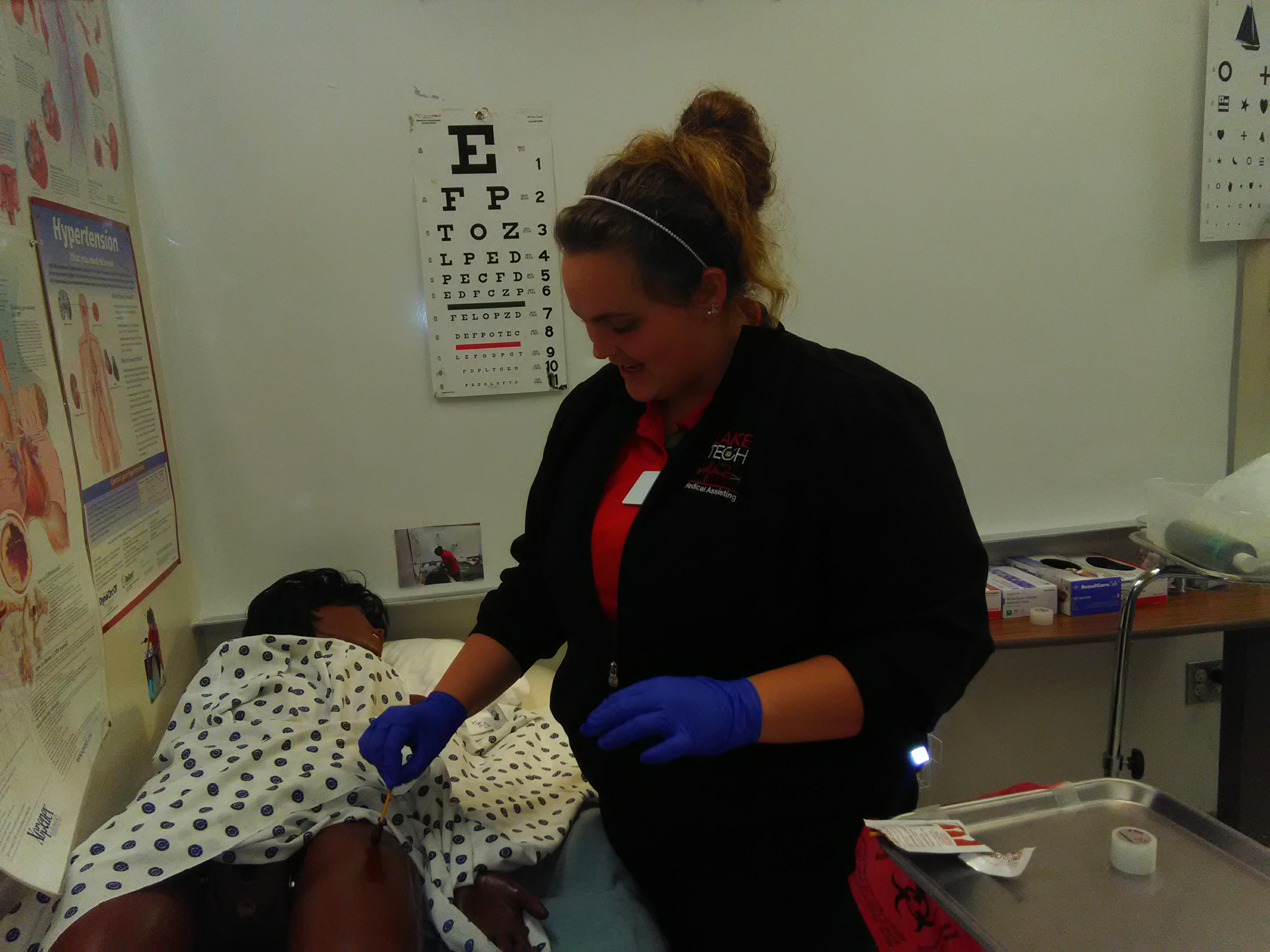 Nursing Assistant (Long Term Care)
Congratulations to the newest graduates of the Nursing Assistant program!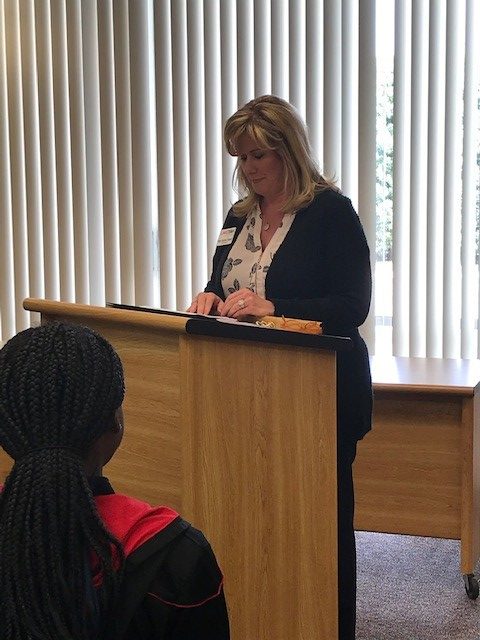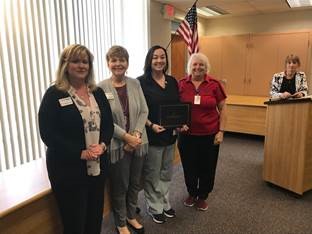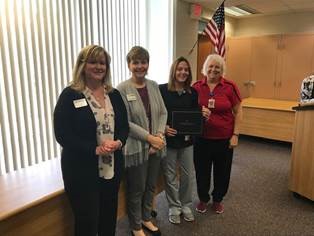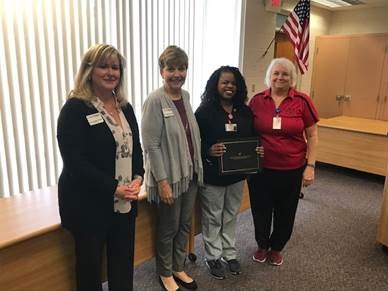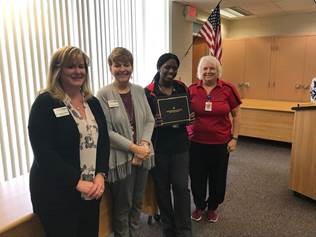 Pictured left to right are Amber Pitt, Shelby Kelley, Bretanda Carter, Eshante Vigo, Instructor Cheryl Finotti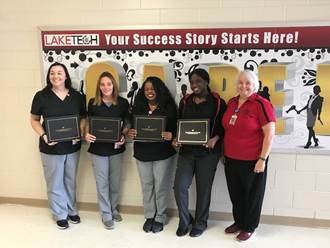 Paramedic
The Paramedic students are busy practicing skills taught in the Preparatory module such as airway management, IV therapy and pharmacology. Using the high-fidelity simulation manikin, students are working on the technical competence and clinical knowledge of these skills.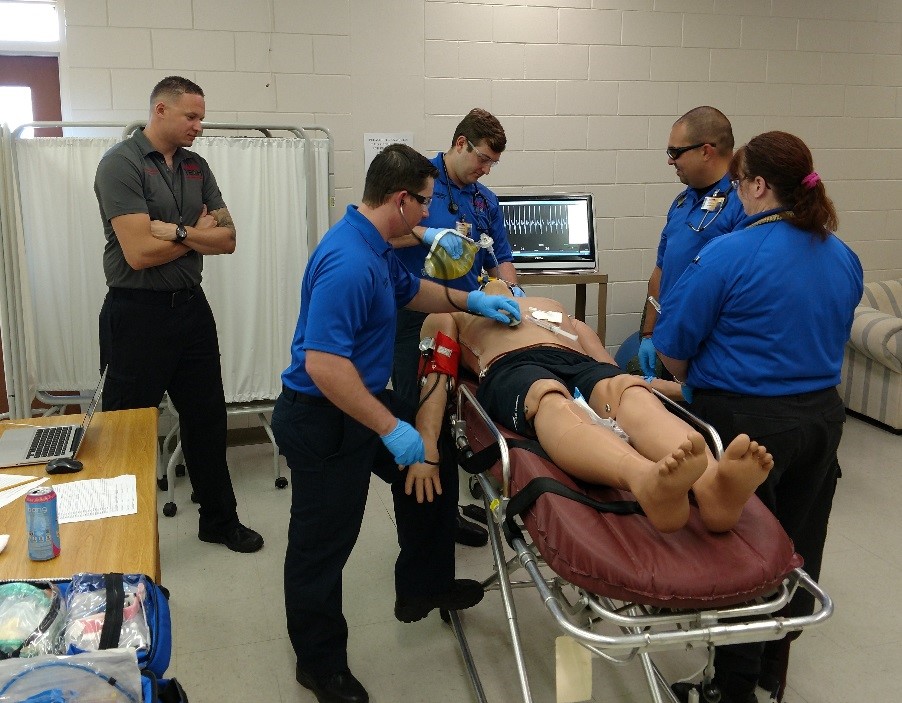 Pharmacy Technician
The Pharmacy Technician program students attended the April Florida Board of Pharmacy Meeting in Gainesville this week, observing rule discussions, applications needing board approval, and disciplinary actions against Pharmacist and Pharmacy Technicians who have violated the terms of their licensure. This was a very "eye-opening" event for our students, as they got to see first-hand accounts of situations that could occur in this practice. The Board was very gracious in explaining their formal processes to the student audience members so they could understand each component.
We also want to congratulate our newest CPhTs, Bronwyn Pope, Latara Mitchell, and Monique Reid. These students have passed their PTCB certification exam and are now Certified Pharmacy Technicians with national recognition.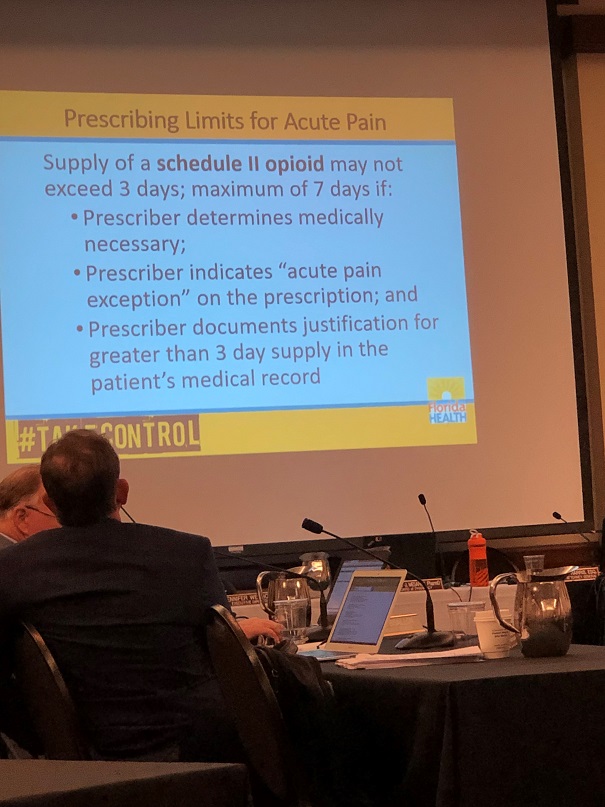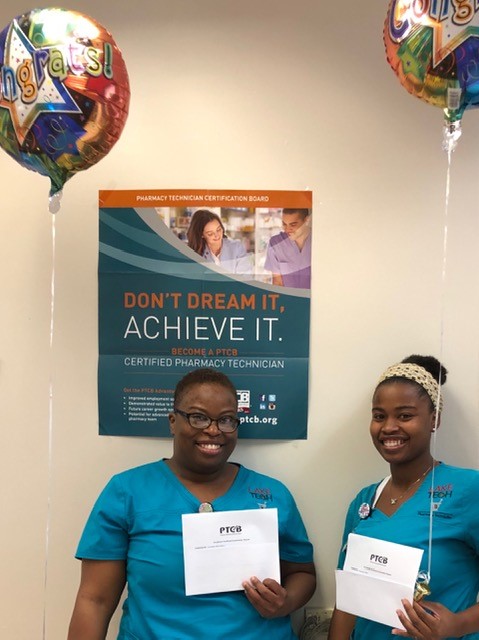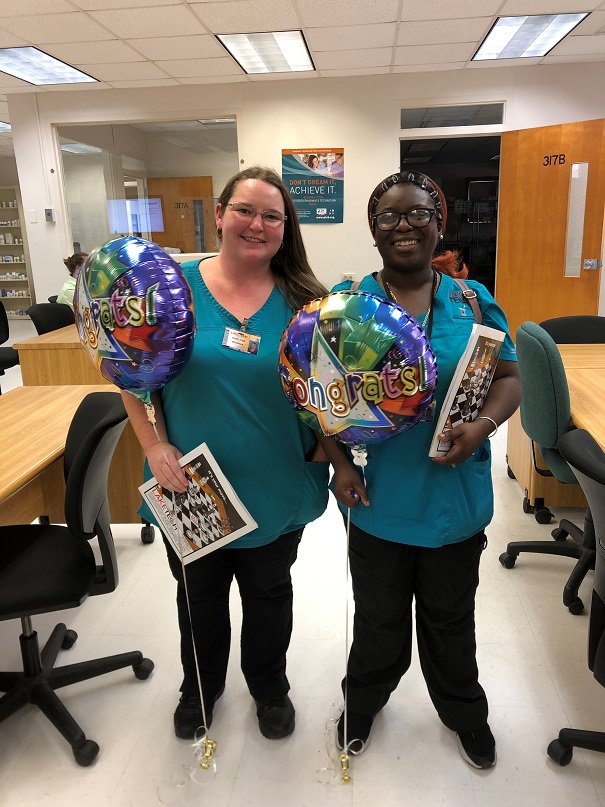 HUMAN SERVICES
Cosmetology
Cosmetology students enjoyed the permanent wave activity. Students learned the difference in the strength of different permanent waving and that the rods determine the size of the curl.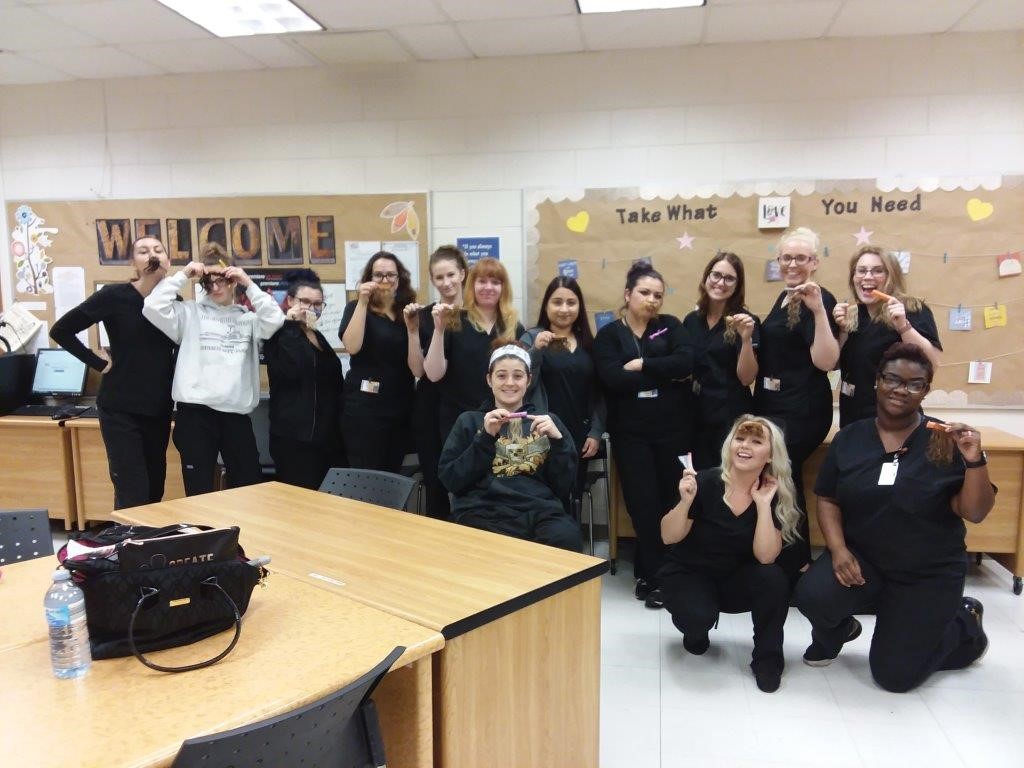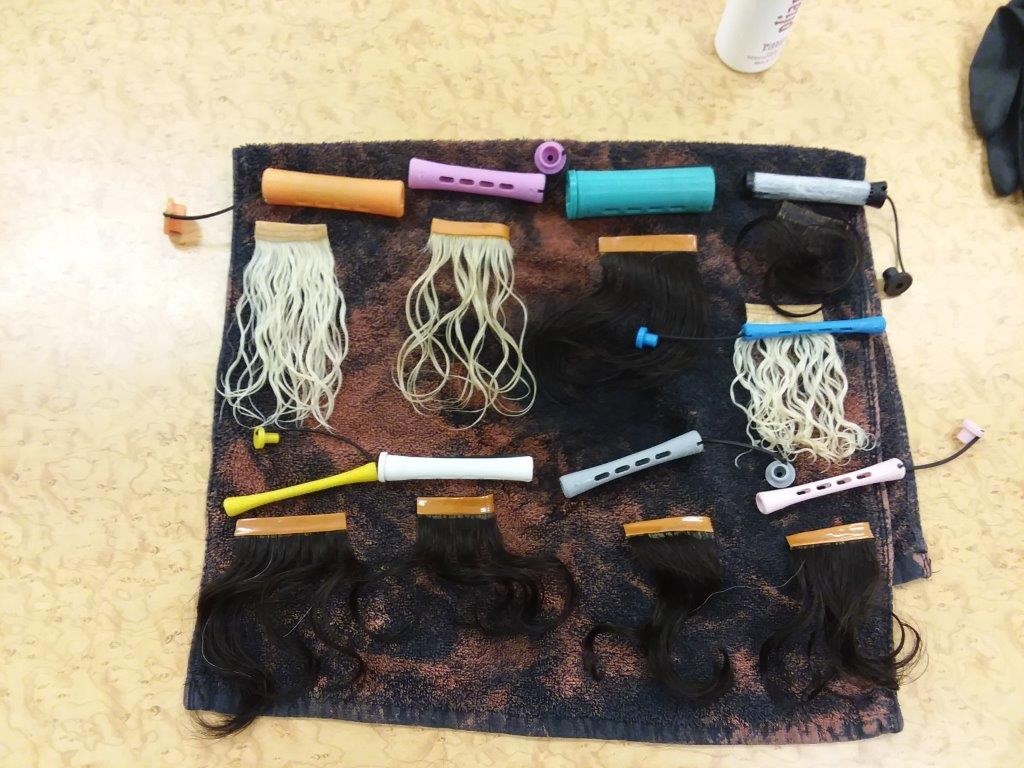 INFORMATION TECHNOLOGY
Enterprise Desktop and Mobile Support Technology/Applied Cybersecurity
This week, the new students have been getting acclimated to the program and beginning their PC rebuild projects. For the rest of the students, it is business as usual as they are preparing for their industry certification exams or continuing on the coursework.
LAW, PUBLIC SAFETY & SECURITY
Fire Academy, Special Operations
Over the last couple of weeks, firefighters from around the Central Florida area took time for training and education in either Vehicle Machinery Rescue or Vehicle Machinery Tech at Lake Technical College's Fire Academy. Great work by all the students and instructors.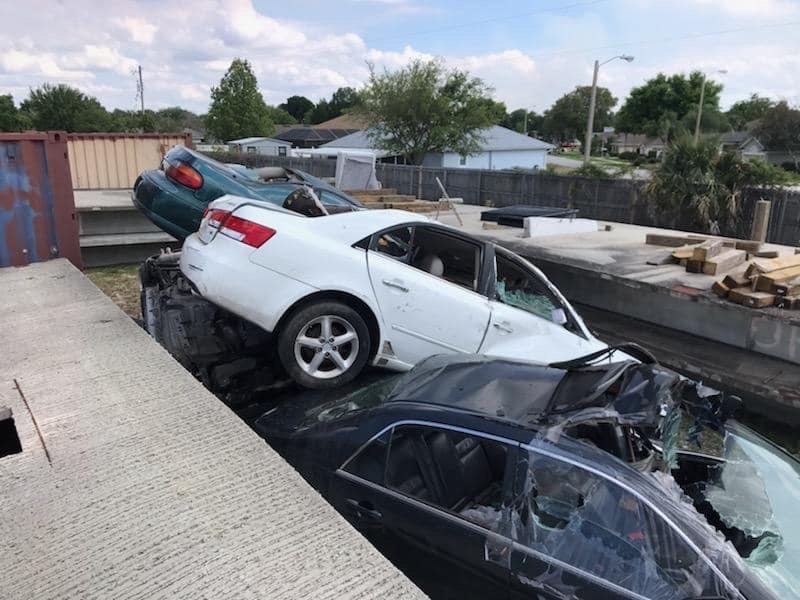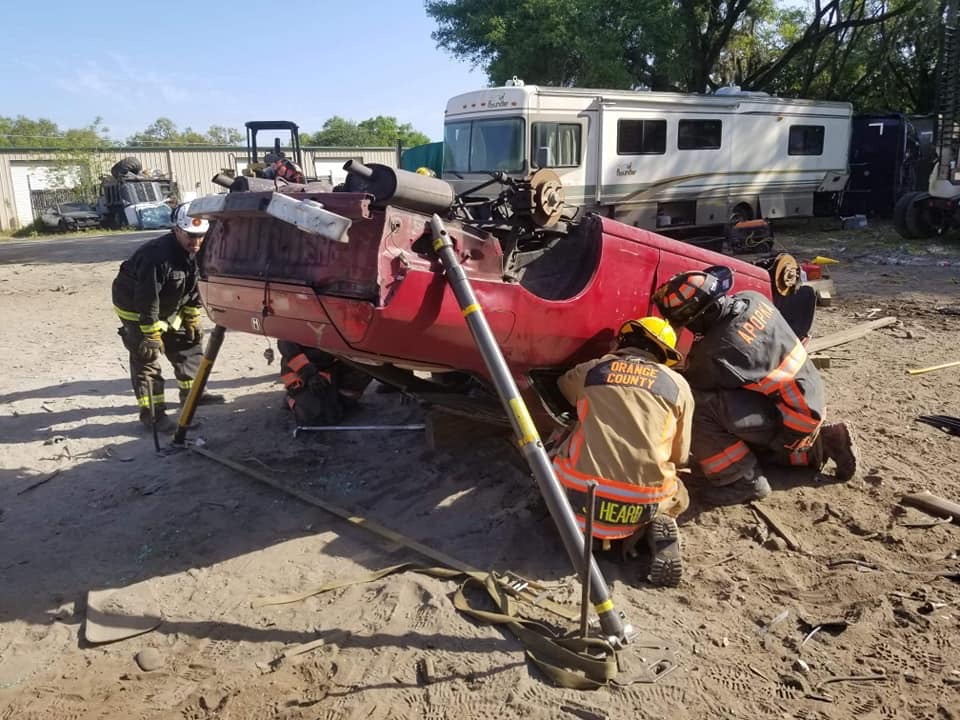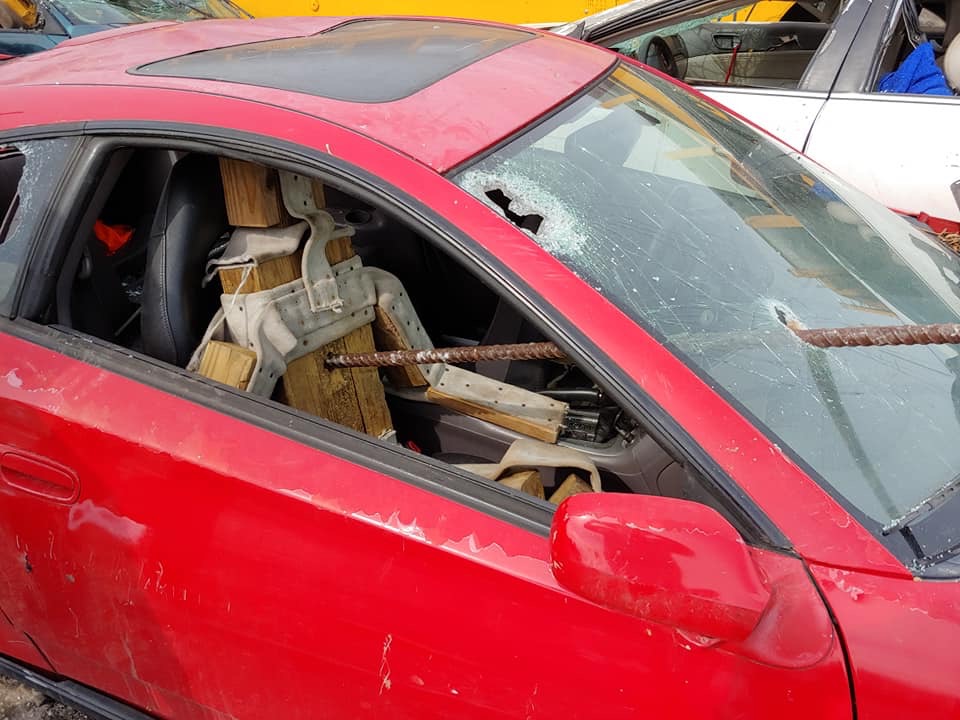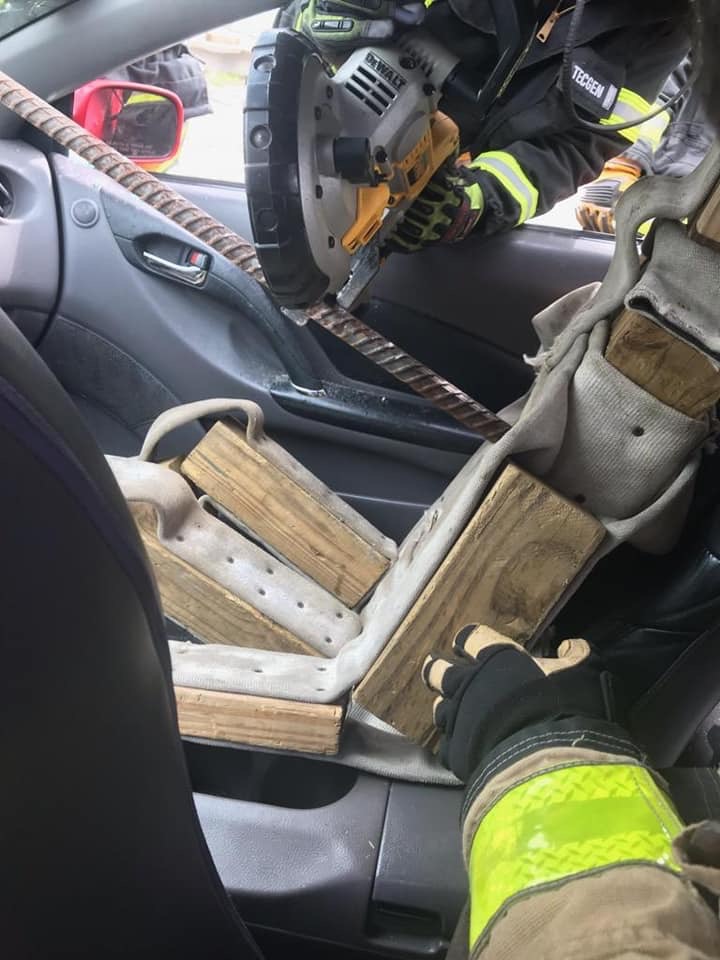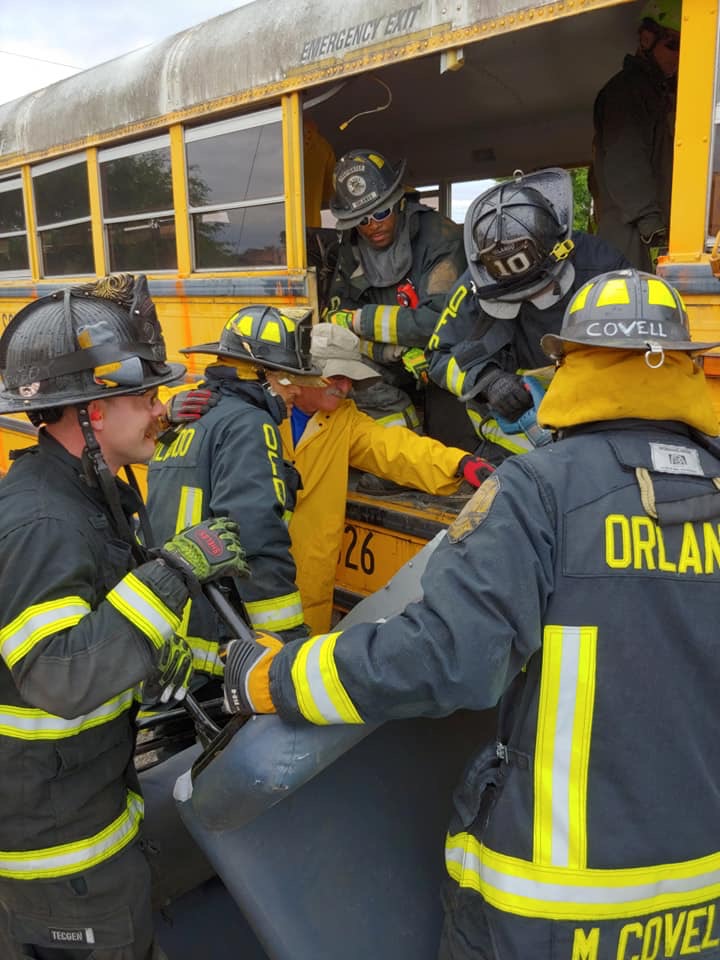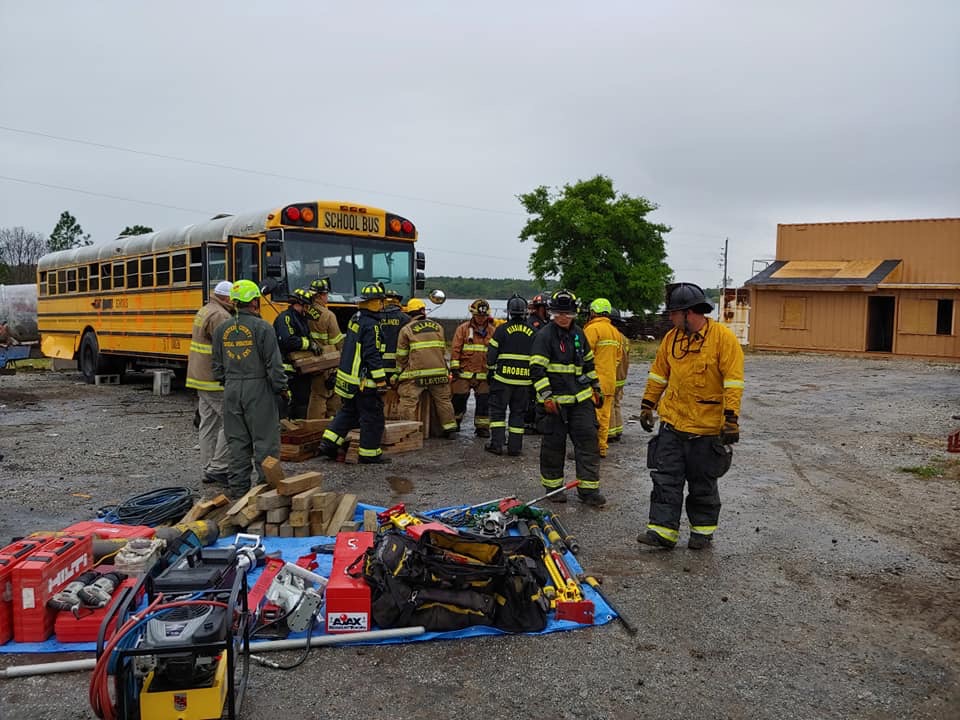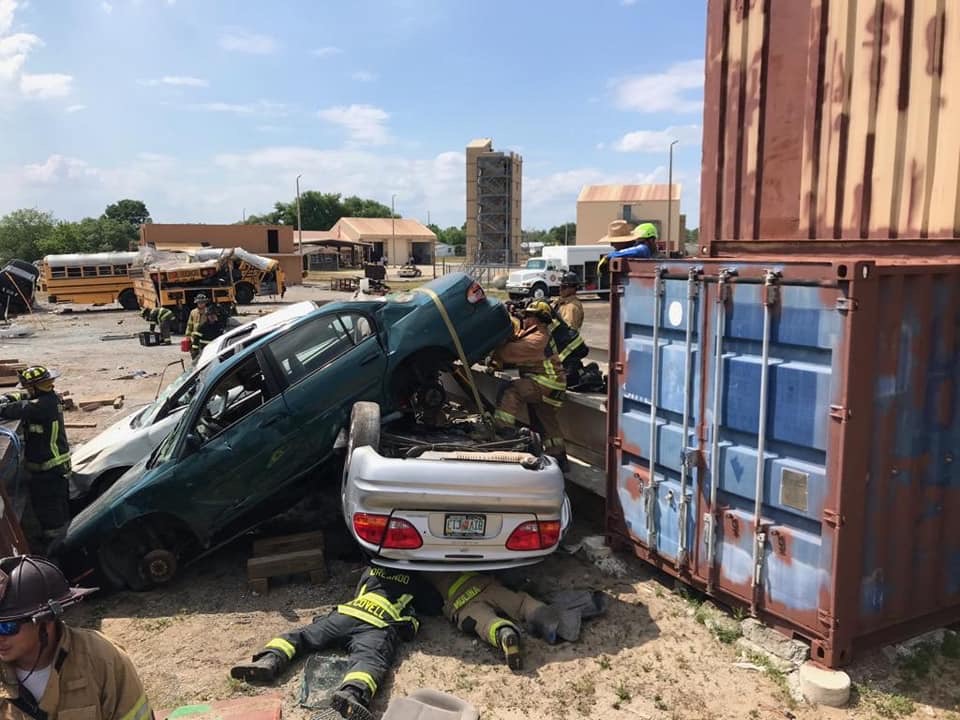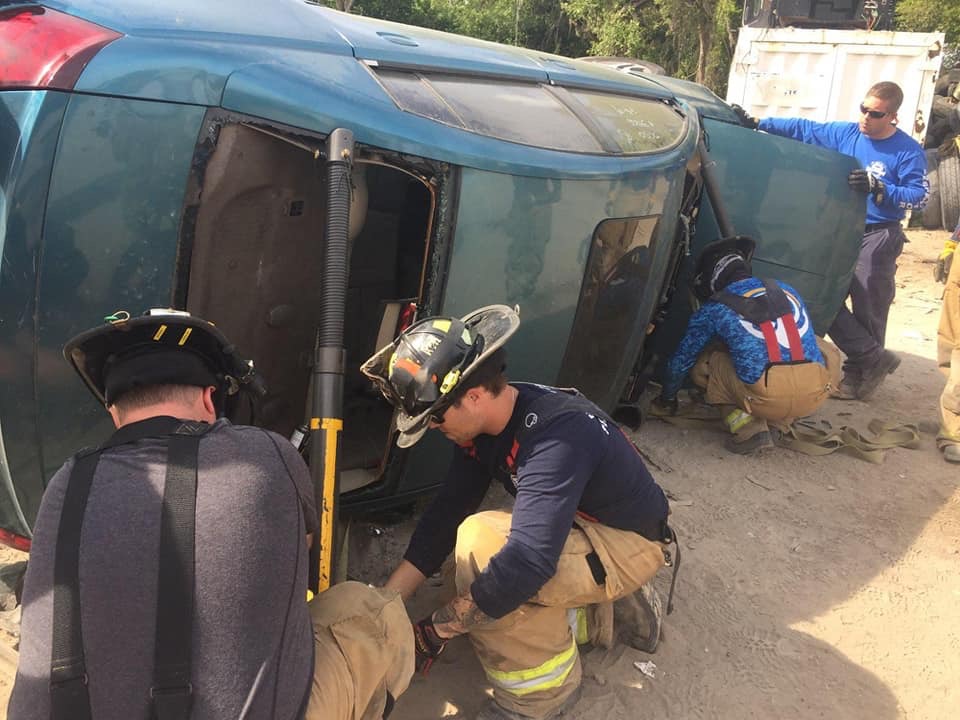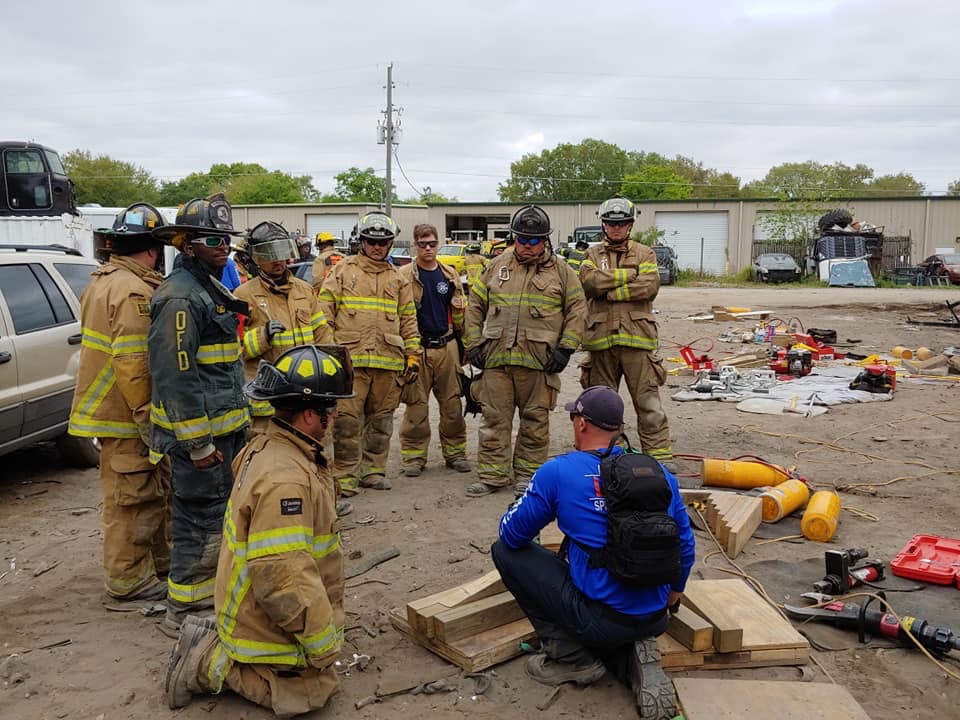 MANUFACTURING
CNC Production Specialist
One more student completed the CNC Production Specialist Course and was hired at Metal Essence in Longwood. The majority of the machinists at this company are female so graduate Debra North will fit right in with the team! Congratulations to her.
Students started making parts on the new Haas VF3. The projects started with blueprints and moved to finished parts.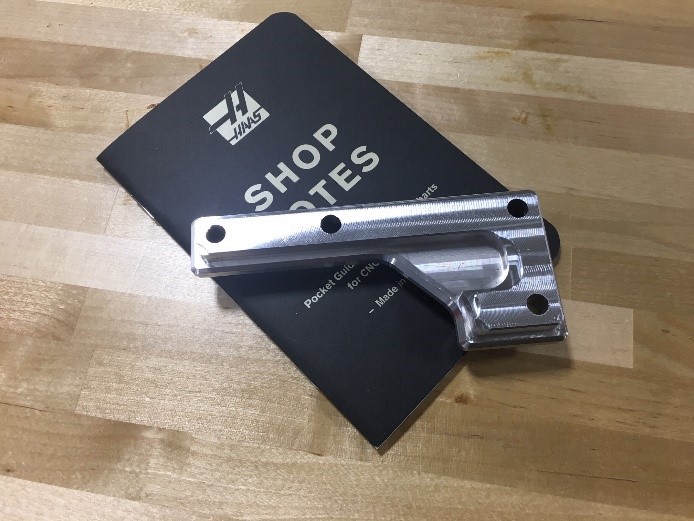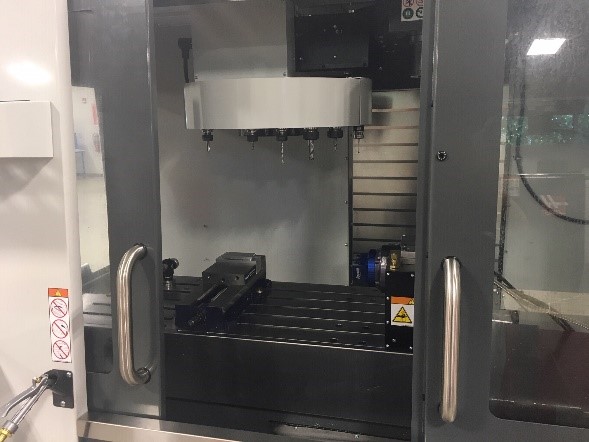 We welcomed a second instructor, Mr. Mike Nixon. He is excited to be part of the Lake Tech staff. Click here for Mike Nixon's Bioopens in a new windowopens PDF file
TRANSPORTATION & LOGISTICS
Automotive Collision Technology Technician
The Women's Industry Network (WIN) is a not-for-profit organization, driving the future of collision repair by attracting, developing, and advancing women. WIN recognizes excellence, promotes leadership, and fosters a network among collision repair professionals, especially women.
WIN offers education and leadership development opportunities to build critical skills for success. Examples include WIN board and committee opportunities and WIN's scholarship program for students and professionals. Two Lake Tech's students in the Automotive Collision Technology Technician program were awarded the WIN 2019 Scholarship. Congratulations to Heather Hawkins and Tamara Meyers!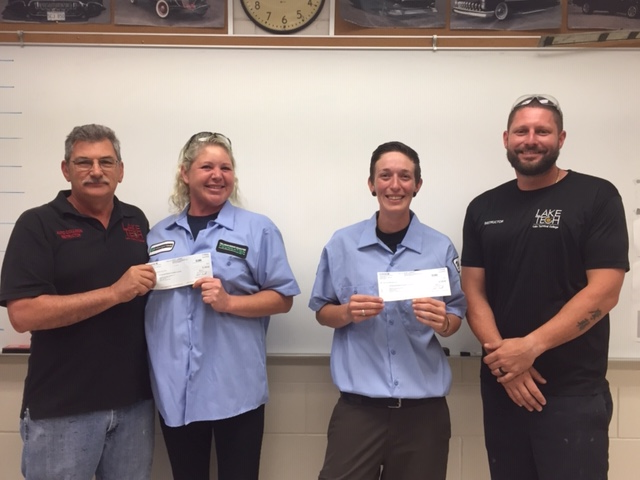 Automotive Service Technology
The student in the pictures is working on the removal and replacement of every component that makes up the cooling system. He removes the parts, inspects them, and through this process learns what every component does and how important each component is in order to have a good working cooling system so the engine will run at optimal temperature.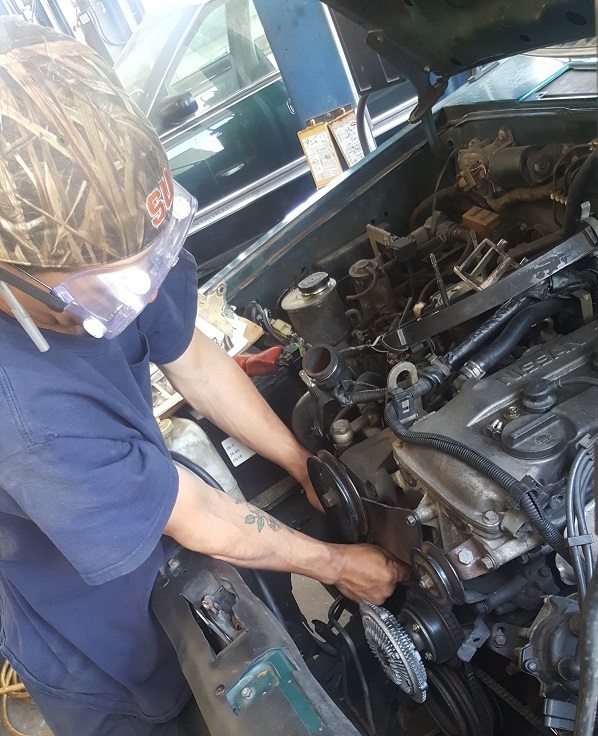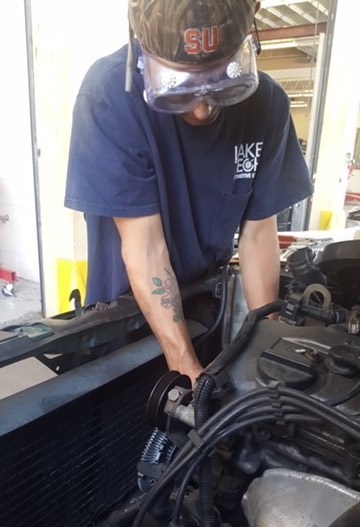 ADULT EDUCATION
Adult Basic Education (GED prep and ABE)
ESOL
Adult Education students learned about the major world government systems. They had to research: limited government, controlled economy, totalitarianism, free market, and anarchy. Underneath each category, students had to sort governments such as: Democracy, Socialism, Communism, Fascism, Monarchy (limited and absolute), and Dictatorship. Then, they had to place the countries within each category as well as characteristics of each government system. Do you know what government Russia currently has? Students were amazed to learn that Russia (since 1993) has a federal presidential republic system.
Navigating the plethora of internet information was a big part of the week's lesson. Students used computers and phones (Siri was not a big help…"ok, Google" rocks!) Students culminated their research by making a chart categorizing the major government systems as they worked together to figure out which countries and descriptions went where. They amazed themselves with how much they learned and used their critical thinking skills to problem solve and complete the chart.
Could you find your way around without your GPS? Maps and other visual graphics are a part of the GED® test. So, GED® students learned about map components, types of maps and analyzing movement on maps. In the latest Social Studies lesson, they had to write directions using a map of Lake Eustis and its surrounding roads. We reviewed the entire lesson using Quizlet Live, where teamwork was needed to answer the questions. The instructors learned this quick and easy technology in the Flipped-Fridays Tech workshops. Thanks Sonya, the students had a blast!
As far as ESOL students are concerned, it is spring and that means many exciting projects for them! We encourage and facilitate many opportunities for conversation, both daily in the classroom and through a variety of assigned presentations. Good ole' Show-and-Tell is a great way to tell others about an item that is important to you. Our students are also expected to do a how-to demonstration, a PowerPoint, and to interview one of our faculty members and present their results. All of these assignments are great for practicing English and boosting confidence.