BUSINESS MANAGEMENT & ADMINISTRATION
Administrative Office Specialist
Accounting Operations
This week both Tia Irvin and Misty Wheat gave presentations to our class on "Creating an Appealing Flyer" and "Designing a Newsletter". These presentations were helpful to all students to relate to their field. In addition, we would like to congratulate Tia and Misty on their completion of OCP C.
We also had United Way visit our program and the representative gave a wonderful seminar on Personal Finance. This was valuable to all students in managing their finances and making smart decisions when making purchases.
LAW, PUBLIC SAFETY & SECURITY
Florida Law Enforcement Academy
A new Law Enforcement program will be offered in the evenings and will run April 16 – December 10, 2019. Classes will be held Monday – Thursday, 6 – 10 pm and Saturday from 8 am until 5 pm. Prospective students should apply online at www.laketech.orgopens in a new window and then sit for the Criminal Justice Basic Abilities Test at the Eustis campus prior to the registration deadline of February 21st 2019. For more information regarding the application process please contact the Institute of Public Safety at 352-742-6463.
TRANSPORTATION, DISTRIBUTION & LOGISTICS
Auto Collision
At the recent Sherwin Williams trade show, Lake Technical College was the recipient of a large donation of auto collision/painting supplies. Thanks Sherwin Williams!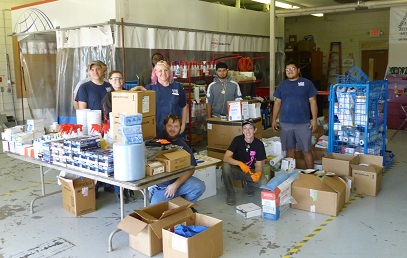 The Auto Collision table at the Leesburg High School Career Fair was a hit! Interested students lined up to use the virtual paint simulator which allows them to see what it is like to spray paint a car. Students' skill levels are scored and they actually are able to get a glimpse of what they would be doing in this profession and how difficult it really is to do!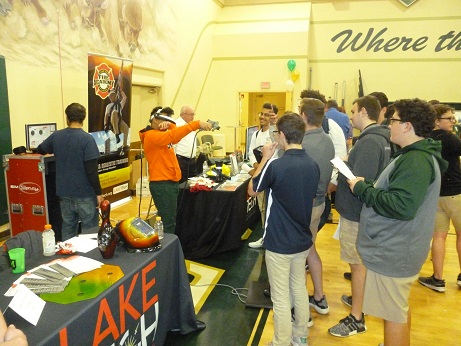 Auto Service Technology
This student in the Automotive Service Technology program spent time learning about cleaning a timing cover on an engine as part of his engine repair course job sheets needed to complete the course. In the process, he learned the importance of what materials and tools to use and not to use on different sealing surfaces to prevent leaks as well as the chemicals that make it easier for gasket removal.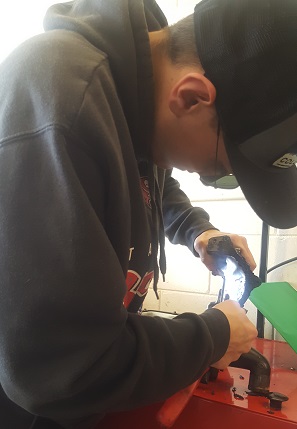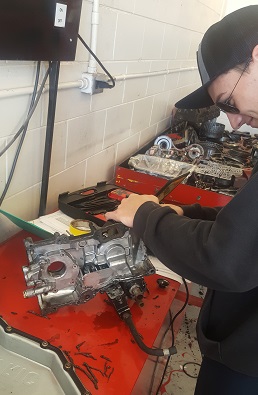 ADULT EDUCATION
Adult Basic Education
As we incorporate more technology into our ABE classroom, our students have made great use of Quizlet. It's become a daily practice activity, in addition to a variety of resources and websites that the internet has to offer. We've had some great gains this week in our student testing, and our students are feeling more confident in their reading and grammar skills. We have just finished a unit on parts of speech and are now full force into punctuation with an emphasis on commas, semi-colons, and compound sentences. We also enjoyed a tour of the campus this week, during which time Mrs. Avelli gave our students a lot of valuable information about the many programs offered here.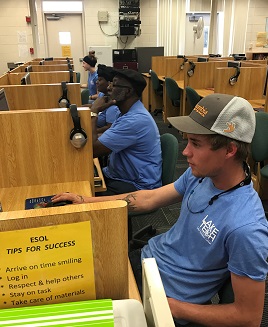 ESOL
Our students have had a lot of fun this week infusing their English skills with some great learning activities! We had a scavenger hunt in which students located a variety of items by reading directions that made use of prepositions. What great way to practice the words on, under, over, in, at, etc. We also played a wonderful game called Alibi, where student work in pairs to come up with details to respond to the interrogations of other students looking to "solve a crime." Our students found this game hilarious, especially when the partners who had been previously sequestered, tried to match the answers their partners had already given the group. As far as skills, our advanced class has finished their simple verb tense review, and has begun to delve into the complex present perfect verb tense, as well as practicing /ed/ pronunciation as used in past tense verbs. Our beginning students have been working on their listening skills through the identification and comprehension of song lyrics. As always, we continue with lots of conversational group work between our students.