BUSINESS MANAGEMENT & ADMINISTRATION
Accounting Operations
Administrative Office Specialist
Students have been involved with the United Way's VITA program. The Volunteer Income Tax Assistance (VITA) program offers free tax help to people who generally make $54,000 or less, persons with disabilities and limited English speaking taxpayers who need assistance in preparing their own tax returns. Our students are trained by an IRS trainer so they will be ready to volunteer during tax season. Pictured is Joshua Frisby who is providing the classes to our students.

HEALTH SCIENCE
Medical Assisting
This week, the senior students were learning to draw blood while the new students were learning CPR. Medical Assisting is a diverse program where students take medical histories and take vital signs. They help physicians with patient exams and even small surgeries. They can give injections, draw blood, and administer an EKG test. They enter patient information into the medical records, fill out insurance forms, and schedule appointments. They sterilize medical instruments, change dressings, and prepare patients for X-rays. The job outlook for medical assistants is growing faster than average based on the Bureau of Labor Statistics.
Pharmacy Technician
Last week, the Pharmacy Technician students had a great experience touring Bay Pharmacy's retail, compounding, and long-term care operations in downtown Eustis. The students were amazed at the innovative technology and quality assurance measures that Bay Pharmacy incorporates into their dispensing processes.
As one student stated, "Touring Bay Pharmacy was a wonderful experience. Not only was I impressed by the history behind it — being independently founded in the 1960s and family-ran for three generations since — I was also impressed by the services they offered and the positive reputation they have reaped because of them. Utilizing a large amount of employees with a variety of professional backgrounds and skills, there are pharmacists and pharmacy technicians with experience in customer service, nursing, and other specializations that aid in the collective knowledge of Bay Pharmacy's family. Despite the large staff in enclosed spaces, I loved how everything was still organized and productive; there were many systems that made the patient/customer check-out process quick, smooth, and efficient because they had individuals each focusing on a single specific task throughout the work day. There were many times where I observed people working solo in back rooms doing things repetitively or three to four people working next to each other, together, in a supply line (i.e., data entry, printing labels, filling, labeling/packaging, pharmacist check, etc.).
Besides the retail side of their operations, Bay Pharmacy also offers patient care in the form of a BP clinic, patient counseling and wellness seminars, Medicare billing, MTM, and home deliveries. Their compounding lab alone can make most of any form of medication not only for patients but animals as well. They also focus on using only the most natural ingredients for healthier effects. The second floor of the building is Bay Pharmacy's Long-Term Care Pharmacy where even more technicians and pharmacists work together to ensure quality assurance and medication deliveries for the many facilities in the surrounding area.
Another impressive aspect of this particular pharmacy was their collection of advanced technology and machinery. There was almost always a computer around every corner and machines of all shapes and sizes for capturing and documenting images of medication, filling medication, capping and labeling, making and molding capsules and tablets, sterile compounding, filtering the air around a workspace, producing bubble cards, and a whole family of machines for multi-dose unit packaging.
Outside of all that, Bay Pharmacy also has a room for educational in-services: classes in CPR and First Aid, BLS Certification, and Med Tech Certification. Overall, my outlook of Bay Pharmacy is that it is so much more than just a retail store or downtown corner drugstore, and the locals are lucky to have them. I almost want to make the 40-minute drive away from where I live to receive their services should I ever need them, or I would love to work for them should I ever want to work in a retail pharmacy setting while focusing on a specific area of expertise as a technician."

INFORMATION TECHNOLOGY
Applied Cybersecurity / Enterprise Desktop and Mobile Support Technology
Students are preparing for their CompTIA A+ exam and engaging in group student sessions. As we know, virtually every industry today depends on IT and there are IT careers for students in almost every organization around the globe.
Indeed.com, the job search site, estimates there are almost two million unfilled IT jobs globally in a variety of industries. The A+ certification is the foundation certification of someone in the IT field. These nationally recognized CompTIA certifications are offered in the Assessment Center on the Lake Technical College, Eustis campus.
MANUFACTURING
CNC Production Specialist
This week, two students completed their program and are headed out in to the workforce.
New equipment was also delivered and set up. We took delivery on a vertical machining center and optical comparator. The new machining center has a different brand controller. This gives the students a more rounded experience. The new optical comparator allows students to inspect their parts in a visual way.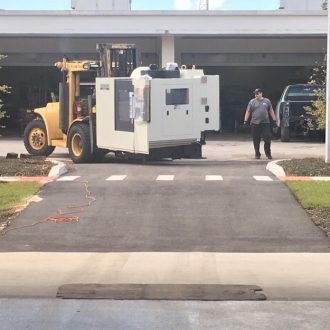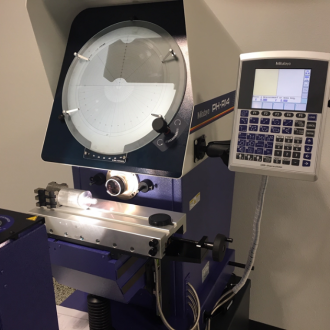 TRANSPORTATION, DISTRIBUTION & LOGISTICS
Auto Service Technology
The pictures show our students working on a carbureted engine giving it the final touches after completing the carburetor rebuild and a full tune up. Once complete, the vehicle will be sent back on the road!
The other picture shows one of our students completing a lab sheet on micrometer use and reading.
ADULT EDUCATION
Adult Basic Education – Afternoon
The Adult Basic Education (ABE) students have jumped right into parts of speech, and it's been a meaningful review. The students enjoyed making posters this week that illustrate the questions answered by adjectives and adverbs. We will post and use them as a reference as we continue our studies next week.
We've also read some great nonfiction stories about sleep walking and amnesia. These pieces have definitely sparked some interesting conversations, and have provided our students a great venue with which to practice a variety of reading skills and strategies.
The students are also using Quizlet.com daily for practice. It's a wonderful website that can easily be accessed from home.
We're happy to note that a couple of our students have already moved forward in their GED process to the next level of ABE.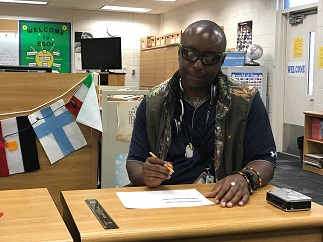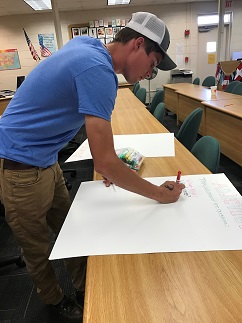 ESOL
We're off to a great start this semester with students having arrived to our classroom from many different countries! That means we have many cultures, experiences, and friendships to share and much to learn. Our students love interacting and getting to know about one another. We find that group work is a great way to facilitate conversation, learning, and problem solving – all in English, of course! Group work is integral to our curriculum. So much can be learned through our students' interactions, and there is much we can teach one another. The world is not such a big place after all.
The advanced students are heading into an intensive review of verb tenses, pronouns and possessives, as well as pronunciation. The beginning and intermediate students are doing a lot of great activities to master "count" and "non-count" nouns. All the students are using technology such as Quizlet and Schoology to practice and apply their new skills.