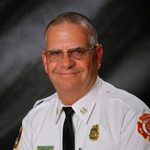 opens IMAGE file
Tavares Fire Chief Richard Keith has been a member of the Lake Technical College Board of Directors for almost nine years. During that time, he has overseen Lake Tech's increased enrollment, the addition of a number of new programs, and the building of a new 24,000 square foot Center for Advanced Manufacturing. This year, he will be serving his first term as Chair of the Board that will continue to provide the strategic vision for the college, set policy that guides the institution, and ensure fiscal oversight.
Chief Keith graduated from the Paramedic program at Lake Technical College in 1983. As a Lake Tech alumnus, he is an advocate for not only the public safety programs offered on campus, but for all the programs. Chief Keith is excited for this new role and looks forward to leading Lake Technical College into the future!
For more information on Lake Tech's programs, please visit www.laketech.org. Many programs will start a new cohort on October 15th. Financial aid is available to those who qualify – Please complete the FAFSA for financial aid: https://www.laketech.org/financial-aid/apply-for-financial-aid.