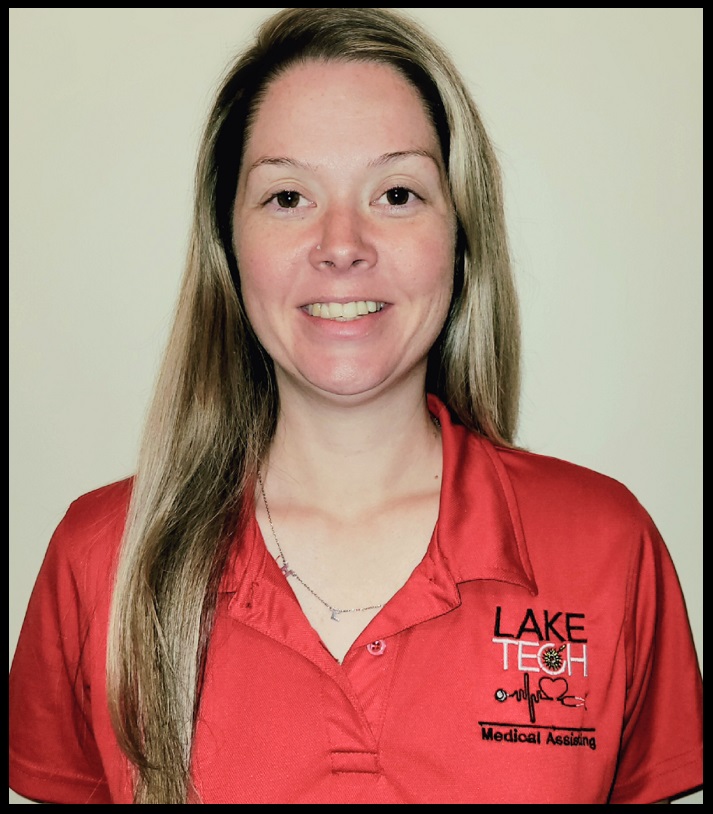 Preparing students for careers has been our mission at Lake Technical College. Lake Tech offers 30+ career and technical programs and we get excited when our students are passionate about their career and overcome personal challenges.
Jessica Webb moved from Tallahassee in January of 2020 and chose Lake Technical' s Medical Assisting program because of the location and program options. With four children ranging from ages 3 to 12, it was important to be close to their daycare and school. She began to explore health science programs and once Jessica met some of Lake Tech's helpful employees and learned more about the Medical Assisting program, she couldn't wait to start!
"The program has more than prepared me and I am using all that I have learned", stated Jessica. Now that Jessica completed her practicum, and is working for the Advent Health, Tavares Adult and Senior Care Office, she is putting her education into action. She has utilized her knowledge in EKG and clinical procedures, minor office surgeries, biohazard processes, quality control measures, risk management and documentation. Jessica enjoyed the self-paced curriculum and it has pushed her to set several career goals. Advent Health offers a Career Ladder program and she plans to apply and hopes to be promoted to an MA Assistant in Quality Control. Her goal is to become a MA 2 and be a preceptor. She would be responsible for training future Lake Tech students when they complete their practicum at Advent Health.
Jessica said, "Knowing that students are a number one priority meant so much to me and I know it also does to other students." She expressed her appreciation for the activities and recognition that students receive throughout the school year and for being awarded Student of the Month in Medical Assisting. The award was such a surprise to her and a motivator to keep going.
Being a mom of four while attending college was not the easiest for Jessica. Her husband serves in the Army National Guard and was deployed during a portion of the year long program and her daughter was also briefly hospitalized. She persevered through her struggles and was given support from her classmates and her instructor. She wants to let other future Lake Tech students know, "don't give up no matter what you have going on in life. There is plenty of support and people to go to who will point you in the right direction."
Jessica will graduate on June 10 with over 600 students that completed their programs at Lake Tech this year.
For more information about Lake Technical College's Medical Assisting Program, please CLICK HERE.