Lake Technical Center's Fire Academy, in partnership with Lake County and the City of Tavares, proudly announces its fourth annual Scott Firefighter Combat Challenge, April 13, 2013. The event is free to the public. Come watch America's heroes in action! The Scott Firefighter Combat Challenge will be held at Lake Tech's Fire Academy located at the Institute of Public Safety, 1565 Lane Park Cutoff, Tavares. Registration begins at 8 a.m., Opening Ceremony at 9:30 a.m., and the competitions immediately following. According to Ron Williams, Lake Tech Fire Academy Director, "The real idea behind the event is to promote the physical fitness of our firefighters and for the public to see what it takes to be firefighter."
On Saturday, there will be a free Kid's Firefighter Combat Challenge that targets youths, ages 4 to 11, and is a miniaturized version of its adult counterpart. The Kid's Challenge runs from 10 a.m. – 3:30 p.m. and includes a tunnel, hammer-slide, and fire hose drag. This is an exciting adventure for any child who wants to put on fire gear and squirt a real fire hose!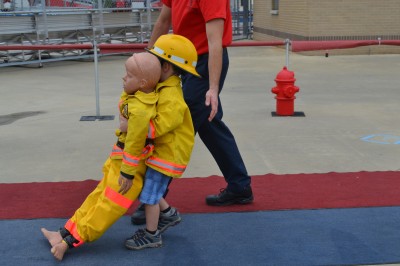 opens IMAGE file
opens IMAGE file
The event is being offered to promote the physical fitness of firefighters. The challenge will be the season opener of 27+ Scott Firefighter Combat Challenges to be held throughout the U. S. in 2013. While you must be a firefighter to take part in the competition, the public is encouraged to watch as participants navigate the challenge course also known as "the toughest two minutes in sports!" High school students who are interested in a firefighting career are also invited to attend the event. Business and individuals who want to be an event sponsor should contact Ron Williams at retfc2@yahoo.comcreate new email.
Firefighters competing in the Scott Firefighter Combat Challenge will complete the five evolution event which includes a 5-story tower climb with high-rise pack, hose hoist, forcible entry, hose advance, and victim rescue. Competitions will include individual, team, and tandem events. Firefighters will vie for times, points, and placement qualifying them for the Scott Firefighter Combat Challenge US Nationals Competition to be held October 2013. For a complete description of Scott Firefighter Combat Challenge rules and regulations, or to register as a competitor, go to www.firefighterchallenge.com. The registration fees are as follows: Individual $75, Tandem $90, Relay Team $195, and Team $290.