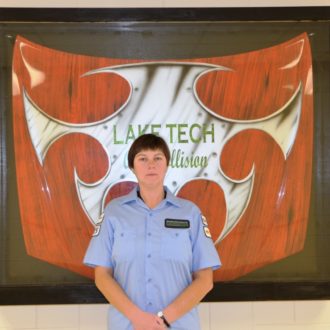 opens IMAGE file
Lake Technical College is proud to announce that Auto Collision Repair & Refinishing student, Vicky Lambert, is the well-deserving recipient of a 2017 Women's Industry Network (WIN) Scholarship. As a high school student, Vicky was dual-enrolled in the Drafting program at Lake Tech. After high school, she chose to go into the military where she served in the Air Force for over six years in their Security Forces. She returned to Lake Tech in October 2016 for the Auto Collision Repair & Refinishing program and is scheduled to complete the program by the end of 2017.
The Women's Industry Network is a "not-for-profit organization dedicated to encouraging, developing, and cultivating opportunities to attract women to collision repair while recognizing excellence, promoting leadership, and fostering a network among the women who are shaping the industry," according to the WIN website. The WIN Scholarship is awarded each year to only 5 recipients from across the nation who are chosen by a committee consisting of women in the industry. Recipients of the WIN scholarships demonstrate their desire to excel in the field of collision repair. Each scholarship recipient will receive a $1,000.00 scholarship to continue her post-secondary education in collision repair, a one-year WIN Membership, plus registration fees and travel expenses to attend the 2017 WIN Educational Conference in Denver, Colorado May 8-10.
Vicky said, "I was so surprised when I learned that I was one out of five women in the entire nation to win. That's not my luck usually! I was shocked" Upon graduation, she hopes to do body work at a reputable shop and eventually, she would like to move into management, or possibly own her own shop. When asked how she has adapted in what's traditionally seen as a man's job, she replied, "I never really thought there was anything to prove. I just get my job done and do it the best that I can! Being a woman has never really even crossed my mind as something that should hold me back."
More information about WIN and their scholarship opportunities can be found on their website.