LAKE TECHNICAL COLLEGE CELEBRATES 45 YEARS OF ACCREDITATION
The Council on Occupational Education (COE) recognized Lake Technical College for completing forty-five years of accredited status at the Council's Annual Meeting in Reno, Nevada on November 13-15, 2019. Lake Technical College which became initially accredited with COE in 1974, has undergone self-studies and subsequent site visits about every six years in order to maintain this recognition.
The award of accreditation is based on an evaluation to demonstrate that the institution meets not only the standards of quality of the Council, but also the needs of students, the community, and employers.
The Commission's evaluation process includes an extensive self-study by the institution and an intensive review by a visiting team of professional educators representing the Commission's member institutions from other states.
The Council on Occupational Education, based in Atlanta, Georgia, offers quality assurance services to postsecondary career and technical education providers across the nation. Organized as a non-profit corporation, the mission of the Council is to assure quality and integrity in career and technical education. Services offered include institutional accreditation (recognized by the U.S. Department of Education), program quality reviews for states and workforce education providers, and informational services. Most of the Council's work is carried out by qualified professional volunteers who are experts in workforce education.
Institutional membership in the Council is voluntary, but can be achieved only by becoming accredited. The members include postsecondary public technical institutes and colleges, specialized military and national defense schools, Job Corps Centers, private career schools, non-profit workforce education providers, corporate and industry education units, federal agency institutions and registered apprenticeships. The Council is unique among all accrediting agencies with respect to the diversity of entities that it accredits. There are over 580 institutional members at the present time.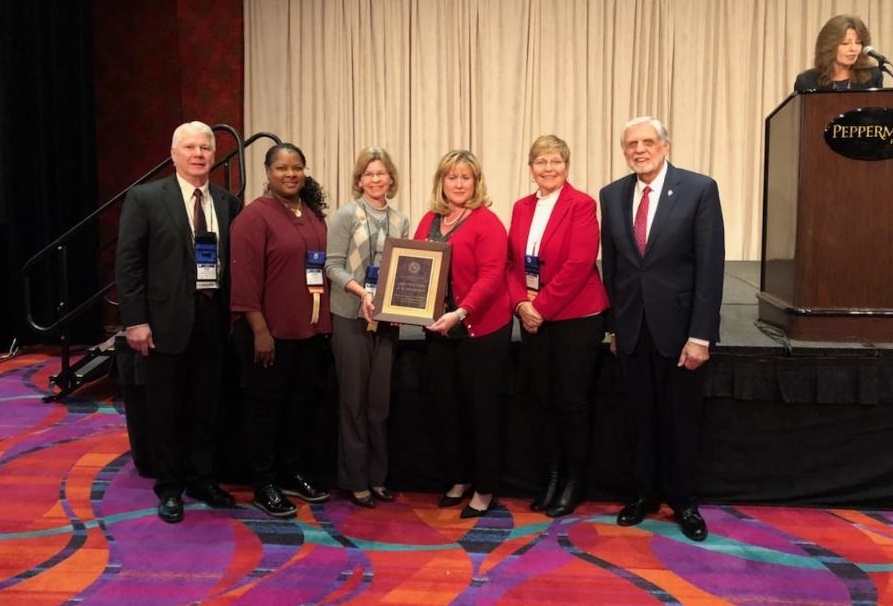 Pictured left to right:
Fred Albrecht, COE Commissioner
Laurie Bryant, Corporate & Community Training Coordinator, Lake Technical College
Melissa Stephan, Director of Curriculum & Instruction, Lake Technical College
DeAnna Thomas, Assistant Director, Lake Technical College
Dr. Diane Culpepper, Executive Director, Lake Technical College
Dr. Gary Puckett, Executive Director, COE