Coming Soon…
September 12 – Spruce Up the Grounds Afternoon
September 14 – Blood Drive at Main Campus
September 17 – COE Team Arrives/Reception at 6 pm
New Classes:
Forklift Operator – The last Friday of every month — $125
Class "D" Security Guard – Contact Lt. Chris DeLibro at 352.742.6463 for schedule — $199
Artistic Welding – 10/23-11/13, $318
Microsoft Word – 10/2-10/23, $75
Microsoft Excel – 10/30-11/27, $75
Resume Writing – 10/11-10/18, $35
Academic Affairs
Business, Management & Administration
Just before completing her Accounting Operations program at Lake Tech, Ms. Shantai Pounds, took the time to show her portfolio to both her classmates and the members of the Administrative Office Specialist program. Ms. Pounds used the portfolio in an interview session. She described how she developed and used it to show her accomplishments and skills. All the students were very interested in this presentation.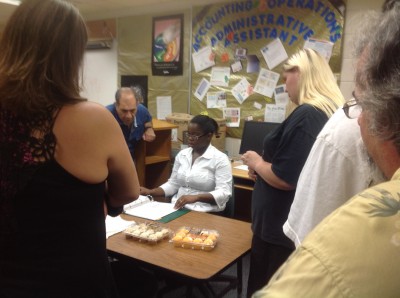 opens IMAGE file
Health Science
Congratulations to the new EMT graduates. On August 20, 2012, 13 EMT students graduated the Sumter EMT program. The graduation was held at the Lake Technical Center Instructional Service Center in Bushnell, Florida.
Congratulations to: Steve Arkin, Tim Bielfelt, Charles Burke, Thomas Cottle, Waylon Davis, Jeremy Ethridge, Zachary Grayson, Brittni Holcomb, Michael Mitchell, Brecon Murtie, Cesar Negrete, Nash Plotner, and Brian Tuner.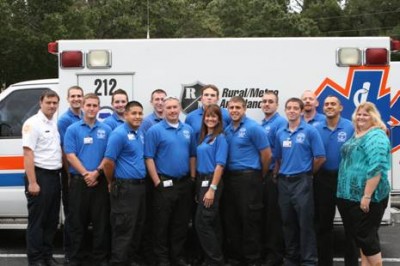 opens IMAGE file
A new EMT class began August 2, 2012. The students have completed the Health Science Worker Course and are beginning the Emergency Medical Services Course.
The Paramedic students are in the middle of Anatomy & Physiology and are busy with clinical rotations.
Congratulations to Paramedic student Kris Pandorf. Kris received her US Citizenship August 6, 2012!
EMS Recertification / Continuing Education – The EMS Department will be conducting EMT and Paramedic Refresher Programs on two consecutive weekends in September and October – September 15th, 16th, 22nd, 23rd and October 13th, 14th, 20th and 21st.
EMTs and Paramedics must renew their licenses by midnight December 1, 2012.
LPN instructor Rachel Weaver is attending the Cardiovascular Symposium and will be bringing back great information for the students.
opens IMAGE file
The nursing students at the Mascotte facility are enjoying their new break room. Check out the vending machines, Keurig coffee pot, and new fridge!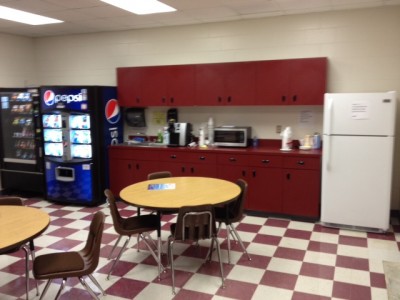 opens IMAGE file
Hospitality & Tourism
The Tech Dining Room will be open this week on Tuesday, Wednesday, and Thursday. Debbie Guercio will send a menu out on Monday. Don't miss out on the spectacular food as well as the great customer service provided by the students.
Creating culinary delights is definitely an art. The students have been working hard to prepare beautiful food that sometimes looks just too good to eat!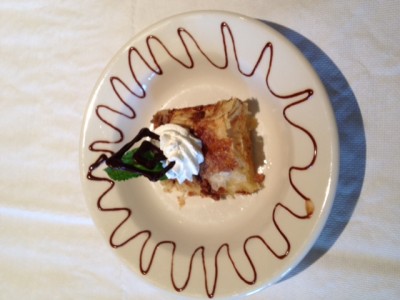 opens IMAGE file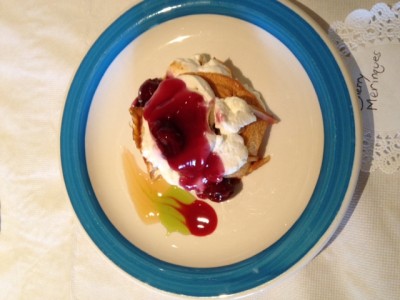 opens IMAGE file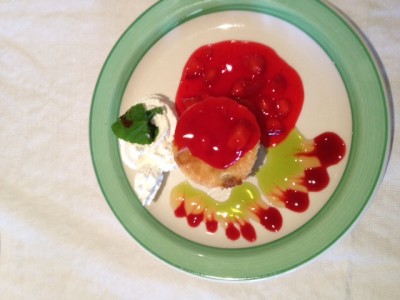 opens IMAGE file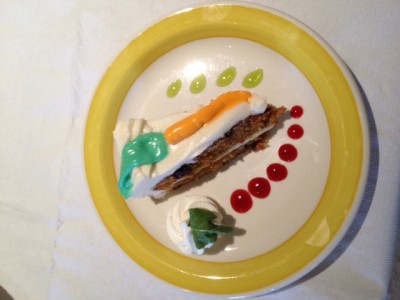 opens IMAGE file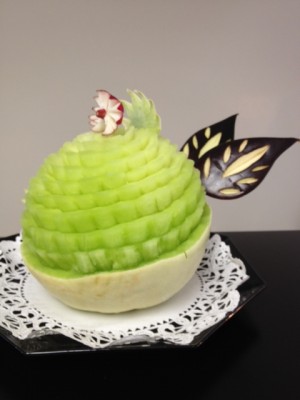 opens IMAGE file
Law, Public Safety & Security
On September 10, we are hosting a class sponsored by the Department of Homeland Security on Nuclear Radiation Monitoring.
On October 23, the PT Challenge will once again be held between the Fire and Law students. Mark this day on your calendar – it is a fun event for everyone.
The Law Enforcement Recruits are doing excellent and are about halfway through Defensive Tactics. Today they are on a tour of the Lake County Detention Center (Jail) and learning about incarceration on the local level.
Transportation & Logistics
This week the Auto Collision students completed a color change for the school's fork lift. This process involved taking the forklift completely apart and then sanding, masking, painting and then reassembly. The students did a great job.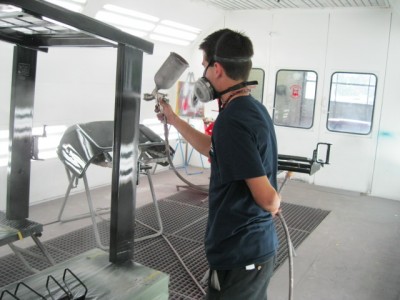 opens IMAGE file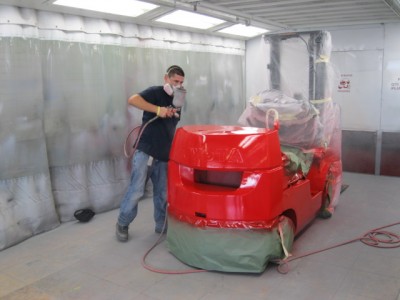 opens IMAGE file
Career Pathways
Dream It. Plan It. Do it. Be it. GED…It's just the beginning.
Here's to Career Pathways at work!
Kevin Langford enrolled last school year at Lake Tech to prepare for his GED exam. This summer, he earned his State of Florida High School Diploma, and in August 2012, enrolled in Commercial Foods and Culinary Arts.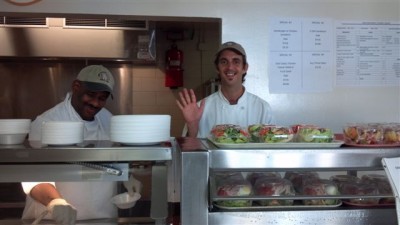 opens IMAGE file
Speaking of Career Pathways…
This week was an exciting one! We started our GED Career Pathways Orientation. Students participated in two days of activities that included career exploration, how one learns best, goal setting, and a campus tour. Students were impressed with Lake Tech's hands-on, affordable training. Special thanks go to John Dahler, Welding instructor, who spoke to the students about the many welding job opportunities, as well as the tremendous earning potential.
We also started our retention & career coaching program. We are calling students after two days of absences and talking with students individually about their career choices and how to get there. This is a wonderful opportunity to build relationships which is the key to student progress and success.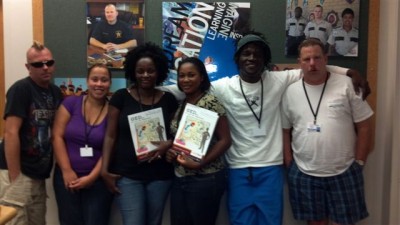 opens IMAGE file
Last, but not least, many of our satellite GED and ESOL classes will begin next week. If you have not already, familiarize yourself with our class scheduleopens in a new window. We might just have class in your backyard!
ESOL IS PROUD TO INTRODUCE OUR NEWEST U.S. CITIZEN – Juan Hernandez has studied in the ESOL class for several years. Last year he began studying for his naturalization test with ESOL's volunteer, John England. On July 11, 2012, Juan was officially sworn in as a citizen and received his Certificate of Naturalization. Congratulations, Juan!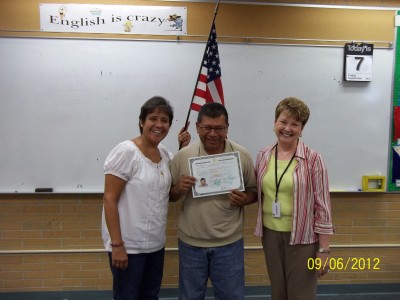 opens IMAGE file
Staff Development
The CHOICES Team has resumed its schedule of webinars in September on the CHOICES Planner program. CHOICES Planner is the career planning program that the Florida Department of Education provides free of charge to all middle, high and postsecondary schools, as well as other organizations that need a career planning tool.
Below is our schedule for September. Additional trainings will be added to our training calendar once the dates are set.
Wednesday, September 12th
10:00 AM – 11:00 AM – Introduction to CHOICES Planner
1:00 PM – 2:00 PM – CHOICES Planner – Professional Tools
The "Introduction to CHOICES Planner" webinar is for users who are new to CHOICES Planner or who have not accessed the program in some time and need a refresher. The "CHOICES Planner – Professional Tools" webinar covers the various features found in this part of CHOICES. You will need a professional account to participate in this webinar to fully benefit from the training. If you do not have a professional account or do not remember your log-in information, contact the CHOICES Team prior to the day of the training for assistance.
To register for a webinar, go to the CHOICES Planner Training Schedule at calendarwiz.com/flchoicesopens in a new window and select the date and time of the training you would like to attend and then follow the registration directions on the screen. For more information, contact the CHOICES Team at (800) 342-9271 or by e-mail at choices@fldoe.orgopens in a new window. (Note: All times are EDT.)
Marketing
Lake Tech will participate in the 2012 Business Expo held in the Lake-Sumter Community College Gym from 2 – 6 pm on October 11. Stop by and say hello.
Tech Tip of the Week

opens IMAGE file
How many times have you written a note to yourself and missplaced it? Do you have ten sticky notes on your computer, desk, or file cabinet?
There is an easier and quicker way for you to write notes and never lose them. In Outlook, Choose the arrow next to New (as shown below) and Choose Note. A sticky note appears. You can easily key notes to yourself as reminders or of conferences that you have had with students. They will always be there with the date and time automatically inserted on the note. Just print it out and bring it with you.

To access and print these notes, choose Go, then Notes. As you can see below, I have created a folder for Ima as I have found it necessary to record several conferences with her because of her absences. When the SIT meeting occurs, I simply print out my notes (my documentation) and take them with me to the conference.
COE Preparation
One week to go….