Welcome to the New School Year!
We welcomed the students and faculty back with a campus-wide team building event held in the Fountain Lobby. Each program selected a four-person team and a bracket system was created for the game Minute to Win It. Each program played against another program and, if emerged a winner, advanced to the next round. The finals are on Wednesday between the Paramedic and Auto Collision students.
Minute to Win It videos. IMG_0332opens VIDEO file IMG_0333opens VIDEO file IMG_0340opens VIDEO file IMG_0358opens VIDEO file IMG_0378opens VIDEO file IMG_0380opens VIDEO file IMG_0730opens VIDEO file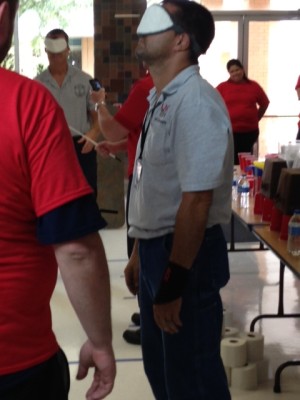 opens IMAGE file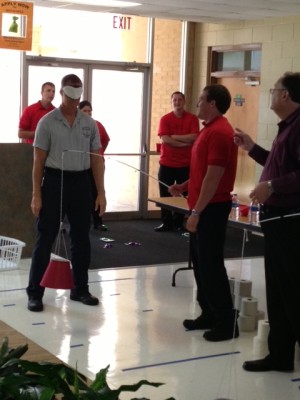 opens IMAGE file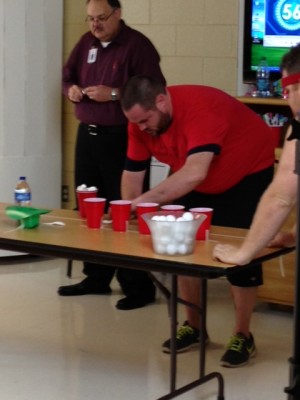 opens IMAGE file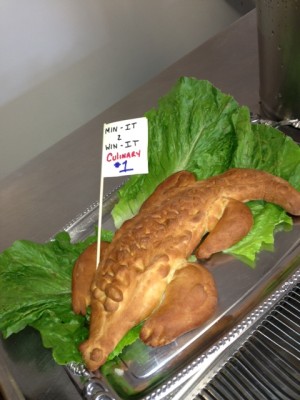 opens IMAGE file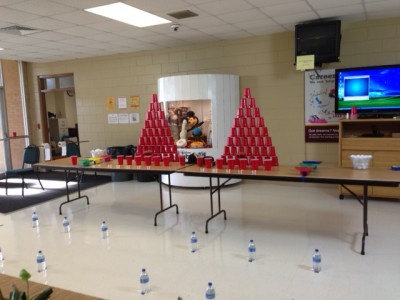 opens IMAGE file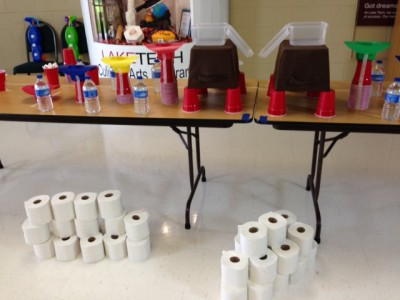 opens IMAGE file
Academic Affairs
Business Management & Administration
This week we opened the doors of our Business Classroom to welcome both new and returning students. Our new Accounting Operations students include Cherry Doty, Zana Dudley, Caitlyn Lewis and Administrative Office Specialist students are Betsy Isaacs and Antonio Loredo. Welcome to all!
One of the first orders of business was to develop a "Minute To Win It" team. Our team, which made it to the second round before just losing a very close competitive match 3-2, included both new and returning students. They were Caitlyn Lewis, Betsy Isaacs, Antonio and Kelsey Tracy. Good job!!
The excitement of school starting and the Minute to Win It challenge served as the backdrop as we began a new chapter of our lives starting at Lake Tech!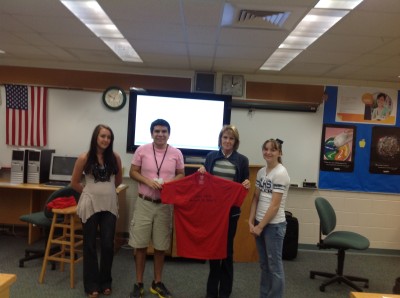 opens IMAGE file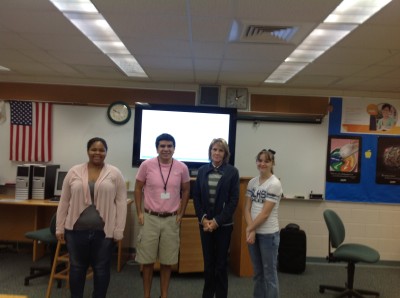 opens IMAGE file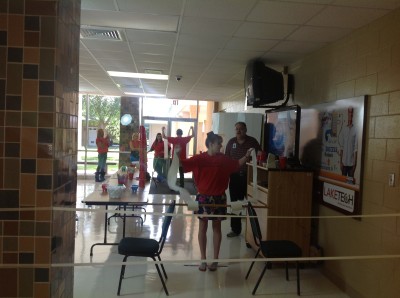 opens IMAGE file
Education & Training
Early Childhood Education instructor Kathy Roberts is developing online courses for her students using Schoology. She has been able to include assignments, discussion boards, grades, etc. and the system seems to be working very well. The courses will make access easier for students from all over the county to take the required classes.
Health Science
The EMS Department is happy to welcome 26 new Paramedic students on August 13th and 22 new EMT students on August 15th. We are looking forward to an exciting and rewarding school year! And – we can't wait until Wednesday as the Paramedic students are in the Minute to Win It finals!
The full time day Nursing students had the opportunity to attend an inservice at Lake Sumter State College to learn the proper techniques for getting patients moved utilizing the lift machines. This is the third year we have been able to participate in this offering. Thanks so much to Christina and Dawn for their continuing efforts to help nurses learn the benefits of proper lift techniques to save our backs from harm.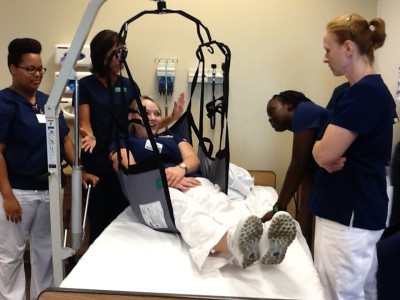 opens IMAGE file
The Medical Assisting students are off to a great start. Senior students are paired with new students in a Big Sister/Little Sister model and this seems to help everyone adjust to each other and the program. Some students will be going out on externships soon.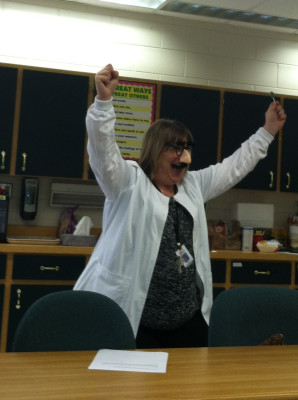 opens IMAGE file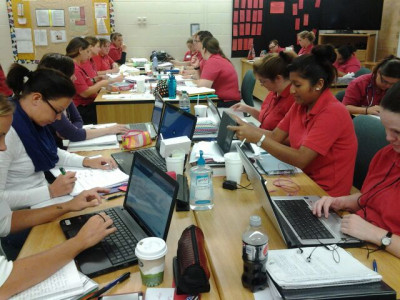 opens IMAGE file
Hospitality and Tourism
The Commercial Foods/Culinary Arts program impressed the entire school by offering lunch on the first day of school! Returning students were glad to be back and the new students jumped right in to help provide food to hundreds of students across campus. By Tuesday, it was business as usual with breakfast and lunch being served. Amazing – and mouth-watering too!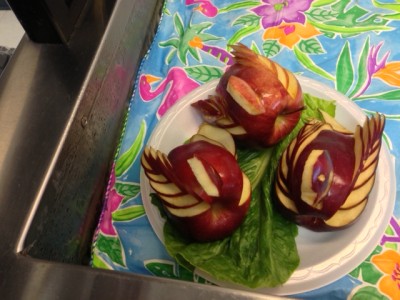 opens IMAGE file
Human Services
The first day of school in the Cosmetology department was over the top. The instructors wrote and performed a rap song for the students, prepared a cupcake bar so students could express their creativity, allowed the senior students to demonstrate a variety of hair, nail, and skin techniques, and hosted two graduates who came back to share their successes. With almost 100 students enrolled, the class is definitely rockin' all day long!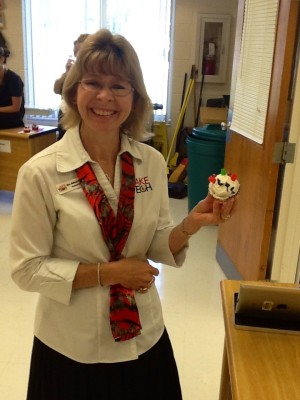 opens IMAGE file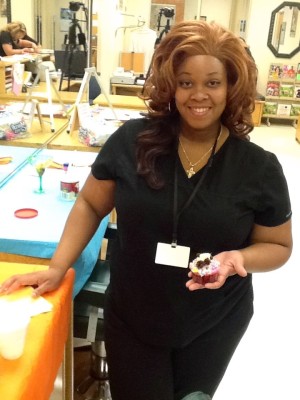 opens IMAGE file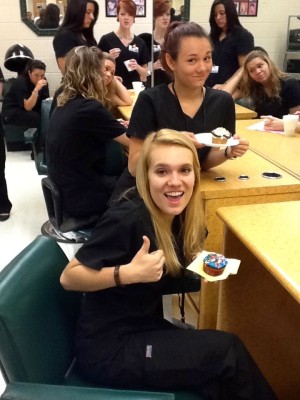 opens IMAGE file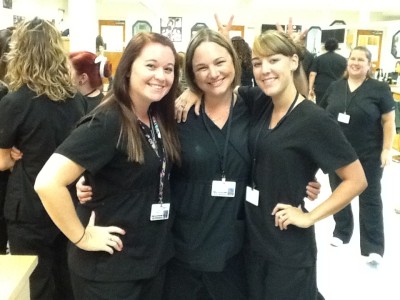 opens IMAGE file
Law and Public Safety
The new Corrections Recruits have completed their second week of the Academy and their oxygen levels in their blood streams have risen quite nicely. Law Enforcement recruits have completed the fourth week of the Academy and started Defensive Tactics this week. They are on a steady regime of ibuprofen.
Several new classes will be available this fall in the Private Security Guard program area. Short courses include: Techniques & Principles of an Effective Supervisor; Human/Community Relations for Private Security; Effective Interviewing and Report Writing; and Critical Incident Preparedness will be offered beginning in August.

opens in a new windowopens PDF file
Manufacturing
The Applied Welding Technologies program welcomed a second instructor this year. His name is Bob Sherwood and he is a graduate of Lake Tech. In order to get to know him a little better, we asked him some questions.
As a new employee, what do you like best about Lake Tech so far?

Bob responded by saying that being part of LTC has been a good fit. "I really enjoyed working in tandem with the students on the project table last year. As this year progresses, I will enjoy getting this new group ready to go to work."

What are your favorite hobbies?

"I enjoy working on home projects, playing golf at Persnickety Nettle Golf Course, and playing cards with my bride and our family and friends."

Do you have a pet? If so, tell us a little about it.

"I have a Newfy-Lab mix with his clock running out, his days of running fast w/o wiping out on the turns and doing all the marauding and pillaging are numbered. He needs wheels."

Any advice or words of wisdom you want to share with our readers?

"Don't create false issues and learn to love work."
Welcome Bob Sherwood!
Transportation & Logistics
The new Auto Service Technology students jumped right into action this week and were ready to pull an engine out of a Ford F-150.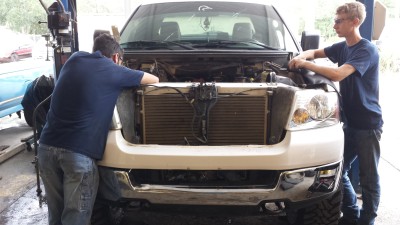 opens IMAGE file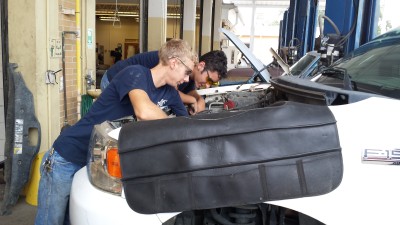 opens IMAGE file
In the Auto Collision Repair and Refinishing program, live work has already started. Customers have begun to bring their vehicles for repair and the new students are quite happy that they have selected this program as their career field. New instructor James Brucker is doing a great job motivating the students and everyone is looking forward to the Minute to Win It finals which will be between Auto Collision and the Parmedic programs.
Kudos and a big thank you to Melissa Stephen and Debbie Zaharis for helping the Auto Collision program in finding a solution to our computer shortage. Since this year we decided to go with the on-line book and the students like it so much, it left us short on computers. The suggestion came to try the Tuesday open lab and the other times in the computer lab. Great suggestion until we get more computers installed. Again, thank you.
Adult Education
Wow! We are off to a great start of the school year. There are 66 students in the morning session and 47 in the afternoon session, so we are busy getting them started. Many students have returned from the last school year or the summer term and are jumping right in. The students are excited about getting their scores up for the GED or for one of our CTE programs and excited about being at Lake Tech. They loved the Minute to Win It contest and are asking when they can do it again. We will soon be giving them a tour of the school and the programs we have at LTC and will be asking you for speakers to come in and tell us about your CTE program.
In addition, the students will be writing letters to people in our community and across the nation who have earned their GED and gone on to have a very successful career and life. If you know people they can write to, please let Ms. Avelli know as soon as possible.
Important Information: Do you need your high school diploma and want to take the GED test? Did you know that if you've already started the test but haven't finished, your scores expire at the end of 2013? The new GED test comes out in January 2014.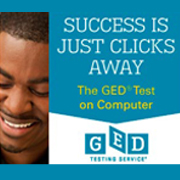 opens in a new window
Student Affairs
It's been busier than ever in Admissions and Financial Aid! We had more enrollments and visitors this week, topping off our numbers from the summer. Here is where we ended up during registration for the fall semester:
Visitors in Admissions- 1,618
Average calls daily- 70+
Scholarships processed- 128
Free Application For Federal Student Aid (FAFSA) applications received- 790
Copies scanned as a result of applications received- 3,371
EQUALS – Enrollment up 40%
Now that the new school year has begun, we are working on developing more efficient methods of serving students. We have a new electronic sign in system for Admissions and will be testing it this week. Once everything is working smoothly, we will be using it in Financial Aid as well. Thank you all for your support and patience as we have been learning new things and doing more with less. You have all been great. We would like to give a SPECIAL thanks to the Culinary Arts Department for bringing us goodies just to say thanks for all of our hard work! What a special delivery of happiness to our department!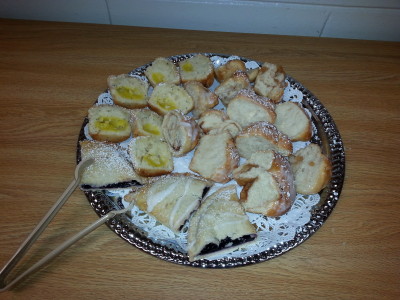 opens IMAGE file
Don't forget to send your top 10 WOW's about your program!
Staff Development
Title: Florida CHOICES: The Next Generation
When: Wednesday, September 4, 2013, 3:00 PM to 4:00 PM Eastern
Join us for a one-hour overview of the exciting enhancements to Florida CHOICES that teachers and students will be able to experience beginning August 29, 2013. Get a peak at the new look and learn about ways to navigate to student favorites such as the Interest Profiler and Career Pathways. Join us so that you can get your students off to a great start with their career exploration and planning!
Technology
What's Happening This Week?
On Tuesday, Sherry Reeves, Executive Director of the Manufacturing Association of Central Florida, will be on campus.
Also on Tuesday, the United Way of Lake and Sumter Counties will present information regarding a new program that will be available to our students.