Welcome to our new Board Member
The Lake Tech Board of Directors elected a new Board Member on April 30. Mr. Robert Chandler, Director of the Lake County Economic Development & Tourism Department, will be an outstanding addition to the Board. His expertise in economic and workforce development aligns perfectly with the mission of Lake Tech. Mr. Chandler earned his Master of Business Administration in Real Estate and Marketing from the University of Florida, and his Bachelor of Arts in Psychology from Davidson College. Chandler graduated from Leesburg High School and is native of Lake County.
Academic Affairs
Arts, AV Technology & Communication
The Digital Design students attended the great classes on resume preparation and transferring their specific skills information to the Workforce Central Florida website. It was an exciting day at Lake Tech's first career fair, meeting and networking with potential employers.
Digital Design 2 students were greeted today with the latest Adobe Creative Suite 6 on their Macs. What a cool way to finish up their last five weeks – working with brand new tools!
IPad classes are becoming very popular at Lake Tech! Sonya Rosenglick taught a class this week to a group of community members who look like they are enjoying using this device.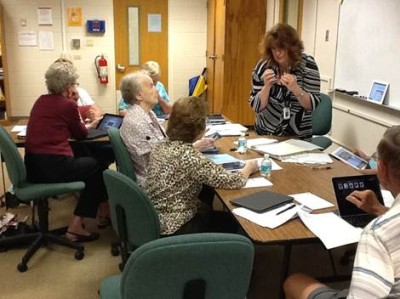 opens IMAGE file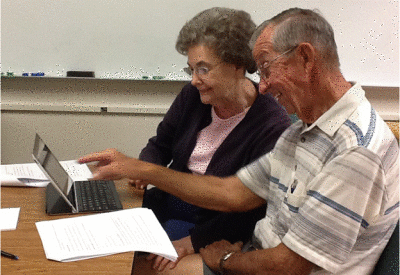 opens IMAGE file
Business Management & Administration
This was a busy and exciting week for our business classes!!
We started by recognizing Rose Williams for completing her "OCP" requirements. Our students also participated in the Career Fair. They made some useful connections which will help them in the future. In our Administrative Office Specialist program, Kelsey Tracy spent a morning working the front reception desk. There she answered the phones and helped visitors.
In addition to working on resumes, our students also worked on understanding Quick Books and creating agendas and press releases.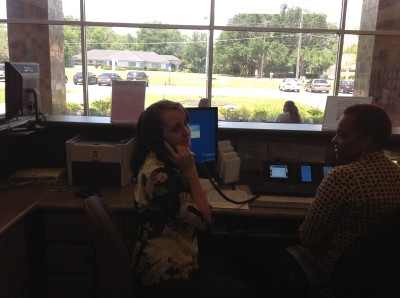 opens IMAGE file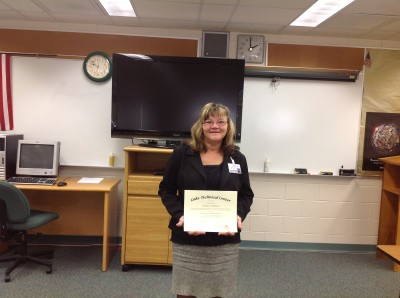 opens IMAGE file
Health Science
Practical Nursing instructor Rachel Weaver used Socrative with her students from her iPad this week. She created five T/F questions and had her students answer them on their device. (Some used mobile phones, tablets, or laptops). The students could answer honestly as their names were not attached to the answer. When Ms. Weaver reviewed the responses, she realized that half the students chose true and the other half choose false for one particular question.
She was smart enough to realize that this was a "teaching opportunity", so she directed the students in a debate about the question. The students who did not have an electronic device were the "gallery" and they had to make a decision as to which side made the stronger argument. In the end, they all agreed on the correct answer. Ms. Weaver shared, "This was the most fun day I have ever had in teaching." What a great role model for using technology as a device in the classroom. The technology helped the students, but did not control the learning. Way to go, Weaver!!!
The Day and Evening Practical Nursing classes hosted a mixed welcome to the PM class and congratulations to the AM class on Friday. Pizza and cupcakes were served.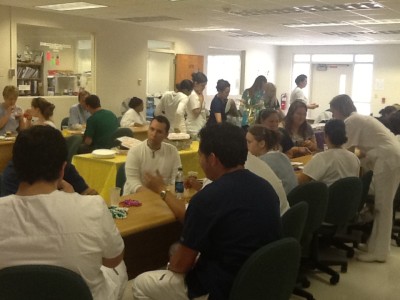 opens IMAGE file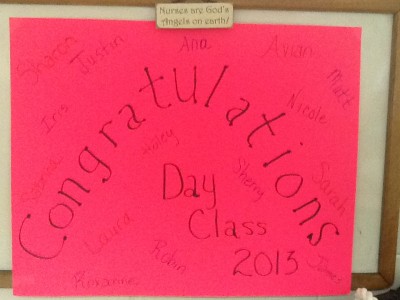 opens IMAGE file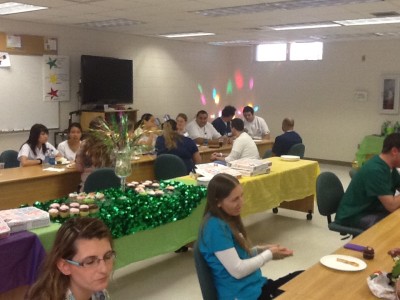 opens IMAGE file
Law and Public Safety
The Corrections Recruits are currently in the firearms portion of their program and are progressing well. The Law Enforcement Recruits completed firearms also with flying colors and are moving forward into the Patrol portion of the program.
Several new classes will be available this fall in the Private Security Guard program area. Short courses include: Techniques & Principles of an Effective Supervisor; Human/Community Relations for Private Security; Effective Interviewing and Report Writing; and Critical Incident Preparedness will be offered beginning in August.

Manufacturing
One of the Applied Welding Technologies students, Robert Sherwood, received a letter of commendation from the City of Eustis for completing several fabrication projects for the City. These projects correlated to the competencies he was completing in the program.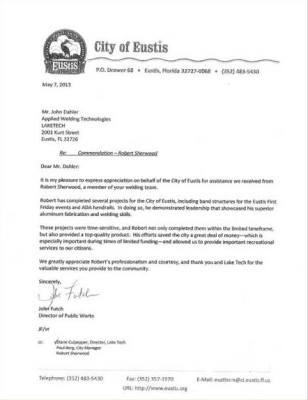 opens in a new windowopens PDF file
Transportation, Distribution & Logistics
Lake Tech Automotive Service Technology students continue to earn their ASE certifications in the testing center.
Adult Education
In the Adult Education classroom students were given the opportunity to participate in a workshop about job application techniques. Students learned the role of an application, the importance of researching their employment history, how employers judge applications, and the logic of completing a master application. The students applied their knowledge during the Career Fair!
Important Information: Do you need your high school diploma and want to take the GED test? Did you know that if you've already started the test but haven't finished, your scores expire at the end of 2013? The new GED test comes out in January 2014.
The summer term begins July 1st for GED classes to be held at the Eustis main campus, as well as ESOL and GED classes at the Mascotte South Campus. The fall term begins August 19th and the cost is only $30 per term for Florida residents.
After the Career Fair on Wednesday, Latarsha from Publix was invited to the ESOL classes to provide additional information about careers at Publix. The students were very interested in learning about how to apply for a job at Publix. Afterwards, she enjoyed lunch with the ESOL instructors.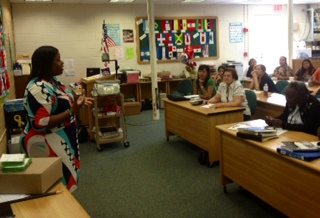 opens IMAGE file
Student Affairs
The First Annual Lake Tech Career Fair was held on May 8. Students had an opportunity to meet potential employers and learn how to network, write resumes and use the Workforce Central Florida employment tools. A special thanks to those employers who attended: Admire Care, Workforce Central Florida, IT WORKS! Independent Distributor, Rodan & Fields Dermatology, Workforce Central Florida (WCF), DeVry University, Compass HRM, Lake County Fire Rescue, Great Clips, Raney Construction, Inc., United Southern Bank, Avante at Mount Dora, U.S. Health Advisors, South Lake Hospital, Johnson and Wales University, City of Eustis, Eustis Police Department, The College Network, BMO Harris Bank, Publix Corp. Office, and International Academy of Design.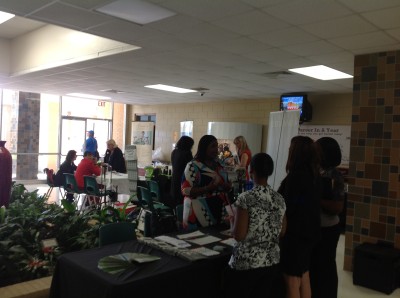 opens IMAGE file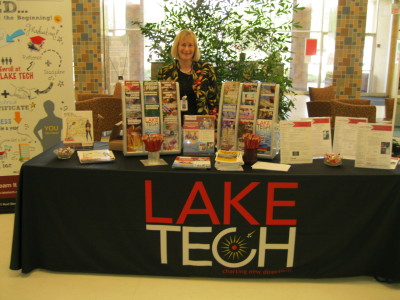 opens IMAGE file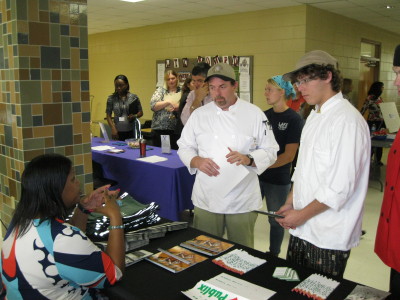 opens IMAGE file
opens IMAGE file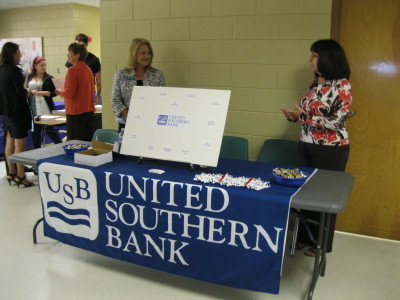 opens IMAGE file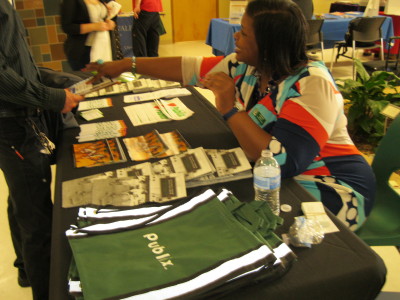 opens IMAGE file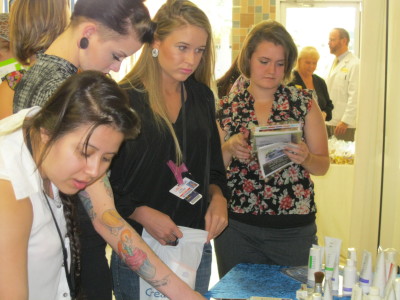 opens IMAGE file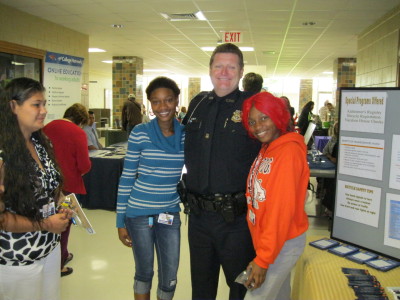 opens IMAGE file
Jeans for Troops will be held on Thursday May 21. Pay $5 and wear jeans to school/work! All proceeds support the military through their transition back home. Tonyia Dawson is leading the effort, so contact her if you have any questions!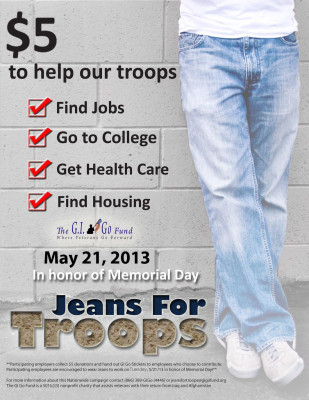 opens in a new windowopens PDF file
The National Technical Honor Society Induction Ceremony will be held on May 14 at 1 pm in the Tech Dining room.
The next National Adult Education Honor Society Induction Ceremony will take place on the main campus in late May. Stay tuned for the date and time.
Please remind your students who will be returning for the 2013-2014 school year that they must complete their 2013-2014 FAFSA application NOW to make sure they are eligible for Pell in August. Please encourage them to visit the Financial Aid Office next week to get the 2013-2014 worksheet. Thanks for sharing!
Professional Development
On May 16, Melissa Stephan, Sonya Rosenglick, and Elise Veremakis will be attending a Marzano Instructional Framework training in order to assist our faculty with higher order questioning techniques, lesson planning and delivery, and developing rigorous tasks and assessments.
Other News…
Trudy Dailey and Herendira Leon represented Lake Tech at the Veteran's Resource Fair sponsored by Workforce Central Florida on May 9.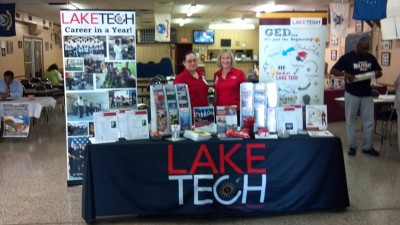 opens IMAGE file
Lake Tech will be hosting Workforce Central Florida's Youth Committee meeting on May 23.
The United Way of Lake and Sumter Counties Annual Meeting and Luncheon will be held on May 29 and Dr. Tony Bennett, Florida's Education Commissioner will be the keynote speaker. A team from Lake Tech will be attending the luncheon.
A tree was planted in the Lake Tech's Courtyard this week in memory of Barbara Baxter. Barbara was the wife of one of Lake Tech's Board of Directors' Joe Baxter.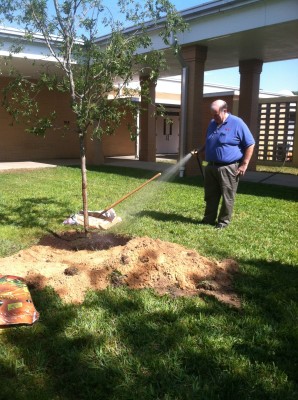 opens IMAGE file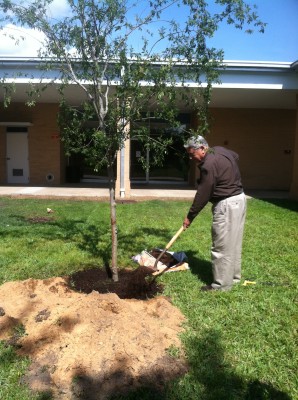 opens IMAGE file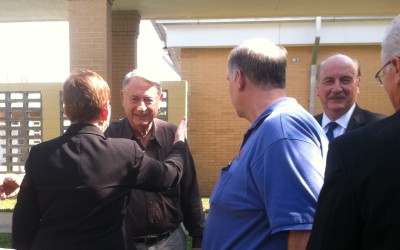 opens IMAGE file
Technology