In the Weeks Ahead at Lake Technical College
SkillsUSA State Competition, Lakeland, April 23-26
New Lake Tech Fire Engine Push In Ceremony, May 1, 9:30 am at IPS
Leesburg High School students to tour Lake Tech, May 2 10:30 am
Career Fair, May 3
Night Law Graduation, May 4, 6 pm at IPS
CONSTRUCTION UPDATE
Weekly Progress in Pictures
ACADEMIC AFFAIRS
BUSINESS MANAGEMENT & ADMINISTRATION
Accounting Operations / Administrative Office Specialist – This week seemed to fly by as our business class students worked on a variety of requirements and new opportunities.
Representatives from Del Air in Sanford spoke to the class about their job openings and the industry. The representatives also described how our classes will help prepare them for the field.
We also took time to help our SkillsUSA students prepare for their State competition. Here we see Fillal Cazeau, Jacqueline Villegas, Tina Draper, and Lynnette Gibbs role play different customer service scenarios. Jacqueline won bronze in Customer Service and will be attending the State competition next week with Lynnette Gibbs our Silver medalist in Customer Service.
HEALTH SCIENCE
Practical Nursing – Eustis – The Practical Nursing students were busy learning about the brain this week. During this dissection exercise, students were amazed as their instructor Mrs. Nieves showed them the different areas and functions of the brain. Through this exercise, students will be able to connect their anatomy lessons as they learn how to care for surgical patients with neurological diseases or disorders as well as perform neurological checks.
Nursing Assistant – Four students graduated from the Nursing Assistant program on Thursday. The Patient Care Technician students served cake and punch to the graduates. The graduates successfully completed their coursework, 40 hours of clinicals, and are now ready to take their state licensure exam.
On Monday, the 14 new Nursing Assistant students start the program. Instructor Karen Tindall invites you to stop by and greet the new class.
Medical Assisting – The Medical Assisting student leaders conducted a surprise team building activity for the class. Both leadership and team building skills are integral for the success of an employee, especially one that works in a doctor's office with other professionals.
opens IMAGE file
Last week the Medical Assisting and Paramedic students teamed together for a mock environmental disaster drill.
Practical Nursing – The next application period for the part-time weekend program that will start in October, 2017 will be April 1 – July 31, 2017. The application period for the full-time program which will start in early 2018 in Eustis and in Sumterville will be August 1 – October 31, 2017. Check the website or call Admissions for further details.
HOSPITALITY AND TOURISM
Commercial Foods and Culinary Arts – The Culinary students learned about and practiced their vegetable cuts with Chef Evans.
Also this week, the students prepared and served lunch to Mara Hunt, director of development for the new Avalon Park Villages project. Avalon Village will be located near Waterman Hospital. It is being designed to "bring back the old Florida charm" with a town center, single family homes, town homes, homes for seniors, green space and educational facilities. There will be lots of opportunities for a great partnership with Lake Tech! For more information, http://www.dailycommercial.com/news/20170324/tavares-avalon-park-villages-to-bring-back-old-florida-charm
INFORMATION TECHNOLOGY
Computer Systems & Information Technology – This week, the students are currently in the video editing phase of the project for the Lake Technical College CSIT YouTube channel, coming soon!
Tech Tip: Be careful about any word documents from unknown sources. There is currently a very big security flaw within MS Office products and opening a .doc, .docx, etc. can infect the computer used to open the extension with a virus.
The virus can be anything from a keylogger up to the dreadful ransomware virus, completely encrypting all files, photos, data, on any and all storage media connected to your computer including cell phones tethered through USB.
LAW, PUBLIC SAFETY & SECURITY
Florida Law Enforcement Academy – The Law Enforcement Recruit Day class finished with Chapter 4 – Interviewing and Report Writing. The class participated in role play exercises involving a suspect trespassing in a business. The students applied their proofreading skills by correcting reports using grammar rules.
Mr. Vitale from Clermont Police Department shared Below-100 videos, which teach about officer safety. Officer Stone, also from Clermont Police Department, instructed the class on Chapter 5 – Fundamentals of Patrol through PowerPoint and scenarios. The Day Law Class was able to tour the Lake County Detention Center and also sit in on traffic court at the Court House.
Physical Training this week was conducted by Sergeant Carney from Eustis Police Department, Detention Deputy Givens from Lake County Sheriff's Office, Officer Stone from Clermont Police Department, and Master Deputy Lukens from Lake County Sheriff's Office.
The Night Law class finished up Traffic Crash Investigation and took the exam, with a class average of 91.8%. They then started Vehicle Operations.
The Night Corrections class finished up the Supervising block and took the exam, with a class average of 92.4%. They then continued in the block of Supervising Special Populations.
TRANSPORTATION & LOGISTICS
Diesel Technology – This week our Diesel students how to make a gasket, remove and inspect wheel bearings, and how to properly torque spindle nuts and lug nuts.
James Cefalo and Hayden Niblack will be going to the Skills USA State Competition this week and got the opportunity to go to Freightliner of Ocala and get some training using their laptop and software on some brand new trucks.
Auto Collision Repair and Refinishing – Two students were selected as scholarship winners by the Education Collision Foundation. Vicky Lambert won $3,000 for tuition and tools plus another $2,000 in tools once she is employed. Matthew Norris won $5,000 in tuition and tools from the Education Collision Foundation and PPG. Congratulations to these two outstanding students.
Automotive Service Technology – Students in the pictures are shown dismounting and mounting tires. They're learning how important it is to safely and correctly operate the equipment as well as the proper way to mount and dismount tires without damaging the tire bead. They're also practicing to beat the clock and be able to mount and dismount a tire within 2 1/2 minutes.
ADULT EDUCATION
The Adult Basic Education students continued using My Career Shines to take interest assessments and research career information as they plan for their future career. In addition, they worked on how to improve sentence clarity by using parallel structure.
Congratulations to Beverly Calder for her successful Language TABE score! She is very happy that the hard work paid off.
STUDENT AFFAIRS
This month's Students of the Month include:
Boot Camp was a great success! With Ms. Rosenglick as their drill sergeant, students learned how to search for a job, create a winning resume, prepare for the job interview and much more. In addition, students won movie tickets, jump drives, and one lucky student will win a Chromebook in a drawing on Monday!
The Upcoming Career Fair is scheduled for May 3. Over 30 exhibitors will be on campus to talk to students. If you know of others who wish to attend, please contact Sonya Rosenglick. In addition, Mary Vanderwater from CareerSource Central Florida will host three seminars during the Career Fair.
1. 9am Key to a Successful Job Search
2. 10am Know Yourself and be Confident for the Interview
3. 11am What NOT to say in an Interview
To prepare for the Career Fair, Rosenglick has scheduled special seminars for students:
CAREER FAIR SUCCESS What to say, what to have with you, and how to approach the businesses during a Career Fair Thursday, April 27, 11:00-11:30 am in the Career Success Center
RESUME CREATING, Wednesday, April 26, 10 am – 1 pm in the Career Success Center (sign up in CSC) OR Tuesday, May 2, 10 am – 4 pm in the Career Success Center (sign up in CSC)
Exit Interviews are being held in the Career Success Center every Monday from 1-3 pm and 4 – 6 pm; Wednesdays, 9 – 11 am and Thursdays, 9-11 am. All students need to go through the Exit Process.
Graduation Two graduation ceremonies will be held this year on June 13 at Lake Sumter State College. At 10 am, students who have earned their Florida High School diploma will received their recognition. At 2 pm, students earning their career certificates will walk across the state.
ON CAMPUS AND IN THE COMMUNITY
Lake Sumter State College Student Services Staff Visits Lake Tech
On Thursday, 14 people from the LSSC Student Services team visited Lake Tech. Their goal was to see and learn more about our programs. The partnership between our two institutions continues to grow as we learn about opportunities for students and ways we can serve our community. Next month, our Student Services team will visit LSSC!
Shannon Schmidt, Economic Development Director from the City of Clermont toured Lake Tech on Wednesday.
Lake Technical College, the Fire Chief Association of the State of Florida, and the City of Clermont hosted the 2017 Spring Cadet Weekend April 21-22 at the Institute of Public Safety for a series of hands-on seminars. The Fire Cadets range in age from 14-18 spent the weekend learning various fire protocols including forceful entry, repelling, ladder bail out, search and rescue, and arson investigation.
Elise Veremakis will attend the Leesburg High School Awards Ceremony on Tuesday morning to present Lake Tech scholarships to several students.
Elise Veremakis will attend the South Lake High School Awards Ceremony on Wednesday to present Lake Tech scholarships to several students.
Sherie Lindamood will attend the Lake Minneola High School Awards Ceremony on Thursday to present Lake Tech scholarships to several students.
Diane Culpepper will attend "Conversation on Your Community's Future" hosted by the Lake County Chamber Alliance on Friday at 9 am.
Kathy Roberts "filled the basket" of David Beliveau for going above and beyond when her adult ed students visited the Auto Collision They visited as part of the career pathway lessons which help the students connect their academics with the careers they might be interested in pursuing.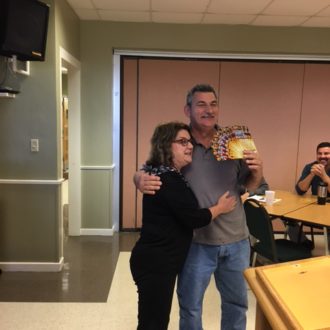 opens IMAGE file
TECH TIP