In the Weeks Ahead at Lake Tech….
April 16 – Bake Sale Sponsored by Business Programs
April 17 – Partners for Success Event at Lake Sumter State College
April 19 – SkillsUSA Car Show
April 21 – Prometric on Campus to offer Certification exam for Nursing Assistant Grads
April 26-29 – SkillsUSA State Leadership and Skills Conference
Career Fair – April 30, 9 am to Noon in the Lake Tech Lobby
Academic Affairs
Arts, AV Technology & Communication
Digital Design – Several of the Digital Design students have been busy completing their courses and preparing for employment. Student Melany Ashbaugh accepted a position as Graphic Designer with Henn House Printing in Eustis and Deirdre Carr accepted a Graphic Designer position with the Lake Eustis Museum of Art.
Deirdre Carr, Larry Wright, and Shawnee Landon designed and produced the United Way's annual report for their upcoming meeting in May.
Business Management & Administration
Accounting Operations and Administrative Office Specialist – This proved to be a very busy and exciting week for our students. Not only was everyone working on their class work, but everyone was also involved in some special project or two. This is what happens in real office life. We could accomplish this because of good prior planning.
Two of our projects involved raising funds for our SkillsUSA team. The first project, which allows us to apply our Microsoft Word experience, involved creating a "business professional package" where students and staff could order personalized stationary and/or business cards. Suzanne Auritt is the project leader. The second project is a bake sale. It is scheduled for two days, Wednesday April 9 and Wednesday April 16th. Zana Dudley has taken the lead in this effort. Project members include Jessica Straub, Antonio Loredo, Carolyn Shiflett, Takezia Colbert, Samantha Combee, Brandon Goff, and Karen Horton.
In addition to the above efforts, we also created a program for the "Partners for Success". Jessica Pantoja led the effort with Kasey Steele. They combined information from four different sources into a presentation package using multiple tools to pull it all together. In addition, to the program our class will also have a presence at the "Partners for Success" presentation. Brinda Ruehlen is taking the lead in this project. She is coordinating our class in what expertise we will be exhibiting. More on this next week.
Our Administrative Office Specialist team is also in the middle of planning for "Administrative Professionals Day", which will take place on Wednesday, April 23th. Kasey Steels, Jessica Pantoja, Suzanne Auritt, Lisa Creamer, Dominique Hutto, Kristen Sparks and Antonio Loredo are involved in this project.
And, in a response to creating a Lake Tech "peep" contest, our students again rose to the challenge. With Rose Williams and Sam Combee setting the stage, members of our class began developing tiny colorful sweets into self-portraits. Pictures next week!
What a wonderful week!!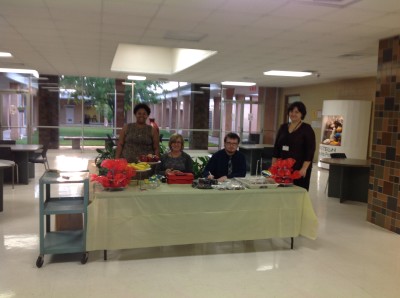 opens IMAGE file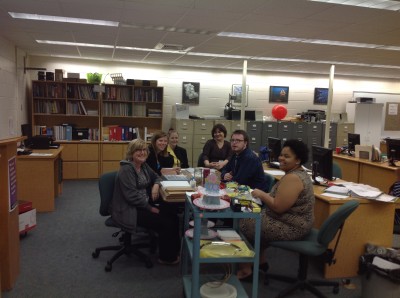 opens IMAGE file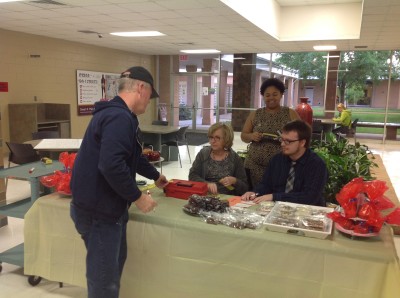 opens IMAGE file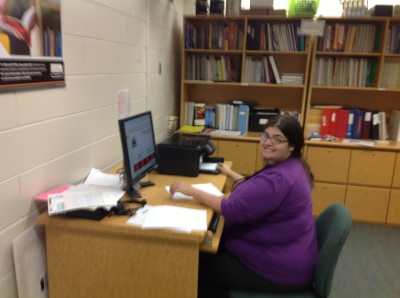 opens IMAGE file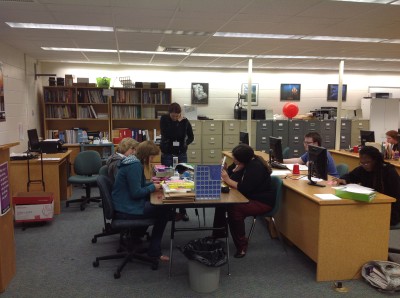 opens IMAGE file
Health Science
EMS – The Paramedic students finished the Cardiology Module with practical testing. Students are evaluated on providing care to the cardiac patient from basic life support to cardiac rhythm recognition, and medication administration. This is one of the toughest practical testing the students must complete. Standards for the test are based on the American Heart Association and the National Education Standards for the paramedic. Congratulations to all the paramedic students!
The Emergency Medical Technician (EMT) students are completing the Basic Healthcare Worker course and anxious to get going in the next course which is EMS0159. The EMS0159 course includes the essential knowledge and skills required to provide basic emergency care in the field.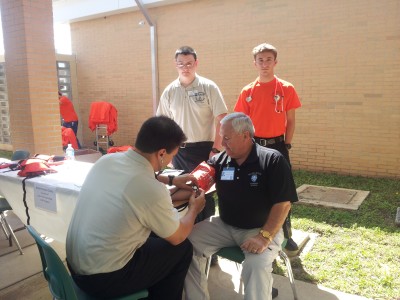 opens IMAGE file
Practical Nursing – What a shock to find out that the daytime Practical Nursing instructors were pregnant! No, not an April Fool's joke – but you guessed it, the class was studying obstetrics this week!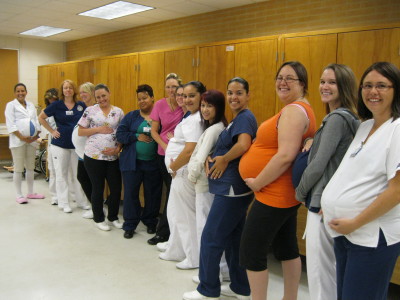 opens IMAGE file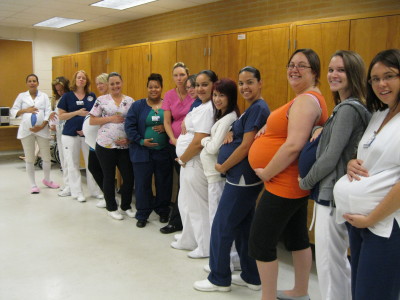 opens IMAGE file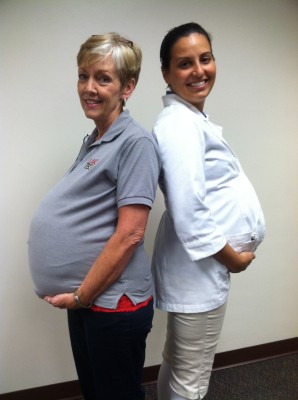 opens IMAGE file
Law and Public Safety
Fire Fighting – The next PT Challenge between the Fire Fighter students and the Law Enforcement students will be held on May 5 at 11 am! Everyone is invited. Who is going to win this year?
The schedule for the remaining Class D Private Security Guard classes is:
May 12 – 23, 6 – 10 pm
June 16 – 26, 6-10 pm
All of the classes are held at Lake Tech's Institute of Public Safety Campus in Tavares.
Manufacturing – Plans are finally underway for the remodeling of two buildings on the Lake Tech main campus. These two buildings will become the Center for Advanced Manufacturing in Lake County. John Dickerson from Leesburg has been selected as the architect for the design work. Surveying is underway.
Transportation & Logistics
Automotive Service Technology – The Automotive Service Technology students welcomed a new student. Automobile suspension was the topic of the week and the students will be tested on their knowledge of the function and the names of the parts that make up the suspension on a vehicle. They will all be painted different colors to make them easy to recognize on the vehicle.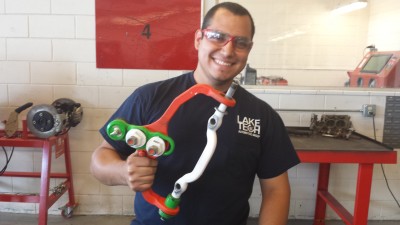 opens IMAGE file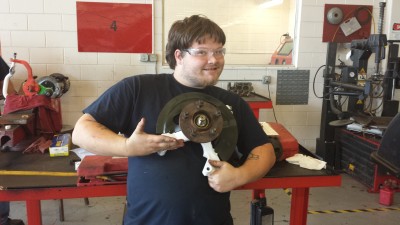 opens IMAGE file
Auto Collision Repair and Refinishing – The Auto Collision Repair and Refinishing students added two specialized classes to their program this week. The first class was an introduction to airbrushing class taught by a Lake Tech alum. Students were able to learn the techniques of beginning air brushing and practice some of their new skills. The second class was presented by the SATA Corp who makes spray equipment for the industry. After the class, the students tested and earned their EPA CFR40 certification which will allow the students to work as refinishing applicators in the collision industry.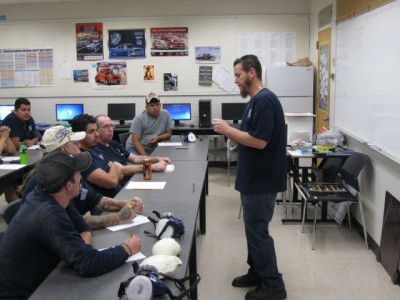 opens IMAGE file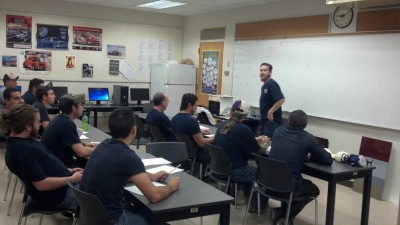 opens IMAGE file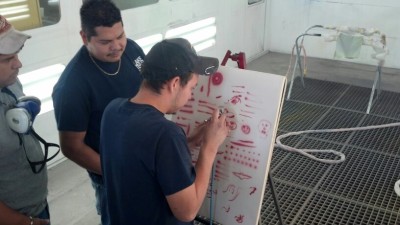 opens IMAGE file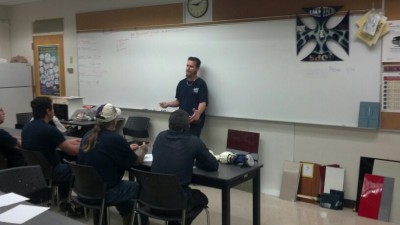 opens IMAGE file
opens IMAGE file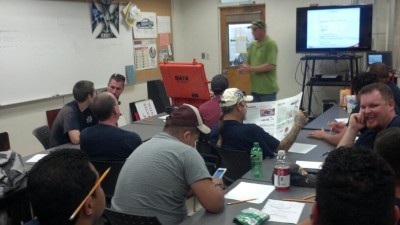 opens IMAGE file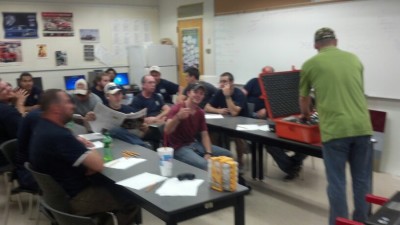 opens IMAGE file
Diesel Technology
The Diesel Technology students spent the week at the Institute of Public Safety pulling engines out of school buses that had been donated to Lake Tech. The students practiced their skills they have been honing in the classroom in this real world activity.
opens IMAGE file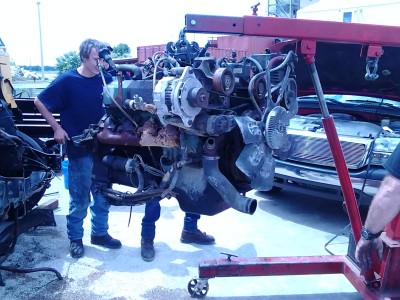 opens IMAGE file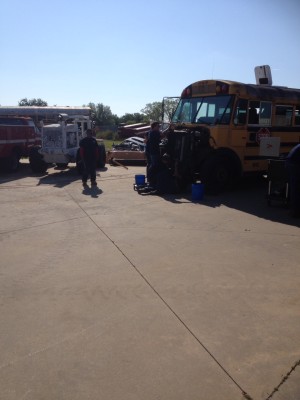 opens IMAGE file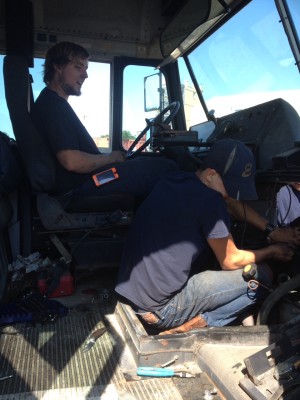 opens IMAGE file
Student Affairs
Check out the beautiful Lake Tech display created by Mai Yang in honor of Irene Storm's Support Person of the Year Event last Thursday evening. This display features the butterfly Woodie. It is now located in Admissions for all to enjoy.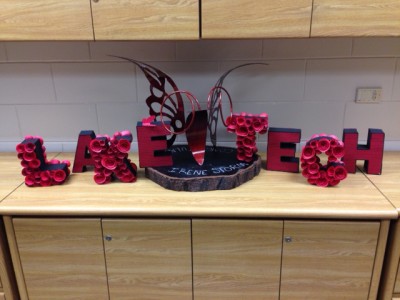 opens IMAGE file
It is time to submit nominations for Lake Tech's Student of the Year. Good candidates for Student of the Year will meet the following criteria:
Excels academically
Exhibits a positive attitude and takes full advantage of the opportunity to receive an education
Displays professionalism, strong leadership skills, and a desire to make a contribution with the skills he or she has gained
Has grown personally or made a positive change through the process of education
Applications were emailed to faculty on Friday and are due to Dr. Lindamood on May 16.
The Career Fair will be held on April 30, from 9 am until Noon. In addition to the employers who will be on campus, we will be offering three workshops for students. Students must pre-register as there is a limited amount of space.
Put your Best Foot Forward (First Impressions) – 9 am
Selling Yourself to Employers – 10 am
Top 10 Employer Expectations – 11 am
National Technical Honor Society Induction Ceremony – May 13, 2014 at 2:30 pm
The Ceremony will take place at the Institute of Public Safety, Room 302.
National Adult Education Honor Society Ceremony – May 21, 2014 at 3 pm
The Ceremony will take place in the Early Childhood Classroom.
Graduation is right around the corner! The ceremony for the Florida High School Diploma graduates is June 19 at 7 pm. The ceremony for the Career and Technical Education graduates is June 20 at 7 pm. Both ceremonies will take place at Lake Receptions in Mt. Dora. Deadline to order Caps and Gowns is April 25 in the Business Office.
WORKSHOPS FOR SUCCESS – Available to All Students
Resume Creating – April 22, 3-4 pm in Room 01-210A
Students will learn the best practices of creating resumes. They will learn which items should go on a resume and which items should not. Students will learn proper wording, procedures, elements, style, and how to input a resume into Word 2010. Handouts and resume samples will be given. Students should be prepared to take notes by bringing pen and paper.
Interviewing – April 23, 3-4 pm in Room 01-210A
Students will learn how to prepare for an interview, how to dress, and how to answer some of the tough questions during an interview. Post interview tips will also be discussed. Handouts and supplemental information will be given. Students should be prepared to take notes by bringing pen and paper.
Staff Development
The Perkins Professional Development Institute is still offering mini-grants until June. We encourage eligible teachers to take advantage of the self-study option, which includes up to $150 for books or other training materials, in addition to paying for the cost of certifications. Go to the Perkins PDI website link and fill out a self-study application at the following link: http://www.cf.edu/departments/instruction/workforce/perkins/. Contact Melissa Stephan if interested.
Dr. Sherie Lindamood and Sonya Rosenglick have both been selected to present at this summer's FACTE Conference which will be held in Tampa.
Technology
Did you know that Apple just came out with an iPad app for Word, Excel, and PowerPoint? and…..they are FREE!
Legislative
If you are following the Technical Center Bill:
CS/SB 1202 (2014) Career Centers and Charter Technical Career Centers
http://www.flsenate.gov/Session/Bill/2014/1202
SENATE – Pending reference review under Rule 4.7(2) – (Committee Substitute)
CS/CS/HB 7057 (2014) Career Centers and Charter Technical Career Centers
http://www.flsenate.gov/Session/Bill/2014/7057
HOUSE – Read 3rd time
HOUSE – CS passed; YEAS 116 NAYS 0
In the Community
Trudy Daily and Heidi Peters spent Saturday representing Lake Tech at the Ashton Chase Community Festival in South Lake County.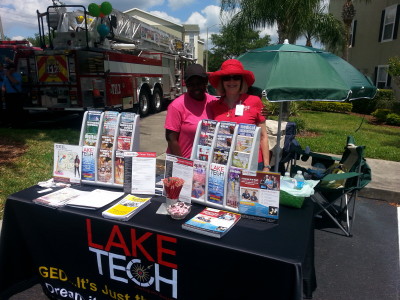 opens IMAGE file
Jack Miller attended ACE (Adult and Community Education) of Florida Legislative and Administrative Workshop in Tallahassee this past week. Jack serves as a board member representing Alachua, Bradford, Citrus, Lake, Levy, Marion, Sumter, and Hernando counties.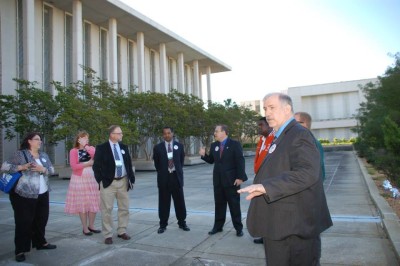 opens IMAGE file
Diane Culpepper will be attending the South Lake Chamber Breakfast at the Clermont Community Center on April 18.