In the Weeks Ahead at Lake Technical College
Charter Board of Directors Meeting, March 6, 4:30 pm
Counselor in the Classroom, March 9, 9 am
Spring Break, March 13-17
Blood Drive, March 23, 10 am – 3:30 pm
Teaching in Schoology, Friday, March 24 in Career Success Center, 8:30 am
Partners for Success, March 28, 5-7 pm, LSSC
CONSTRUCTION UPDATE
Weekly Progress in Pictures
Manufacturing Facts: Women make up about 47 percent of the labor force, but only 27 percent of the manufacturing workforce. To improve this, The Manufacturing Institute is promoting the role of women in manufacturing through STEP (Science, Technology, Engineering, and Production) Ahead. STEP Ahead is a growing grassroots movement of manufacturers dedicated to overcoming the shared challenges facing the industry, overcoming the skills gap and attracting, retaining, and advancing quality talent. STEP Ahead gives manufacturers an opportunity to raise awareness of these issues by showcasing existing female talent and providing role models that can speak to the transformation of the industry.
For more information, http://www.themanufacturinginstitute.org/Initiatives/Women-in-Manufacturing/
Construction Commencement Ceremony
On Tuesday, February 28 at 2 pm, a Construction Commencement Ceremony was held to celebrate the construction of the Center for Advanced Manufacturing. Speakers included Charter Board member C.A. Vossberg, Lake County Board of County Commission Chair Tim Sullivan, Supervisor of Elections and Former Senator Alan Hays, Representative Larry Metz, Eustis Mayor Morin, Lake County School Board Vice-Chair Stephanie Luke, and Executive Director of the Manufacturing Association of Central Florida, Sherry Reeves. Students from the various industrial programs watched from their program areas. After the ceremony, a reception was held in the Tech Dining Room with food prepared by the Culinary team. Please note the cheese, meat, and fruit that was cut into the shape of gears!
ACADEMIC AFFAIRS
BUSINESS MANAGEMENT & ADMINISTRATION
Accounting Operations / Administrative Office Specialist – This was a productive week for our Business programs. The Accounting Operations program had numerous OCP completers and many others are preparing to graduate soon. In addition to the busy course work, Jacqueline Villegas, one of the Administrative Office Specialist students gave two very positive presentations on the topics of Conflict Resolution and Traits of Highly Effective People.
The Accounting students are still accepting appointments for VITA. The Volunteer Income Tax Assistance (VITA) program at Lake Tech is a free tax preparation service run by volunteers offered to families throughout Lake and Sumter counties. VITA offers free tax help to those who make $54,000 or less and need assistance in preparing their tax returns. IRS-certified volunteers will provide free basic income tax return preparation with electronic filing. Please call the Accounting Operations classroom to set an appointment to have our volunteers assist you with your taxes, 352-589-2250 ext. 1826.
HEALTH SCIENCE
Patient Care Technician (PCT) – The Patient Care Technician students are currently enrolled in the Home Health Aide course and had an opportunity to role play the job of caring for people in their homes. On Thursday, we went over to the EMS building where we were able to simulate client care in the mock living room and bedroom. It was a very good experience. Then on Monday, after planning meals and shopping for the food items, the students had the opportunity to prepare a meal for their client. The food was fabulous; they did an amazing job. Next, we move on to learn more knowledge and skills in the PCT program.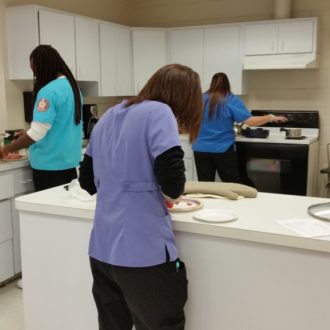 opens IMAGE file
Practical Nursing – Students in the Day Practical Nursing program were practicing their skills at bed baths and changing occupied beds. They said the new Hill-Rom beds were so comfortable they had trouble staying awake!
HOSPITALITY AND TOURISM
Commercial Foods and Culinary Arts – The Culinary Team had a very busy week preparing for the Construction Commencement Ceremony reception (see pictures above) as well as for the Student of the Month Luncheon.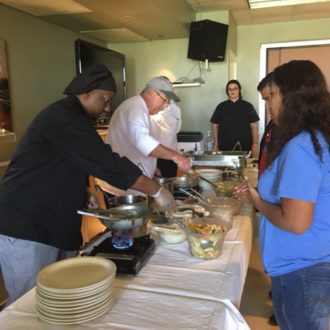 opens IMAGE file
Students in the nutrition class of the Commercial Foods and Culinary Arts program took their finals last week. A big thank you to Mrs. Frazier and Mr. Netherton for tasting all the healthy food.
TRANSPORTATION & LOGISTICS
Diesel Technology – Instructor Randy Yates and Diane Culpepper toured PowerTech in Leesburg on Monday. A partnership has recently developed between us and we are so thankful for the donation of diesel engines. Diane Culpepper and Lake County Economic Development presented Craig Waters of PowerTech with a certificate of appreciation.
Auto Service Technology (AST) – Students in the Auto Service Technology program spent this week learning to set up the tire machine, dismounting a few tires, and then replacing them with brand new ones. The AST 2 students set up an engine on a test stand in order to get it wired and make it run. A competition was held this week to see which student can beat the flat clock rate without any mistakes. Last, one new student joined the program this week.
STUDENT AFFAIRS
Upcoming Professional Development for Students
Tuesday, March 7 – Build A Strong Credit History (Insight Credit Union) 10 am Board Room
Tuesday, March 21 Securing What Matters: ID Theft (WellsFargo) 10 am Board Room
Thursday, March 23 Creating a LinkedIn Profile (Sonya Rosenglick) Career Success Center 11:30 am and 4:15 pm
Students of the Month
Lake Technical College is proud to announce the following Students of the Month for December & January:
Kevin Moll

– Computer Systems & Information Technology

Christina Keith

– Culinary Arts

Ruth Torres

– ABE/GED

Peulthai Scharschmidt

– Law Enforcement

Maria Guadalupe Flores

– ESOL

Mario Vivas

– Cosmetology

Shannon Wallman

– Culinary Arts

Spenser McDonald

– Diesel

Alicia Santos-Medina

– Accounting

Francisco Murillo

– Medical Assisting
The students were nominated by their instructors because of their outstanding academic achievement, honorable work ethic, great attitude, and school and community involvement. The students of the month will receive a certificate of achievement, a balloon arrangement, and lunch with the Executive Director, Dr. Diane Culpepper.
Graduation Regalia – It may seem like graduation is several months away, but it will be here before you know it! Two graduation ceremonies will be held this year on June 13 at Lake Sumter State College. At 10 am, students who have earned their Florida High School diploma will received their recognition. At 2 pm, students earning their career certificates will walk across the state.
Let your students know that they can pick up the graduation regalia form in the kiosk this year to make it easier for students to complete their order.
IN THE COMMUNITY
Kim Frazier represented Lake Tech at Lake Minneola High School on Thursday. She presented information about dual enrollment to 400 students and then set up a display in the cafeteria.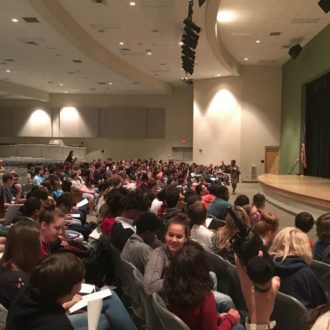 opens IMAGE file
Elise Veremakis represented Lake Tech at the Lake County Schools Transition Fair last week.
Kim Frazier will represent Lake Tech at the Village View Christian Academy College and Career Day on March 10.
Art Seidner will represent Lake Tech at the Lake County School's Family University Team Day on Saturday, March 25 at Leesburg High School. This event will provide families with information on services and resources in Lake County including educational opportunities.
The Eustis Fire Department recently responded to a fire alarm that was sounding from the EMS building. It's nice to see Lake Tech graduates on the job and ready for action!
TECH TIP