Coming Soon…
January Students' of the Month Lunch with the Director – February 28
Spring Advisory Meetings – Instructors Scheduling Now
Combat Fire Fighter Challenge – April 13, 2013
Academic Affairs
Arts, Communication & AV Technology
It was a very busy week in the Digital Design programs! Five contestants entered SkillsUSA Regional Advertising Design contest. On Wednesday, prior to the contest, the students prepared by participating in a timed mock contest. This year, Digital Design contestants got to design the cover for a SkillsUSA booklet to be used in future events… maybe even Nationals! We brought home a bronze and a silver medal – so proud!
Friday ended the Keyboarding section of Course A for the new group who started in January. Students practice 30 minutes per day for their first five weeks and then their final WPM typing speeds are recorded for a grade. Fingers were poised on the home keys as the checkered flags fell, and keyboards smoked. Every student increased their speeds by at least 20 WPM. Mark Thibodeau blew us all away with the fastest speed of 118 WPM! Come to B-Building next week and see their flyers in the display case, designed to promote their "racing prowess"!!!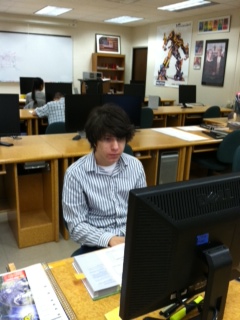 opens IMAGE file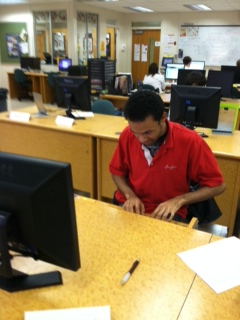 opens IMAGE file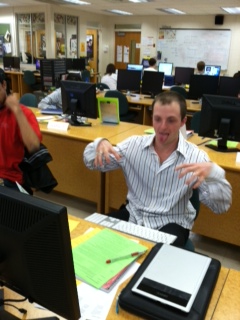 opens IMAGE file
Business, Management & Administration
Four of our students, two from Accounting Operations and two from Administrative Office Specialist, recently spoke with the GED students about our business classes and what we do in class. Debbie Addison, Marlene Satten, Cera Howard and Lashon Robinson took time from their day to meet with the GED students and answer questions. The group picture is composed of Cera, Lashon, Marlene and Debbie.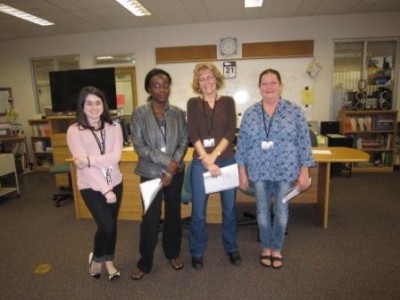 opens IMAGE file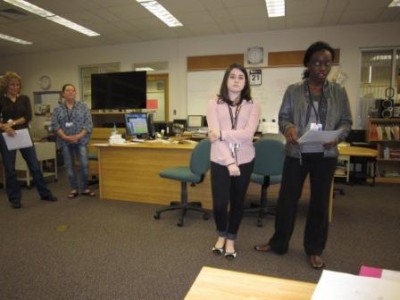 opens IMAGE file
We continue to send students to the VITA program to help Lake County residents complete their 2012 income taxes. The students are putting their classroom experience to good use as they help residents in our county.
In the classroom our students are working on a variety of activities including Excel Pivot Tables and Reports as well as advanced letter writing.
Health Science
Plans are underway to hold a summer EMT class so that the most recent Fire Fighting students can apply to continue with their education and not miss a beat.
The Day LPN students held a bake sale at Bay Pharmacy on Saturday morning during the Parade. All money raised will be used to assist with the capping and pinning ceremony.
The Medical Assisting students presented fellow student Markena Caswell with a cake as she will be the first MA student to have a baby while enrolled in the program. She was due yesterday and says she will come to school until she delivers!!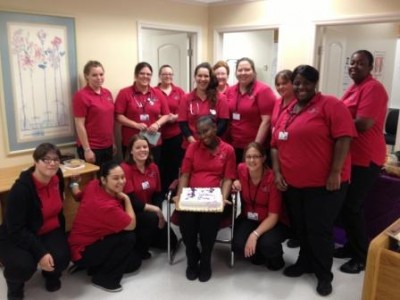 opens IMAGE file
Human Services
The Cosmetology students held "Spa Day" on February 22 to raise money for their students who will be competing in the state SkillsUSA conference in April. Over $1,000 was raised!
Transportation & Logistics
Attention individuals wanting to learn to drive a forklift! The next Forklift Operator Training class will be held on Friday, March. 22. The registration deadline is March 15 and the cost is $125. The April class will be held on April 26 with an April 19th registration deadline. The training will be held on Lake Tech's main campus.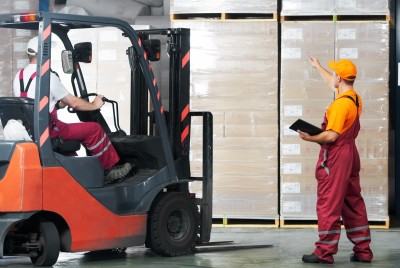 opens IMAGE file
Adult Education & Career Pathways
Thank you Administrative Office Specialist students Cera Howard and Lashon Robinson and Accounting Operations students Deborah Addison and Marlene Satten for talking about their programs to the GED/ABE/AAAE class as part of helping Lake Tech celebrate the 2013 CTE Month: Career and Technical Works!
The GED/ABE/AAAE students continue to increase their academic skills, as well as gain knowledge about the opportunities at Lake Tech. AAAE students joined the Career Pathways students on the campus tour this week. All the students were impressed with the hands-on, affordable training that we are providing to our students. Of course, many of the students plan to enroll in a CTE program as their next step to attain a new career. Thank you for your support!
GED…it's just the beginning!
ESOL students participate in singing popular American songs to practice English skills. We use a variety of music including: children's songs – "BINGO", country favorites-"Crazy" and seasonal favorites- "I'm Dreaming of a White Christmas". Music is definitely an international language.
Dioken Valbrun helped lead "music time" in the ESOL class this week. Dioken came to the United States just a few months ago from Haiti. He is a joy to have in our class and is quickly improving his English language skills. His musical talent and guitar were enjoyed by all.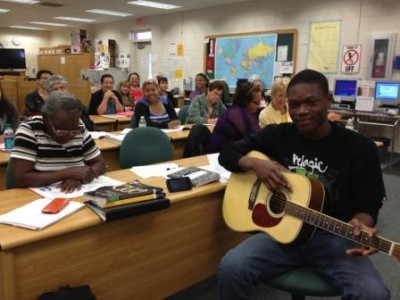 opens IMAGE file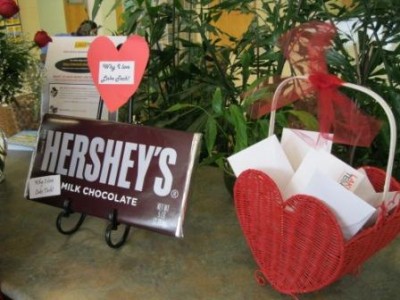 opens IMAGE file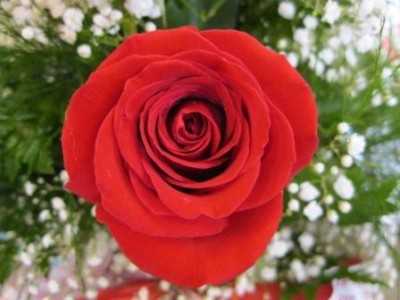 opens IMAGE file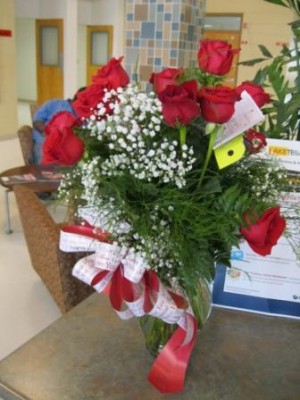 opens IMAGE file
Student Affairs
Lake Tech SkillsUSA students win Big!! Our SkillsUSA competitors took 4 gold, 5 silver, and 4 Bronze medals total. And the Winners are: Advertising Design Adult – 2nd place Steven Draper, 3rd place Linda Curtis. Cosmetology HS – 1st place Hannah Maule, 2nd place Holly Morgan. Cosmetology Adults – 2nd place Kaitlin Hullinger. Nail Tech Adult – 1st place Wendi Dyer, 3rd place Jecolia Aurelien. Culinary Bake Shop HS – 1st place Hana Thompson. Culinary Bake Shop Adult – 1st place Jessica Summerlin, 2nd place Lynette Evans, 3rd place Charles Conger, Jr. Culinary Hot Foods HS – 2nd place Roger Wilson, 3rd place Tarah Philotoff.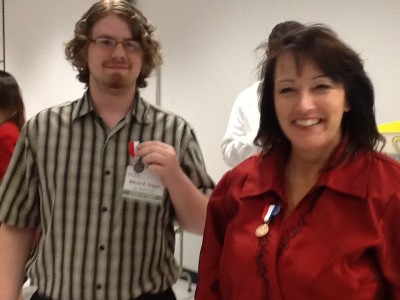 opens IMAGE file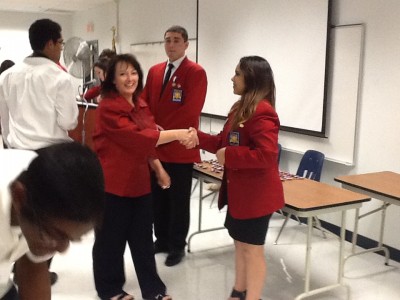 opens IMAGE file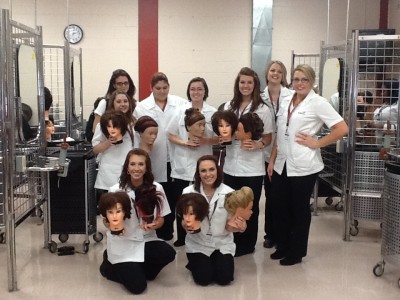 opens IMAGE file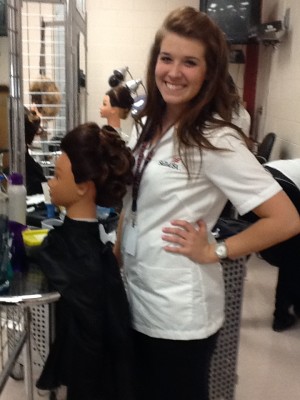 opens IMAGE file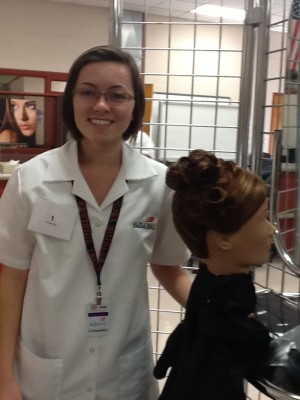 opens IMAGE file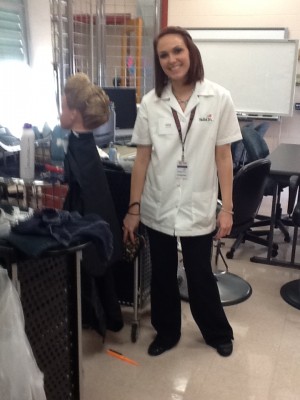 opens IMAGE file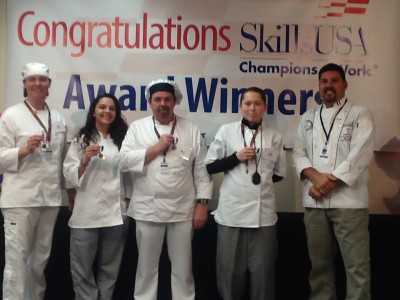 opens IMAGE file
Professional Development
Professional Development Institute (PDI) – Certiport Offer
Have you heard of the "Rise to the Challenge" program? If a teacher applies before February 28th and takes the certification exam before March 29th, Certiport is giving away certification exam vouchers and training materials FREE. Teachers can register without applying for a mini-grant or teaching any program listed on the Technical Skills Attainment list.
Certifications offered by Certiport include: Microsoft Office Specialist – Microsoft Technical Associate – Adobe Certified Associate – Autodesk Certified User – QuickBooks Certification, IC-3 – CompTIA Strata Fundamentals – HP Accredited Technical Associate.
For more information: http://mms.certiport.com/risetothechallenge.
USF's Online MA Program in CTE & Local Director Certification The University of South Florida is accepting applications for the Fall 2013 cohort for their online MA Degree in Career and Technical Education. Check out their website for information on admission requirements and how to apply.
The MA in CTE is a two-year, 12 course internet-based program with three Saturday meetings in Tampa each year. There are participants from all areas of CTE at the middle school, high school, technical center and community college levels involved. No GRE score is required! You do not have to pursue the MA degree to enroll in the courses required for Local Director of Vocational Education certification.
Contact Edward Fletcher at ecfletcher@usf.educreate new email or 813.974.0029, if you have any questions about the program.
What's STRESS got to do with it? – A VIRTUAL EVENT – PART 2
Think you're the only one stressed out these days? Think again! Your adult students are probably experiencing just as much stress in their lives. This webinar will introduce adult basic education practitioners to the effects of chronic stress on their adult learners. It will also explore practical strategies teachers can integrate into their curriculum to help students address their stress for more effective learning.
Missed the first webinar? Don't worry. We recorded it. You'll still be able to follow along as Lenore delves deeper into resources and strategies that you can use in your Adult Ed classroom to help your students manage the stressors in their lives.
WEDNESDAY, MARCH 6, 2013
2:00 PM – 3:00 PM EASTERN
Sign up here: http://www.surveymonkey.com/s/stress3-6-13
Tech Tip of the Week
opens PDF file

Click the image to see the tip!
In the Community and All Over the State
Megan Bateman has been representing Lake Tech at various high schools in Lake County.
DeAnna Thomas, Cathy Peterson and Diane Culpepper represented Lake Tech at the CTE Day on the Hill in Tallahassee.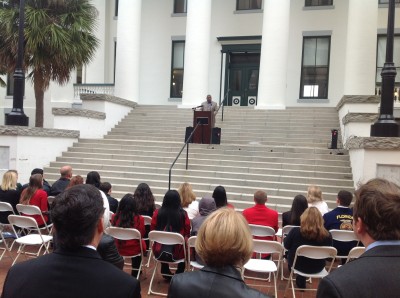 opens IMAGE file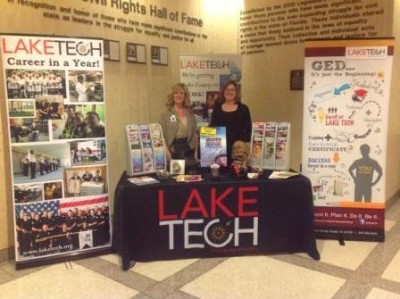 opens IMAGE file
Steve Bagg (AC Instructor) and Will Zulueta represented Lake Tech at the Green Festival in South Lake County on February 16.