In the Weeks Ahead at Lake Technical College
Day Practical Nursing Capping and Pinning Ceremony, January 27 at 7 pm
Let it Snow – Coffee/Cocoa in the Student Center, January 31 from 11 – 12:30 pm
Student Seminar – Digging Out of Debt, January 31 at 2:30 pm
Board of Directors Workshop, Strategic Planning, January 31, 11:30 am
Homecoming Breakfast (Staff Alumni Association), February 2, 8:30 am
Leadership Lake Education Day, February 8
CONSTRUCTION UPDATE
Lincoln Electric will be donating two additional Downflex grinding tables for the new Center for Advanced Manufacturing. Last year they donated one table. These tables are generally used for welding, plasma cutting, and grinding. All three will be placed in the grinding room and no additional equipment will have to be purchased for that area. Thanks Lincoln Electric!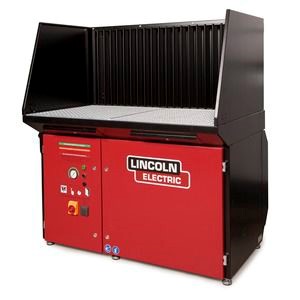 opens IMAGE file
Manufacturing Fact: Florida's, and particularly Lake County's, manufacturing industries are diverse and include companies in traditional manufacturing industries such as electronics, plastics, food processing and printing, as well as those engaged in breakthrough technologies like laser and photonics, medical devices, and aviation and aerospace.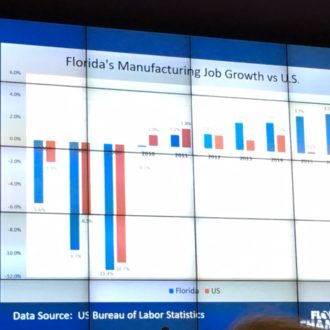 opens IMAGE file
ACADEMIC AFFAIRS
BUSINESS MANAGEMENT & ADMINISTRATION
Accounting Operations / Administrative Office Specialist – One of the most rewarding events of our school year is our opportunity to work with the United Way of Lake and Sumter Counties on the VITA program. VITA, or Volunteer Income Tax Assistance program, allows our students to take and complete an IRS Certification class. All of the Accounting and Administrative Office Specialist students participated in the United Way's VITA program this week. They will become IRS certified to voluntarily prepare taxes for clients in February and March of this year. VITA is a great way for the students to interact and interview clients while preparing their taxes; it's a great cause and helps the community, and a real positive "tool in the student's tool-belt".
HOSPITALITY AND TOURISM
Commercial Foods and Culinary Arts – Students Samantah Shepler and Shannon Wallman prepared fruit carvings for display at the Villages High School College and Career Fair.
TRANSPORTATION AND LOGISTICS
Auto Service Technology (AST) – AST welcomed a new student this week while the engine building student team are almost done putting their engines back together. The electrical students learned the importance of a good electrical connection they also learned how to solder and insulate wiring and the different ways of doing it. In the pictures, one of our students insulating a small headlight wire harness using one of the methods previously learned.
Auto Collision Repair and Refinishing – Seven students in the Auto Collision program are applying for scholarships through the Collision Repair Education Foundation. The Foundation supports collision repair programs and students into order to develop qualified entry level employees and connect them with an array of career opportunities. Over 1,000 corporations, businesses, associations and individuals support the mission and goals of the Foundation.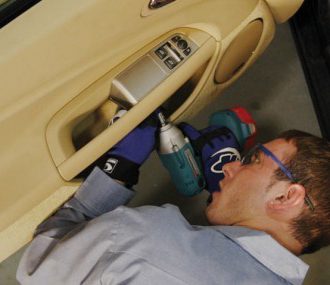 opens IMAGE file
Diesel Technology – This week the Diesel students were very busy. Jay Gause learned how to disassemble, inspect and reassemble a rear differential from a semi-truck. Mr. Yates taught Nicholas McGraw some basic wiring and how to read schematics on the new trainer. Enrique Renya learned how to check cylinder liner protrusion using a dial indicator. Austin Joyce is installing a piston into one of the many engines diesel students get to disassemble and reassemble.
On Thursday the Diesel students started prepping all the tools and equipment we will need to go to Lake Tech's Institute of Public Safety to remove three engines and transmissions from retired school buses. It will be a great training experience for the students.
ADULT EDUCATION
ADULT BASIC EDUCATION and GED – Our math class now has a tutor, Mr. Patrick Dennis, who comes on Wednesdays. This week, he focused on adding, subtracting, multiplying and dividing fractions. Mrs. Girard worked with manipulatives – units, rods, and flats, to teach decimals. Students were rewarded with a game of Scrabble and a www.freerice.com vocabulary competition for completing a successful work week!
STUDENT AFFAIRS
Career Success Center Room 208A – The Career Success Center
Two workshops have been scheduled for the SkillsUSA students to help them prepare for their upcoming contests. On Monday, Resume Creating will be held at 11 am and Job Interviewing Skills will be held on Wednesday at 1 pm. Both workshops will be held in the Career Success Center.
IN THE COMMUNITY
Kim Frazier, Chef Cooper, and culinary students Emma Hoffman and Thomas Nash represented Lake Tech at the College and Career Expo at the Villages High School on Thursday.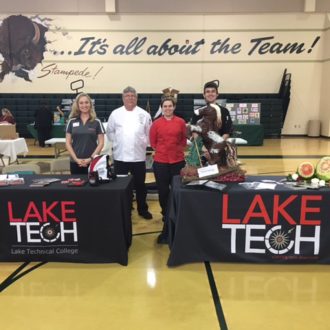 opens IMAGE file
Ron Williams, Jeff Lord, and two Fire Academy instructors represented the Lake Tech Fire Academy at Fire Rescue East in Dayton on January 17-21. This tradeshow coincides with the Florida Fire Chiefs' Association and provided an opportunity for Lake Tech to showcase the advanced specialized classes we offer.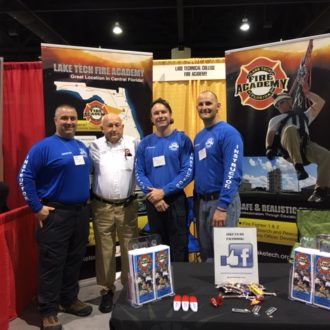 opens IMAGE file
Diane Culpepper will be attending the Sumter Operations committee meeting held at the LSSC Sumterville campus on Monday. This committee connects LSSC, Lake Tech, and the Sumter School district as plans develop to provide specific training to Sumter County students and businesses.
Elise Veremakis will be representing Lake Tech at the Career Literacy Day Expo at Spring Creek Charter School on January 26 from 11-2 pm.
Kim Frazier will be in Sumter County on January 26 sharing the Lake Tech story with the Sumter County high school students.
STAFF ALUMNI ASSOCIATION
A newly formed Lake Technical College Staff Alumni Association has begun. Former GED instructor Trudy Johnson is the President of the Association. Their goal is to raise $50,000 for 50 student scholarships during this 50th Anniversary Year Celebration. If you are interested in donating (you don't have to be an alumni), please make your check payable to Lake Technical College and give the check to Lana. All donations are tax deductible and support students 100 percent!
The annual Homecoming Breakfast for the Staff Alumni Association will be held on February 2 at 8:30 am in the Tech Dining room. All former Lake Technical College staff are invited to attend.
TECH TIP