Lake County's High School Counselors Spend the Day at Lake Tech!
Lake County's High School Counselors spent the day at Lake Tech learning about the programs for both dual enrollment students and for students who want to "Learn a Career in a Year" after high school graduation. The counselors were able to go into the classrooms and actually weld, create, paint, braid hair, and try on fire fighter bunker gear! Check out the counselors in action!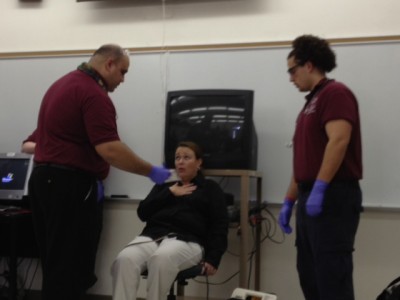 opens IMAGE file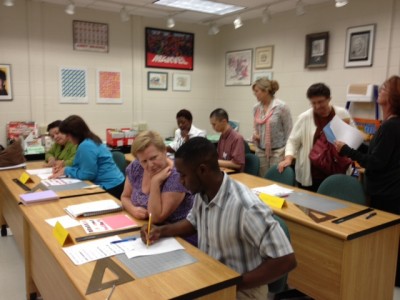 opens IMAGE file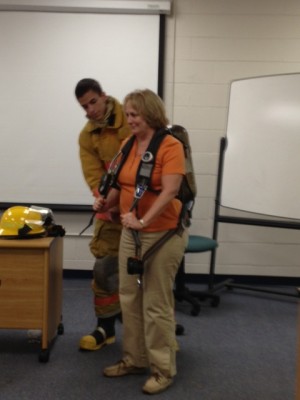 opens IMAGE file
In addition, a new website with Lake Tech resources that the counselors would need was created. Check it out at www.laketech.org/counselors. Any changes to programs, program requirements, scholarships, etc. can be made available quickly.
New Classes Offered! Tell Your Friends and Family!
A Certified Nursing Assistant (CNA) class will debut on January 23 at the Mascotte campus. There are still seats available.
Fork Lift Operator – Last Friday of the Month beginning on 1/25/13. Cost – $125
Unarmed and Armed Security Guard
Florida Concealed Weapons Class, Cost $65
Water Operator Training and Wastewater Operator Training classes being offered online through water2go the first 100% online pre-licensure courses approved by Florida DEP. For class details, how to register, and an application see the short-term training classes or contact Russell Darst at 352.589.2250, ext 1819.
How to Use your iPad, Cost $35
Academic Affairs
Arts, AV Technology & Communication
"Silver and gold" level Florida Ready-to-work Certifications for all Digital Design students this week make a beautiful tree out of their certificates and even more valuable resume additions!
Students can now read a ruler to 1/16th of an inch and convert the fraction to a decimal in 5 seconds. Lots of practice and focus, but what an accomplishment that will save them loads of time in creating layouts for marketing and promotional projects!
The class created their very first YouTube video and for a "trial run" each told one thing they have learned that has made a huge impact on their life and inspired them to keep working even harder! Look for: "Why Digital Design at Lake Tech?"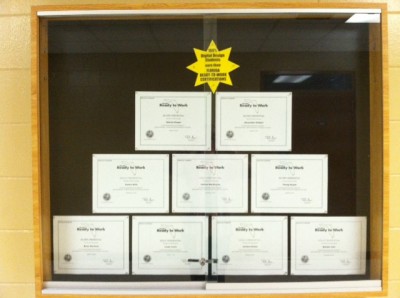 opens IMAGE file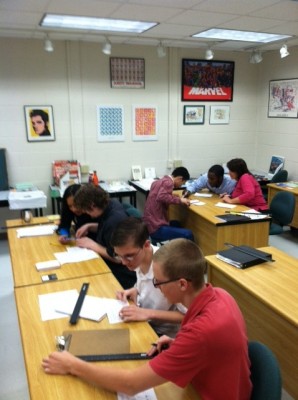 opens IMAGE file
Digital Design became an ad agency and print shop (all-in-one) on Thursday for three groups of visiting high school counselors. Each counselor started in the creative department where they worked with their own personal [student] designer preparing the layout, choosing a photo, font and wording. Next they moved on to the production department where they watched their layout come to life on the computer with another student. Ms. Johnson worked as the printing press operator and once the final design was printed, it moved to the bindery department where yet another student cut it to size. By the end of their 25 minute visit, each smiling counselor left with a one-of-a-kind Valentine's Day card, perfectly fit to their envelope. Students were able to experience the anxiety of a super tight deadline as well as communication skills while working with each "client". Not only did they perform with outstanding professionalism, but they learned a lot in that hour and a half! Counselors witnessed the results of a great program, producing trained and passionate graphic designers.
opens IMAGE file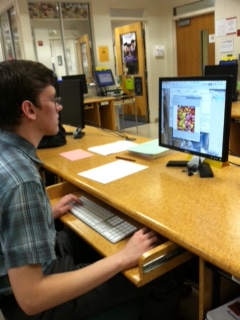 opens IMAGE file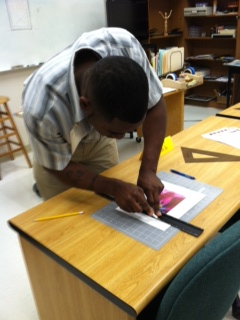 opens IMAGE file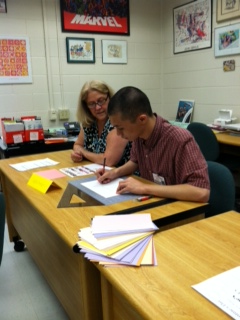 opens IMAGE file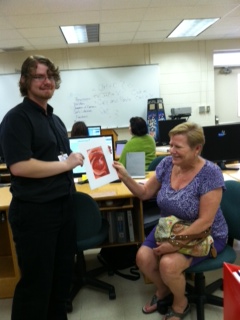 opens IMAGE file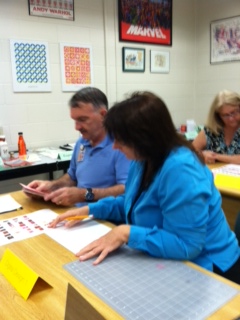 opens IMAGE file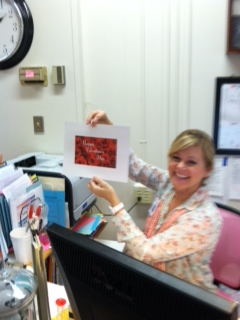 opens IMAGE file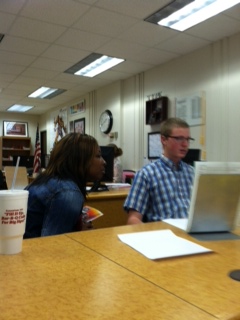 opens IMAGE file
Business, Management & Administration
Prior to the Winter Break, the Accounting and Administrative Office Specialist students focused much of their attention this week on completing tasks in support of their program. As in a normal working environment, several opportunities appeared and our students rose to meet the new challenges. As part of our Administrative Office Specialist program the students learn the fine art of proofreading. Several of our students put their new skill to work by proofreading Lake Tech's new schedules and program flyers. And, like work, it had a due date! In the picture we see part of our "proofing" team including Stephanie Armstrong, Kelsey Tracy and Joyce Williams reviewing their work. Wendi Price and Autumn Driggers also contributed their knowledge to this project.
opens IMAGE file
One of the Accounting Operations students, Lloyd Lapat, had an opportunity to attend the Eustis Chamber of Commerce breakfast meeting. He reported his experience to the rest of the class with great enthusiasm as he described new career directions he learned about from the speaker at the Chamber.
Our first week back from a well-earned vacation proved to be a very busy one for our Accounting Operations and Administrative Office Specialist classes. It began bright and early Monday morning when a majority of our students began training with the VITA (Volunteer Income Tax Assistance) program. This United Way program will allow our students to learn how to complete tax returns. After two and a half days of extensive training our students will be tested by completing an actual return. Those who successfully complete the tax return will receive a certification from the IRS. Then they will be qualified to help the residents of Lake County complete their tax returns. The greatest satisfaction they will receive is from helping people.
On the day when the majority of our students were working on the VITA program, our classroom was visited by members of the Lake County School High School Guidance Counselors. They were interested in learning more about our classes and programs. The students present described our classes and subjects as well as showing them a complete employment portfolio. In the picture, Ms. Wendi Price (with the headset) and Mr. Lloyd Lapat are showing our guests how to use Dragon, the Naturally Speaking Software.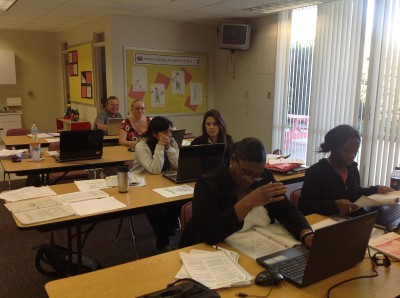 opens IMAGE file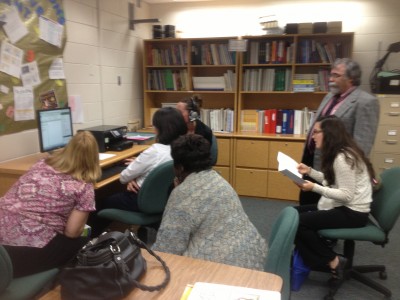 opens IMAGE file
One of our Accounting Operations students, Ms. Kimberly Haskins, completed her certificate requirements with us. Her class was joined by Ms. Rosenglick to celebrate her success and accomplishment. Good luck Kim!!
Health Science
The first Medical Assisting student, Jackie Gosnell, finished her 160 hour practicum this week!
Hospitality & Tourism
The Tech Dining Room will be open beginning Tuesday January 15 with buffet style dining only. For only $4.75, you will have your choice of salad, entrée, vegetable, starch, dessert and a drink! The student center continues to be open for the regular yummy fare!
Blodgett Equipment Purveyors will have their restaurant equipment show truck on the LTC main campus Thursday for an open-house experience. What a great opportunity for our students, graduates, business partners, and the local restaurants to come and tour the truck.
Chef Aro has found fame (unfortunately, not yet fortune) on YouTube. Check out his videoopens in a new window.
Human Services
The week before Winter Break, the Cosmetology students decided to hold a "Spirit Week." On Tuesday, December 18, they celebrated "Hat Day."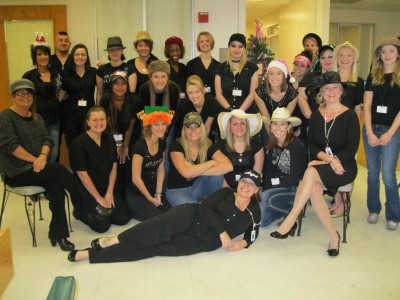 opens IMAGE file
opens IMAGE file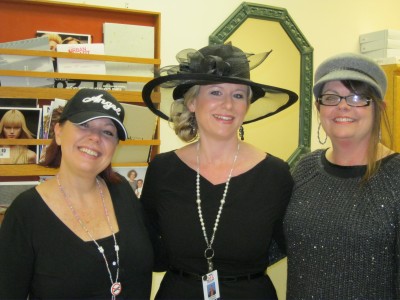 opens IMAGE file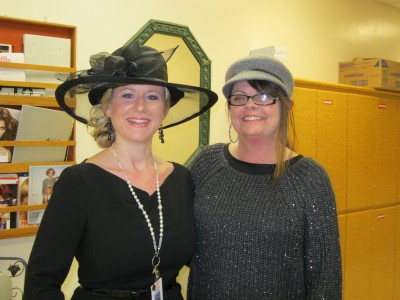 opens IMAGE file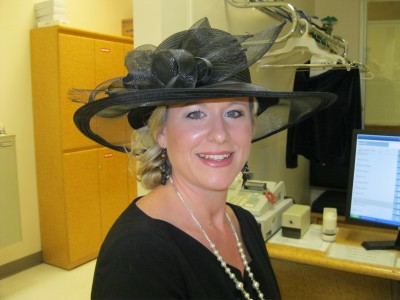 opens IMAGE file
On Wednesday, in honor of and in memory of the Sandy Hook Elementary School family, the Cosmetology students and instructors from Lake Tech made cards, posters, and sent this picture from our family to theirs.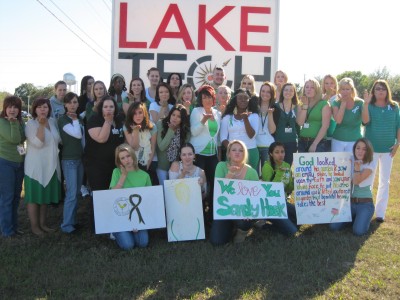 opens IMAGE file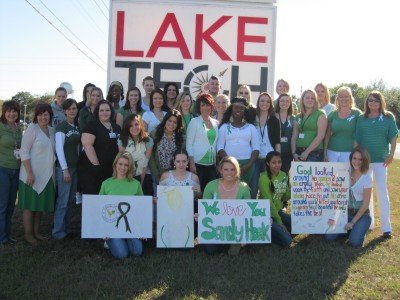 opens IMAGE file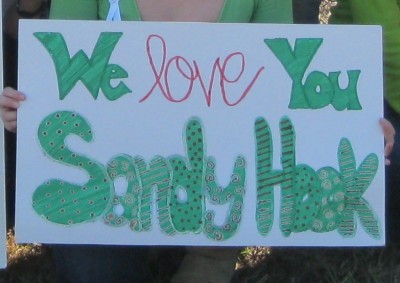 opens IMAGE file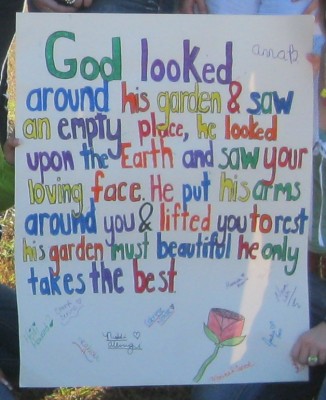 opens IMAGE file
On Thursday, they dressed as a character from a holiday movie or show. On Friday, they dressed festively for the holidays. In addition, they held a Pecha Kucha Party in their classroom!
Law, Public Safety & Security
The Combat Fire Fighter Challenge will be held again this year on April 13! If you attended last year, you will remember the fun and excitement at this event. Put this date on your calendar NOW!!
We are preparing for the upcoming Fire, Law and Corrections Academies and looking forward to a new group of Recruits.
Career Pathways and Adult Education
The GED main classroom is a very productive place for students and instructors. We celebrated eight students' successes when they showed academic growth on the TABE. Several AAAE students earned program exit TABE requirements so they are starting their program on January 22nd!
One student has been working for several years on increasing her academic skills so she could pass her GED. This student started the morning class in August and became immersed in the Career Pathways concept with the initial career goal of being an EMT. Her success is an example of hard work, determination, team work combined with effective career coaching. She passed the GED exam in November. Next, she wanted a short training program so she could go to work, since she has a young child and her husband is disabled. Unfortunately, she needed a higher score on the TEAS exam so she could interview for EMT. So, our team came up with career plan B – Medical Assisting and plan C – Patient Care Tech. Since she wanted to do patient care, work in a hospital, and eventually be a nurse, we strongly encouraged her to pursue PCT. She met with Ms. Girard and became more excited and decided on PCT. This student was also in economic need and met with the admissions and financial aid team. She raised her TABE scores so she would meet the exit requirements, qualified for financial help, and officially enrolled in the PCT class! We are so proud that she will start her program on January 22nd!!
The ESOL students who attend classes at the Cooper Library in Clermont made presentations about their countries of origin. Some presented using PowerPoint and others used poster boards. The students brought in props, music, and even made special dishes to share. They were exceptional!!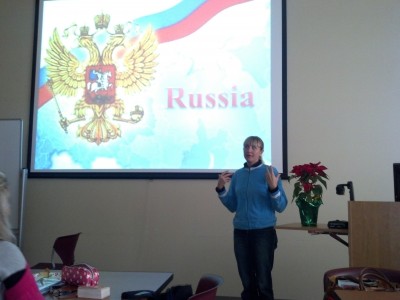 opens IMAGE file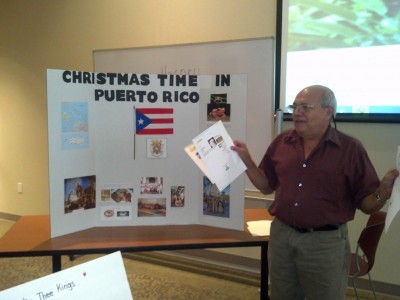 opens IMAGE file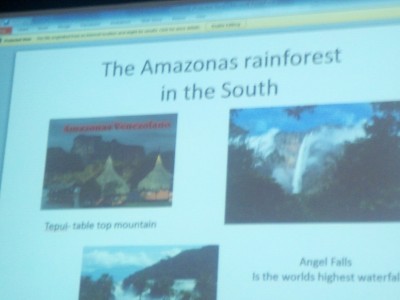 opens IMAGE file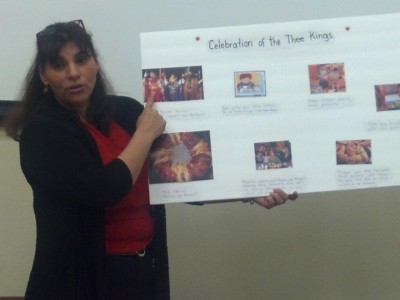 opens IMAGE file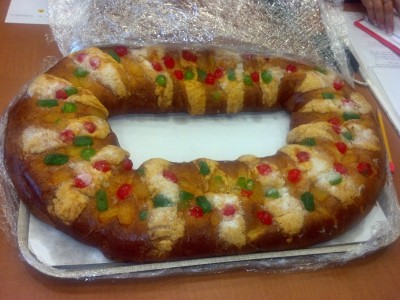 opens IMAGE file
Three online adult education teachers finished the "Teaching Blackboard Online Course – 20 Hours". They were: Lauren Harris, Terri Hedrick and Wesley Thomas. Congratulations to them!
Check out the career pathways blogopens in a new window post this week.
Staff Development
What's Stress Got to Do With IT?? A Virtual Event
Think you're the only one stressed out these days? Think again! Your adult students are probably experiencing just as much stress in their lives. This webinar will introduce adult basic education practitioners to the effects of chronic stress on their adult learners. It will also explore practical strategies teachers can integrate into their curriculum to help students address their stress for more effective learning. The facilitator, Lenore Balliro, will draw from her experience directing the Managing Stress to Improve Learning project, an interdisciplinary model drawing from mind-body practices, visual arts, drama, music, humor, and collective action as ways to help students improve the quality of their learning, mental health, and well-being.
FRIDAY, FEBRUARY 8, 2013
2:00 PM – 3:00 PM EST
Sign up here: http://www.surveymonkey.com/s/stressfeb82013
Student Affairs
Mr. and Mrs. Giesemann awarded scholarships to four Lake Tech students in memory of their daughter Susan who was a US Marine Corps Sergeant, who with her unborn son Liam, was killed when struck by lightning. Her dad writes a blog and this is his postingopens in a new window. You will enjoy the story.
Tech Tips of the Week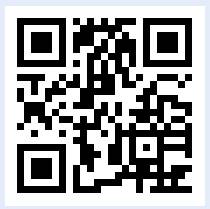 In and Around the Community
The Florida SkillsUSA Board of Directors held their meeting at Lake Tech on Saturday, January 12.
LTC and the IPS received PERFECT inventory audits. In addition, the district sent a special thank you for the good work of both Bob Zehner and Bill Johnson. Thanks guys!!
Robert Chandler, Economic Development Coordinator for Lake County will meet with Diane Culpepper on Tuesday, January 15.
The Adult Education Honor Society Induction Ceremony will take place on January 17.
CEO Manufacturer's Roundtable Session will meet on February 28 at Lake Tech.