Lake Tech Will Shine at Two Big Events in the Weeks Ahead
On November 12, Career Night will take place from 5-7 pm on both the Main Campus and on the Institute of Public Safety Campus. This event will provide an opportunity for high school seniors to bring their parents and family members to see the programs available at Lake Tech.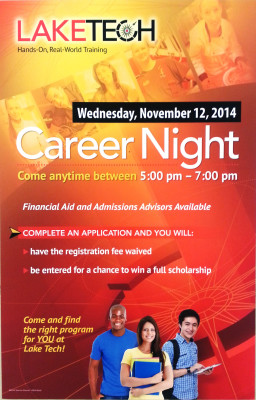 opens IMAGE file
On November 18, Partners for Success will be held in Clermont. This event will allow our students to showcase their programs to the Lake County business community.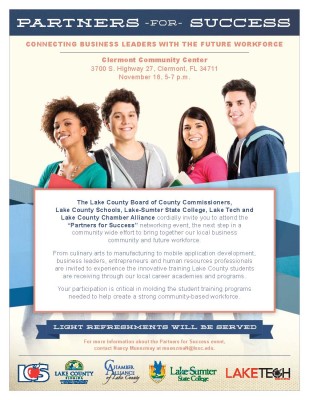 opens PDF file
Academic Affairs
Business Management & Administration
Accounting Operations / Administrative Office Specialist – This has been a very busy week for our two Business programs as we continued our plans for the high school "Showcase." One of the hardest tasks was to determine which of our many activities to showcase. We selected six different topics to be part of our presentation and then chose which students who would participate in each team. Then the fun began as each team took ownership of their individual topics.
As a class we focus on "Continuous Improvement" — the art of making something better. As we prepared for Showcase, the students noticed that some programs had set up a table in the commons area. We did not have one. They went to work and developed a Business Class table representing Accounting Operations and Administrative Office Specialist. On Friday, our students had one of the first tables set up in the commons area! We were able to share information about our classes with many of the high school students; even those who did not sign up to see our Showcase.
During the Showcase our students enjoyed the interactions with the high school students. You could feel it in the energy level, hear it in the conversations and laughter. The fun and excitement was contagious. The time went by so fast! Everyone benefited from this Showcase.
A special thanks to the following teams members who made this happened:
Dragon Software: Jessica Pantoja and Jessica Sarabia
Advanced Excel: Brandon Goff and Kassandra White
QR Codes: Brandi Baker, Maralee Whipp, and Carol Glisson
QuickBooks: Samantha Combee and Karen Horton
Microsoft Certification: Kasey Steele, Johanna Sanchez, and Kristen Sparks
Advanced PowerPoint: Brandi Mullens, Dominique Hutto, and Jordon Steel
Bus Greeters: Denise Ball and Tiffany Thompson
Showcase Setup: Jacob Johnson
Support Team: Natasha Araujo, Takezia Cobert, and Kamia Manning
Ambassador: Ana Delgado
Greeter: Jorden Steele
Also, a big thanks to Ms. Barousse, from the University of Central Florida. She was extremely helpful in making this event successful. Job WELL DONE!
And the answer to last week "trivia" question: "What is the only baseball position NOT mentioned in Abbot and Costello's "Who's on First." The answer: Right Fielder.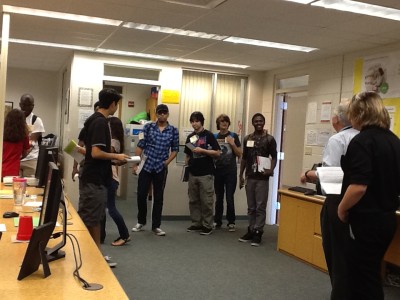 opens IMAGE file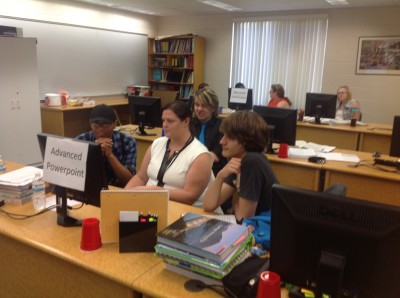 opens IMAGE file
opens IMAGE file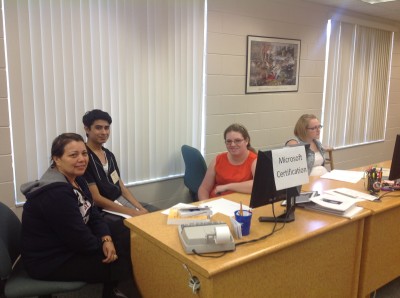 opens IMAGE file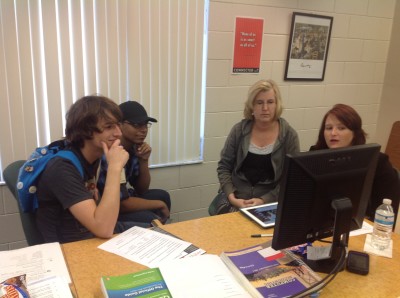 opens IMAGE file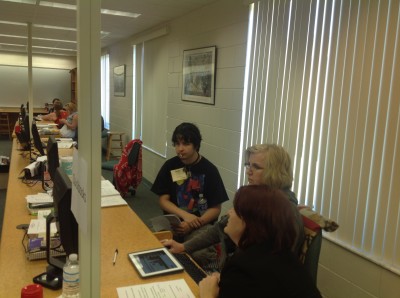 opens IMAGE file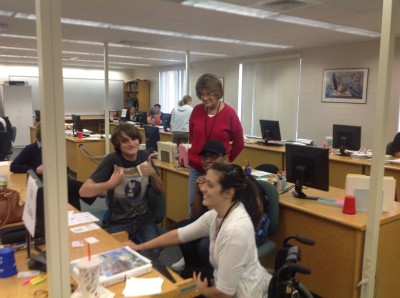 opens IMAGE file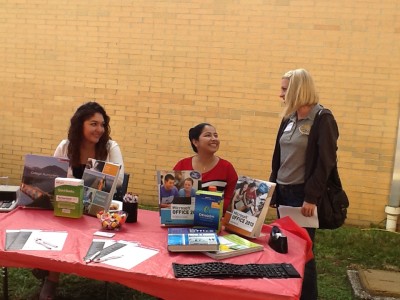 opens IMAGE file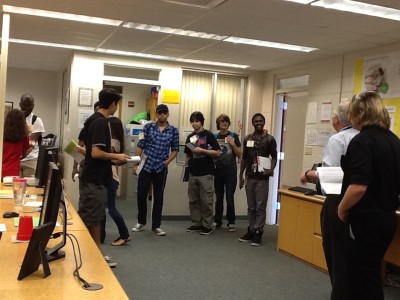 opens IMAGE file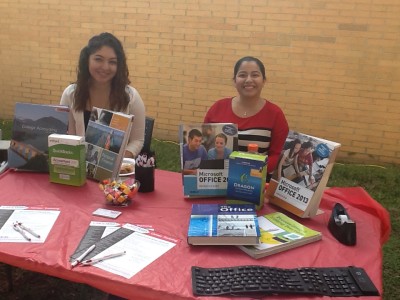 opens IMAGE file
Health Science
EMS, 911 Public Safety Telecommunications Program (PST) – 911 PST Instructor Danae Stewart talks with high school seniors from East Ridge High, South Lake High, Lake Minneola High, and Tavares High during the 2014-2015 Lake Technical College Showcase event. Ms. Stewart described the critical skills and abilities needed to become a 911 dispatcher.
Medical Assisting – The Medical Assisting students participated in the Showcase Event on Thursday and Friday. The new students served as "cheerleaders" welcoming the high school students to campus. Even the counselors from the high schools enjoyed learning about the Lake Tech programs!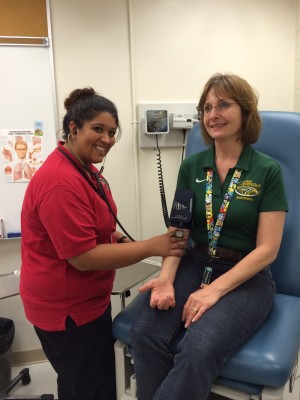 opens IMAGE file
Practical Nursing and Nursing Assistant – The Part-Time Main Campus Practical Nursing class will graduate on November 14.
One of the best ways to learn is to teach. Students from the Practical Nursing and Nursing Assistant programs shared what they have learned with the high school seniors who were visiting Lake Tech this week.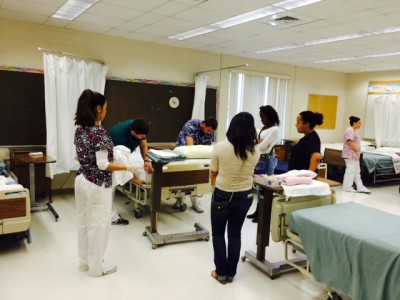 opens IMAGE file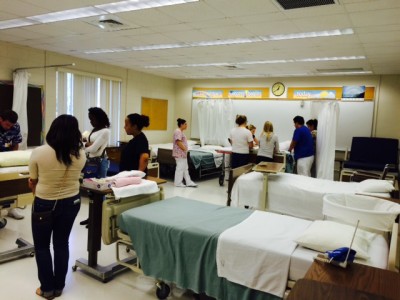 opens IMAGE file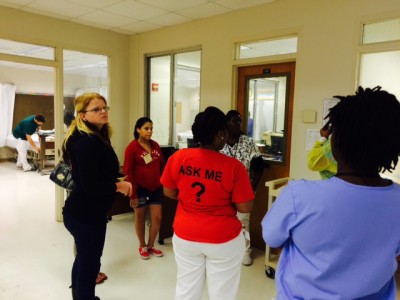 opens IMAGE file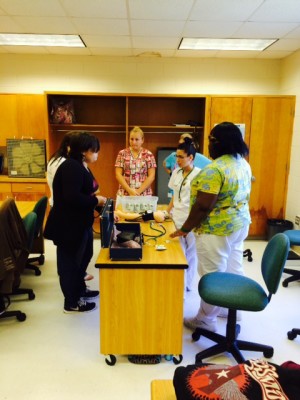 opens IMAGE file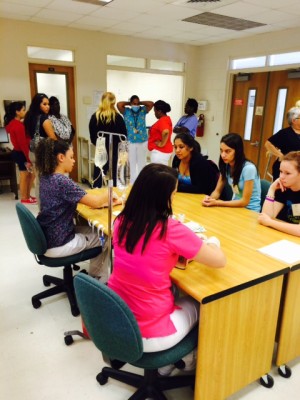 opens IMAGE file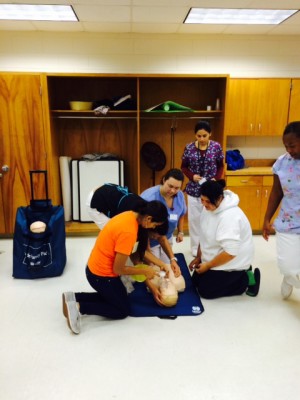 opens IMAGE file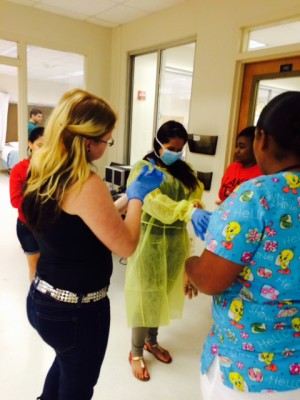 opens IMAGE file
Human Services
Cosmetology – Last week was full of excitement with showcase. The students were glad to show off their skills and talk with perspective new students about the field of cosmetology. For showcase, we set the lab and nail area with stations so the students could experience different things such as foiling, scalp treatments, roller sets, braiding, and many more industry-related skills. All stations were set as hands on and many of the high school seniors got to "get their hands" in some hair! It was a great event!
The Freshman are working on acrylic nail services with Mrs. Ancona, while the junior and senior students work hard to finish skills and testing.
Greer Gordan and Miyoshi Chambers decided to run for various SkillsUSA Officer positions. Mrs. Whalen took time to promote Jeans for Troops which is being held Monday November 10th.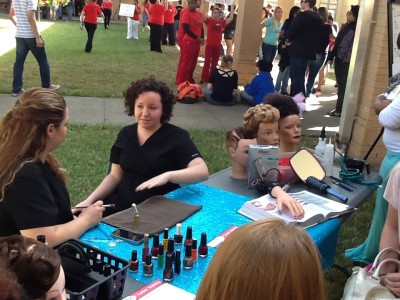 opens IMAGE file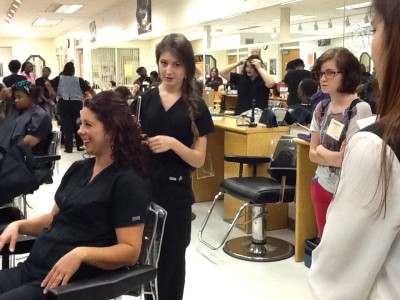 opens IMAGE file
opens IMAGE file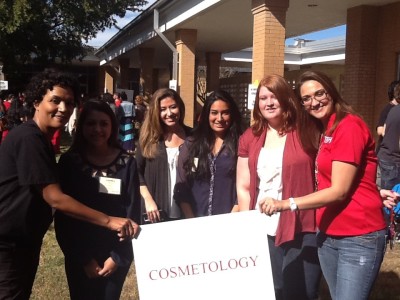 opens IMAGE file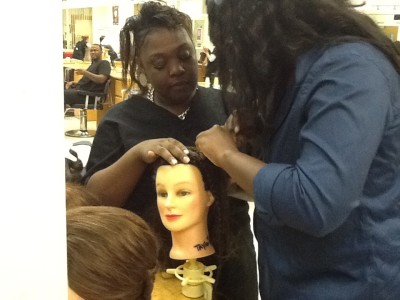 opens IMAGE file
opens IMAGE file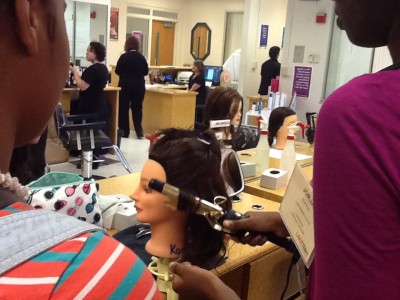 opens IMAGE file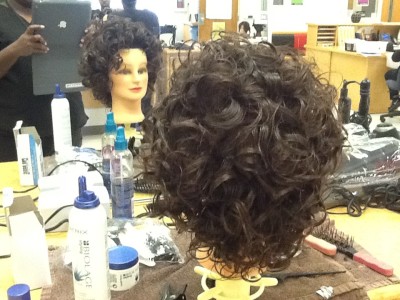 opens IMAGE file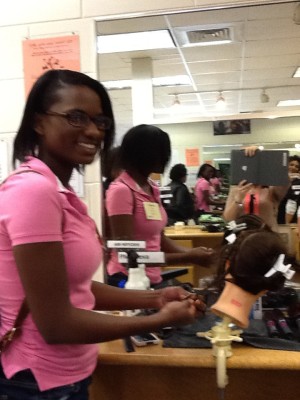 opens IMAGE file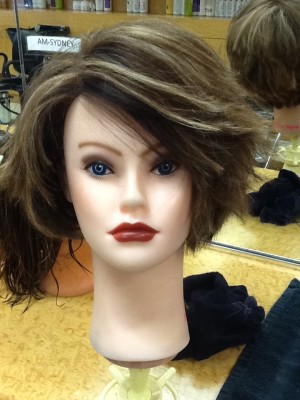 opens IMAGE file
Law and Public Safety
Fire Fighter – The semi-annual PT Challenge was held November 4 at the Institute of Public Safety. As usual, the Fire Fighters won the Challenge against the Law Enforcement recruits. The Challenge took place on the FDLE physical fitness course designed for and used by the Sheriff's Office, local law enforcement agencies, and our recruits.
The Fire Fighting students in Class #112 is really getting into the fun part of the class. This week they practiced in the burn building, the LP gas pit fire, a car fire, and a ruptured LP gas tank fire. The highlight of the week was repelling from the 6th floor of the training tower.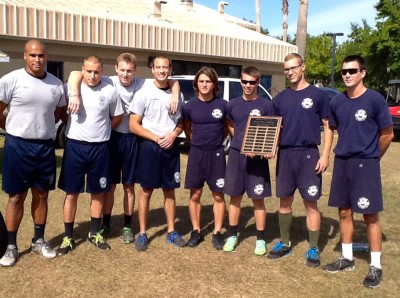 opens IMAGE file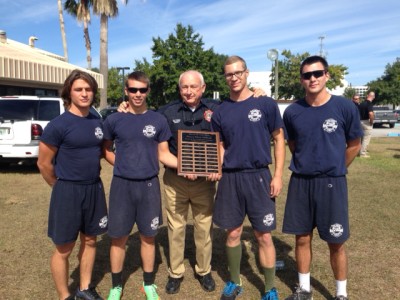 opens IMAGE file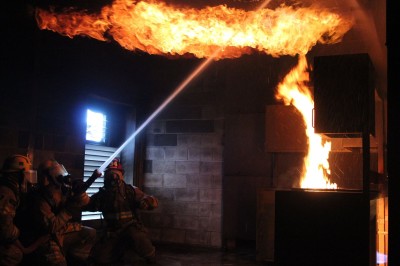 opens IMAGE file
Law Enforcement – Day Law Enforcement is currently in their WMD block of instruction. Night Law is in Defensive Tactics and still taking a steady dose of pain killers.
Transportation & Logistics
Automotive Service Technology – Students had a great time showcasing our program and getting all the high school students engaged and entertained. The students also managed to get their hands dirty with all the different projects they've got going on!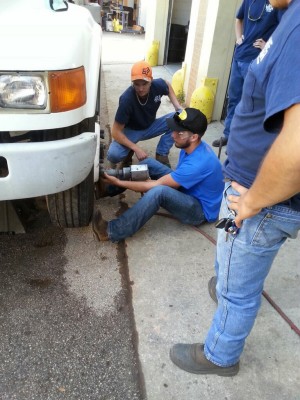 opens IMAGE file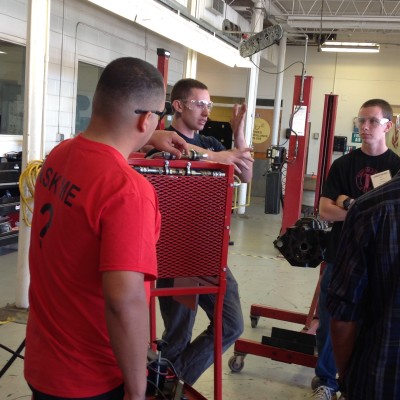 opens IMAGE file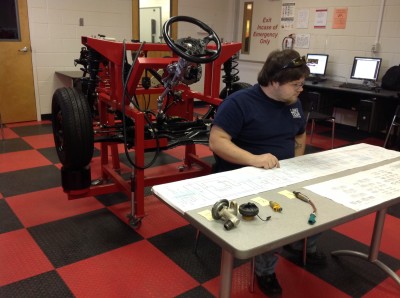 opens IMAGE file
Diesel Technology – The Diesel Technology students shared their skill and techniques with the high school seniors who visited this week. The high school students had a chance to take apart turbochargers, air compressors, and even changed tires on one of the trucks.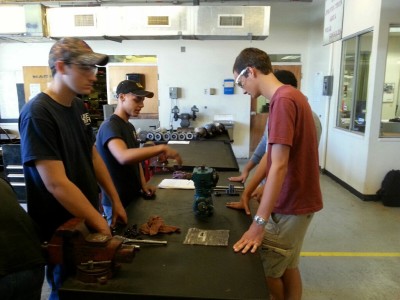 opens IMAGE file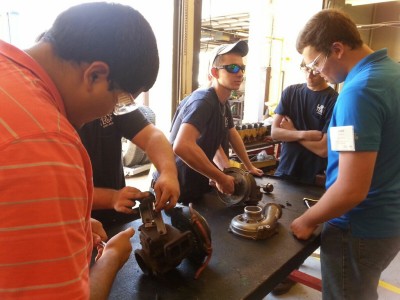 opens IMAGE file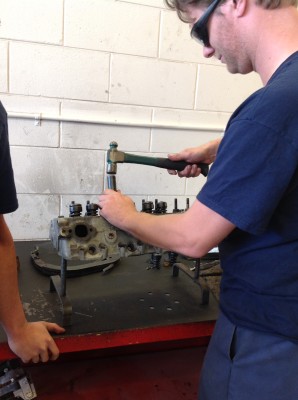 opens IMAGE file
Automotive Collision Repair & Refinishing – The students in the Auto Collision program practiced their creativity and artistic flair on bowling pins, welding helmets, and metal. In addition, one of their students, Matthew Keith, earned his Gold Level Florida Ready to Work certification.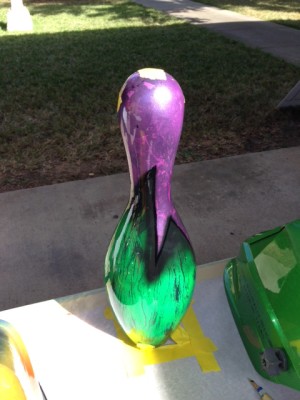 opens IMAGE file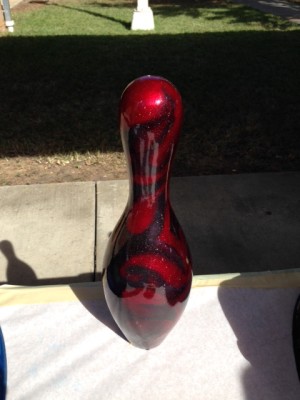 opens IMAGE file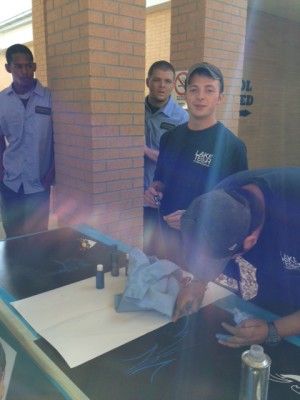 opens IMAGE file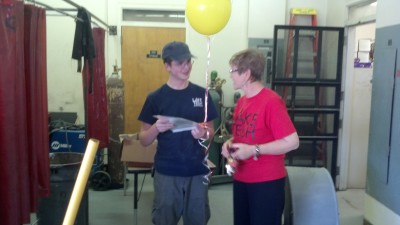 opens IMAGE file
opens IMAGE file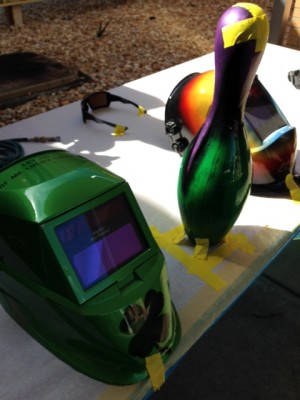 opens IMAGE file
Adult Education
ESOL (English for Speakers of Other Languages) – ESOL students at Lake Tech had the honor of having Ana Maria Moran-Loubriel, President/CEO of United Way of Lake and Sumter Counties, Inc., as a special guest. Ms. Moran-Loubriel shared information about United Way and let the students know that she also had to learn the English language. To celebrate literacy, Ms. Moran-Loubriel read a children's book to the class and expressed her interest in teaching literacy to young children. Ms. Moran-Loubriel encouraged students to read to their children, noting that this is a great way for the students to practice their English.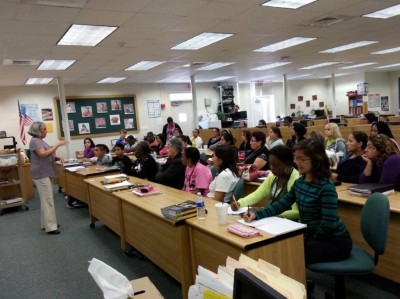 opens IMAGE file
Student Affairs
The Career Success Center is open on Mondays (11 am until 6:30 pm), Wednesdays and Fridays (8:30 am until 4 pm). Services offered include developing and refining resumes, cover letters, and portfolios, interviewing techniques, job search assistance, and much more. Please share this information with students and graduates. The Career Success Center is located in Room A-208.
Job Search Workshop, Room 208A
Monday, November 10, 3:00-4:30
Monday, December 15, 3:00-4:30
Using Social Media to get a Job, Room 208A
Monday, November 17, 3:00-4:00
Please sign up by contacting Ms. Rosenglick via phone or email.
Dr. Sherie Lindamood is serving as the Student Success Counselor this year. Please invite her to speak to your classes about stress management, study skills, and test taking strategies. She will be spending Tuesdays at the Institute of Public Safety so students on that campus will have the opportunity to utilize her services.
In the Community
Kathy Roberts and Heidi Peters represented Lake Technical College at the "Taste of South Lake Event" in Clermont on November 6. They talked with many South Lake residents who were interested in the exciting career programs offered at Lake Tech. Heidi scheduled appointments for testing and registering new ESOL and GED students for Lake Tech South in Mascotte and the Clermont Goodwill.
It was a fun evening and especially nice to have people stopping by to tell their "story" about getting their GED and/or Industry Certification at Lake Tech!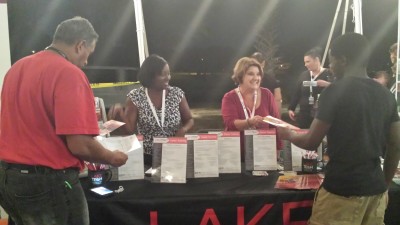 opens IMAGE file
Diane Culpepper attended the Metro Orlando Economic Development Event in downtown Orlando on Wednesday evening. The EDC represents Orange, Osceola, Seminole, and Lake Counties.
This week, she will attend the Manufacturing Association of Central Florida's Annual Fall Dinner. Lake Tech will also be an exhibitor at the event showcasing our Center for Advanced Manufacturing.
Tech Tip