Lake Tech Receives $5,000 from Mt. Dora Community Trust!
Lake Tech
has been awarded a $5,000 grant from the Mt. Dora Community Trust. The funds will help provide scholarships for adult education tuition, GED test fees, and scholarships for GED graduates to enroll in CTE programs at
Lake Tech
via Career Pathways. The funds are for students who reside in Mt. Dora and the surrounding area. Thank you Mt. Dora Community Trust!
Academic Affairs
Health Science
It takes a village. That saying is so true when it comes to the new Medical Assisting program. A lot of help came from everyone to get this program off the ground, from the business office, admissions, counselors, custodial staff, technology department and instructors Sonya Rosenglick and Kerrie Johnson and, of course, the wizard of the healthcare department – Sue DeMoss. The new Medical Assisting class started on Tuesday, October 25. Sixteen students began their journey with instructor Beth Thornton. Melissa Stephan and Elise Veremakis greeted the students with encouragement and Melissa offered a reading about success. The students are excited about the hybrid program that is full time but allows flexibility in learning formats. The students were very impressed with the tour of the campus and Chef Ken for speaking to the group when they came to the cafeteria.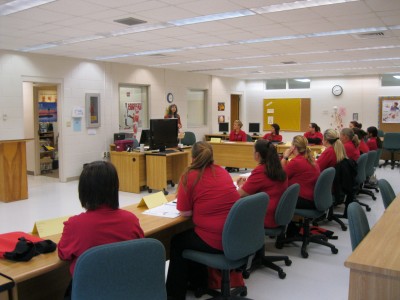 Hospitality and Tourism
Students in the
Culinary
program were busy carving pumpkins this week. Talent abounds in this department!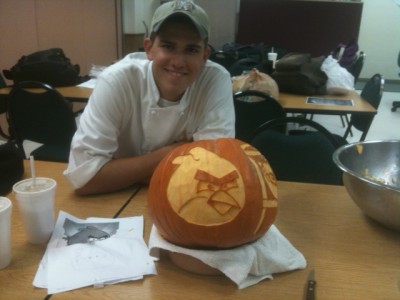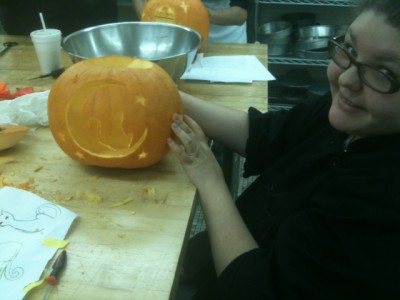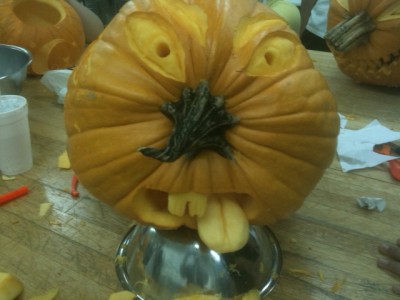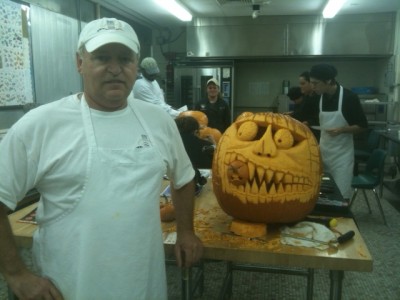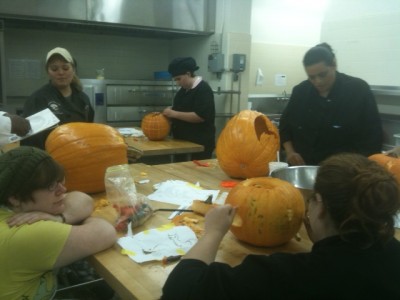 Human Services
The
Cosmetology
instructors are very proud of their program. Students learn about the various techniques and processes (cutting and coloring hair, applying makeup, setting perms, facial treatments, manicures, and pedicures to name a few) in the profession. However, did you know that the students also learn how to run a business and become an entrepreneur? During their program, they apply their training in the full service
Lake Tech Salon
working in all aspects of the business including receptionist, inventory clerk, stylist, and manager. As a culminating project, the students create their own salon and learn the nuts and bolts of starting and running their own businesses.
This week, the instructors have submitted their entrepreneurial project that they call
"Innovative Cultivation Beauty Enterprise"
for a Leavey Award which is presented to instructors who teach about the free enterprise system in a unique and innovative way. They definitely deserve to win – so keep your fingers crossed.

Law, Public Safety & Security
The PT Challenge was held last Monday and it was once again the Law recruits versus the Fire Fighting recruits. What was different this time was that in addition to their classmates cheering them on, the entire Lake Tech faculty and staff was on hand to cheer as well. The Challenge was conducted in a relay format with running, climbing the tower, dragging the 175 pound dummy, and carrying the fire hose. The winner – Fire Fighting with a time of 3 minutes and 15 seconds. The Law recruits completed it in 3 minutes and 18 seconds. Afterwards, everyone enjoyed a cookout of hamburgers, beans, and potato salad!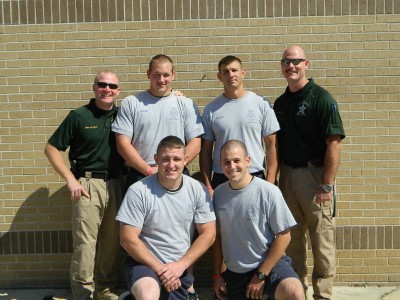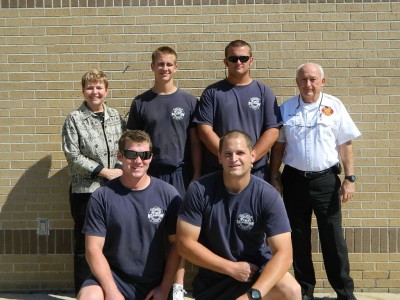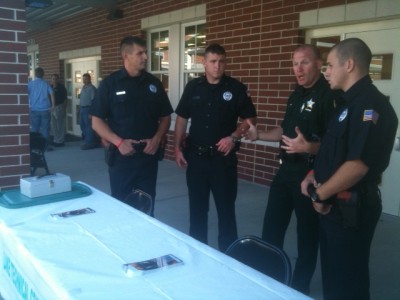 Adult Education
The Adult Education Department was happy to be represented at the "Education Innovations" event at Lake Minneola High School. We had our own table, and were proudly showing off the successes of Adult Education for all who stopped by. The success of Adult Education is dependent upon all of us doing our part to be ambassadors for our program. As we grow our presence throughout Lake County, it is vital that all of us know about where students can find our classes. We are learning that some students are driving into Orlando because they simply did not know that we had classes near them. Obviously, we want them to know about our classes! We have Adult Education classes in Eustis, Clermont, Four Corners, Lady Lake, Lake Mack, Leesburg, Mascotte (coming soon) and Online (anywhere). If you know someone who needs a high school credential (45,000 adults 25 years or older in Lake County do!) or desires to learn English, tell them about our program.
Transportation and Logistics
Auto Collision students continue their creative streak! The newly painted car hood turned out great. In addition, students are learning to restore headlights back to their original luster.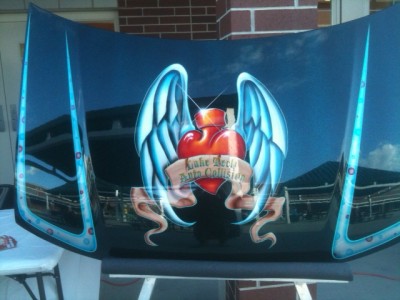 Student Affairs
Is Dr. Sherie Lindamood ready for the Halloween?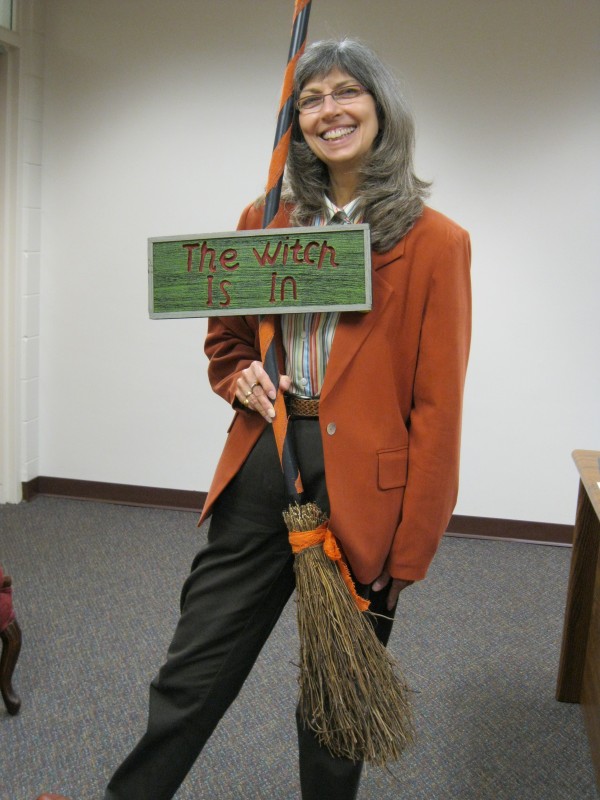 Marketing
Tuesday evening, Lake Tech participated in the Lake County School's Education Innovations which was held at Lake Minneola High School. This event allowed us to show off the variety of our programs to the high school students, their parents, community members and local business and industry participants. It was a great event which was held outdoors. The weather was perfect.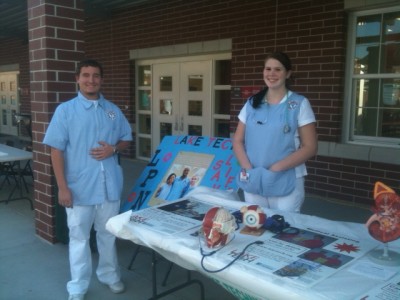 Only 17 more FaceBook Fans to go to reach 500 by Thanksgiving. Remind your students, business partners, family, friends, and relatives to "Like" Lake Technical Center! Each Monday, check out the MMT (Monday Morning Trivia) contest and see if you can guess the answer!
Staff Development Opportunities
The Online Course Schedule presented through the Florida Department of Education has been updated on the DOE websiteopens in a new window. The six-week programs include 18 hours of weekly online lessons and weekly live sessions that once successfully completed, earn the participant 60 recommended in-service points.
Registration is to be completed online through the FACTE websiteopens in a new window or the OCPS websiteopens in a new window. Participants will be provided a complete course syllabus upon enrollment.
Community Involvement
Diane Culpepper represented Lake Tech at the Leesburg City Commission workshop on Monday, October 24. The purpose of the workshop is to discuss the Florida Energy and Aerospace Technology Park (FEAT) project. As the City of Leesburg moves forward with bringing aerospace and aviation jobs to their city, there are opportunities for Lake Tech to offer industry specific training programs that will support the future industry. Check out the details at the Leesburg.gov websiteopens in a new window.
Bob Zehner and Diane Culpepper met with the owner of Syng, Inc in Mt. Dora. The topic of discussion was how we might partner to provide technical training to people interested in network support, cabling, fiber optics, etc.
What's Next?
Fall National Technical Honor Society Induction Ceremony on November 17 at 9 am.
Plans are underway to create TEAS Test Prep classes to help prepare those students interested in the nursing or paramedic programs.
Florida's Tech Centers have been advertising in the Florida Trend's NEXT Magazine. Interested students are able to request information from their local tech center. We are following up with those who are interested in Lake Tech through our Admissions Department.