In the Weeks Ahead at Lake Technical College
College Fair at LSSC, October 5
Professional Skills Seminar #1, October 6
Manufacturing Career Fair, October 8 at Lake Square Mall
Turn Lake Tech Pink Day, October 15
Academic Affairs
Arts, AV & Technology
Digital Design – Student Matt Valentine will begin an internship with Silverline Graphics in Leesburg. Matt will be learning how to run a wide format printer for posters, banners, etc. and assist in their art department. Congratulations to Matt!
The new Digital 1 students completed their first design today – a custom birthday card for Ms. Rosenglick.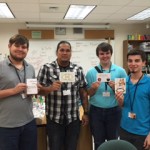 Health Sciences
Medical Assisting – Many of the Lake Tech Medical Assisting students have the opportunity to complete their externships at the Villages Health. Current student Kendra Rosser was practicing giving an injection to a Lake Tech Alum who now works at the Villages Health full-time.
The Medical Assisting students love to celebrate each other's successes with a potluck!
Practical Nursing – Last week, Instructor Patty Moyerman's students surprised her with a pirate-themed "Welcome Back/Tumor Free" party. Patty recently underwent surgery, has recovered and has returned to her students. She commented, "Is it any wonder I walk around school bragging about how wonderful my students are? How lucky am I."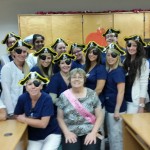 Nursing Assistant – The first group of nursing assistant students graduated on Wednesday. They will be back on Monday and Tuesday to prepare for their state boards. Congratulations to all of the students and to instructor Joanne Nieves.
Hospitality & Tourism
Commercial Foods & Culinary Arts – Culinary students have been venturing into molecular gastronomy. We made our vegetarian burger with faux ketchup, mustard and pickle caviar! Keep looking for our incredible lunch specials!
Human Services
Cosmetology – The Cosmetology students are learning a variety of new skills from acrylic nail application to the color wheel and color theory.
Information Technology
Computer Systems & Information Technology – Instructor Aramis Martinez had the opportunity to go on a "field trip" with the South Lake Chamber Technology Committee. They toured Factur, Orlando's new maker space. This space is a workshop/hang-out for people who build or invent things. There is a lot of emerging technology in the space including 3-D printers. Next, they toured the Dorothy Lumley Melrose Center which is a center for creativity and technology. They offer over 1,000 classes per month in video and audio production, photography, fabrication, simulation, and computer software including Photoshop, programming, web design, and the Adobe products. Last they visited Canvas which is a nonprofit co-working space for tech startups.
For more information, check with Aramis or access the websites:
Factur.orgopens in a new window
Tic.ocls.orgopens in a new window
Canvas.orgopens in a new window
The new CSIT program is enrolling students now for an October 22 start date. Students will be prepared for A+, Net+ and Security+ certifications.
Transportation, Distribution & Logistics
Automotive Collision Repair and Refinshing – Instructor David Beliveau made a visit to Samuels Collision in Orlando where student Elena (Leni) Casares is working. She was excited to show Mr. Beliveau around the shop so he could see what she was learning during her work experience. Lake Tech has three other graduates employed at Samuels Collision and we are proud to call them a partner! One of the Lake Tech alum has worked there for almost 10 years.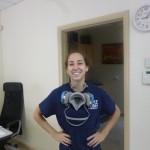 Adult Education
GED Prep – This week it was all about fractions and the Scientific Method. Mrs. Avelli taught the basics of fractions, and students practiced all week with various activities and worksheets. This is a concept with which many students have difficulties, and most haven't done this since middle school. Fraction foundations are quite important in everyday life; although, many don't realize they are using it. This is also important for performing higher Math or Algebra 2 problems.
GED students participated in lessons and discussions about the Scientific Method. Then Mrs. Netherton had students apply what they learned by working together in pairs or small groups and coming up with an experiment. Each group had to record the experiment's hypothesis, materials, procedures, and independent/dependent/control variables. One pair of students came up with a question, "Why doesn't the ocean freeze?" and the pair researched how to make this into an experiment. Over a two day period, the entire group tried it. The hypothesis turned out to be correct; although, we as a class want to try it again using other control variables. One of the students was so excited about his research that he taught the other students more details about the subject!
Student Affairs
Lake Tech students, faculty and staff celebrated September 30 as "Thank the Police Blue Ribbon Day" by purchasing beautiful bows created by Yvonne Pruett. All proceeds from the sale of the bows go towards SkillsUSA.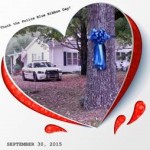 The first Professional Skills Seminar, "Charting your Course – Professional Skills for Success" was held on October 6. The presenter was Ms. Nancy Muenzmay who serves as the Director of the Business Incubator Programs at the Lake County Business Opportunity Center.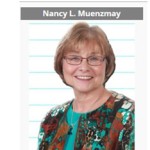 Your students might be surprised to learn what the employers are looking for when they hire. There were two sessions, 9 am and 1 pm, in the EMS classroom. Students registered with Sonya Rosenglick.
The first meeting of the Student Ambassadors will be held on Monday at 9:15 am in the Board Room with sponsor Kim Frazier.
It is Turn Lake Tech Pink Day on October 15. Pink Lake Tech shirts are available in the Business Office. $10 for Small – Extra-large; $12 for 2X/3X.
Career Success Center Room 208A – The Career Success Center is open on Mondays (11 am until 6:30 pm), Wednesdays and Fridays (8:30 am until 4 pm). Services offered include developing and refining resumes, cover letters, and portfolios, interviewing techniques, job search assistance, and much more. Please share this information with students and graduates. The Career Success Center is located in Room A-208.
Career Success Center Workshops Scheduled for the Fall:
Monday, October 19, 2:45-4:00 pm, Interview Skills Workshop
Thursday, October 15, 2:45-4:00 pm, Linkedin Workshop
Monday, November 9, 5:00-6:30 pm, Resume Workshop
Monday, December 14, 2:45-4:00 pm, Interview Skills Workshop
Please sign up by contacting Ms. Rosenglick via phone, email, or the Career Success Center sign in sheet (beside door) rosenglicks@lake.k12.fl.uscreate new email (352) 589-2250, ext. 1855, Room 208A.
Professional Skills Seminars

Professional Skills Seminars – Attend the four Professional Skills Seminars this year to find out what employers from our community say about skills needed in Lake County. Did you know that employers in our community need skilled workers who also have soft skills? This is what they said. Come to the Professional Skills Seminars to learn exactly what these employers are saying and what skills you need to know to get hired here in Lake County….directly from them. There will be 9:00 a.m. and 1:00 p.m. sessions on the following dates:
Tuesday, December 8
Wednesday, March 9
Tuesday, May 10
Sign up via your instructor.
The Lake Tech Financial Aid Office has a Facebook page! Tell your students and those interested in financial aid as well as scholarships to Like Lake Tech Financial Aid Office.
In the Community
Ike Powell and Nilda Blanco from CareerSource Central Florida spent the afternoon at Lake Tech on Tuesday touring the programs and learn more about us.
Kim Frazier represented Lake Tech at the Goodwill Job Fair in Clermont on Thursday.
Tech Tips