IN THE WEEKS AHEAD AT LAKE TECHNICAL COLLEGE
Fire/EMT Combo Graduation, January 22, 7 pm, Tavares Middle School
Special Board of Directors Meeting, January 29, 1 pm, Board Room
Lake Tech Staff Alumni Association Breakfast, February 6, 9 am
Nursing Assistant Graduation, February 13, 11 am
GeorgeFest Parade, February 24, 8 am
TechXPO, March 12, 5-7 pm, Main Campus
Partners for Success, March 28 pm
AND WE ARE IN!!
The Center for Advanced Manufacturing is Open and Students are Enrolled!
ACADEMIC AFFAIRS
ARCHITECTURE & CONSTRUCTION
HVAC 1 & 2 – Visitors from Florida State College in Jacksonville, Polk State College, and Orange Technical College will be on campus Tuesday and Wednesday to visit the HVAC/P3 program. This unique program at Lake Tech allows students who do not have a high school diploma to enroll in the HVAC program and work on both their GED prep skills and their technical skills in an integrated fashion. This model has proven to be very successful with the Lake Tech students, so educators from around the state are visiting so they will be able to implement it at their institutions. We are proud to share our best practices with them.
BUSINESS, MANAGEMENT & ADMINISTRATION
Accounting Operations / Administrative Office Specialist – One of the most rewarding events of our school year is our opportunity to work with the United Way of Lake and Sumter Counties on the VITA program. VITA, or Volunteer Income Tax Assistance program, allows our students to take and complete an IRS Certification class. All of the Accounting and Administrative Office Specialist students participated in the United Way's VITA program this week. They will become IRS certified to voluntarily prepare taxes for clients in February and March of this year. VITA is a great way for the students to interact and interview clients while preparing their taxes; it's a great cause and helps the community, and a real positive "tool in the student's tool-belt".
HEALTH SCIENCE
EMS – Several EMT students volunteered to participate as "patients" in a mock mass casualty incident scenario (MCI). The MCI was set-up by Lake EMS for promotional testing. Students were moulage with fake injuries to make the scenario appear more real. Thank you Stephanie Scilabro, Lace Napper and Susan Reed (not pictured).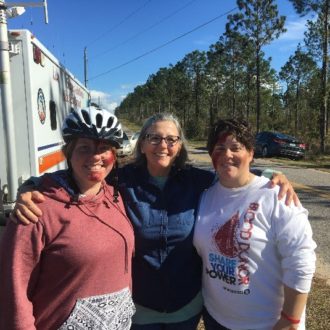 opens IMAGE file
The EMS Program Department is pleased to welcome 25 new students to the Paramedic program which began January 10, 2018. The program is 1100 hours and provides academic standards and relevant technical knowledge and skills needed to prepare students for employment as paramedics.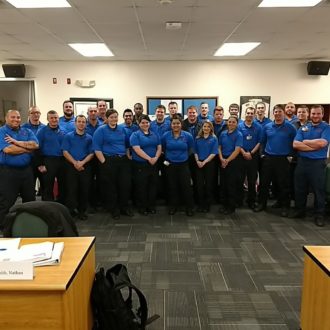 opens IMAGE file
Medical Assisting – Medical Assisting students are practicing their records management skills. Preparing patients' charts is an important job of the medical assistant.
Nursing Assistant – Can you guess what she just did? She passed her state exam and is now a Certified Nursing Assistant!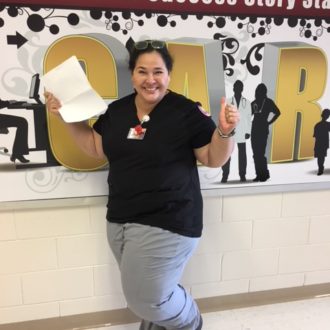 opens IMAGE file
HOSPITALITY & TOURISM
Professional Culinary Arts & Hospitality – Students decorated gingerbread houses during the holiday season. They were on display in the student cafeteria for all to see.
It is that time of year again when students are practicing for the upcoming SkillsUSA Competition.
INFORMATION TECHNOLOGY
Computer Systems & Information Technology / Cybersecurity – The programs received a donation of servers this week from Sand Lake Imaging. They range in age from 2008-2012 and will be great for students to train on, configure RAID, and install and destroy OS. In addition, we also received some 5th and 6th generation firewalls for the students in Cybersecurity to utilize.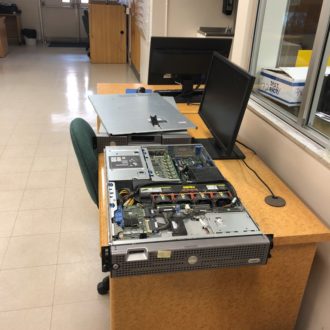 opens IMAGE file
LAW, PUBLIC SAFETY & SECURITY
Fire/EMT Combo – Congressman Dan Webster will be visiting the Lake Technical College Fire Academy on Wednesday, January 24. He is interested in an update on the program and its impact in our community.
Florida Law Enforcement Academy
Graduation for the most recent Law Enforcement Academy was held on December 18 at the Institute of Public Safety. During the ceremony, long-time instructor Barbara Schmidt, was honored for her years of service as she announced her retirement.
These students just finished taking the state Law Enforcement exam and all of them passed! They were waiting for some of their classmates to finish up!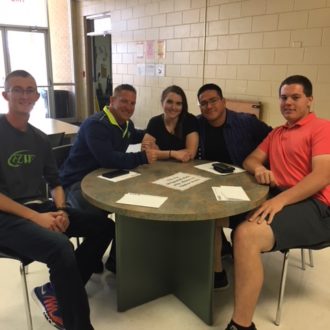 opens IMAGE file
TRANSPORTATION & LOGISTICS
Automotive Service Technology – Students currently are working on the Engine Performance course and convert a carbureted small engine into a fuel injected engine. In the process, they have learned the importance of the various sensors that communicate with the engine computer in order for it to know when and how much fuel to add as well as all the others inputs and outputs necessary to have a good running fuel injected engine. They were pleased and really proud of themselves for being able to wire and attach all the components to make it run.
Automotive Collision Technology Technician – Among the skills students learn in this program, welding is one of them!
ADULT EDUCATION
GED – We recently inducted 78 new members into the National Adult Education Honor Society (NAEHS). This is an honor society to recognize outstanding students who attend classes for: English for Speakers of Other Languages (ESOL), Adult Basic Education (ABE) and GED. Students are nominated by their instructors for demonstrating attributes of dependability, cooperative spirit, and work ethic. They receive a certificate, letters of recommendation and an honor society pin. Those students who complete their high school diploma are also recognized at graduation.
Our guest speaker was Mrs. Laura Ross, one of our ESOL/ABE instructors. She is also an award-winning writer and Poet Laureate! Mrs. Ross had many encouraging and inspiring words for all of us. Congratulations to all the students who were inducted! Who will be inducted next time?
ESOL – What a wonderful time of the year it is…and a busy one, too!! We've taken the opportunity to relish the bright, crisp air, and the many fun activities that have gone along with the season. Our students even managed to sneak in a surprise birthday celebration for Mrs. Ross. Before the break, we enjoyed our traditional multi-cultural Thanksgiving with all its diverse deliciousness. We sampled dishes from Thailand, Argentina, Vietnam, Venezuela, the Caribbean, and many more. What a feast! We also had a festive Christmas celebration complete with games and goodies to eat. Yes, we've had fun, but our students have been working hard as usual.
In Advanced English, we've been studying the complex Perfect Verb Tense, and doing lots of reading and writing. Our students have even started to write their own autobiographies. Our Beginning English speakers are covering plural and singular nouns, and enjoying many opportunities for conversation. We're looking forward to what the new year brings. There is always so much to do and learn!!
ESOL – Clermont Campus – The students presented their role-plays from renting a new apartment to purchasing products in a store. The students have been working on their presentations and they did a fantastic job this week!! They are a truly hard working group and several students are interested in career tech programs at Lake Tech after they complete their ESOL class. We have had lots of food, fun and active learning in our class.
CORPORATE AND COMMUNITY TRAINING
Laurie Bryant, Coordinator for the new Corporate and Community Training Department and instructor Beverly Paff have been working very hard developing a new program for the female inmates in the jail. The idea, developed by LCSO Major Mass, was to provide the inmates with sewing skills so they would be able to sew uniforms, laundry bags, and other items. Learn more by reading this story that was recently published in the Daily Commercial.
STUDENT AFFAIRS
In the Community – Morgan Black represented Lake Tech at the Villages High School Career Fair. She also attended the Tavares Soccer League as we are the shirt sponsor for the teams.
STAFF DEVELOPMENT – Sonya Rosenglick has prepared a series of instructional technology workshops she is calling "Fabulous Fridays." Take advantage of one or more of them so you can implement new tools into your programs.
Formative Assessments
Google Forms, Kahoot!, Socrative
Friday, February 2, 2018, 9 am – 10 am in the Career Success Center
Assignment: Formative Assessment
Maker Space Workshop
Friday, February 16, 2018, 9 am – 11 am in the Career Success Center
Advanced Schoology Tools
Friday, March 2, 2018, 9 am – 10 am in the Career Success Center
Maker Space Workshop
Friday, March 16, 2018, 9 am – 11 am in the Career Success Center
Share Your Project
Friday, April 6, 9 am – 10 am in the Career Success Center (CSC)
Following legislative Issues
Technical College Legislative Platformopens PDF file
Career in a Year – Dataopens PDF file
TECH TIP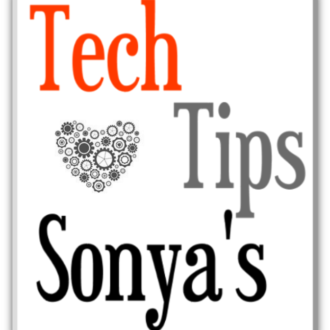 opens PDF file