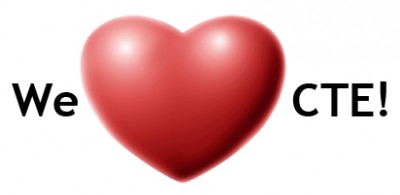 opens IMAGE file
February is CTE Month
Mark Your Calendars!
Advisory Committee Event and Meeting – February 23, 6 pm

PM Nursing Pinning Ceremony – February 24, 7 pm

GeorgeFest Parade – February 25, 10 am (If your students want to participate, ask them to see David Beliveau)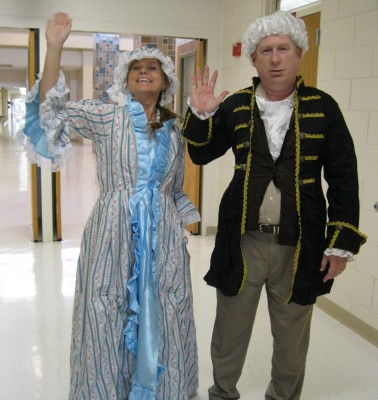 opens IMAGE file
Teacher of the Year Event – February 25, 6 pm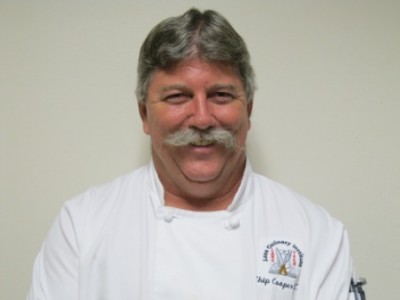 opens IMAGE file
Academic Affairs
Education and Training
For those people thinking about a career as a child care worker… Classes began on January 21. Students can register online at www.myflorida.com/childcare/training. Before registration is complete, payment must be received in Admissions. The cost has recently been decreased (yes, decreased) so check it out! Students must pass a state competency test in order to receive a certificate. Test registration information will be given during the first day of class. Classes meet either Tuesday evening or Saturday and are held at the Lake Tech main campus.
Are you involved in Pinterest? Pinterest is a vision board-styled social photo sharing website where users can create and manage theme based image collections (Wikipedia). Pinterest has hit 10 million US monthly unique visitors faster than any other standalone website ever. Many of the collections are devoted to projects that teachers and especially early childhood education teachers and workers might be very interesting in sharing with others. Childcare Instructor Kathy Roberts came up with a great use for her program. She has created a Lake Tech Early Childhood Education Pinterest account and her students are able to post and share ideas. Pretty cool – check with Kathy to learn more.
Health Science
Students in the Medical Assisting program continue to progress in their program. As students finish a course, instructor Beth Thornton has them move their "key" to the next level on the bulletin board in the classroom. This visual motivates students to achieve and encourages others who are not there yet! This week, three students completed their third course and moved their keys!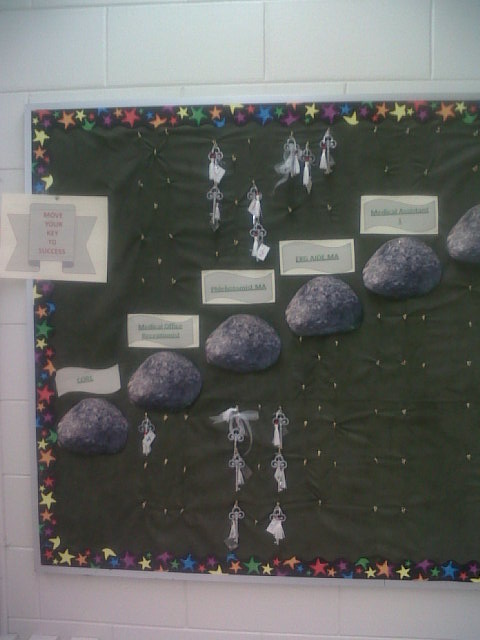 Hospitality & Tourism
Buy a Sweet for a Sweetie!! The Culinary students are making yummy sweet treats just in time for Valentine's Day. Place your orders now for cookies, cupcakes, and chocolate covered strawberries.

opens IMAGE file
Law, Public Safety & Security
Through the Institute of Public Safety, two specialized classes were offered. The first was an Instructor Techniques class that started last week. The second was a class called Special Tactical Problems for Corrections and is being taught at the Lake County Jail.
Day Law is in their Communications block the first half of the day and Defensive Tactics the second half of day. They are very sore, but progressing nicely. Night Law is on the driving range for the first week and doing well, still trying to get some over their fears.
Chief Ron Williams continues to organize and prepare for the very exciting Scott Fire Fighter Combat Challenge which will be held on April 13-15. Mark your calendars today! This is going to be a very exciting event.
Transportation & Logistics
The Auto Collision and Digital Design programs have been working together preparing the float for the City of Eustis GeorgeFest parade. The Digital Design students used their design skills to layout the letters and scroll. The Auto Collision students practiced using the vinyl cutting machine in order to place the letters on the float.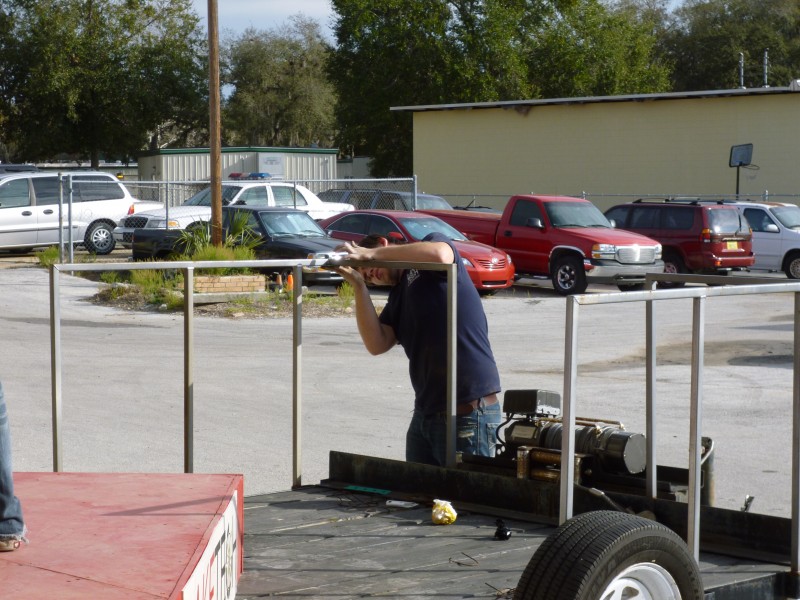 opens IMAGE file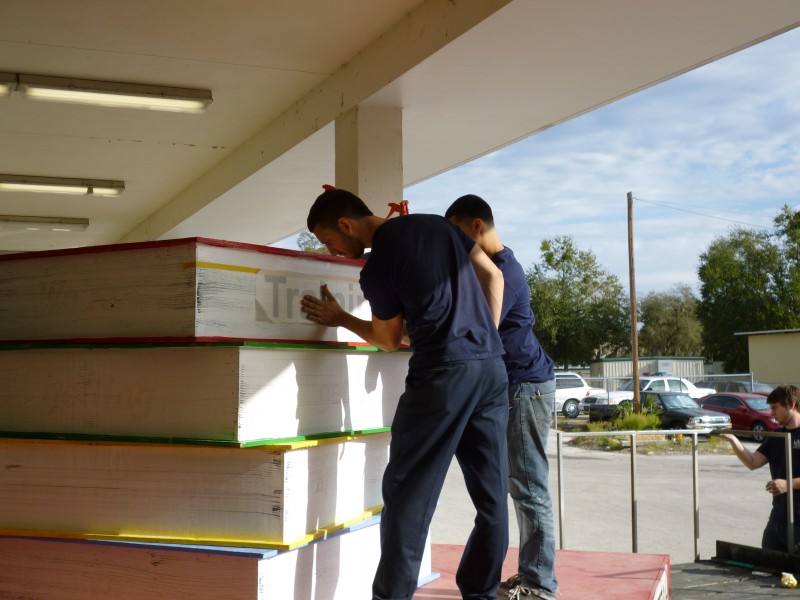 opens IMAGE file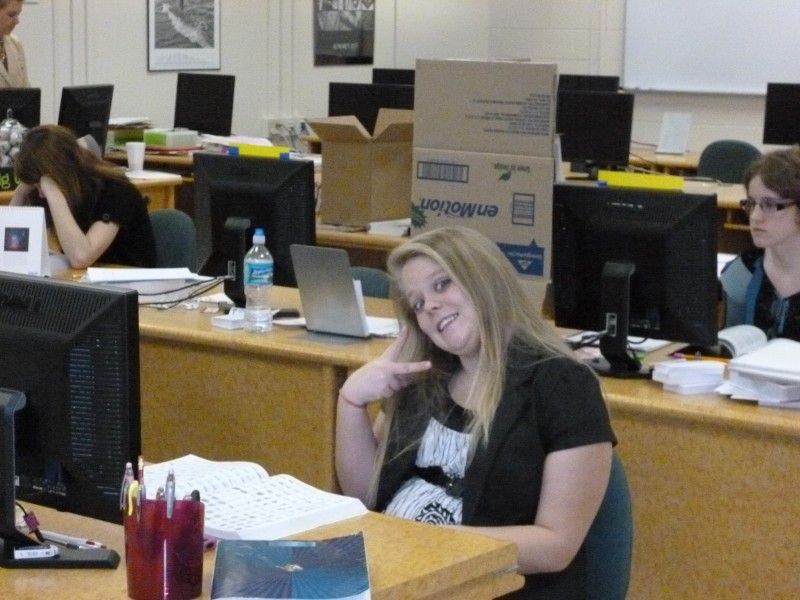 opens IMAGE file
Adult Education
Cooking up some new vocabulary words?? Students in the ESOL classes on the main campus had a real treat when Instructors Marvina Hooper and Pasty Bell prepared pancakes. Check out the words on the board – real hands on instruction going on!!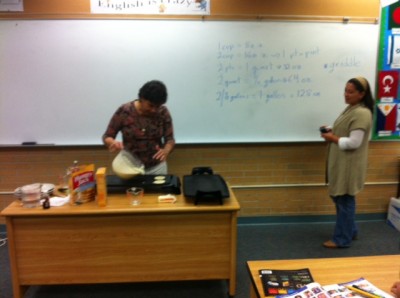 opens IMAGE file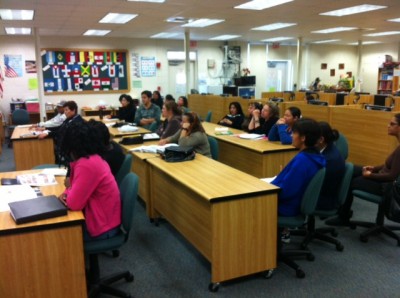 opens IMAGE file
Student Affairs
Scholarship Opportunities for your Dual Enrollment Students
If you have a dual enrolled student from Eustis High School, please let him/her know that the Woman's Club of Eustis is offering a $500 scholarship to an EHS student who wants to enroll at Lake Tech upon graduation. The application is posted on the Eustis High School's websiteopens in a new window.
The Villages Motor Racing Fan Club is offering a $500 scholarship to a graduating senior from Lake, Sumter, or Marion County who has motor racing interests and who will be pursuing higher education in a field related to the world of motor racing. Here are the requirements:
Must be living in Lake, Sumter, or Marion County
Applicant must be accepted to an institution of higher education (technical centers included) on a full time basis
Must have at least a 2.5 GPA
Applicant must submit an acceptance letter for the higher education institution, a high school transcript, 2 non-family letters of reference, and a 2-page essay describing his/her interests in motor sports and the applicant's long-range career objectives
Deadline – March 31
If you have any graduating seniors who are interested in applying for this scholarship, please ask them to see Mrs. Jones in Admissions.
Legislative Update
The 2012 Legislative Session Bill Tracking spreadsheetopens in a new windowopens PDF file is available on the Legislation page at fldoe.orgopens in a new window. To access the bills, please click on the bill number in the spreadsheet. This spreadsheet is updated every week.
In the Community
Check out Lake Tech's table at the Eustis Chamber GeorgeFest Kickoff meeting this week! Thanks to Trudy Daily, Kerrie Johnson, and the Culinary team for an awesome display.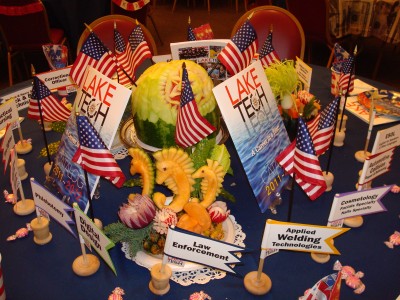 opens IMAGE file
DeAnna Thomas represented Lake Tech on the Master Teacher panel for Leadership Lake held at Lake Sumter Community College on February 8. From what I hear, she rocked!!
Diane Culpepper attended the Lake County Aerospace Roundtable session held at the Leesburg Airport on February 9.
Around Campus
Have you noticed the covered bus shelter being erected at the front of the school? We will be thankful when it's finished so our students can wait for the bus when there is bad weather without fear of getting wet!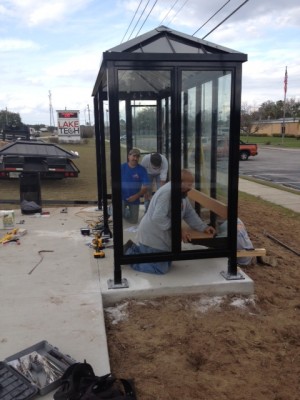 opens IMAGE file