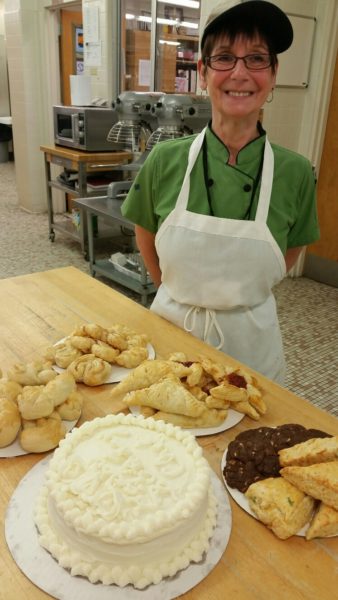 opens IMAGE file
What is better than being named Lake Technical College's Student of the Year? How about being named the Outstanding Postsecondary Student of the Year for the state of Florida! Paula Lach, recent graduate of Lake Tech's Professional Culinary Arts & Hospitality program, earned both of these honors this summer. First, she was named Lake Tech's Student of the Year during Lake Tech's annual graduation ceremony in June; then, in late July, the Florida Association of Career and Technical Education (FACTE) honored Paula with the title of Outstanding Postsecondary Student of the Year at their annual awards breakfast held at Champion's Gate Resort. Paula also received a $500 check based on an application and letters of recommendation from the faculty and administration at Lake Tech.
When Paula was young, she loved to bake. In fact, she would save her allowance for ingredients so she could spend her free time preparing cakes, cookies, and other baked goods. Once she enrolled in the program at Lake Tech, she said she "found more value in myself than I ever knew existed. I received a whole new life through my education!"
Paula was a great student and advocate for Lake Technical College. She excelled academically, was inducted into the National Technical Honor Society, and placed third in the commercial baking contest for SkillsUSA. She also works as a mentor to the younger students in the program. Paula currently works in the bakery at Publix in Eustis and is one of the initial enrollees in the inaugural evening Baking and Pastry Arts program at Lake Tech. Her career goals are endless at this point and she cannot wait to see what the future has in store for her.
For more information on culinary programs, please visit https://www.laketech.org/programs/hospitalityopens in a new window. The Professional Culinary Arts program has start dates on September 4th and October 15th. Financial aid is available to those who qualify – Please complete the FAFSA for financial aid: https://www.laketech.org/financial-aid/apply-for-financial-aidopens in a new window.