Lake Technical College Recognized at Annual COE Conference – 40 years of COE Accreditation
Lake Technical College was recently recognized at the Council on Occupational Education (COE) annual conference in Memphis, Tennessee. Dr. Diane Culpepper proudly received a plaque on behalf of Lake Tech commemorating 40 years of COE accreditation. COE is a national institutional accrediting agency for postsecondary occupational schools that offer certificate, diploma, or applied associate degree programs. More information on COE can be found at www.council.org.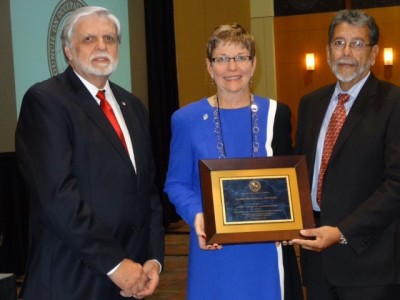 opens IMAGE file
Pictured left to right is Dr. Gary Puckett, Executive Director/President of COE, Dr. Diane Culpepper, Director of Lake Technical College, and Al Salazar, Chair of the Commission.