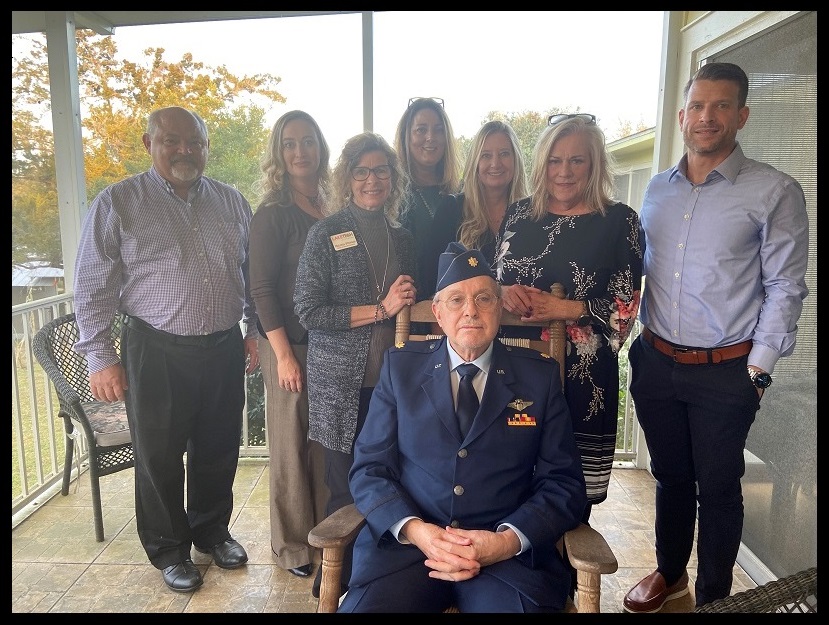 Lake Technical College is thankful for the generous donation of $30,000 to assist students as they train for their future careers. Recently, Dr. William V. Zeller, a resident of Eustis and well-known general physician in the area, visited Lake Tech to learn more about our program offerings, career pathways, and industry credentials. He was impressed by what he learned and quickly contacted the Educational Foundation of Lake County to establish the Dr. William C. & Mary L. Penny Zeller Endowed Scholarship specifically for students of Lake Technical College.
Representatives from the Educational Foundation and Lake Technical College visited Dr. Zeller's home to finalize the plans for the endowment. During this meeting, Dr. Zeller shared his heart for helping people pursue their passion in the same way that he had when he became a doctor. He said, "I believe that talent is equally distributed among all races, socioeconomic class and ethnicity… but opportunity is not, and if I can do anything to help level the playing field, sign me up." He believes that each individual has potential and if they are given the means to support them, they can be successful for themselves and for their families.
"We are grateful for Dr. Zeller's partnership in our mission to provide financial support to local students who want to receive training to help them pursue their career dreams," said Carman Cullen, Executive Director of the foundation. Lake Tech Executive Director DeAnna Thomas said, "Donations made by community members are critical to overcoming the many barriers students face today. We are thankful for this opportunity and that Dr. Zeller recognizes the tremendous value in career and technical education.
Through the years, Lake Technical College has partnered with many individuals to establish scholarship and benevolent funds that significantly impact students along their educational journey. For many students, these scholarships have been the lifeline they needed to complete their program, launch them into a high-wage, high-skill career, and allow them economic self-sufficiency.