Hours: 1300, approximately 43 weeks
Cost: Tuition is approximately $3,744 plus books & fees (click to see all related charges)
Testing Requirements: Test of Adult Basic Education (TABE)
Location: LTC Main Campus
Medical Assisting Master Plan of Instruction
Information sessions about the Medical Assisting program are held on the third Tuesday of each month (September – June), 3:30 pm, in the Medical Assisting room.
Accreditation: The Medical Assisting Program is accredited by the Commission on Accreditation of Allied Health Education Programs (CAAHEP)
Mission: The mission of the Medical Assisting program is to prepare competency entry-level medical assistants in the cognitive (knowledge), psychomotor (skills), and affective (behavior) learning domains.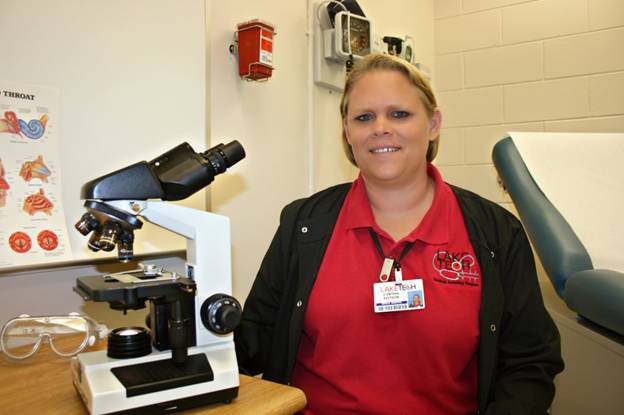 What you'll learn
Administrative skills: appointment scheduling, billing, telephone skills, insurance, transcription, computer applications for medical offices
Clinical skills: EKG, blood drawing, injections, vital signs, patient exam preparation, assisting physician during exam or office surgery
Lab procedures
160 hours of unpaid practicum
OCP
Course Number
Course Title
Course Length
A
HSC0003
Basic Healthcare Worker
  90 hrs
B
MEA0500
Medical Office Receptionist
100 hrs
C
MEA0521
Phlebotomist, MA
  75 hrs
D
MEA0543
EKG Aide, MA
  75 hrs
E
MEA0550
MEA0551
MEA0552
Medical Assistant 1
Medical Assistant 2
Medical Assistant 3
320 hrs
320 hrs
320 hrs
Industry Certifications
American Registered Medical Assistant
Employment Opportunities
Physicians' offices
Hospitals (Out-patient Department)
Starting Salaries
Vary, ranging from $17,600 to $24,960*
*Based on local industry information
Recent Employers of Graduates
New program began in October 2011. Employment data not yet available.
Completion Rate* – 81.48%
Placement Rate* – 84.62%
Licensure Pass Rate* – N/A
For employment information, visit www.onetonline.org
*Data as reported to COE and is updated annually in December of each calendar year
Required Book List
For the most recent book list for the Medical Assisting program, visit Lake Technical Center's online Bookstore and Marketplace.
Steps to Enroll
Apply for financial aid, if applicable
Complete the online application
Take the TABE and/or placement tests
Meet with a counselor/career advisor and instructor
Register and pay tuition and fees
Purchase books and supplies
Complete the new student orientation online prior to the first day of class
Instructor