Lake Technical College holds two commencement ceremonies each year honoring all graduates. The date for the 2016-17 school year commencement ceremony is June 13, 2017, at Lake-Sumter State College, Leesburg. Students earning their Florida High School Diploma (GED) will graduate at 10:00a.m. All students earning their Career and Technical Education Certificate will be honored at 2:00p.m. Students interested in participating must notify their program instructor by the last week of May for the June ceremony. In addition, individual ceremonies for some of the programs are held throughout the year.
The traditional cap, gown, and tassel regalia are usually available to be ordered and purchased in the Business Office on the main campus in Eustis beginning in March.
Career and Technical Education students are eligible for graduation once the following criteria are met:
Completion of all Occupational Completion Points and/or courses.
Completion of all competencies as stated in the Master Plan of Instruction.
Completion of state-mandated exit requirements for TABE, if applicable.
Completion of the required clock hours, if applicable.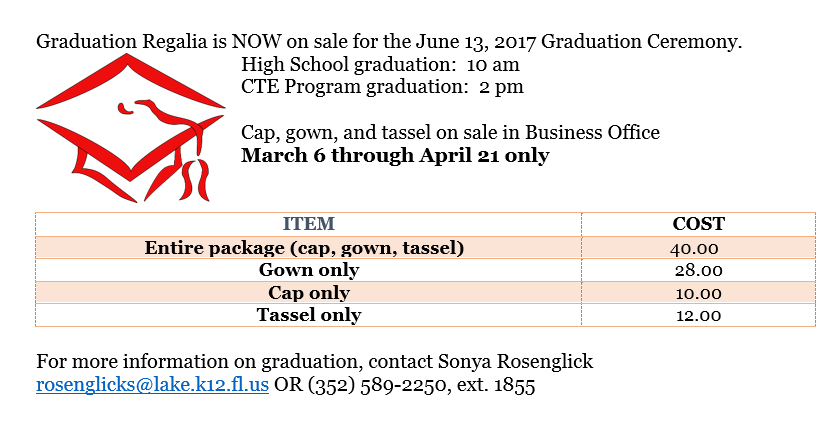 2015-16 School Year Graduation Pictures – Take a look at some of the pictures from the 2016 graduation ceremonies. www.partypics.com/. Use the password lake to view the pictures.