General Information
Passing the General Educational Development Test (GED) qualifies candidates to receive a State of Florida High School Diploma. The maximum testing time for the complete examination is approximately 7½ hours. Special editions and accommodations may be requested as needed. The examination consists of five competency areas and is administered over two testing sessions; which are as follows (with time allotment):
Language Arts/Writing – 120 minutes
Science – 80 minutes
Social Studies -70 minutes
Language Arts/Reading – 65 minutes
Mathematics – 90 minutes
A total of 2250 points with a minimum standard score of 410 on each section of the test is required to pass the GED.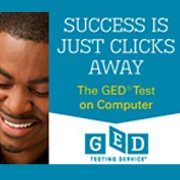 GED - Due to statewide changes, the current GED test will no longer be offered after 12/13. Students who did not finish the test in 2013 must retake the entire five-part exam through the new computer-based test. If you have not completed the entire exam, Lake Tech's test-prep classes can help you prepare so that you can earn your GED before the deadline.
Step 1
Attend an orientation session (at Lake Tech – 2001 Kurt Street, Eustis) to register.
Pay $70 ($14/competency area for re-testers). We accept personal checks, debit cards, MasterCard, Visa, & Discover credit cards.
All candidates must bring a valid driver's license, a valid passport or other form of government-issued identification that shows name, address, date of birth, signature and photograph.
A social security card is needed to verify the candidate's social security number on the official GED transcript after testing, but is not required to take the test.
Testing is on a first come, first served basis. Test dates fill up fast. Placement is subject to availability.
Step 2
Take the test on the scheduled date for which you registered (Not during the same registration session as Step 1).
Consider your Career Path options.
After the test
Test results will be mailed to you in 6-8 weeks after you complete the test.
To request your GED transcript or additional copies of your diploma, follow this link (you are now leaving the Lake Tech site).
GED Test Orientation Dates at the Main Campus
| Month/Date | Day | Time |
| --- | --- | --- |
| 08/16/13 | Friday | 8:30 am |
| 08/19/13 | Monday | 5:30 pm |
| 08/30/13 | Friday | 8:30 am |
| 09/06/13 - Re-testers Only | Friday | 8:00 am |
| 09/09/13 - Re-testers Only | Monday | 5:00 pm |
| 09/20/13 - Re-testers Only | Friday | 8:00 am |
| 09/23/13 - Re-testers Only | Monday | 5:00 pm |
| 10/11/13 - Re-testers Only | Friday | 8:00 am |
| 10/14/13 - Re-testers Only | Monday | 5:00 pm |
| 10/25/13 - Re-testers Only | Friday | 8:00 am |
| 10/28/13 - Re-testers Only | Monday | 5:00 pm |
| 11/01/13 - Re-testers Only | Friday | 8:00 am |
| 11/04/13 - Re-testers Only | Monday | 5:00 pm |
| 11/15/13 | Friday | 8:00 am |
| 11/18/13 | Monday | 5:00 pm |
| 12/02/13 | Monday | 5:00 pm |
| 12/06/13 | Friday | 8:00 am |